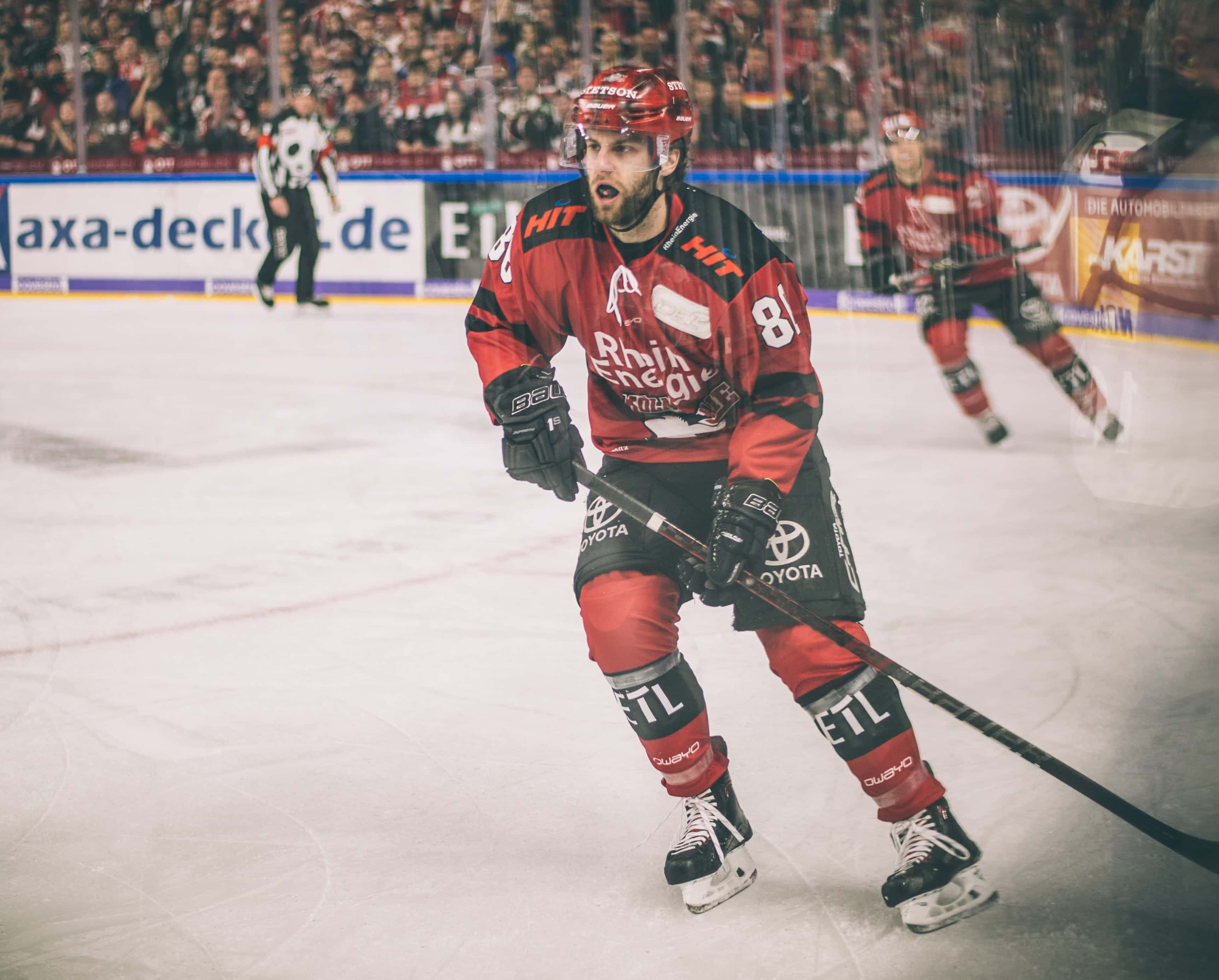 By Mick Hatten
ST. CLOUD, Minn. — When Ben Hanowski walks into the Herb Brooks National Hockey Center main entrance, he can look up to his right and see a familiar face celebrating.
There are a number of key players and scenes from the history of St. Cloud State hockey since 1931 on the east wall of the atrium. The mural is 14 feet wide by 30 feet tall. Among all of the players and scenes, the one with Hanowski celebrating and pointing appears to be the largest. That was by design.
"We wanted to have players from all eras and from important moments with either significant plays or identifiable people that are going to withstand the test of time," former St. Cloud State men's hockey coach Bob Motzko said. "What Hano did for us was so special that there it is: front and center.
"He was one of the greatest high school players to ever play in the state and he chose to stay close to home. He was a part of the era of elevating our program to even higher levels."
Hanowski, 28, played for the Huskies from 2009-13. He helped the program win its first NCAA Division I playoff game in 2010 and then win its first WCHA regular season title and reach its first Frozen Four in 2013. He has been back in the Brooks Center this spring as he works out to prepare for his fifth season playing in the top German hockey league.
So what's it like to see yourself bigger than life on the side of a wall on a public building?
"It's funny," said Hanowski, who finished his degree from St. Cloud State last summer. "We have some friends in the area and when they go to the rink, they say, 'Oh, there's Ben.' That's always cool.
"St. Cloud will always be a special place to me. To be able to go back there and be around the guys who are on the team and be around the program is always fun. It keeps me young, too. Those young guys have a lot of energy."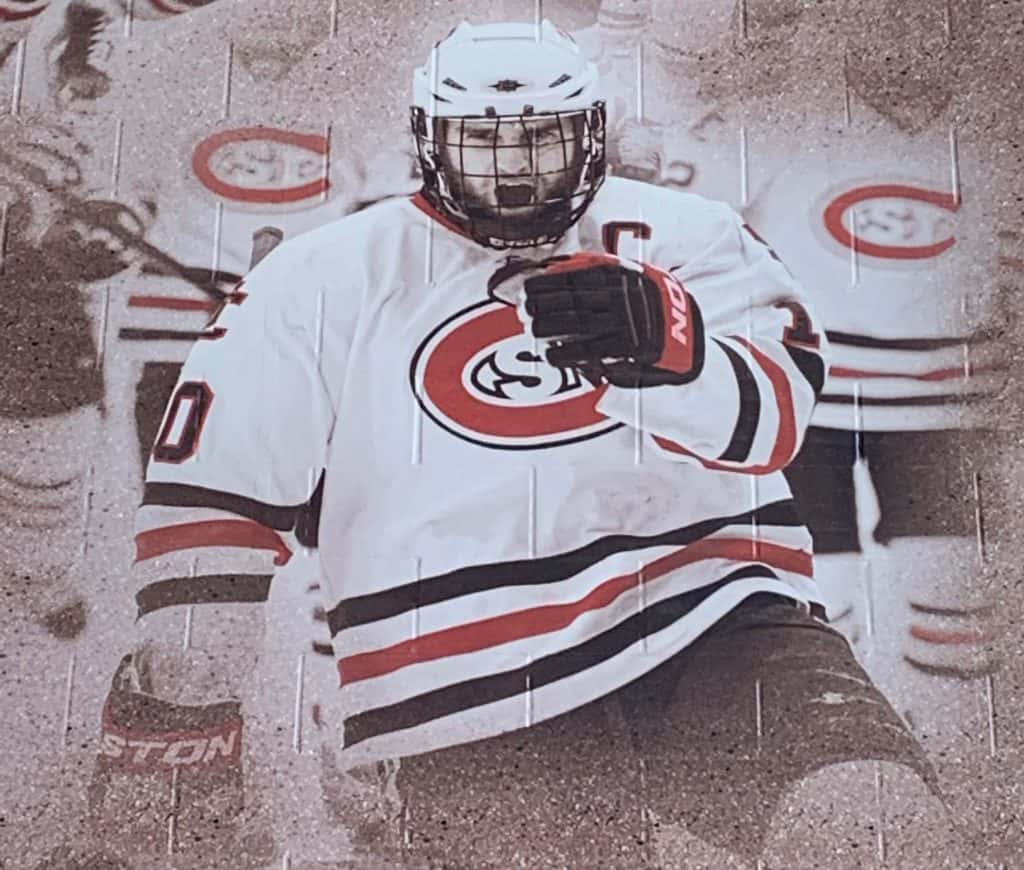 Reunited with LeBlanc
Hanowski has played the last two seasons for the Cologne Sharks of the Deutsche Eishockey Liga. He battled some injuries and had 10 goals and 10 assists in 31 of the team's 52 regular season games.
"I had a bad groin pull and then I got tangled up and pulled my hamstring when I got back," he said. "It was a tough year. It was the first year I've missed any games over there. I had three healthy years.
"To have two injuries and have them really close together was really tough. It was like eight weeks (out) with the hamstring. That was the first time I've been out for an extended period of time in a season."
Hanowski came back from his injuries to play in 11 playoff games, helping the Sharks reach the league's semifinals.
In 2017-18, he had 18 goals and 39 points in 52 games for Cologne. The two seasons before that, he had 41 goals and 76 points in 104 regular season games for the Augsburg Panthers in the DEL.
When he was with Augsburg, he was reunited with Drew LeBlanc, who was a four-year teammate and a two-year co-captain with Hanowski at St. Cloud State.
"We lived in the same (apartment) building, too, he was one floor above me for two years," Hanowski said. "Besides four years at St. Cloud, I probably spent 5-6-7 years with Drew at Minnesota Hockey Camps in the summer.
"Then (with Augsburg), two years we were road roommates. So I've spent a lot of time with Drew," he said of St. Cloud State's Hobey Baker Award winner in 2013. "The second year, I was on the same line with him and that was really fun. He's an easy guy to play with. I always have fun and we've gotten closer and closer over the years.
"Now I just try to smoke him when we play them. I always tell him that I'm going to go after him and I don't want him to score. But he usually does OK against us. He scored a game-winner against us and I was so mad. But it's always fun seeing Drew and he's someone I'll always be close to."
The added time as teammates has had a side effect on their relationship. When the pair were teammates at St. Cloud State, Hanowski could get under LeBlanc's emotional skin a bit with humor on and off the ice.
"He's finally figured me out," Hanowski said with a laugh. "I still try and razz him, even when we were playing together. After thousands of hours on the ice, he's finally figured me out. He just kind of rolls his eyes and smiles. I don't get under his skin as much anymore."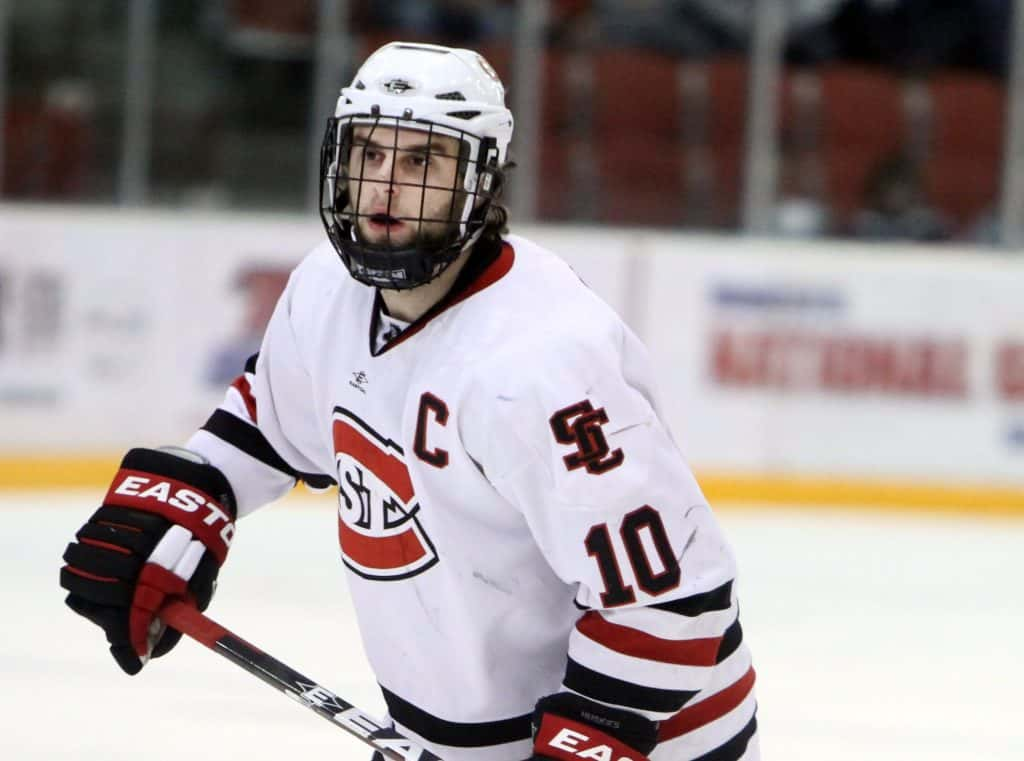 Getting to Germany
Hanowski has enjoyed success throughout his hockey career. He helped put the Little Falls boys high school team on the map, helping the Flyers to four straight Class 1A state tournaments from 2006-2009.
Hanowski is the state's all-time leader in career goals (196) and points (405) and is second in assists (209). He also owns state records for the most points in a season (135 in 2008-09). His 73 goals that season are No. 2 in state history (Jaxon Nelson, Luverne, 78, 2015-16) and his 71 assists in 2006-07 are the state's fourth-best mark.
Hanowski was taken in the third round (63rd overall) in the 2009 NHL Entry Draft by the Pittsburgh Penguins. He went straight from high school hockey to college and finished with 62 goals and 113 points in 156 games with the Huskies.
His junior season with the Huskies, Hanowski began the season as one of three captains on the team with goalie Mike Lee and LeBlanc. But both Lee and LeBlanc suffered injuries before mid-November and the Huskies were 7-9-4 at the holiday break that season.
Hanowski led the team's second-half surge and led the Huskies in scoring with 23 goals and 43 points in 39 games, leading St. Cloud State to home ice in the first round of the WCHA playoffs and into the Final Five.
"A lot of guys had to step up when guys went down (with injuries) and we had to rally that second half and it set up the next season," he said of his junior season leading into his senior season.
The next season, LeBlanc returned and, with the help of a strong freshman class, reached the national semifinals. Hanowski's rights were also traded (along with Kenneth Agostino's and a first round draft pick) to the Calgary Flames for Jarome Iginla on March 28, 2013.
After St. Cloud State's season ended, Hanowski joined the Flames for five games and scored his lone NHL goal against the Minnesota Wild in St. Paul.
In 2013-14, he played 11 games for the Flames and also had 13 goals and 31 points in 55 American Hockey League games for the Abbotsford Heat. Hanowski had 16 goals and 25 points in 56 games for the Adirondack Flames in the AHL in 2014-15 and then was looking for a contract the next fall.
"I didn't have a great season and I had some injuries that year," he said of his last season in the AHL. "That league was getting younger and I was 25 at the time. I didn't get (a) qualified (contract offer) from Calgary and I waited, waited, waited and there wasn't much out there for me.
"Then September came around, (Augsburg) had offered me something earlier in the summer and I was sick of waiting around. I knew Drew was there and a couple of other guys on the team and it seemed like a good fit. Melissa was going to be done teaching and she was going to come with me."
Melissa, his wife, is from Annandale, Minn., and the couple lives in Sartell, Minn., during the offseason with their 18-month-old daughter, Lillian.
Lillian was born in Germany and Hanowski said that he enjoys the perspective that being a dad gives him.
"It was a little bit of an adjustment, having another person in the house and someone who occupies a lot of time, but it's been a lot of fun," he said with a grin. "She's really funny right now and starting to talk.
"It's been nice on the hockey side. When I come home, she doesn't care if I played well or badly. She just wants to have a dance party or play around. It's been really nice to be able to go home and get away from the game and have that sanctuary."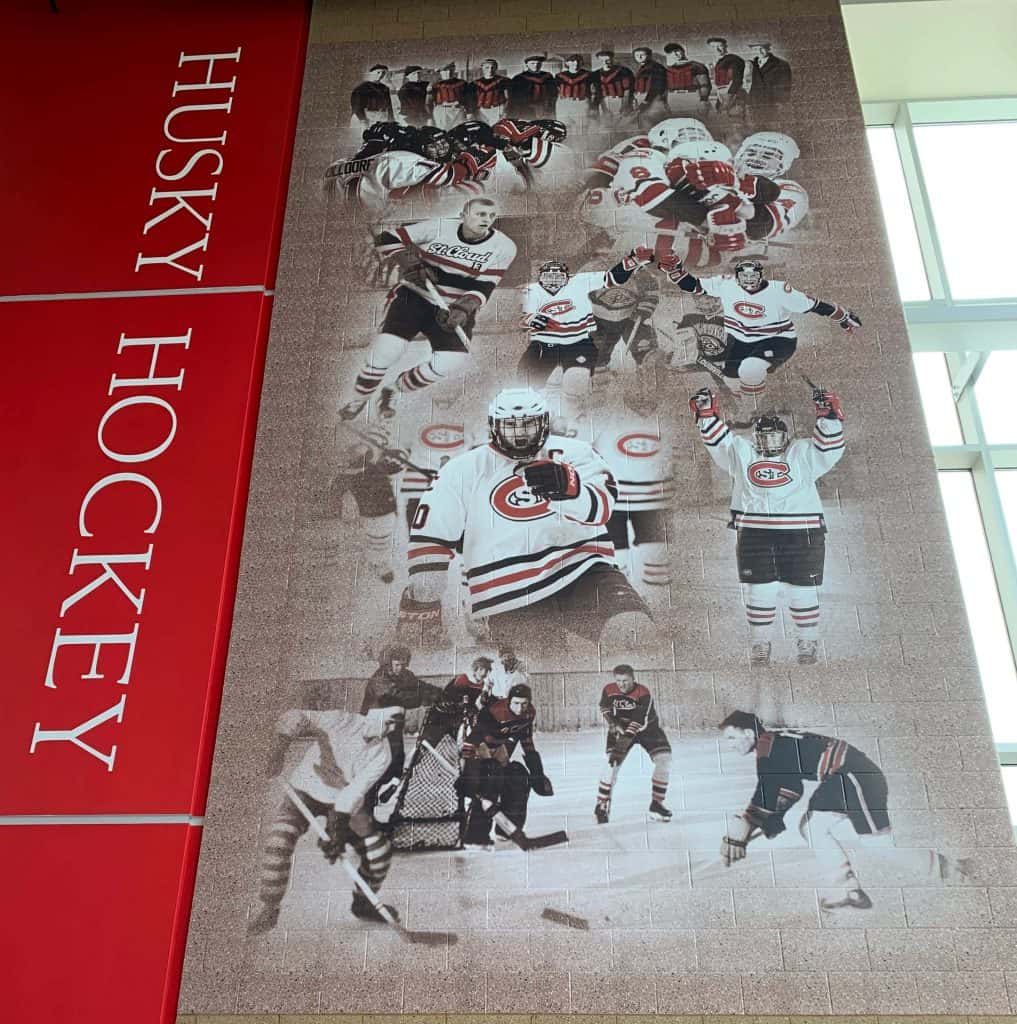 Where key players from 2012-13 team played in '18-19
Ben Hanowski was a co-captain of the 2012-13 St. Cloud State men's hockey team that won the program's first WCHA regular season title and went on to advance to its first Frozen Four. Looking back, it was not a fluke that St. Cloud State enjoyed success that season.
"When you look at that team, it was a really talented group of guys," Hanowski said. You look at how many of those guys put up 100 points in their career — it's a pretty special group."
Three players from the team would finish in the top 10 for the Hobey Baker Award in their careers: Drew LeBlanc won the honor in 2013, Nic Dowd was a top three finalist in 2014 and Ethan Prow was a top 10 finalist in 2016.
Three of the Huskies remain involved in the game in other capacities. Nick Oliver, who was a sophomore, recently completed his first season as an assistant coach for St. Cloud State. Cory Thorson, who was a junior, has been an assistant coach for St. John's University. Brooks Bertsch, who was a sophomore, is a scout for the Los Angeles Kings.
Here is a look at where 14 players from that team played last season:
Joey Benik — An All-NCHC Second Team pick in 2016, Benik had 27 goals and 56 points in 48 regular season games playing for Lillehammer in Norway. It was his second full season in Norway after splitting his first pro season between the ECHL and AHL.
Jonny Brodzinski — An All-NCHC First Team pick in 2015, Brodzinski battled an injury and split time between the NHL's Los Angeles Kings (three points in 13 games) and the AHL's Ontario Reign (one goal in three games). He has spent four seasons in the Kings organization.
Tim Daly — A 2015 alternate captain as a defenseman, Daly had 12 goals and 46 points in 40 games playing for Rungsted Seier Capital in Denmark. It was his first season in Denmark after three seasons in the ECHL.
Nic Dowd — The NCHC Defensive Forward of the Year and Student-Athlete of the Year from 2014 had eight goals and 22 points in 64 games for the Washington Capitals in his third full season in the NHL. He has played pro hockey in North America for five seasons. 
Ryan Faragher — A 2014 All-NCHC Second Team pick as a goalie, Faragher was 8-8-2 with a 3.16 goals-against average and .892 save percentage in 20 games for the Idaho Steelheads in the ECHL and played two games for the AHL's Stockton Heat (0-1-0, 4.07, .871). It was his fifth season splitting time between the ECHL and AHL.
Kevin Gravel — Gravel, a defenseman who played for Team USA in the 2012 World Junior Championships, split last season between the NHL's Edmonton Oilers (three assists in 36 games) and the AHL's Bakersfield Condors (one assist in five games). It was his fifth pro season in North America.
Ben Hanowski — The state of Minnesota's all-time leader in points by a boys high school hockey player battled two injuries and 10 goals and 20 points in 31 regular season games with the Cologne Sharks in his fourth season in Germany.
Nick Jensen — The 2013 WCHA Defenseman of the Year was traded during the NHL season from the Detroit Red Wings to the Washington Capitals. With the two teams, he had two goals and 20 points in 80 games and it was his fourth season in the NHL and sixth pro season in North America.
Kalle Kossila — An All-NCHC Second Team pick in 2016, Kossila split time between the NHL's Anaheim Ducks (one goal in eight games) and the AHL's San Diego Gulls (14 goals, 35 points in 44 games) in his third full season with the Ducks organization.
Drew LeBlanc — The 2013 WCHA Player of the Year had 11 goals and 45 points in 52 games in his fourth season with the Augsburg Panthers in Germany. LeBlanc began his pro career with the Chicago Blackhawks (two games in 2012-13) and played two seasons for the AHL's Rockford IceHogs before going to Augsburg. 
Garrett Milan — Of this group, Milan gets the award for most well-traveled last season. He played 22 games for EV Lindau Islanders in Germany (six goals, 13 points), 17 games with the Pensacola (Fla.) Ice Flyers in the Southern Professional Hockey League (nine goals, 22 points) and 15 games with the Greenville (S.C.) Swamp Rabbits (two goals, three points) in the ECHL.
David Morley — Morley, who had 118 career points with the Huskies, had 11 goals and 31 points in 31 regular season games playing for the Stavanger Oilers in Norway. It was his third full season playing in Norway.
Ethan Prow — The 2016 NCHC Player of the Year/Defenseman of the Year/Offensive Defenseman of the Year played in the AHL All-Star Game and had 18 goals and 50 points for the Wilkes-Barre/Scranton Penguins. It was his third full season in the AHL.
Rasmus Reijola — A backup goalie his entire career for the Huskies, he had a .902 save percentage and 2.80 goals-against average in 41 games playing for RoKi in Finland.