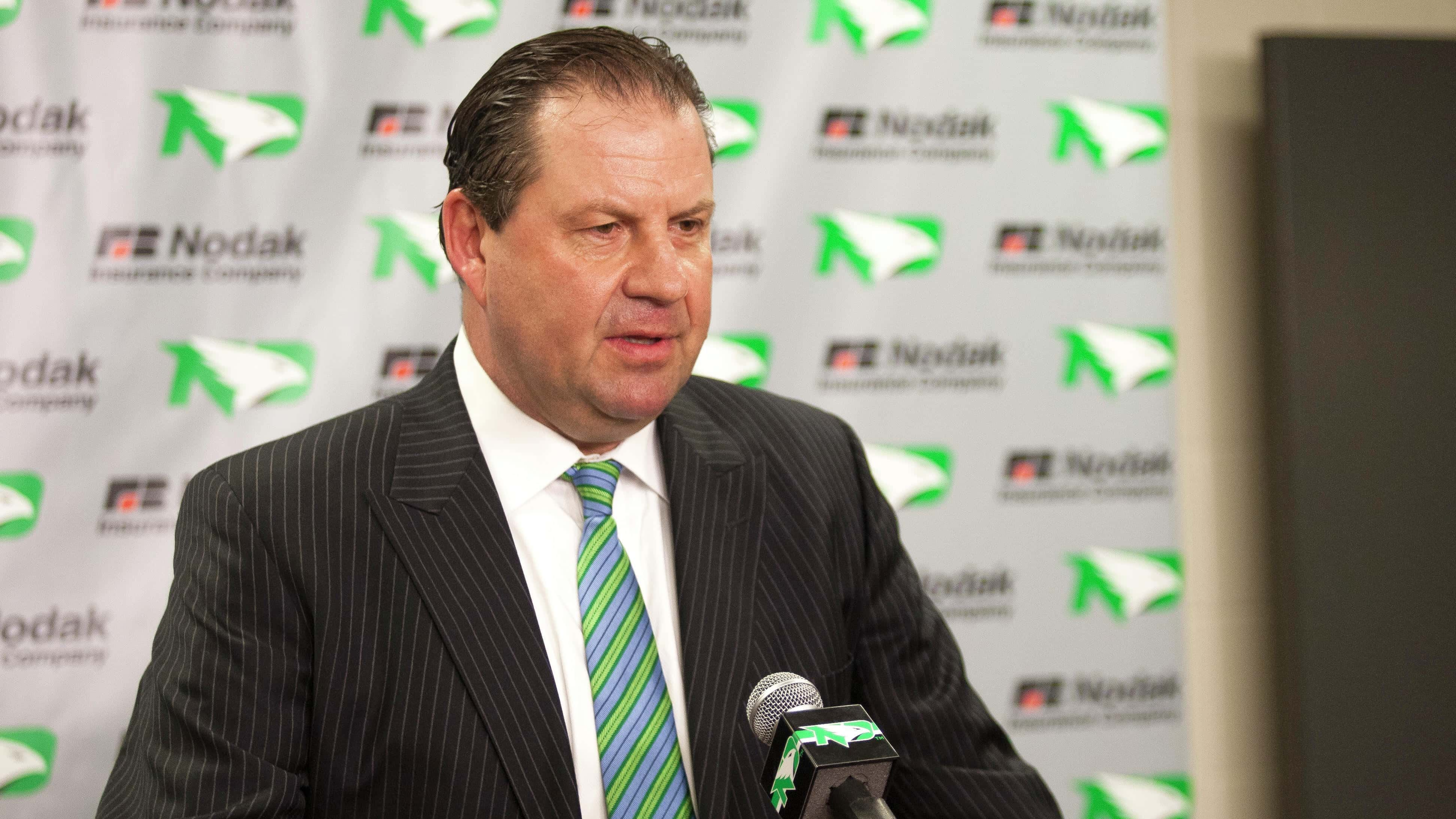 By Brad Schlossman
GRAND FORKS, N.D. — UND is starting to sort through the men's hockey assistant coach applicants.
It's not like the past, where every applicant was available through a public record request, so UND has been able to keep information closer to the vest this time around.
But multiple sources say the expectation is that the next assistant coach will come from within the UND hockey family.
That's not exactly a shock considering the strong pool of former UND players who are now in the coaching world. It's also not a shock considering that eight of the last 10 assistant coach hires at UND were former players.
The two outliers in that group were Matt Shaw, who was let go last month after four years with the program, and Mark Osiecki, who was at UND for a single season and is now at Wisconsin. Both Shaw and Osiecki won NCAA national championships at UND.
UND's recent assistant coach hires
2015: Matt Shaw
2012: Brad Berry (former UND player)
2006: Dane Jackson (former UND player)
2004: Cary Eades (former UND player)
2000: Brad Berry (former UND player)
2000: Dave Hakstol (former UND player)
1997: Jeff Bowen (former UND player)
1996: Mark Osiecki
1994: Scott Sandelin (former UND player)
1994: Perry Berezan (former UND player)
Most of the former UND players who are currently in the coaching ranks were listed in this article. Although Minnesota Duluth associate coach Jason Herter was one mentioned, a college hockey source told the Herald that Herter did not apply for the UND job.
Nelson signs, who's next?
Former UND forward Brock Nelson cashed in on Thursday, signing a six-year, $36 million deal with the New York Islanders. Nelson was set to become an unrestricted free agent in July.
He won't be the last former UND player looking for a new NHL contract this offseason.
UND has seven others who are restricted free agents and four unrestricted free agents in the NHL. The one set to cash in the most is Brock Boeser, who has scored 55 goals for the Vancouver Canucks in the last two NHL seasons.
UND's restricted free agents
Brock Boeser, Vancouver Canucks
Rocco Grimaldi, Nashville Predators
Cam Johnson, New Jersey Devils
Luke Johnson, Chicago Blackhawks
Adam Tambellini, Ottawa Senators
Keaton Thompson, Anaheim Ducks
Christian Wolanin, Ottawa Senators
Unrestricted free agents
Corban Knight, Philadelphia Flyers
Brad Malone, Edmonton Oilers
Zane McIntyre, Boston Bruins
Drew Stafford, New Jersey Devils
Tippett to Edmonton?
Former UND forward Dave Tippett, who previously served as an NHL head coach with the Dallas Stars and Arizona Coyotes, is the leading candidate to become the head coach of the Edmonton Oilers, according to TSN's Bob McKenzie.
Tippett won the Jack Adams Award as the NHL's top coach in 2010.
If Tippett does, indeed, land in Edmonton, you have to wonder if Dave Hakstol will be a candidate to be his assistant. They know each other through their UND ties and Hakstol is from Warburg, Alta., which is just an hour outside of Edmonton.
Canada marches on
Speaking of Hakstol, his Canada Men's World Championship is marching on — barely.
The Canadians scored a goal with :00.4 left in the third period to tie their quarterfinal game against the Swiss. Then, Canada won it in overtime on a goal by Mark Stone.
Former UND players Troy Stecher and Tyson Jost — both of whom came to Grand Forks from the Penticton Vees of the British Columbia Hockey League — are on the Canadian roster. Hakstol is an assistant coach.
Christian Wolanin and the Americans got knocked out by Russia 4-3 in another quarterfinal.
Canada will take on the Czech Republic at 12:15 p.m. Saturday in the semifinals. Finland and Russia will play in the other semifinal.