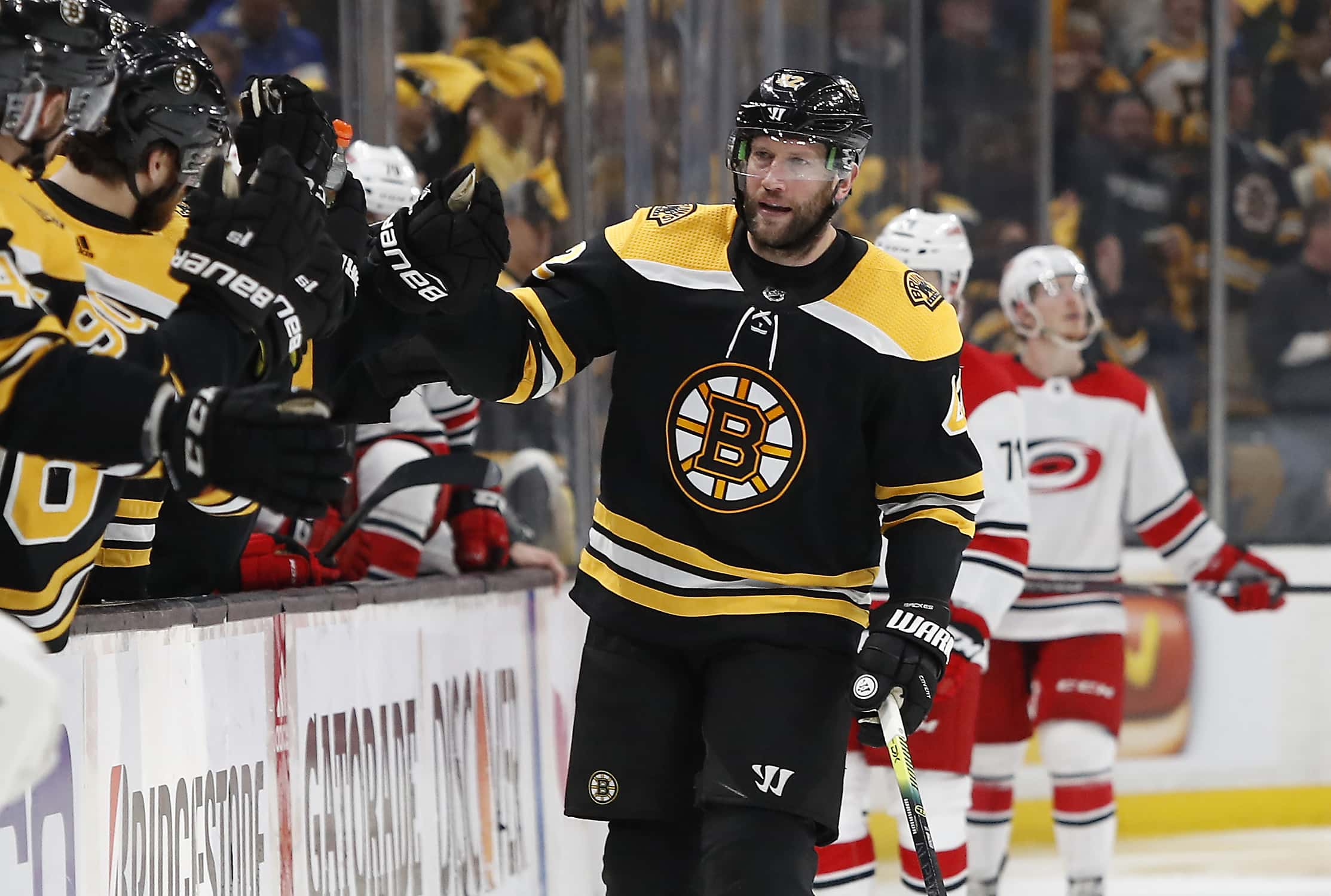 By Shane Frederick
David Backes turned 35 on May 1. The Boston Bruins were down two games to one to the Columbus Blue Jackets in the NHL Eastern Conference Semifinals, and the veteran had been a healthy scratch for all three of those playoff games.
Backes handled the benching like a pro, supporting his teammates, giving all the right answers to the Boston media looking for a juicy soundbite from a potentially surly veteran.
There was no pouting, though, no bad-mouthing of his team.
A belated birthday present came in the form of a return to the lineup on May 2. Backes, the former Minnesota State Mankato star, got 10 minutes, 12 seconds of ice time but assisted on a goal in a 4-1 victory that evened the series at 2-2.
He remained in the lineup the next two games against Columbus, still skating limited minutes but getting another assist in Game 5 and scoring a big insurance goal in Game 6 as the Bruins won both games and the series to advance to the Eastern Conference Final.
"I feel like I've been able to make an impact in the three games I've played this series," Backes said after the clinching game.
Backes was also a scratch in three of the seven first-round games against the Toronto Maple Leafs, including Game 7, but he's now played in five straight games.
"Just being ready, I think, when my name's been called," Backes of his preparation during a Thursday morning media scrum, the video of which was posted on the Bruins' website, "knowing that I need to make an impact each shift and earn the next shift.
"That being said, when there's those other opportunities, I'm trying to support my teammates and stay mentally involved."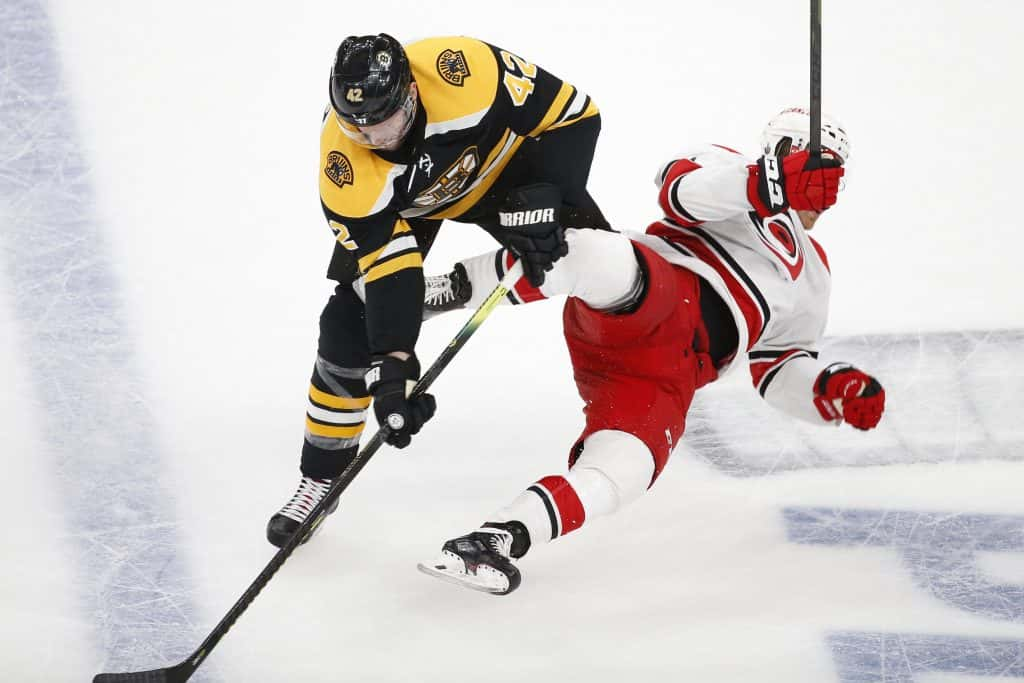 Conference finals
On Thursday night, in Game 1 against the Carolina Hurricanes, Backes was played 10:42 in a 5-2 victory. In Game 2 Sunday, he had a goal and played 12:20 in a 6-2 win. In Game 3 Tuesday, Backes played 7:45 in a 2-1 win.
"David's role has changed a little bit in the last couple of years, we know that," Bruins coach Bruce Cassidy said after Boston closed out Columbus. "Right or wrong, that is the coach's decision. We've discussed it with him, and we've used other players that have gone in and helped us."
Backes is nearing the end of his 13th season in the NHL, one he hopes continues until he wins his first Stanley Cup championship. The Bruins can wrap up the Eastern Conference title when it plays the Hurricanes in Game 4 of their series at 7 p.m. Thursday.
He had 20 points in 70 games during the regular season, the lowest scoring output of a career in which he's racked up 244 goals and 551 points for two teams.
"I'm happy for David," Cassidy continued. "It's an adjustment when you're used to (playing every game). He's been a captain in the National Hockey League. Now he's turned into a little more of a secondary player, and he's been able to stick with it, work hard, accept his role — whether he likes it or not — and contribute to the success of the team. … Hopefully he continues to deliver."
Backes is in his third season in Boston after 10 with the St. Louis Blues where he was the captain for five years. He has two years remaining on his Bruins contract, a $30 million free-agent deal he signed in 2016.
If the Bruins go on to win the Stanley Cup, Backes would be the second Minnesota State alumnus to get his name on the storied trophy, joining Ryan Carter. Backes played three seasons at Minnesota State, from 2003 to 2006, and was an All-American as a junior before turning pro.
Other Mavs in the playoffs
Backes was one of four former Mavericks playing in the NHL this past season, along with the Dallas Stars' Tyler Pitlick (MSU 2009-10), the Buffalo Sabres' Casey Nelson (2012-16), the Pittsburgh Penguins' Teddy Blueger (2012-16) and the Los Angeles Kings' Daniel Brickley (2015-18). Including playoff games for Pitlick and Blueger, that group played in 53, 38, 29 and four NHL games this season, respectively.
Pitlick and the Stars were eliminated from the Western Conference Semifinals on Tuesday in a double-overtime, Game 7 loss to Backes' old team, the Blues. The Penguins were eliminated by the New York Islanders last month in the first round, and Blueger, who made his NHL debut this past season, is currently in Slovakia playing for his home country of Latvia in the International Ice Hockey Federation World Championships.
If the Bruins get past the Hurricanes, and the Blues can defeat the San Jose Sharks, that will set up an intriguing matchup between Backes' current and former teams.
"We're halfway to our goal," Backes said. "We're in the final four teams, and wev'e had to sacrifice to win some games against some really good teams."