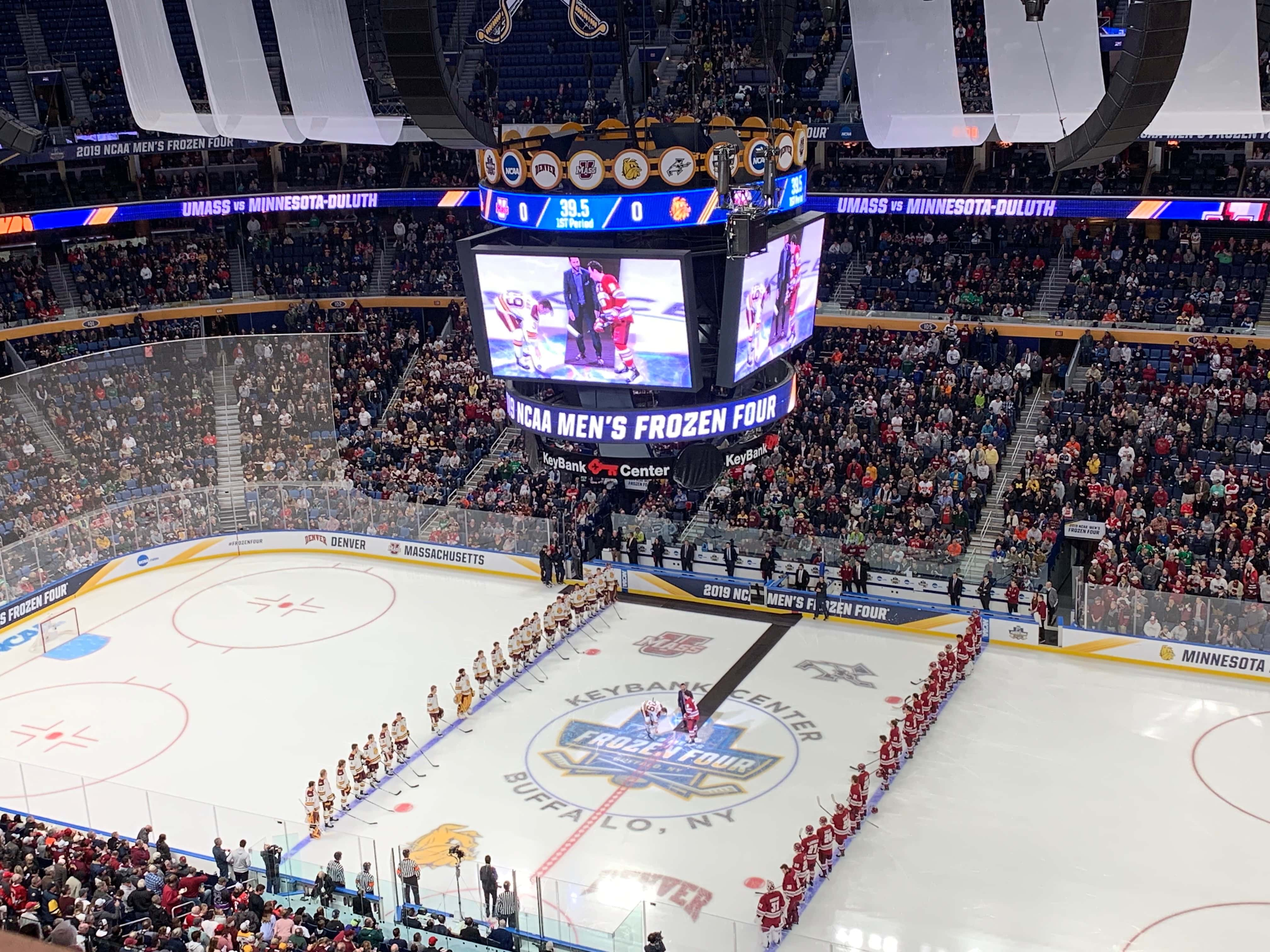 By Jess Myers
ST. PAUL, Minn. — Perhaps it is not overly surprising that the places that have seen some of the greatest college hockey glory for the Minnesota Gophers, Minnesota Duluth Bulldogs and North Dakota Fighting Hawks are sites where people want to return.
Xcel Energy Center, the downtown St. Paul home of the NHL's Minnesota Wild, is the place where the Gophers in 2002 and the Bulldogs in 2011 and 2018 won NCAA Frozen Four titles. And given a choice of 16 potential future sites for the Frozen Four, St. Paul is the place most hockey fans want to visit again.
In an online poll conducted over the past week by TheRinkLive.com, asking college hockey fans where they would like to see the Frozen Four held in the future, St. Paul was the overwhelming favorite. Minnesota's capital city collected 264 of the 1,133 votes cast, or 23.3 percent. Tampa, Fla., which was the site of North Dakota's most recent NCAA title in 2016, finished second in the voting. Tampa received 14.9 percent of the vote, with 169 ballots cast in its favor. Readers were able to vote only once on the city of their choice.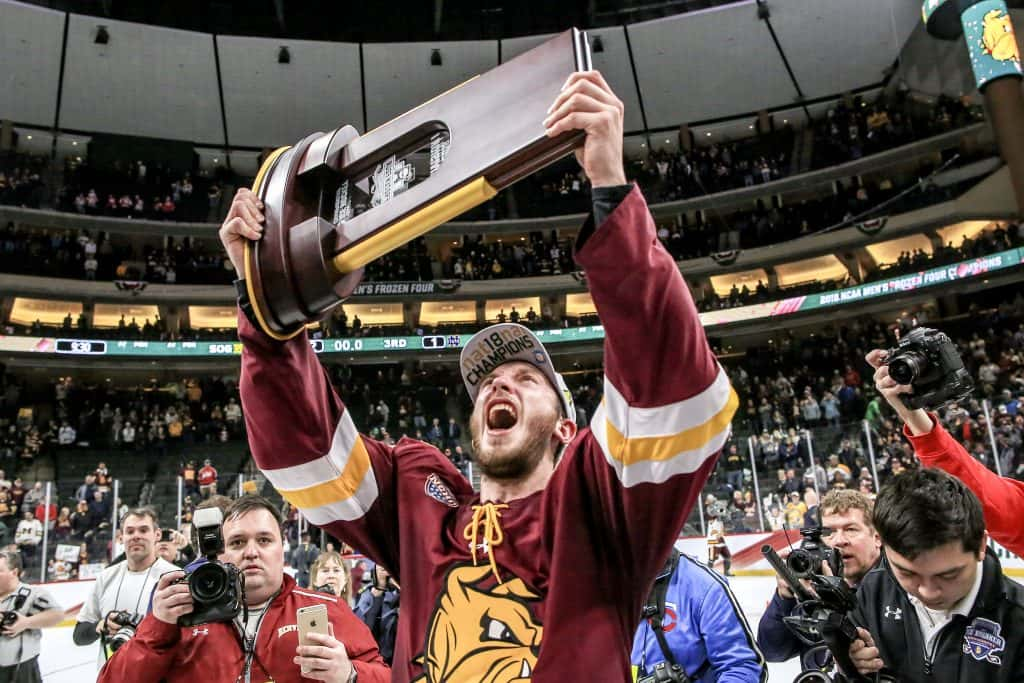 State of Hockey success
"We're honored and thrilled to hear that. We like to think that people want to be here for the Frozen Four," said Jack Larson, Xcel Energy Center's vice president and general manager. "We've had it three times since this building has been open and it's always been a fun event for us. Having the Gophers win it the first time and Duluth win it the last two times has been even better, so we love having it here."
Larson and his crew are uber-experienced when it comes to hosting hockey tournaments, and not just from the three previous Frozen Fours on site. Xcel Energy Center also hosts the Minnesota state high school hockey tournaments for boys and girls each year and has been the site of the NCHC Frozen Faceoff the past two seasons, since that event moved across the Mississippi River from its original home at Target Center in Minneapolis.
After an "old reliable" site like St. Paul, the fans polled seem to like the idea of heading to warm-weather destinations in April to watch hockey. Second through fifth place in the poll were Tampa, which also hosted the 2012 tournament, and three potential first-timers; Nashville, Tenn., Las Vegas and Phoenix/Glendale, Ariz.
Music City mayhem
The idea of a Frozen Four at Bridgestone Arena, home of the NHL's Nashville Predators, has been on the radar in Music City for years, according to Scott Ramsey, the president and CEO of the Nashville Sports Commission.
"I think we'd be a great site for it, and I think it's an event that down the road we'd like to host if things worked out," said Ramsey, noting that they have not yet determined whether Nashville will bid for the next round of tournaments. "I know the Predators would be very supportive of that and I think our city is really ready for college hockey."
Per Ramsey, Nashville has not bid in the past due to over-scheduling concerns at Bridgestone Arena, which seats 17,100 for hockey and is located in the heart of the city's entertainment district. Currently, the building is home to the Southeast Conference men's basketball tournament each March, and the Predators need to be on the road for more than a week each November due to the Country Music Association Awards taking over their rink, meaning home dates in early April are at a premium.
"You'd like to do everything, but sometimes trying to do everything can lead to some missteps, so I think that we've been very cautiously aggressive and have tried to be very prudent about our resources," Ramsey said. "That's really limited us on the past two bidding cycles for the Frozen Four."
The next three Frozen Four sites are set — Detroit in 2020, Pittsburgh in 2021 and Boston in 2022. The NCAA expects to announce four more sites in October of 2020, and they will start accepting bids for those tournaments in a few months.
Dueling in the desert
While the Phoenix metro area's sports commission has not yet revealed whether they will bid to host their first Frozen Four, with Arizona State's on-ice success and the growing popularity of hockey in the region there is interest in bringing college hockey's biggest weekend to town.
"I think there are two things going for the greater Phoenix area," said Ahron Cohen, the Arizona Coyotes' team president. "First, it's a tourism and entertainment hotbed, and a community that has hosted a lot of large-scale sporting events. And people really enjoy coming down here, especially in the winter, so it's a destination for major events."
For years, many college hockey fans joked about how crazy it could be to have a Frozen Four in Las Vegas. That fanciful notion is much closer to reality these days due to factors like the opening of T-Mobile Arena, the 17,500-seat home of the NHL's Vegas Golden Knights, and the NCAA's announcement on Thursday, May 2, that states where sports betting is allowed are no longer prohibited from hosting college championships.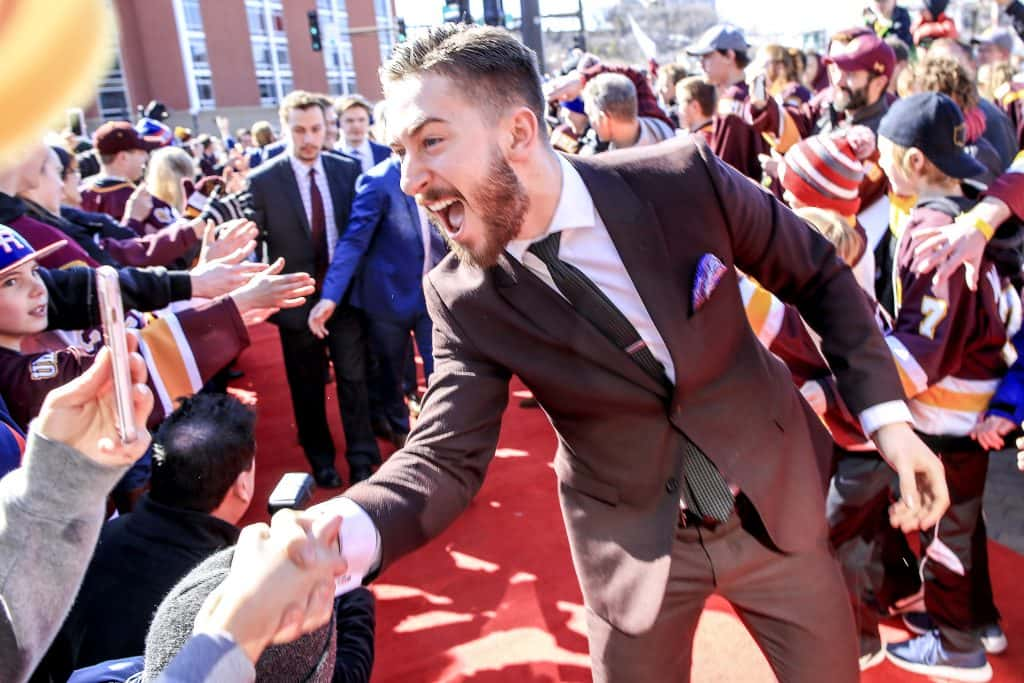 Sharing the ice
All of the sites in the top five are home to NHL teams. In some buildings that have hosted the Frozen Four in the past, the primary tenant has quietly complained about having to vacate their home rink for a week to accommodate the collegians. But Minnesota Wild owner Craig Leipold told The Rink Live that having to make way for other tournaments is a fact of life in Minnesota, and they plan on bidding to host the Frozen Four whenever possible. It's a similar story in Tampa, which has been a popular past host and plans to bid again on the next round.
"The Tampa Bay Lightning have been fantastic community partners for bidding on and hosting the Frozen Four," said Rob Higgins, executive director of the Tampa Bay Sports Commission. "We talk regularly with them about the opportunity to bring the event back and they are firmly committed to pursuing the opportunity to host as frequently as possible for many years to come."
While the poll results show that college hockey fans in Minnesota and the Dakotas may be nostalgic to return to places where their teams have done well, like St. Paul and Tampa, arenas where the Gophers and Bulldogs suffered tough losses fared poorly in the voting.
Perhaps Gophers fans being stung by that 7-4 loss to Union in the 2014 title game can explain why Philadelphia garnered 15 votes, which was the worst among the 16 sites offered. Others with low vote totals were 2006 host St. Louis, Mo., (17 votes) and 2017 host Chicago (18) — where Minnesota Duluth fell to Denver 3-2 in the finale. The warm weather voting trend did not carry over to Anaheim/Los Angeles, Calif., which received 20 votes in the poll.
Where would you like to see a Frozen Four?
TheRinkLive.com poll results (1,133 total votes):
1. St. Paul, Minn., 264 votes, 23.3 percent
2. Tampa, Fla., 169, 14.9
3. Nashville, Tenn., 140, 12.4
4. Las Vegas, Nev., 136, 12.0
5. Phoenix/Glendale, Ariz., 127, 11.2
6. New York City, 49, 4.3
7. Denver, Colo., 42, 3.7
8. Seattle, Wash., 38, 3.4
9. (tie) San Jose, Calif., 25, 2.2
Milwaukee, Wis., 25, 2.2
Dallas, Texas, 25, 2.2
12. Columbus, Ohio, 22, 1.9
13.  Anaheim/Los Angeles, Calif., 20, 1.8
14. Chicago, 18, 1.6
15. St. Louis, Mo., 17, 1.5
16. Philadelphia, Pa., 16, 1.4