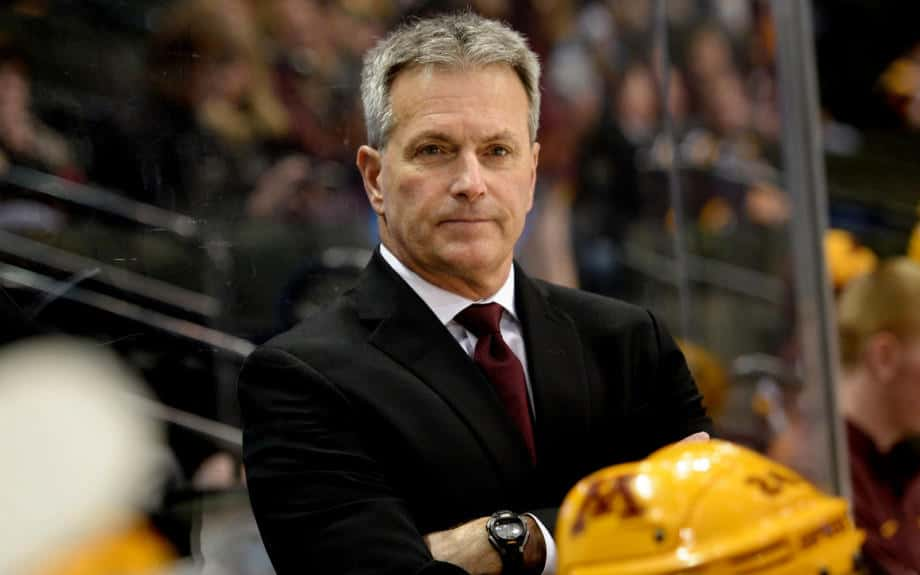 By Jess Myers
MINNEAPOLIS — It was about 20 years ago that Don Lucia first came to the University of Minnesota to coach the Gophers hockey team, and 13 months ago that he retired from the job.
Lucia played the college hockey recruiting game for decades, first for six seasons at the University of Alaska in Fairbanks, then another six at Colorado College and finally for 19 seasons with the Gophers. By all standard measures, he played that game very well, taking four teams to the NCAA championship game, and winning two of them.
He recalls with pride not only his Gophers record 457 wins, but the many recruits who were overlooked in high school, worked hard in junior leagues, earned a college scholarship and eventually got a degree. Lucia also recalls the other side of the recruiting game, which he hopes ended for good when NCAA recruiting rules were changed Wednesday, May 1.
Children committing
On Tuesday, it was announced via Twitter that a 13-year-old boy playing bantams on Long Island, N.Y., had committed to play college hockey at Providence. Tanner Adams is listed as 5-foot-2 and weighs 110 pounds, but under the old recruiting rules, that didn't dissuade one of the nation's college hockey powerhouses from offering him a hockey scholarship. If things go according to plan, Adams will be on campus at Providence in the fall of 2023. And the Friars were one of 60 Division I teams making offers to children under the old system.
"I find it comical in the past month all these young, young kids committing," Lucia said on Tuesday. "Will they eventually end up there? Who knows? If you're a parent, what parent thinks it's a good idea to have a ninth-grader committed?"
As of Wednesday, those kinds of scholarship offers are no longer an option for eighth- and ninth-graders. On May 1, two new recruiting rules were implemented for all of college hockey:
> There can be no conversations, whether initiated by a coach or a prospect, prior to Jan. 1 of a prospect's sophomore year of high school.
> A coach cannot make a verbal scholarship offer to a prospect prior to Aug. 1 of their junior year of high school.
They are ideas similar to those proposed by Lucia during his time as the Gophers head coach, when he was bothered by the idea of kids making life-changing decisions before many of them were shaving or driving a car.
"I was waving the flag five years ago," Lucia said. Indeed, he proposed a system where a verbal commitment would become "real" in the summer before a player's junior year of high school.
That didn't stop him from playing the game, offering scholarships to brothers Chaz and Cruz Lucius two years ago, when they were 14 and 13, respectively. Lucia experienced the recruiting game from the parent side as well, with two sons who played college hockey, and a daughter who was a collegiate volleyball standout.
With the help of the Big Ten, Lucia also advocated for a rule change making 20 the maximum age when a student-athlete could begin playing college hockey (the current ceiling is 21). That idea was dropped after it was proven to be wildly unpopular among college hockey coaches elsewhere.
Lucia took considerable heat for those proposal, from critics who said the age limitations only became an issue after the Gophers lost to Union in the 2014 national title game, and the Dutchmen had a pair of 24-year-olds on their roster. Other critics likened the hockey Gophers to football powers like Alabama, known for "poaching" players that have committed elsewhere when they were younger. As Lucia saw it, athletes were also playing the game to their own advantage.
"In football recruiting, kids would commit to a mid-major early so they had a scholarship offer as a Plan B," he said. "Then they're hoping that as their senior year goes on they'll get better options and go there. That was happening a little bit in hockey."
Shrinking the stockpiles
The new system may also reduce the high numbers of committed players that many colleges have now. The list of college commitments that is maintained by College Hockey, Inc., shows that in the Big Ten, Michigan has 37 players who have given a verbal commitment to play for the Wolverines in the future, and presumably have been given a scholarship offer of some amount. The Gophers and Wisconsin each have 31 commitments listed.
Not all 31 of those kids will play for the Gophers. Under the old recruiting system, schools collected commitments as a way to ensure they could fill a roster down the road.
Some players would renege on their commitment, opting to go to school elsewhere, or deciding to play major junior hockey in Canada. Some programs would later decide a committed player didn't fit what they needed on their roster, or didn't develop as a player the way they had hoped, or didn't meet the school's academic standards, or was someone they could not afford with the scholarship money they had available.
A long-retired college hockey coach once joked that recruiting was like going to the grocery store. "You put everything you want in the cart, and when you get to the checkout, if you don't have enough money, you just take a few things out of the cart that you don't really need." Lucia and many of his peers played that game, finding ways to delicately let a once-committed player know that he was no longer wanted.
"What really bothered me was the stockpiling, and the attitude that if I recruit nine or 10 kids, which five do I ultimately want," Lucia said. "There are ways to get rid of kids. It could be delaying. You delay and delay and delay, and then say, 'You're not going to play here. Go find somewhere else.' Or you can't get them into school, and there are different ways to do that."
North to the future
Lucia is down to his last few weeks as a U of M employee. The school honored the final year he had remaining on his coaching contract when Lucia stepped down a year ago. He and his wife, Joyce, are preparing for a semi-permanent move to their summer home in Alaska, where they will live for the majority of the year. But Lucia said they will still spend significant time in Minnesota to be closer to their four children — son Mario played pro hockey in Norway last season — and a growing brood of grandchildren.
He still follows college hockey closely, even though he no longer has to play the recruiting game. As a long-time advocate for reform in what he saw as a broken system, Lucia welcomed Wednesday's changes.
"I think it's really good for potential student athletes and their parents. I think it will eliminate having agents in ninth and tenth grade. I also think it's better for the schools," he said. "I think in a year or two people will start to say 'My god, what took us so long?' It's just a better situation for everybody."