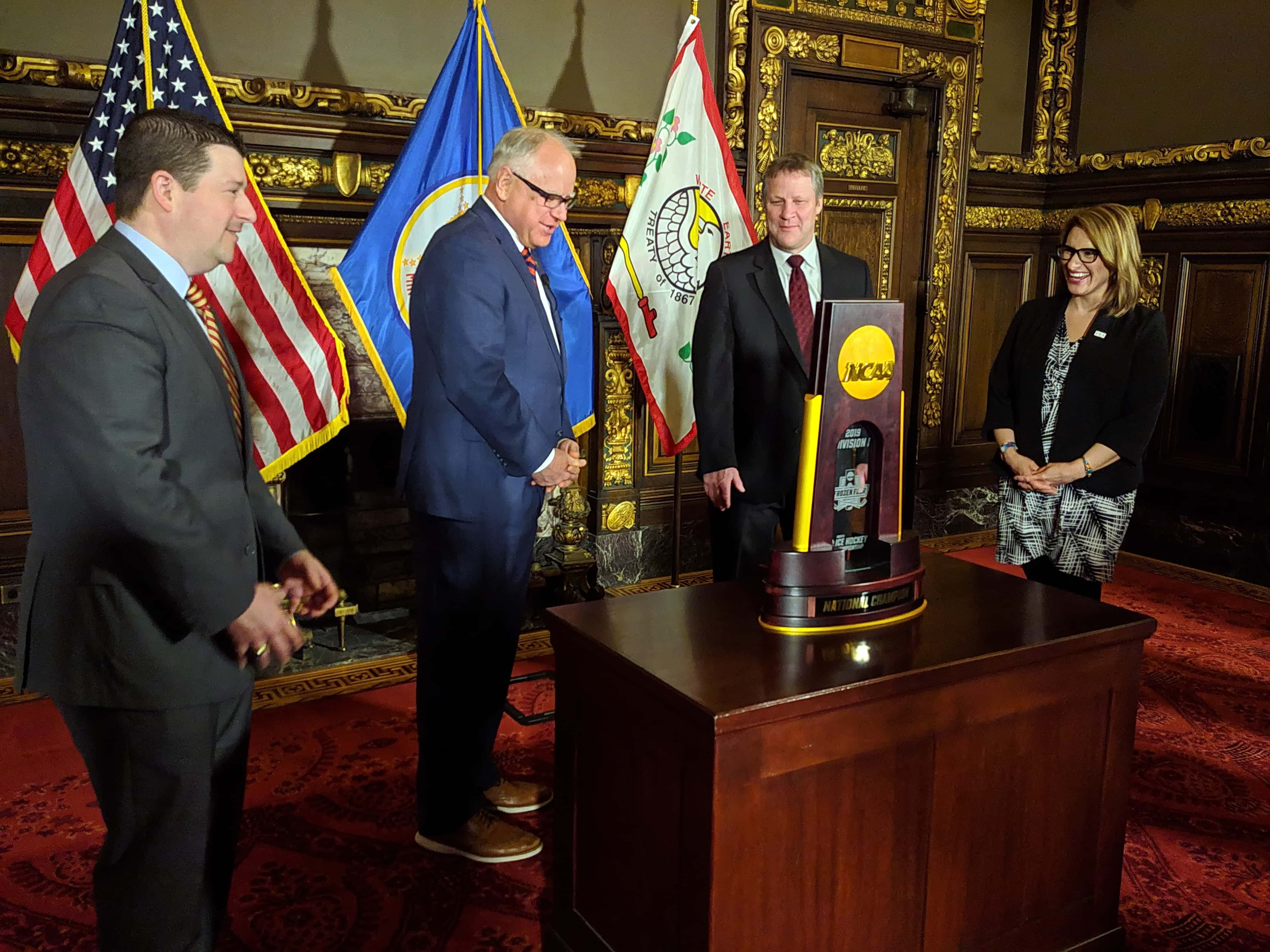 By Don Davis for The Rink Live
ST. PAUL — Tim Walz was more of a fan than Minnesota's governor.
"I certainly am in awe of what you have done," Walz told coach Scott Sandelin and athletic director Josh Berlo when they showed off the University of Minnesota Duluth hockey national championship trophy around the state Capitol on Wednesday, April 24.
"We are really excited," Walz said as the pair stopped by his office before the trophy made stops at the House and Senate. "It is an incredible achievement. And you did it with such dignity."
Team members were back in Duluth attending class, but Sandelin said talks are in process of scheduling a White House visit by players and coaches.
"The burgers will be great," Walz quipped, referring to President Donald Trump buying fast food for another championship team that visited the White House while chefs were laid off during a partial government shutdown.
Earlier this month, the Bulldogs won their second consecutive NCAA hockey title, following another in 2011, with a 3-0 win over the University of Massachusetts.
Sandelin hesitated when asked if he could give Capitol politicians advice about how they could follow his success as they work toward the end of the 2019 legislative session.
"That's a tough one," he said. "Obviously, they work hard."
He said besides hard work, his team benefits from having "a lot of good people around them."
Walz said that while the Bulldogs send a lot of players to the NHL, most will be teachers, doctors and other professionals. The governor, a longtime football coach, said players learn a lot of lessons in sports.
Berlo and Sandelin gave Walz a massive championship ring, which the governor wore and immediately showed off to anyone nearby. By law, the ring and a piece of the championship game net, will available to him to use as long as he is governor. If he wants to keep them, he would have to pay fair market value when he leaves office.
Walz, who took office the first of the year, said of all the events he has hosted so far the trophy visit "is just right at the top."