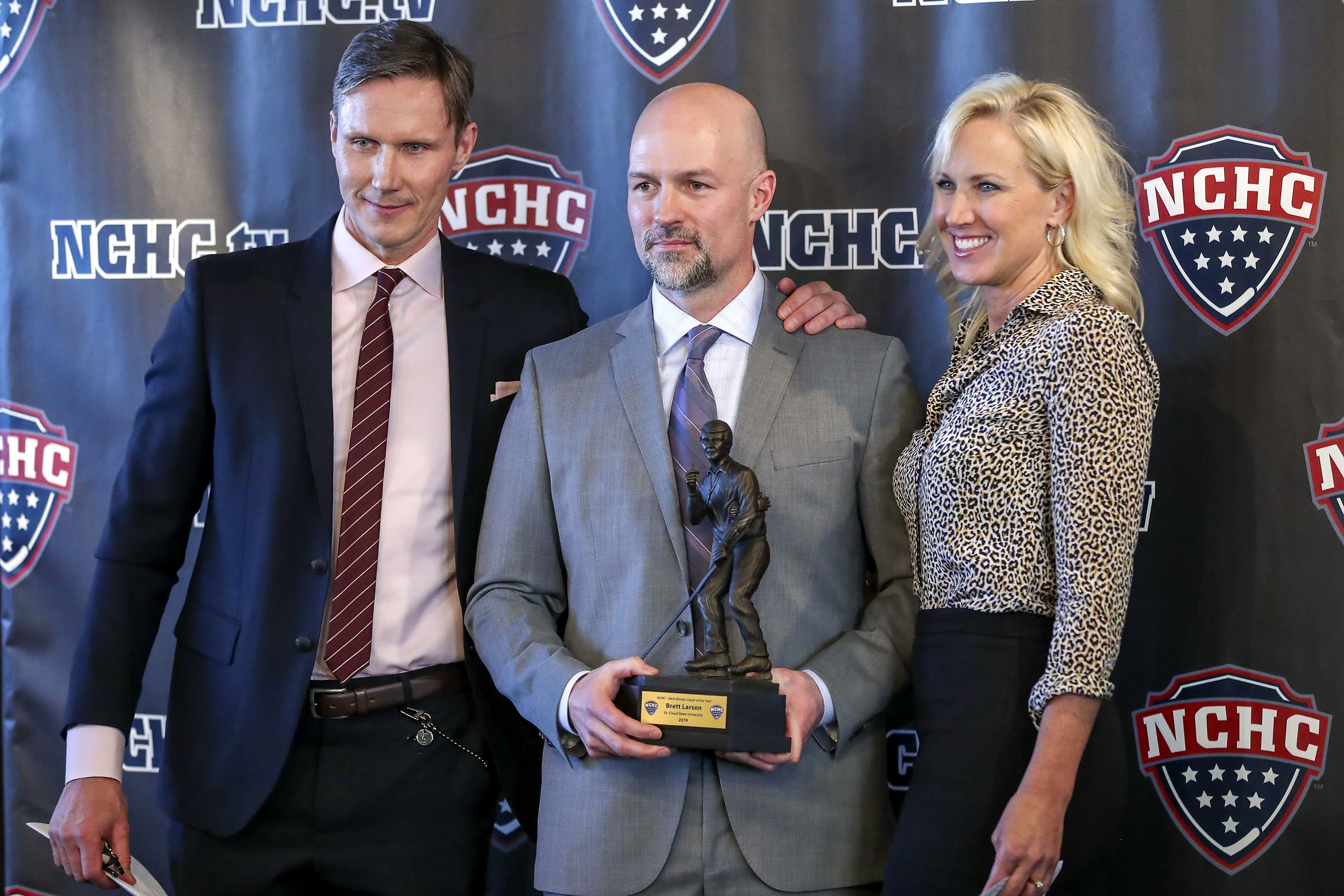 By Mick Hatten
ST. CLOUD, Minn. — Add one more time that Scott Sandelin and Brett Larson will be working together.
Sandelin was named head coach for Team USA that will compete in the 2020 IIHF World Junior Championships on April 16. On Wednesday, April 24, Sandelin named his four assistant coaches for the team and Larson will be one of them.
Larson was an assistant coach for Sandelin at Minnesota Duluth for two stints (2008-11 and 2015-18) before being named St. Cloud State's head coach a year ago.
"We spoke pretty much right after he got named and I was excited he offered me the position," Larson said of Sandelin, who was an assistant for last year's World Junior Championships. "It will be fun to work with him again."
The 2020 World Junior Championships will take place Dec. 26-Jan. 5 in Ostrava and Trinec, Czech Republic. The other three assistants for Team USA will be returning to their posts from last year: Ohio State associate head coach Steve Miller, Dartmouth associate head coach David Lassonde and Northeastern associate head coach Jerry Keefe. This will be the fourth straight year that Miller has been on Team USA's staff.
"(Sandelin) hasn't gotten into the details yet," Larson said of his role on the staff. "We'll have some conference calls with everyone, but we have not had any specifics of roles yet."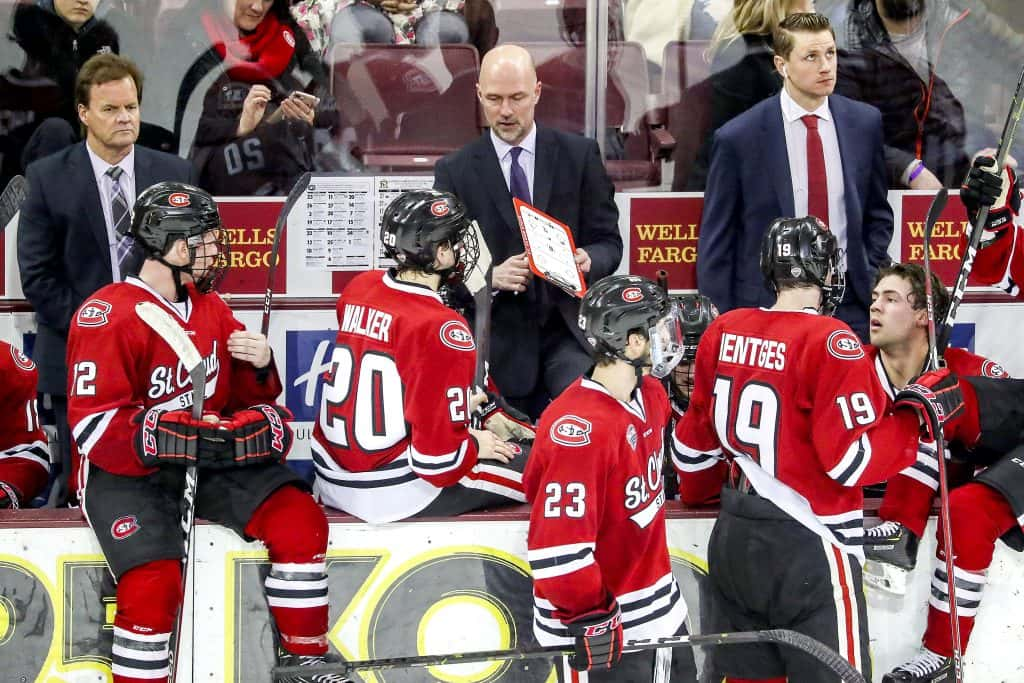 Time commitment
This will be Larson's first time on a World Junior Championships staff, but not his first time as a member of a USA Hockey staff. He was the head coach for Team USA for the gold medal-winning team at the 2012 World Junior A Challenge. Larson, who was the head coach of the Sioux City Musketeers at the time, coached a team of junior players from the United States Hockey League in that tournament.
Unlike that tournament, the World Junior Championships is televised on the NHL Network.
"Outside of the Olympics, this is the biggest tournament of the year in international (hockey) competition," Larson said of the 20-and-under tournament. "We watched it so close this year with having Ryan (Poehling) up there. It's such a high level of hockey and it's exciting to be a part of."
Poehling recently signed a pro contract with the Montreal Canadiens after three seasons with the Huskies and was named the MVP of last year's tournament.
While Larson is excited to be part of the staff, there were some other things he had to consider before he made his decision. Besides being gone for the tournament, staff members also will be at the World Junior Summer Showcase as they evaluate about 40 players for a week near the end of July.
Team USA also has a final camp that takes place in mid-December before the final roster is selected for the tournament.
"That's what Scott wanted to talk to me about is that it's a big time commitment with the tryout camp in the summer, doing work at different times for some scouting and putting the team together," Larson said. "I'm the only new guy. I think they found a formula they like and they want to follow that."
Team USA has won medals in each of the last four World Junior Champioships (silver in 2019, bronze in 2018 and 2016, gold in 2017) and 12 medals overall.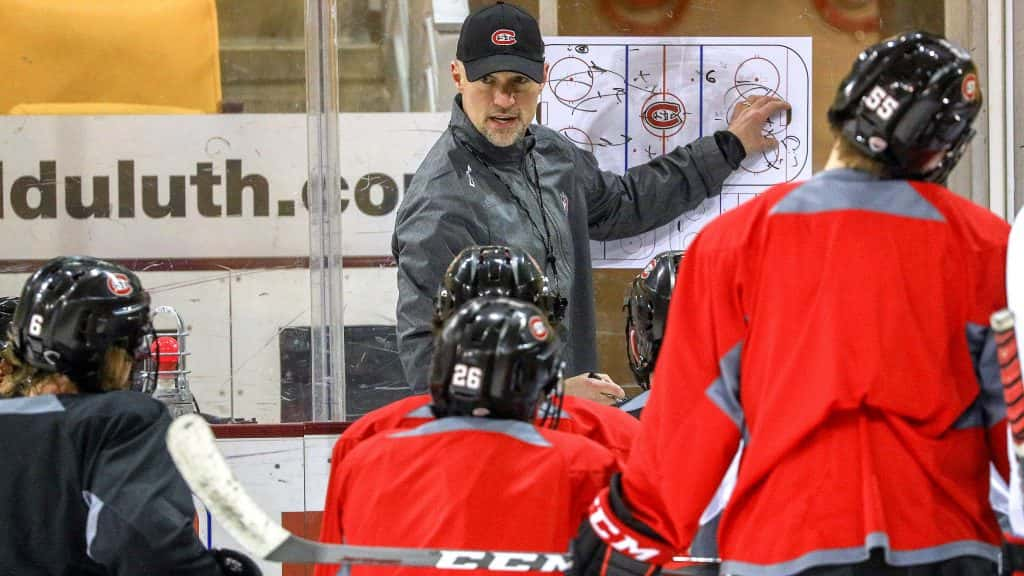 What he will miss
While the tournament is taking place, Larson will miss coaching St. Cloud State in the Mariucci Classic that will be held Dec. 28-29 and will be hosted by the University of Minnesota. The other teams in the Classic will be Bemidji State and Minnesota State-Mankato.
"The only negative is that I could potentially miss that first Gopher-Husky game," Larson said. "But our staff is really collaborative with video, recruiting and planning practices and game prep. I have full confidence in those guys."
Mike Gibbons and Nick Oliver are Larson's assistant coaches for the Huskies. The tournament also takes place over the holidays, but Larson said that he is hoping that he can take his wife and two children with for the tournament.
Larson played professionally for five seasons in Denmark, Germany and England and is hoping to see some former teammates when he is at the tournament.
"My wife really enjoyed our time in Europe and it would be a great experience for the kids," he said. "I'm hoping that we can work that out.
"I've been to Prague one time with my wife and there are some Czech players I played with over there."
Larson was named the NCHC Coach of the Year after helping the Huskies win the NCHC regular season title and St. Cloud State reached the conference's playoff championship game. St. Cloud State finished 30-6-3 and was the No. 1 overall seed in the NCAA Division I tournament before losing in the opening round to American International College.
St. Cloud State will have a fair number of new faces in the lineup next season. The plan is to bring in two goalies, two defensemen and four forwards. The returning Huskies began spring workouts on April 15. The freshmen class is expected to be on campus together for the first time on June 10.