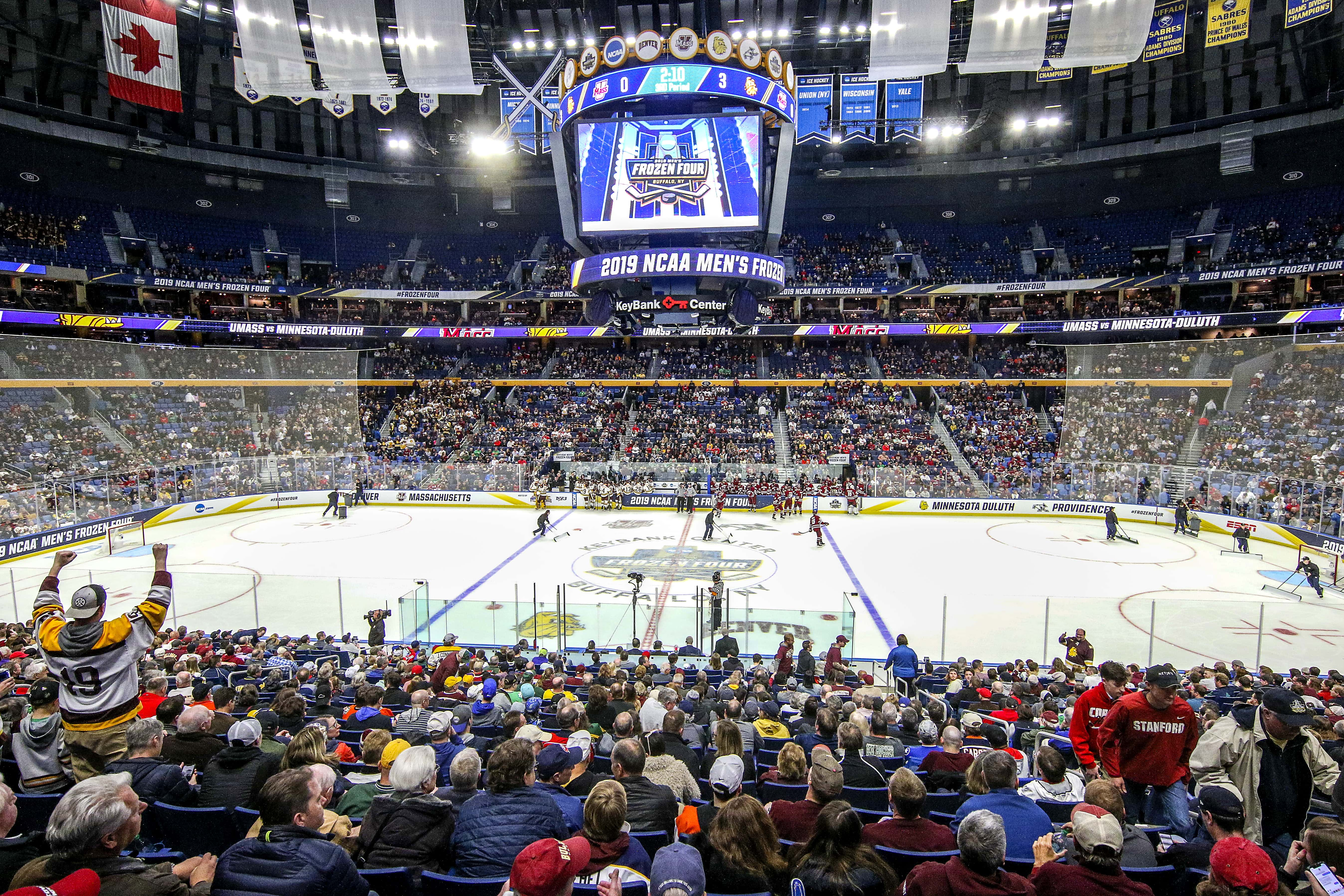 By Jess Myers
BUFFALO, N.Y. — In the hour or so before Boston University met Providence for the 2015 NCAA Frozen Four title game, the ticket re-sellers were having a heyday on the streets outside TD Garden in Boston. With the hometown Terriers facing the upstart Friars, whose campus is 45 minutes away, the fan interest and ticket demand was off the charts, prompting prices of $250 or more just to get in the door of the rink.
A year later in Tampa, Fla., the thousands of blue seats inside Amalie Arena became a sea of green. It is nearly 1,900 miles from Grand Forks, N.D., to the Tampa Bay Lightning's home rink, but passionate North Dakota fans by the thousands made the trip not only from the Red River Valley, but from all over the nation, to see the Fighting Hawks win their eighth NCAA hockey title and tickets were scarce.
In 2017 when the Frozen Four made its first stop in Chicago, there were no unsold seats inside the cavernous United Center, on the city's west side, as Minnesota Duluth and Denver squared off for the NCAA title. The tournament's attendance was surely boosted by local favorite Notre Dame getting to Chicago, despite the Irish bowing out in the semifinals.
In 2018 in St. Paul, Minn., the Frozen Four was a tough ticket, with nationally-popular Notre Dame facing local favorite Minnesota Duluth in the finale. Two other big schools with huge alumni bases — Michigan and Ohio State — rounded out the quartet of teams. The few available tickets for the tournament sold out quickly, and the resale market on West Seventh Street in St. Paul was hot.
With that history, it was odd to see huge swaths of empty seats this year in Buffalo, and see an official paid attendance figure (13,624) for the finale that showed more than 5,000 available tickets went unsold. It was the lowest attendance for the men's hockey championship game since 2000 when there were 11,484 in attendance in Providence, R.I., for North Dakota vs. Boston College in what is now known as the Dunkin' Donuts Center, which now has a seating capacity for 14,000.
It was the first time that attendance for a championship game was less than 18,000 since 2006 (Wisconsin vs. Boston College, Milwaukee, Wis., 17,758). Buffalo also hosted the 2003 Frozen Four, but the championship game between Minnesota and New Hampshire drew a crowd of 18,759.
Folks began asking why almost immediately and that's a question that is still being explored.
"We have not debriefed internally or with Buffalo yet, but we will. My suspicion is it's a combination of factors that all worked against the attendance," said Steve Metcalf this week. A deputy athletic director at the University of New Hampshire, Metcalf serves as chair of the NCAA Men's Ice Hockey Committee. "When we have that conversation we will dive into those issues more. It's pretty common to evaluate with the host and with Buffalo we will go into the reasons that it didn't work as well as we thought."
What one suspects that the NCAA will find when those discussions are held is in a place where challenging winter weather is the norm, there was a perfect storm of factors that seemingly hit Buffalo and affected Frozen Four attendance. This, despite the relatively good spring weather fans experienced during the three-day tournament weekend.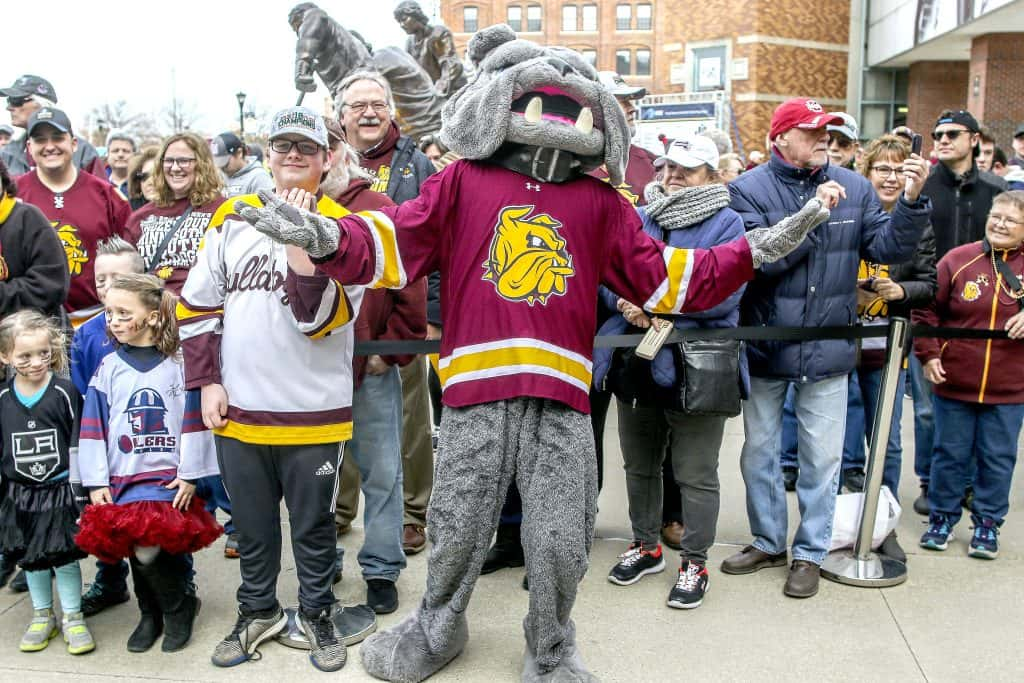 Fan bases
While Minnesota Duluth wore the white jerseys and was listed as the official home team for the title game, UMass had the majority of fans in the building for the finale. Their campus is roughly a six-hour drive from Buffalo, and as the Minutemen were making their initial Frozen Four appearance, there was extra incentive for their fans to experience all of this for the first time.
Minnesota Duluth, Denver and Providence are all relatively small schools with enrollments of 10,000 or less. All have passionate fan bases, but Denver fans in particular have never traveled in impressive numbers. Without a large-enrollment, large fan base "BCS" school (think Minnesota, Wisconsin, Michigan, Boston College, etc.) in the field, there were fewer potential ticket buyers with an emotional investment. Many fans of those teams traveled to Buffalo anyway, as Gopher, Badger and Wolverine apparel was easy to spot in and around KeyBank Center.
"I think it's a couple things. I don't want to blame Buffalo, but it's not necessarily a vacation site like Tampa and it's not necessarily a huge college hockey base town like Boston," said John Kavanagh, a St. Paul attorney for Minnesota Public Radio and Minnesota Gophers fan who was attending his 11th Frozen Four this year. "I thought they were a great host city, and there are many things to like about Buffalo, but the reality is that if you don't have the fan bases there, the city misses out on it, but the atmosphere also is not as fun."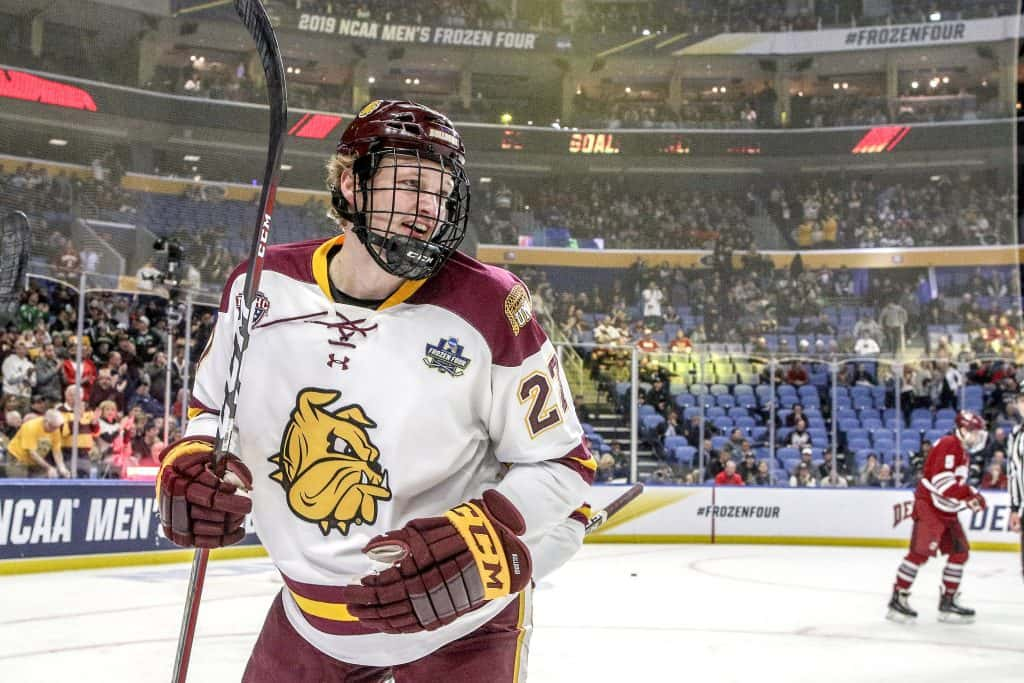 Weather and travel woes
Buffalo's winter weather is notoriously challenging. And while rain was the only real inclemency visitors experienced over the three days the tournament was in western New York, the region's reputation for snow and cold provided little incentive for casual fans to travel. Add to that the winter weather events that hit both Minnesota and Colorado on the Wednesday before the tournament, and the flights of more than a few fans who planned to get to Buffalo were either delayed or cancelled, throwing many itineraries into chaos.
For the fans who were able to get to town, getting home was an unexpected adventure in some cases. On the Sunday morning after the tournament concluded, Buffalo's airport was a wild scene, with long lines seemingly everywhere and oversold flights that had one Delta gate agent offering ticket-holders a $700 gift card if they would fly the next day.
Brian Haedrich of Duluth made a last-minute decision to see his beloved Bulldogs play for the title and arrived in Buffalo just a few hours before the final game with no luggage and the clothes on his back. They were still on his back 48 hours later, as flight cancellations and delays had him back in the Twin Ports late Monday night, via Chicago then Minneapolis-St. Paul and then finally Duluth. Other Bulldogs fans, frustrated at their inability to fly out of Buffalo, abandoned their airline plans and rented cars for the long drive back to Minnesota.
Ticket prices
Stop us if you have heard this before, but there were myriad complaints that Frozen Four tickets have gotten too costly. Two years ago in Chicago, a premium ticket a few rows off the ice at the United Center went for $300 for all three games. In Buffalo, fans paid a similar price for club level tickets, and $250 per seat for upper level seats considerably further from the ice. Like most things, ticket prices have continued to go up.
If you are a passionate fan there to see your team in the Frozen Four — especially the first-timers from UMass — price is rarely an issue. But the casual fans who attend every year with no real rooting interest have expressed concern about costs, and the NCAA is listening.
"We will definitely be having conversations with Buffalo about what worked and what didn't. And each year we sit down with the future host to talk about ticket pricing and the structure," said Kristin Fasbender, who is the NCAA's director of championships and alliances. "We've gone from the day where every ticket was the same price to really looking at the structure and tiering those tickets and working to figure out what the best price is. We work with the host to make sure we're putting something out in the market that is going to be well-received by our fans and will help us get the attendance that we want."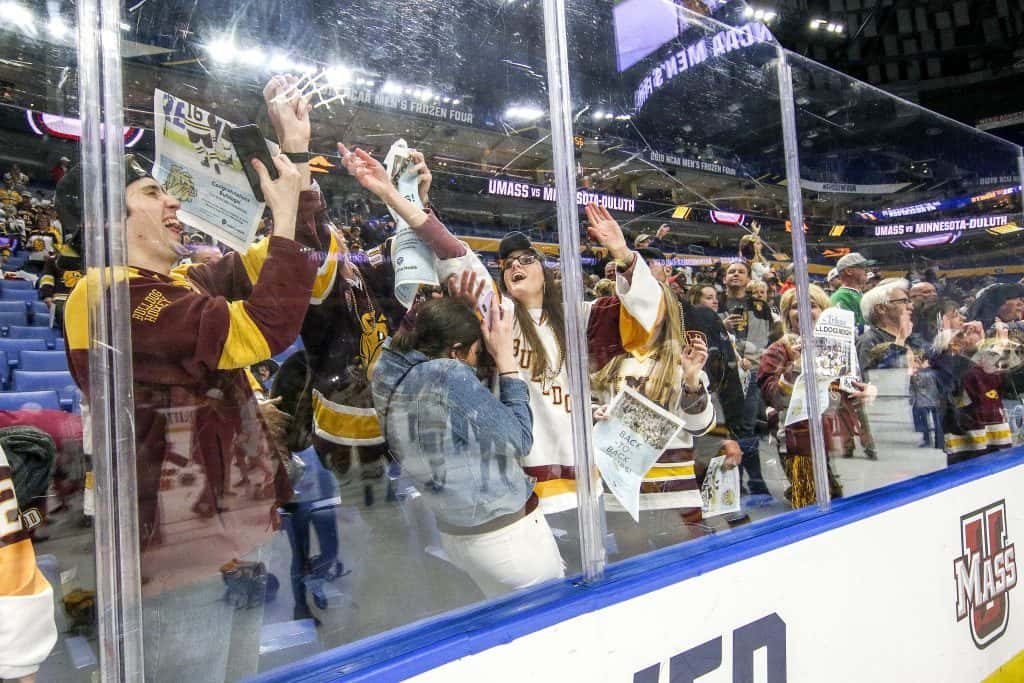 Mentoring Motown
Detroit, which will host the 2020 Frozen Four at Little Caesars Arena, had a delegation of a dozen people in Buffalo, learning from what they saw. When Buffalo's transportation challenges come up, they Motor City folks tout the fact that they are more centrally located, roughly a day's drive or less from most college hockey markets, with a larger airport that they believe will ease some of the travel concerns. And even if Michigan or Michigan State doesn't qualify for the 2020 tournament, the Detroit organizers are confident that the lower attendance in Buffalo was a one-year blip.
"We think one of the reasons we will be successful is this is a strong hockey market from youth on up through college and the Red Wings. We have a lot of resources to market and promote the event," said Dave Beachnau of the Detroit Metro Convention and Visitors Bureau. "Of course, we heard about the numbers in Buffalo and we thought it was somewhat of an aberration. It's not really for us to put our finger on what the challenges were there. But if you look back as far as 2000, the event has pretty much sold out. We know there's a market and a demand."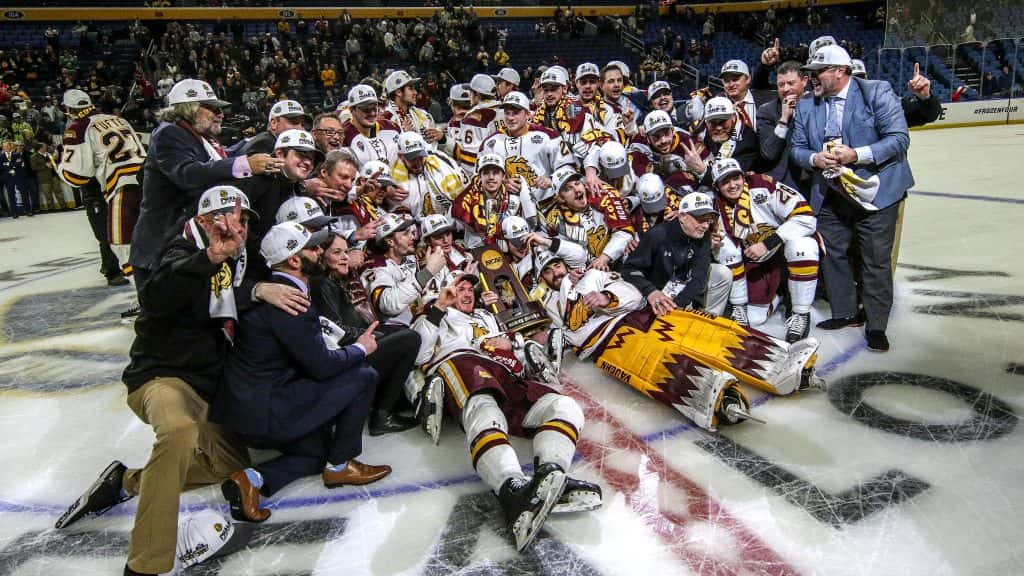 Attendance last 10 Frozen Four championship games
2019 — Minnesota Duluth vs. Massachusetts in Buffalo, N.Y. — 13,624
2018 — Minnesota Duluth vs. Notre Dame in St. Paul, Minn. — 18,303
2017 — Minnesota Duluth vs. Denver in Chicago, Ill. — 19,783
2016 — North Dakota vs. Quinnipiac in Tampa, Fla. — 19,358
2015 — Boston University vs. Providence in Boston, Mass. — 18,022
2014 — Union vs. Minnesota in Philadelphia, Pa. — 18,742
2013 — Quinnipiac vs. Yale in Pittsburgh, Pa. — 18,184
2012 — Boston College vs. Ferris State in Tampa, Fla. — 18,818
2011 — Minnesota Duluth vs. Michigan in St. Paul, Minn. — 19,222
2010 — Boston College vs. Wisconsin in Detroit, Mich. — 37,592
* Note: The 2010 Frozen Four was held at Ford Field, the home of the NFL's Detroit Lions
Coming tomorrow, Part Three: the Future. As much as a decade before the first fan settles into his seat for the Frozen Four opener, plans are already being developed and set in motion regarding how a city, an arena and that rink's primary tenant can work together to create a memorable event. We look at those relationships, how the bid process works, and where the Frozen Four might be headed when the next round of hosts is announced in 18 months.