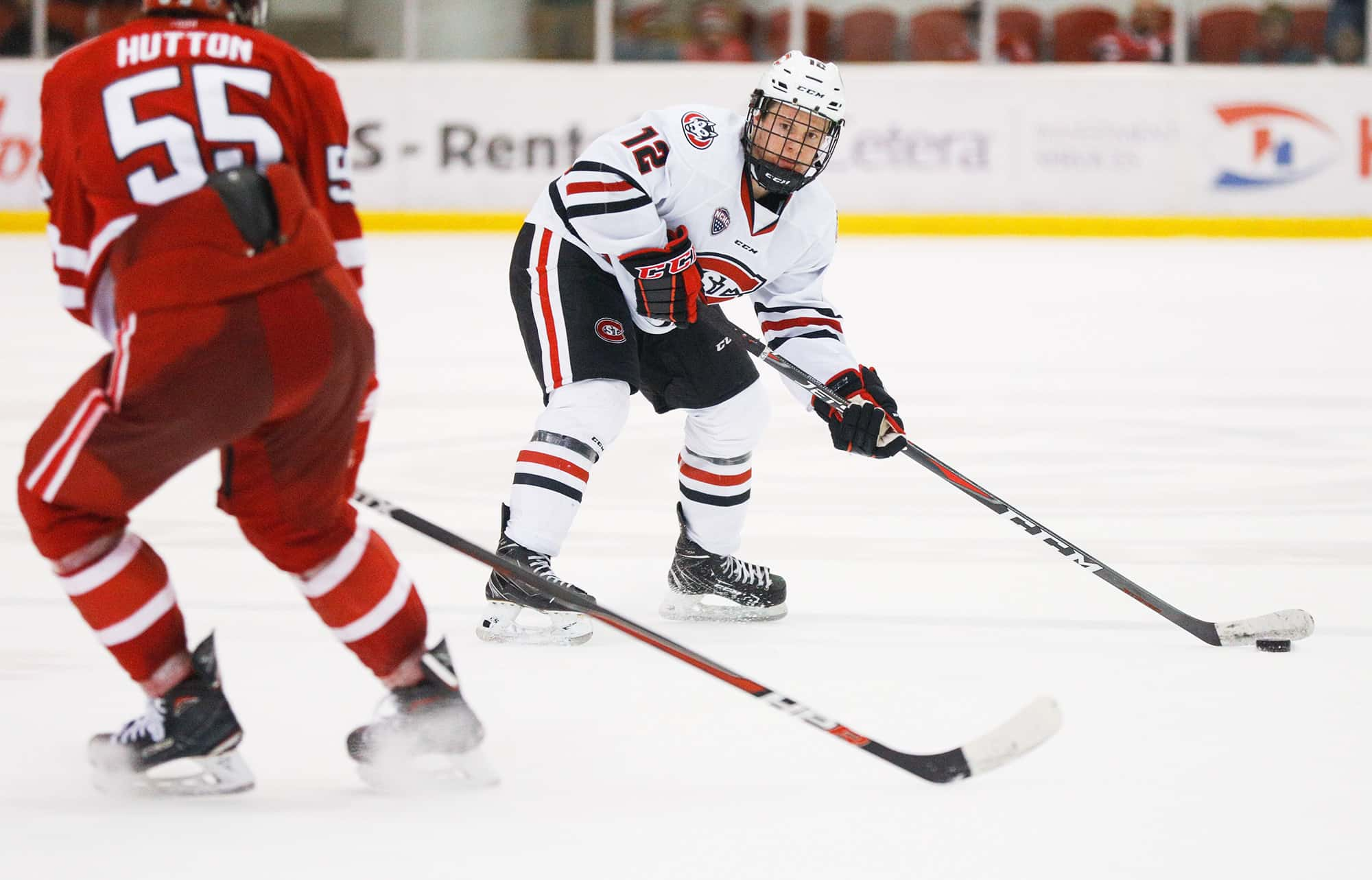 By Mick Hatten
ST. CLOUD, Minn. — There were nine seniors on last season's St. Cloud State men's hockey roster and two more underclassmen decided to sign pro contracts since the Huskies' season ended.
A key player for the Huskies, though, has decided to come back for his senior season. Defenseman Jack Ahcan said that he told St. Cloud State head coach Brett Larson on Thursday, April 18, that he plans to come back for his fourth season.
Ahcan, an All-NCHC Second Team pick in 2018-19, tied for the team lead in assists (28) and had 34 points, 38 penalty minutes and was second on the team in plus/minus (plus-30). He said he purposely took his time to make his decision on whether or not to return next season.
"It's been kind of a long process," Ahcan said. "It took a little bit of time to lay out all my options with my advisor and my family.
"It came down to wanting to be a senior captain and trying to lead this team. It's been a lot of phone calls and I wouldn't say it's been stressful. I did go through the process and I think I made the right decision. I'm pretty amped up to be back with the team next year."
Ahcan listed a number of factors as to why he wanted to return. One of the reasons was head coach Brett Larson, the NCHC Coach of the Year in his first season. Larson recently came back from a short road trip and Ahcan had a meeting with him Thursday.
"I went into his office and I told him I'm coming back and he had a big smile and told me he thinks it's a great decision," Ahcan said. "I shook his hand and we hugged and I said, 'Let's do this thing.' I've heard from (assistant) coach (Mike) Gibbons and (assistant) coach (Nick) Oliver and they're really pumped up to have me come back."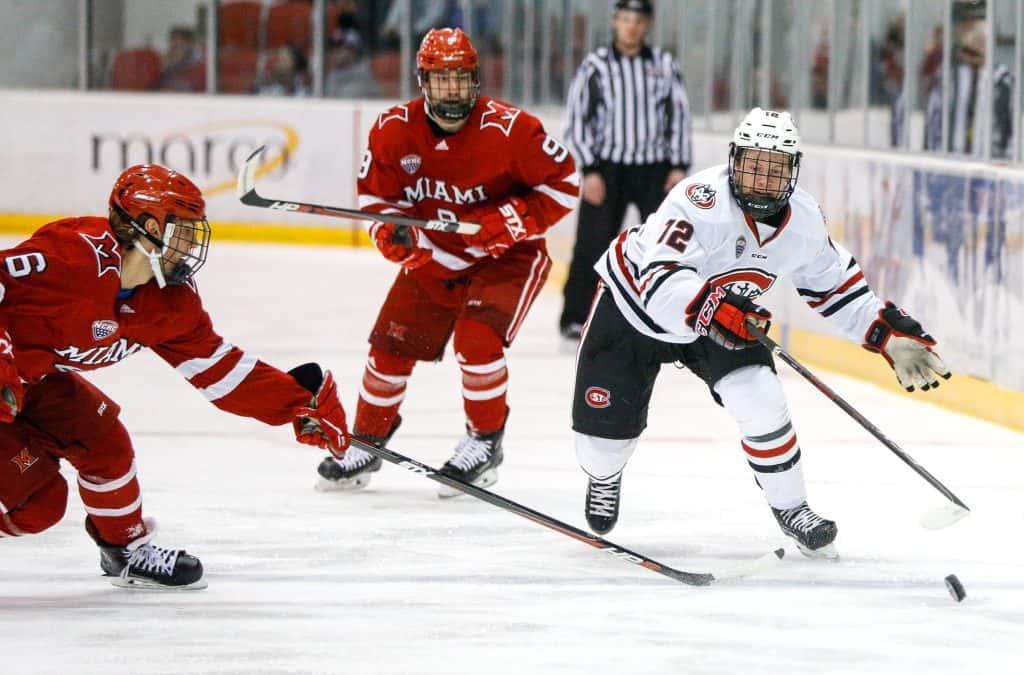 Ahcan said he also thought about the seniors who recently finished their eligibility at St. Cloud State and he lives with hockey playing classmates Nick and Jack Poehling and Jake Wahlin.
"The 20-some guys in that locker room are one big family and a big reason why I'm coming back is coach Larson has been so great to me," Ahcan said. "Last year, we didn't know what to expect and he helped me as a hockey player and as a person and I feel so blessed to have such a great coach and then all the training staff.
"College is a one-time opportunity and I looked at all that and I don't know how I could leave all those guys. There were some offers and some NHL offers. This is not so much about me being ready for that, but this is about me gaining experience of leading a college team. This is a dream come true."
If some of that sounds familiar, Ahcan said he had several conversations with former St. Cloud State captain Jimmy Schuldt before he made his final decision. Schuldt, like Ahcan, an undrafted free agent, bypassed a number of pro offers to return for his senior season in 2018-19.
Schuldt was named the NCHC Player of the Year and was a top three finalist for the Hobey Baker Award.
"He's a great role model and I was in contact with him quite a bit on why he did it and you look at the bond they had as seniors and how close they are," said Ahcan, a 21-year-old Burnsville High School graduate. "Everybody knows my senior class is close and that really helped out my decision."
As a junior, Ahcan was paired with freshman Nick Perbix for St. Cloud State defense. Perbix will be a sophomore next season and the pair will likely be the top defensive pairing for the Huskies next season. Ahcan is a commercial real estate major and is on track to graduate in the spring of 2020.
Barring any other early signings, the Huskies will also have wing Easton Brodzinski (16 goals, 29 points), forward Nolan Walker (19 assists, 27 points), forward Sam Hentges (10 goals, 20 points) and Perbix (20 points) as the team's top returners in points behind Ahcan.
Goalie David Hrenak, who recently completed his sophomore season, is a Los Angeles Kings draft pick and is expected to return.