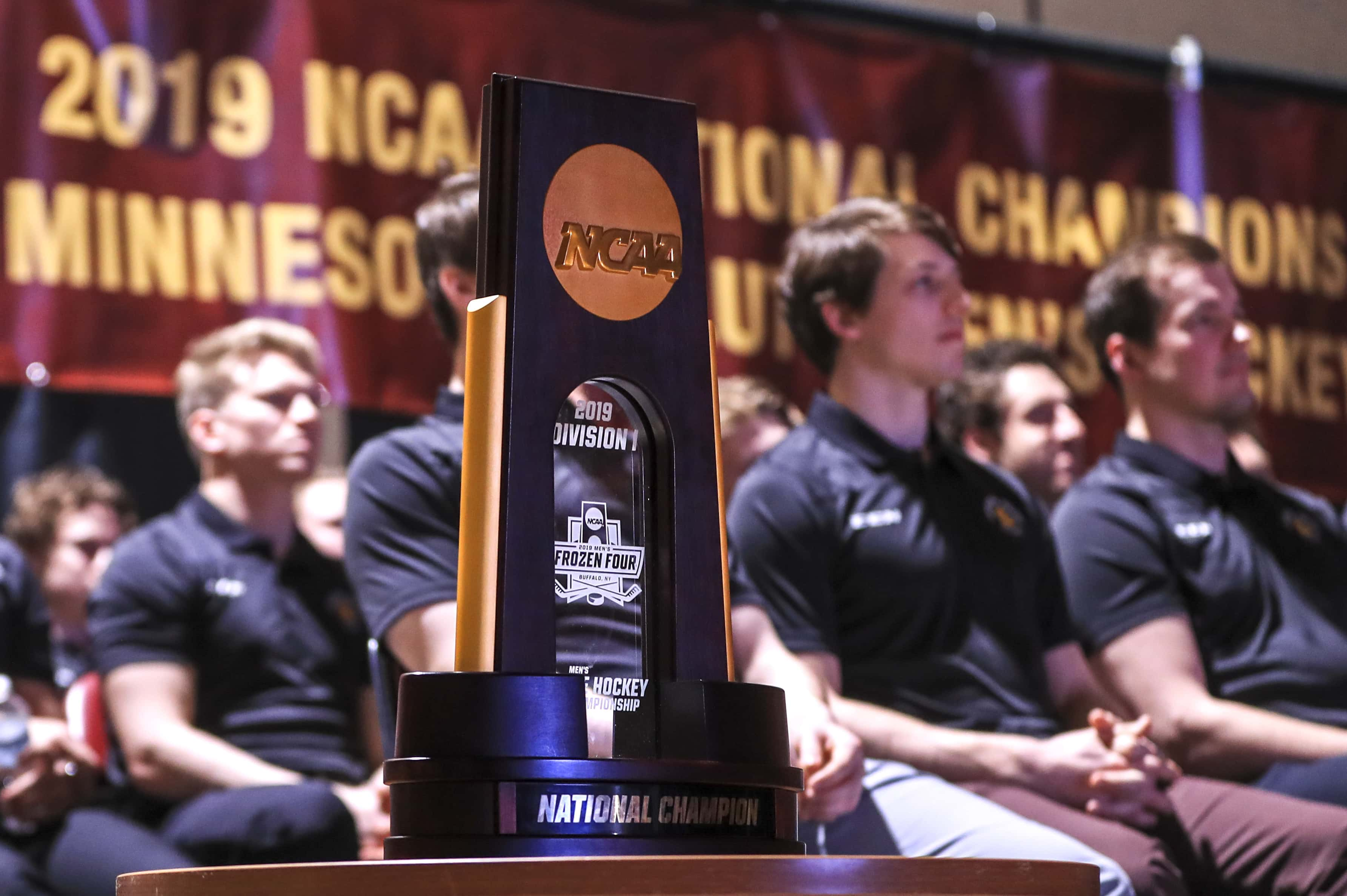 By Matt Wellens
DULUTH, Minn. — Minnesota Duluth senior wing Billy Exell wasn't just after a second-consecutive national championship Saturday, April 13, in Buffalo, N.Y.
The native of Thunder Bay, Ontario, was chasing what the Bulldogs' 2017-18 senior class accomplished in St. Paul. He was pursuing what very few get in college hockey — a victory in their very last game.
Exell and his fellow 2018-19 seniors Peter Krieger, Parker Mackay and Nick Deery did just that Saturday, beating Massachusetts 3-0 to go out with an even bigger bang than the senior class before them by winning back-to-back NCAA titles.
Accomplishing that goal was an unbelievable feeling, Exell said Saturday night on the KeyBank Center ice, staring in wonder at the celebration that was in full force around him.
"Coming into this week, we knew this was going to be our last weekend of hockey and that was our goal," Exell said, "to make it a good one and to finish it right."
The celebrations for Exell and the Bulldogs continued Tuesday night on campus at Romano Gymnasium where the university and community honored the back-to-back and three-time national championship program.
Bulldogs fans stood in line for hours to get autographs from their favorite national championship players. Both Mackay, the senior captain, and Scott Sandelin, the three-time national championship coach, made sure the fans knew how appreciative the team was for their support.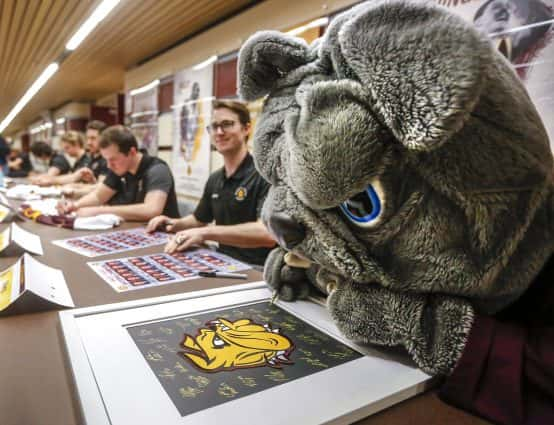 "To be able to come back to Duluth again this year and do what we just did is so remarkable," Mackay said Tuesday during his speech to the fans. "We want to thank you the fans, the ones that made it to Buffalo and the ones back home. We've seen so many videos from every bar in Duluth that was just packed with students and people cheering us on and rooting us on. You were unbelievable all year."
Of all the Bulldogs' seniors, no one may have been more appreciative of back-to-back titles than Krieger, the 25-year-old Oakdale (Minn.) native whose college career began in Fairbanks, Alaska. After he and the Alaska Nanooks failed to make the NCAA tournament in his two seasons in Fairbanks — the program served a postseason ban his freshman year — Krieger transferred to UMD.
Krieger had to sit out his first season with the Bulldogs in 2016-17 per NCAA rules, even having to pay his own way to the Frozen Four in Chicago to watch the team fall short against Denver in the title game.
Was all of that worth it for Krieger? You betcha.
"I couldn't be more happy with how everything turned out," Krieger said. "Getting the chance to come back to Minnesota and play in Duluth was just a dream come true. And getting to live this out and win two national championships, you couldn't ask for a better way to go out. There's literally no better way to go out, so it's been an unbelievable journey."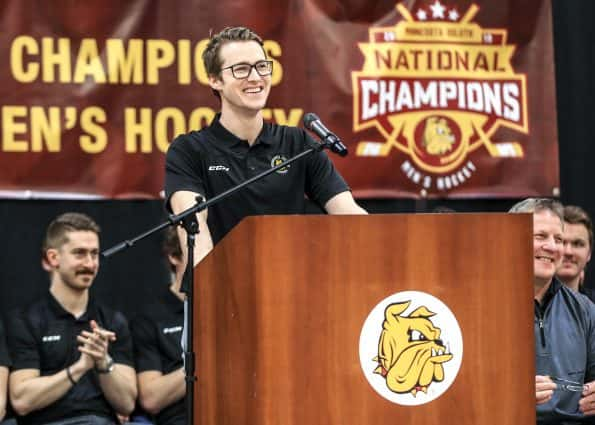 Krieger, Exell, Mackay and Deery were the only members of this year's Bulldogs squad to know what it's like to not finish a season in the NCAA championship game. Exell, Mackay and Deery saw their freshman seasons end via a 3-2 loss to Boston College in the Northeast Regional final in Worcester, Mass.
The Bulldogs' five-member junior class is now three-for-three in reaching the Frozen Four. As winger Riley Tufte pointed out, playing in Frozen Fours for national championships is all he, Jarod Hilderman, Jade Miller, Nick Wolff and Hunter Shepard know.
"It's also something that not a lot of people get to say," Tufte said.
It's not, unless of course you are a sophomore or freshman with the Bulldogs. Playing in Frozen Fours and winning national championships is all those 18 Bulldogs know thus far.
"It's a pretty crazy feeling just to say that I've played in the Frozen Four. Most guys that have played college hockey don't get to do that," UMD sophomore center Justin Richards said. "To win two national championships now in two years, it's tough to put into words."
One person who had no problem putting Saturday's title into words was Wolff, who like Richards and the sophomores, only knows what it's like to play for NCAA titles at seasons' end.
Only Wolff and his fellow juniors have been part of both sides, experiencing the thrill of victory last year in St. Paul and the agony of defeat two years ago as a freshman in Chicago.
Much was made about experience going into Saturday's title game, which featured defending national champion UMD playing in its third-straight championship and UMass, which was appearing in its first title tilt.
Wolff said experience was definitely a factor as the emotions of his two previous national championship appearances equally fueled his desire to win another title.
"You have mixed emotions about both of them. You lost one, you won one. We like the winning one a hell of a lot more than we like the losing one," Wolff said Saturday before indulging in a thick slice of victory pizza inside the Buffalo Sabres' locker room. "We wanted to feel that type of (winning) emotion again. The experience helped the past two years. We played one hell of a game (Saturday) and that's all that matters."