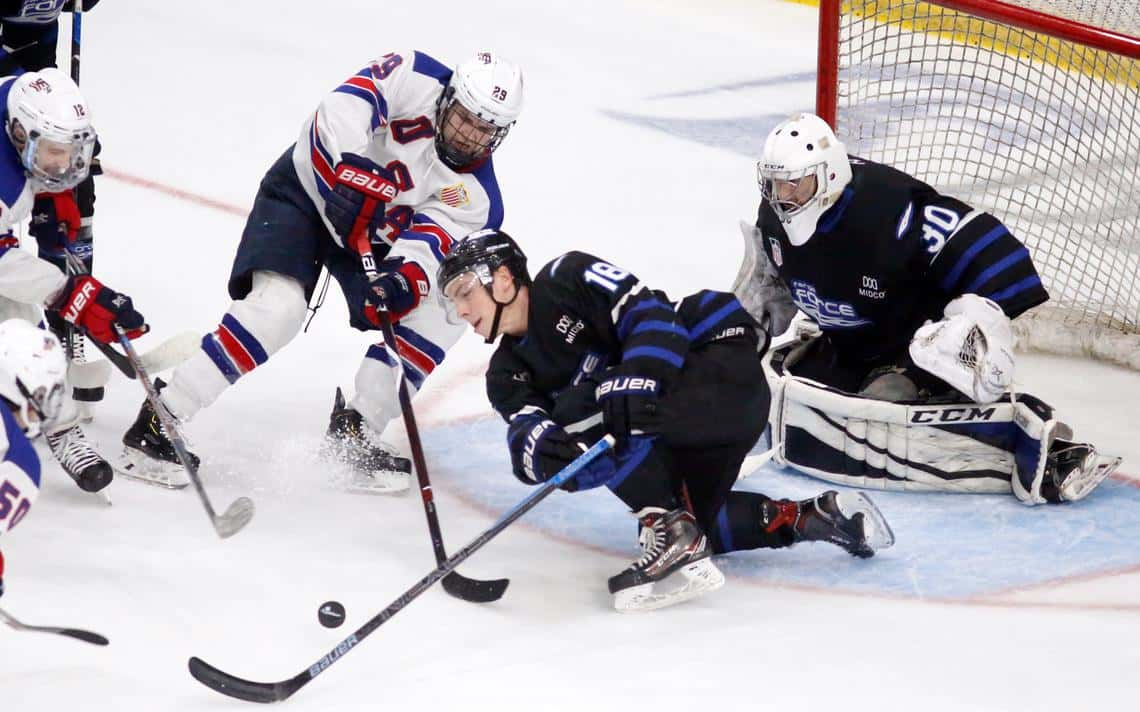 By Chris Murphy
FARGO, N.D. — Fargo Force defenseman and University of North Dakota commit Ethan Frisch has called Moorhead home for his entire life. His dad and uncle both played high school hockey for the Spuds. His two aunts were professional figure skating coaches, so he's been skating since he was 2 years old and had a hockey stick in his hand by the age of 3.
Frisch still has some of his Moorhead jerseys in his closet from his high school seasons.
Last summer he told the Moorhead hockey coaching staff he needed to meet with them. Moorhead varsity hockey coach Jon Ammerman said he pretty much knew what was coming.
Frisch told the Moorhead coaching staff he was not coming back for his senior season with the Spuds. He was going to go to Green Bay to play with the Gamblers in the United States Hockey League.
He said it was the hardest decision of his life.
"You play with those guys your whole life and know the coaching staff since you were little," Frisch said. "It's really hard. I told my coaches that I was going to continue with Green Bay. I got a lot of support from family and friends and the coaches."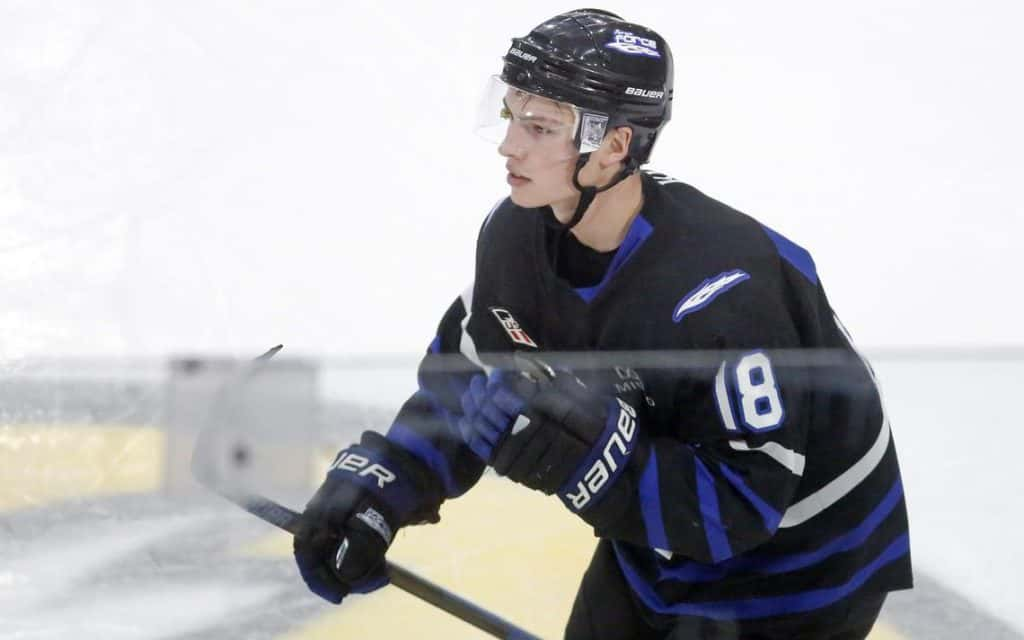 Frisch had 20 points in 31 games as a sophomore, helping lead the Spuds to the Minnesota Class 2A state championship game. He had 28 points in 28 games as a junior, as the Spuds lost in the section championship game.
"Obviously, it's a tough decision," Ammerman said. "He had a decision him and his family had to make and one that they thought was best for his career. We're going to cheer for the kid no matter what happens and we hope he has a really long career and does extremely well. He's a great kid from a great family."
After his junior season at Moorhead, Frisch played 14 games with Green Bay in the USHL, notching six assists and a plus-minus of plus-5.
"I got a good taste of it," Frisch said. "I loved the coaching staff and area. I liked the lifestyle. It's more hockey, while still taking care of school work."
Something new to Frisch this season was dealing with losing. Throughout his hockey career he was never on a team even close to .500. Green Bay finished this season as one of the worst teams in the USHL. Frisch was along for that ride for the first 41 games.
"You learn to deal with adversity," Frisch said. "Not every season is going to be the best season as far as wins and losses, but you have to battle back and find a way to get better and keep fighting. It was different, but it was cool to see that side of things. I hate losing, but it's good for me to experience and get to know how to deal with those things."
While Frisch was experiencing losing in the USHL, the Spuds were en route to winning a section championship without him. Frisch never second-guessed himself and never stopped cheering for the Spuds.
"I had to follow my head in my decision and what's best for me," Frisch said. "It's exactly what I was hoping for. I got to experience two separate sides of the league. It's been a great wealth of knowledge."
In February, Frisch got the other side of the USHL. Green Bay was looking to rebuild and the defending Clark Cup champions were looking for help defensively for their playoff push. Fargo head coach Cary Eades knew there was more to Frisch than his 14 points and his plus-minus of minus-22 with Green Bay. Eades has watched Frisch develop since he was playing youth hockey.
"He's our type of player," Eades said. "He's smart, aggressive, a 200-foot defenseman. He can play both sides of the puck. He's all eyes, all ears, one of those players that soaks things in like a sponge."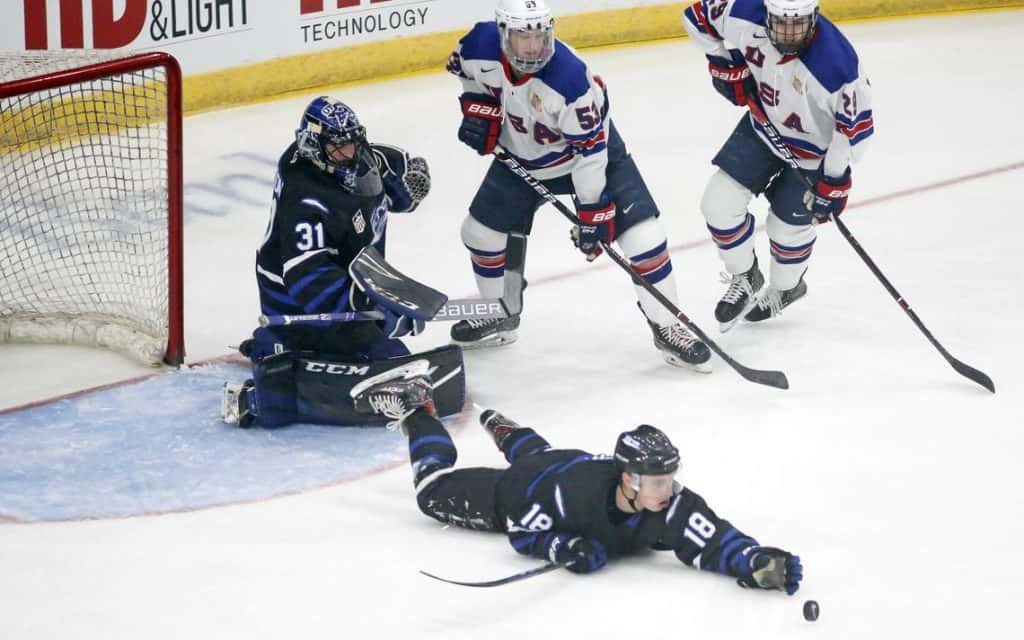 Frisch has three points in 16 games with the Force and a plus-minus of minus-1, as Fargo prepares to open the USHL playoffs in a best-of-three series at 7:05 p.m. Monday at Des Moines.
"I think his defensive side of the game has grown," Eades said. "He was a little bit of a smaller kid, but he's gotten a lot thicker and stronger. That has helped him advance defensively. He always had the offensive side. He's got really good calmness and patience with the puck and, yet, doesn't move it quickly. We preach a lot to get the puck moving north."
Less than three years ago, on Oct. 24, 2016, five days before his 16th birthday, Frisch committed to UND before ever playing a high school hockey game. Since then, he's helped lead the Spuds to a state championship game, played in Hockey Day Minnesota, been part of a documentary following the Spuds hockey season and had to make a decision to move to Green Bay and skip his senior high school hockey season.
All that's in front of him is the USHL playoffs, heading to UND next season and most likely being a late-round draft pick in the NHL draft this June.
He's beginning to learn the business side of hockey, but it's still a game to him. It's a game that's brought him ups and downs, difficult decisions and Moorhead hockey apparel he still wears. It's a game he says a prayer before. It's a game he's learned to step away from to hunt, fish and just sit inside with family and friends.
It's a game he can step away from, but not a game he can imagine living without.
"I wouldn't want to be in any other place," Frisch said. "I've got to experience a lot of things a lot of players will never get to. It's been a fun ride, and I can't complain at all.
"Hockey, to me, I still love it and am having as much fun with it as I ever have. You go into your draft year and you realize it's a business and you have to promote yourself as a player, but if I didn't love the game, I wouldn't want to do it. It's one of my biggest passions."