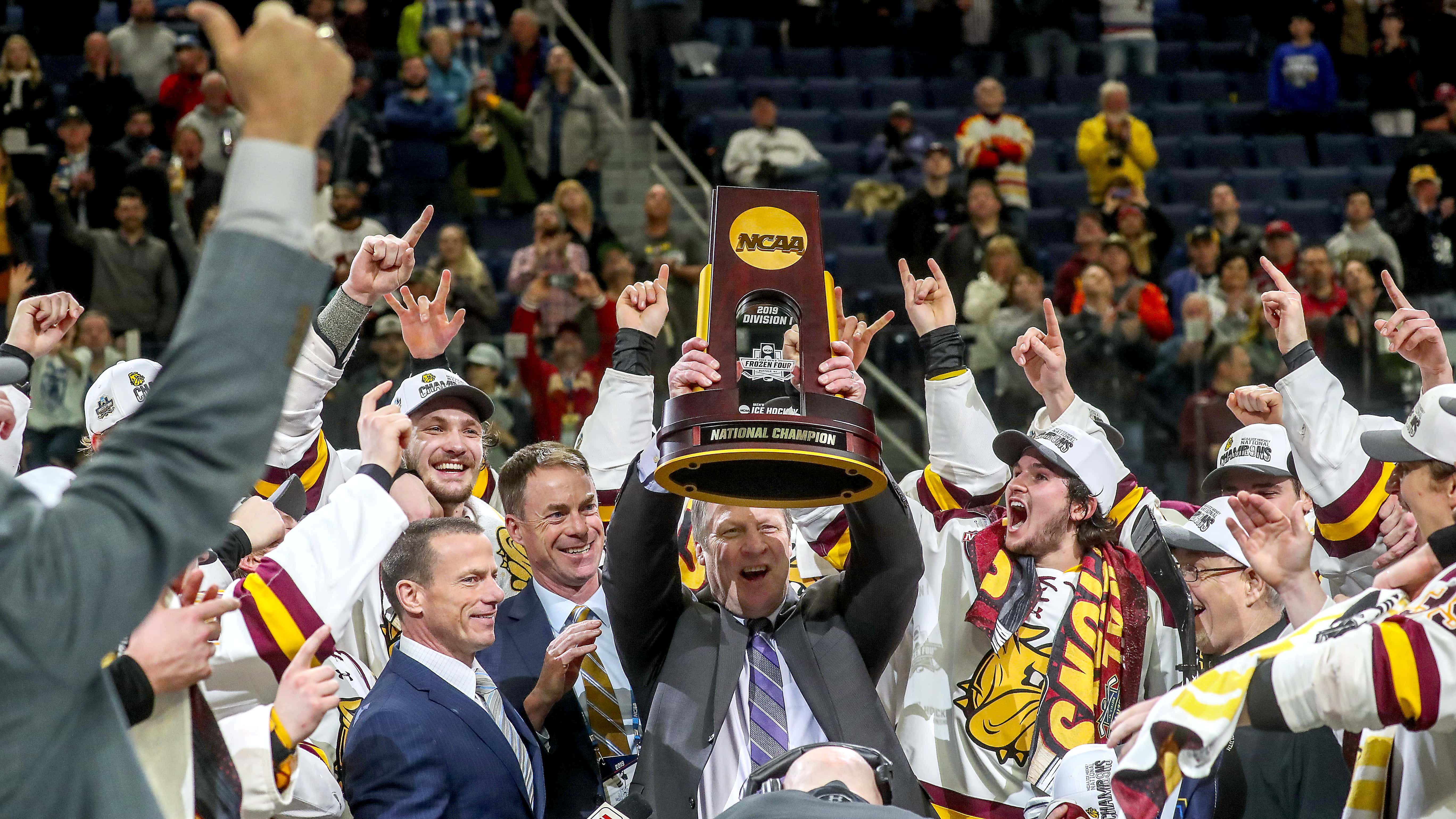 By Jess Myers
BUFFALO, N.Y. — Twenty-one banners hung from the rafters of KeyBank Center in Buffalo for the past few days. There is one blue banner for each of the 21 college hockey programs that has won a NCAA title since the first one was contested in 1948.
All 21 of the banners will be rolled up and put in storage for 51 weeks, until they're hung from the rafters of Little Caesars Arena in Detroit, before the 2020 NCAA Frozen Four is contested there in April.
By the time they are updated for display in Motown, 11 of them will celebrate a school that has earned three or more national championships. And next year, one of those 11 will read "Minnesota Duluth — 2011, 2018, 2019."
Via Saturday night's surgical deconstruction of everything UMass hoped to do in its first trip to a title game, Bulldogs coach Scott Sandelin took his place on a list of nine coaches in college hockey history to win a trio of NCAA titles. It's a testament to Sandelin's style and his adherence to a type of hockey that may not be pretty or even entertaining at times, but it has proven to be effective in the modern game.
"You can tell how much fun the kids are having. They're loose, they're focused. As a coach watching, you can learn a lot of things from him and try to figure out how to get your own team to be a lot like him," Cornell coach Mike Schafer said. "He obviously stays the course through the ups and downs, but that's quite the accomplishment to win back-to-back championships. It doesn't happen very often."
The two consecutive titles by the Bulldogs are men's college hockey's first since Denver won crowns in 2004 and 2005.
Former Minnesota Wild and Columbus Blue Jackets head coach Todd Richards got the night off from his NHL duties, where he is currently an assistant for the Tampa Bay Lightning. He got to be a hockey dad, watching his son, Justin, win a second NCAA title and get a spot on the all-tournament team. The former Gopher had nothing but praise for Sandelin, his one-time on-ice rival.
"You watch the way these teams have played, and I've been able to watch these teams pretty closely because I've had a vested interest," said the elder Richards. "Repeating, I don't care what level it is or what sport it is, it's not an easy thing to do."
The list of coaches that have won three or more titles includes bona-fide college legends like Jerry York from Boston College, Jack Parker from Boston University, Herb Brooks from Minnesota, Bob Johnson from Wisconsin and Sandelin's college coach, John 'Gino' Gasparini, from North Dakota. Asked about taking his place on that list, Sandelin was humble as the players hooted and hollered inside the UMD locker room.
"I'll worry about that later. I don't worry about that stuff, but it's pretty cool when you mention it," Sandelin said, almost cracking a smile. "I have a ton of respect for those guys…obviously Gino was my coach and gave me an opportunity. But to me, it's about the players. It's such a cool thing to go through it with them."
The duties of a college coach in the modern era are many. It's about recruiting and running practice and game management and being a father figure to 25 young men learning their place in college. Sandelin seems to have mastered all of that, and has proven that he belongs in the conversation among the game's coaching legends.
Hear from the Bulldogs after repeating as National Champions #NCHCHockey | #BulldogCountry https://t.co/SyqQd8NtYD

— The NCHC (@TheNCHC) April 14, 2019