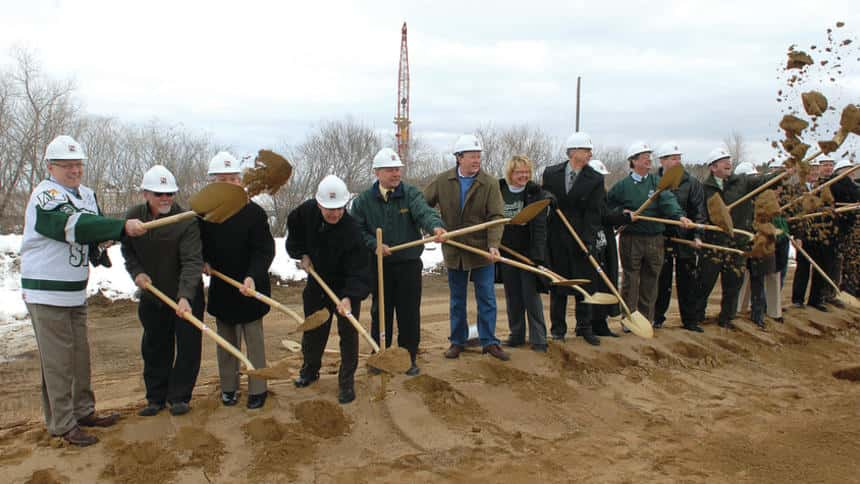 By Austin Monteith
Bemidji, Minn. — The timing of Bemidji State's 2009 Frozen Four run couldn't have been any better.
Just a few days before the Beavers left for Washington, D.C., the groundbreaking was held for the building that would later be known as the Sanford Center. In attendance was Western Collegiate Hockey Association commissioner Bruce McLeod.
BSU was courting the league to admit the Beavers as its 11th member. College Hockey America had dropped to four programs for the 2008-09 season, prompting Bemidji State to explore conference affiliations elsewhere with the CHA's viability in question.
Two months after the Frozen Four, the WCHA admitted BSU and Nebraska-Omaha as its newest members.
"I really think that the timing of that Frozen Four, and of course the facility getting built here on the south shore, allowed us to get into the WCHA," head coach Tom Serratore said. "And that obviously allowed our program to grow."
What if the Beavers never made their Cinderella run? Without admittance into the WCHA, the program's long-term survival could have been in doubt.
"Who knows what happens if we don't get into the WCHA," Serratore said. "It's very hard to be an independent. You're relying on fate if you're an independent. That would have been extremely difficult. I think college hockey is a small enough fraternity where everybody realized that everybody needs a place. Our place was obviously at that particular time in the WCHA.
"You don't know what the future lies, but I also think that college hockey wasn't going to let us fail. Now, if this building wasn't going to get built, I don't know what would have happened. Because the WCHA was not going to take us if we were in the John Glas Fieldhouse."
Fortunately for Bemidji State, that alternate timeline never happened.
The Sanford Center opened its doors at the start of the 2010-11 season, the Beavers' first as a WCHA member.
Read the other Hockey History stories in this series
Beavermania: Recalling Bemidji State's historic run to the 2009 Frozen Four