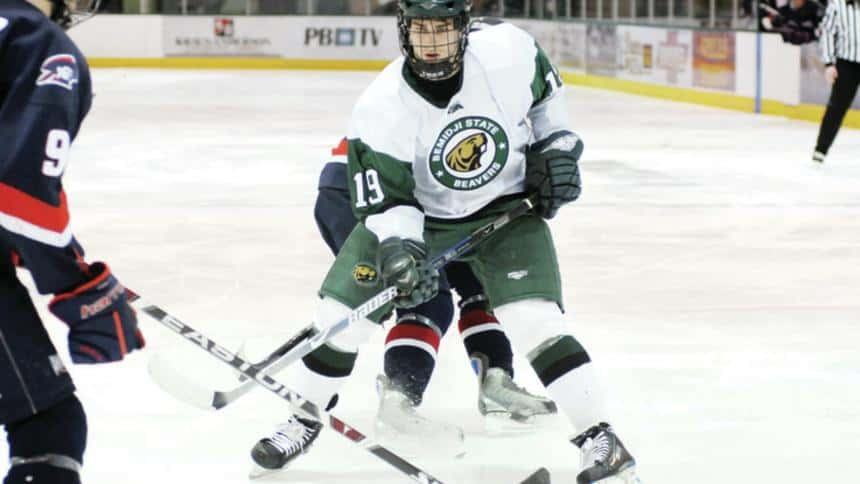 By Austin Monteith
BEMIDJI, Minn. — Two members of Bemidji State's 2009 Frozen Four team reunited as teammates a decade later. In 2019, Matt Read and Brad Hunt traded in their Beaver green for the green sweaters of the Minnesota Wild.
"I thought we'd be able to get to play somewhere down the road together," Read said. "I didn't expect it to be in the NHL. Obviously he's a very special player. … To suit up with a fellow Bemidji Beaver on the same team, I don't know, it was kind of funny. We laughed about it when we first saw each other. We enjoyed the time up there with each other and reminisced about old times at Bemidji a lot."
Hunt said he never imagined that 10 years later, the two would play together in the NHL.
"That never really crossed our minds," Hunt said. "He was a sophomore, I was a freshman. We just kind of were in the moment, and you look back now, it is kind of crazy that two guys from a small school got their chance to play in the NHL. Not only in the NHL, but in the home state of where they went to school and on the same team."
Read, a 2011 BSU graduate, signed with the Wild prior to the 2018-19 season after spending the first seven years of his career as a forward with the Philadelphia Flyers.
Hunt, who graduated from BSU in 2012, began this season with the Vegas Golden Knights before a January trade brought the blueliner back to Minnesota.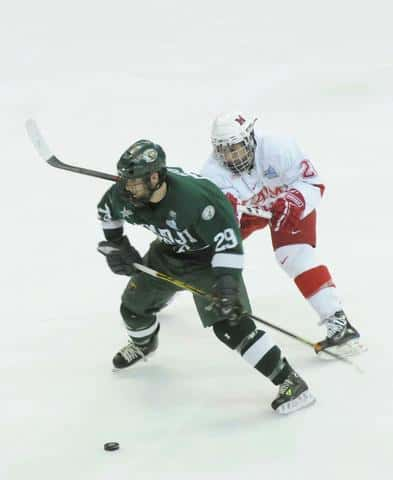 The Wild slotted Hunt directly into the lineup, appearing in 29 of the team's final 33 games and recording five points.
"It was mixed emotions at the same time," Hunt said. "Obviously I loved it in Vegas. A lot of guys were really good to me there. Their organization was great to me. And then to come to Minnesota was something that was really special. My wife is from Minnesota. She's from Grand Rapids and we went to school at Bemidji together…. I'm super excited and glad that I got this opportunity."
Read played 19 games for the Flyers in 2017-18 but spent most of the year in the AHL. The veteran NHLer signed with Minnesota last summer and played five games with the NHL club in October but mostly played for the AHL's Iowa Wild until March. Read played in seven March games for Minnesota as he was repeatedly recalled as an emergency call up.
Read and Hunt made history March 2 as the first Bemidji State products to play as teammates in the NHL. The Wild picked up a 4-2 road win over the first-place Calgary Flames with Read scoring the go-ahead goal in the third period.
"It's very unique," Read said. "We played together for three years and both on the same power play. We spent a lot of time with each other in Bemidji. … To be able to play on the same team in the National Hockey League was a pretty cool and special moment."
"He's such a special dude," Hunt said. "He's a great hockey player and he's a great friend, too. It was a lot of fun to be able to put a Wild jersey on. And not only just to put a Wild jersey on, but to put a Wild jersey on with him, it was something that was really special. I think we'll talk about that for a long time."
Read the other Hockey History stories in this series
Beavermania: Recalling Bemidji State's historic run to the 2009 Frozen Four
Historic implications part of magical 2009 Beaver season