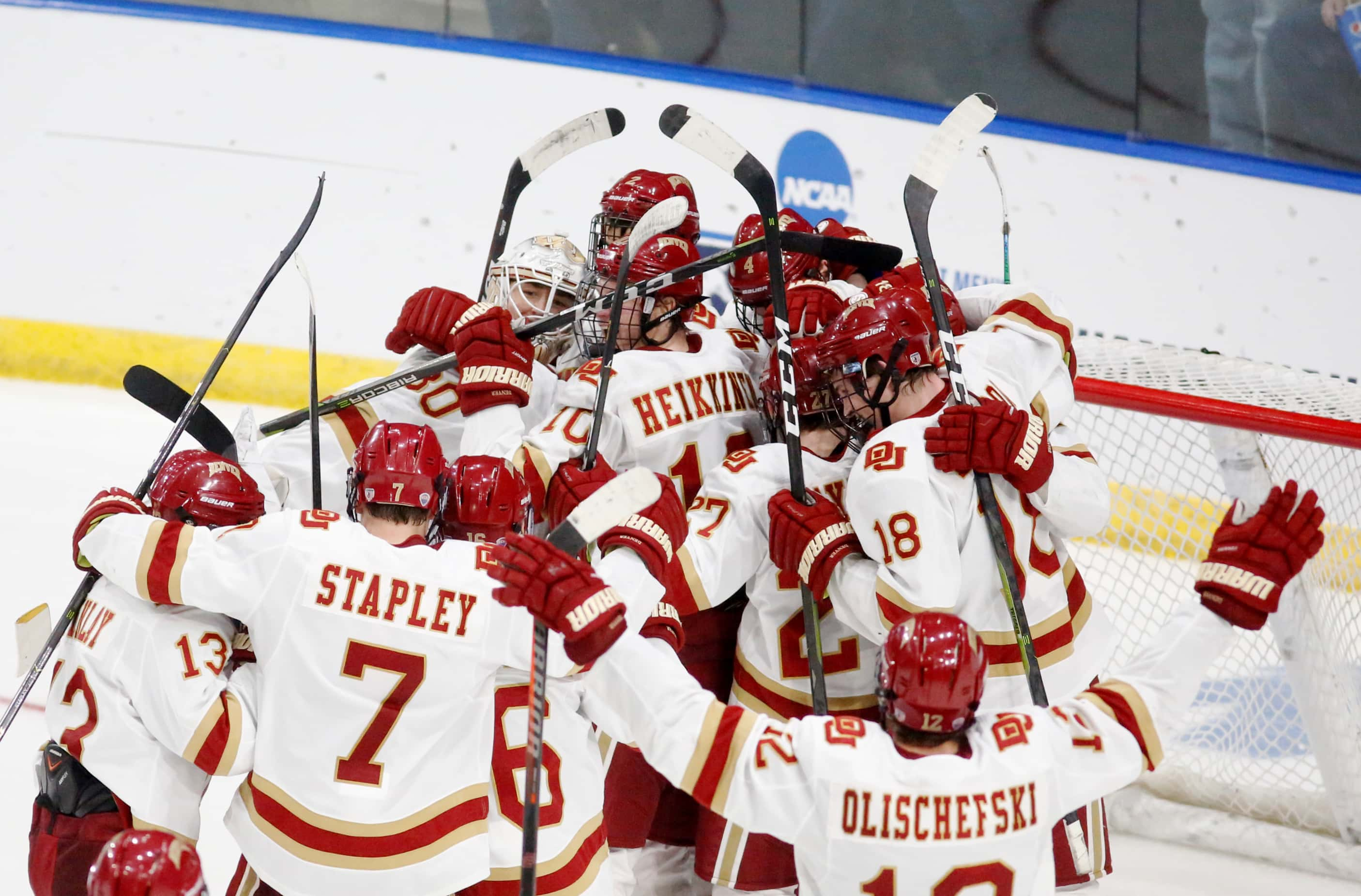 By Jess Myers
FARGO — In what was billed as a rebuilding year for the Denver Pioneers, they'll have two more weeks of practice, and a trip to western New York, to work on that reconstruction project.
The Pioneers are headed to the NCAA Frozen Four in Buffalo, N.Y., after beating American International 3-0 on Saturday, March 30, in the finale of the West Regional. It will be their third trip to college hockey's big show in the past four seasons.
If freshman goalie Filip Larsson surrenders a goal when Denver faces Massachusetts in the Frozen Four semifinals, it will be his first NCAA tournament goal-against, after he had 26 saves to record his second shutout of the weekend and fourth of his college career.
The Pioneers, who won the NCAA title in 2017, got goals from Colin Staub, Liam Finlay and Jarid Lukosevicius in the win.
"We beat a really good hockey team tonight, first and foremost," said Pioneers coach David Carle, who is in his first season on the job after taking over when Jim Montgomery took the Dallas Stars' head coaching job last year. "Beyond that, I'm really proud of our players and how they've come together this year, the things we've been through from the start of the year and everything that was said about us, to get to this point has been a lot of growth."

The teams emerged from the opening period knotted at 0-0 despite a decided shots on goal advantage by the Pioneers, 10-4.
But Denver clearly had the worst loss of the opening 20 minutes as top-line right winger Emilio Pettersen left the game and did not return. Petterson, who has set up Denver's game-winning goal in the regional opener versus Ohio State on Friday, was involved in a collision along the far boards and headed to the bench calling for a trainer and favoring his left arm. He appeared in the post-game celebration with his arm in a sling.
Carle said that Pettersen would be re-evaluated when the team returns to Denver.
AIC woke up offensively in the second period, out-shooting the Pioneers for long stretches and keeping Larssson busy. Their best chance to make the first mark on the scoreboard came with the teams skating 4-on-4, when a turnover at Denver's offensive blue line sprung AIC's Kyle Stephan on a breakaway. But before he could get a shot off, Denver defenseman Michael Davies caught Stephan from behind and lifted his stick.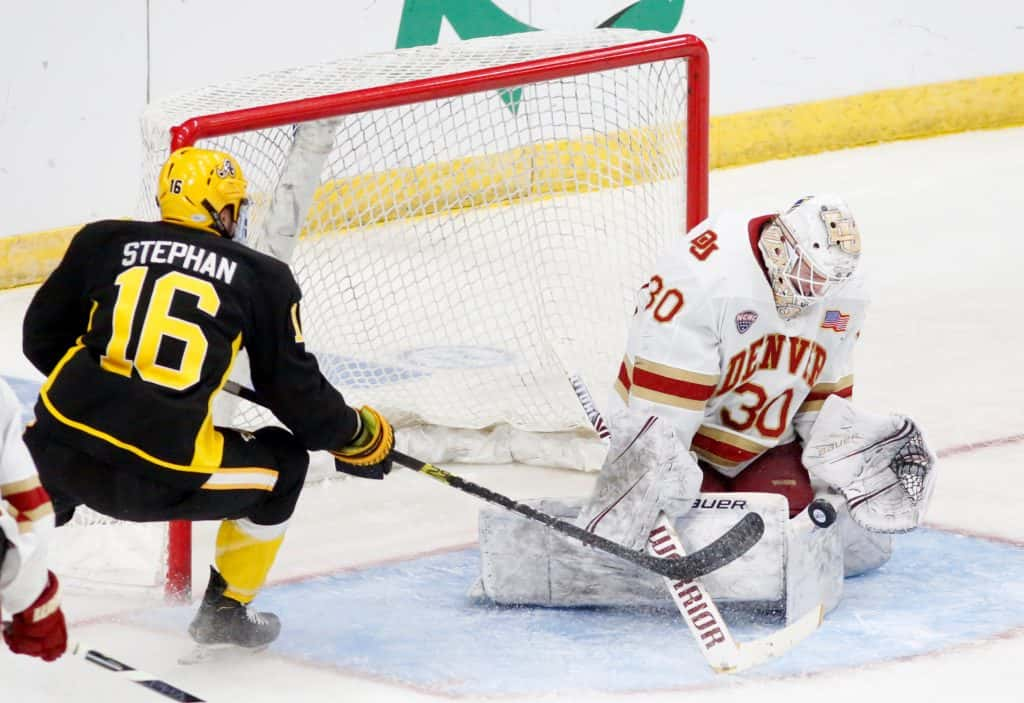 After upsetting top-ranked St. Cloud State on Friday, the Yellow Jackets finished with 26 shots versus Denver but could not solve Larsson.
The Pioneers finally broke through in the closing minutes of the second, when Ryan Barrow's pass found Staub open low in the right circle, where he sent a rising shot at the net and found an uncovered corner. It was the second goal of the weekend for Staub, who scored into an empty net in the Pioneers' 2-0 Friday win.
"The puck bounced out and Ryan Barrow was able to kind of capitalize on that turnover," Staub said. "He was driving to the net and I just tried to find a quiet area in the house there. He was able to find me. I didn't even look at the net, I just tried to get it off as quick as I can."
Finlay all but sealed the game with 3:30 left when he intercepted a AIC pass in the slot in front of goalie Zackarias Skog, and beat the goalie with a quick shot. Lukosevicius added an empty net goal with 83 seconds to play. The goals by Finlay off an AIC turnover and Lukosevicius into an empty net were the Pioneers' only shots on goal in the third period, after they got just one shot on goal in the third period versus Ohio State..
"I told our staff that we doubled our third period shot output from last night to tonight," Carle joked. "If we can get to four (shots) in the next game, we'll be happy."
Skog finished with 21 saves for AIC, which was making the first trip to the NCAA playoffs in the program's history. It will be the 17th Frozen Four trip all-time for Denver, which has eight national championships in program history.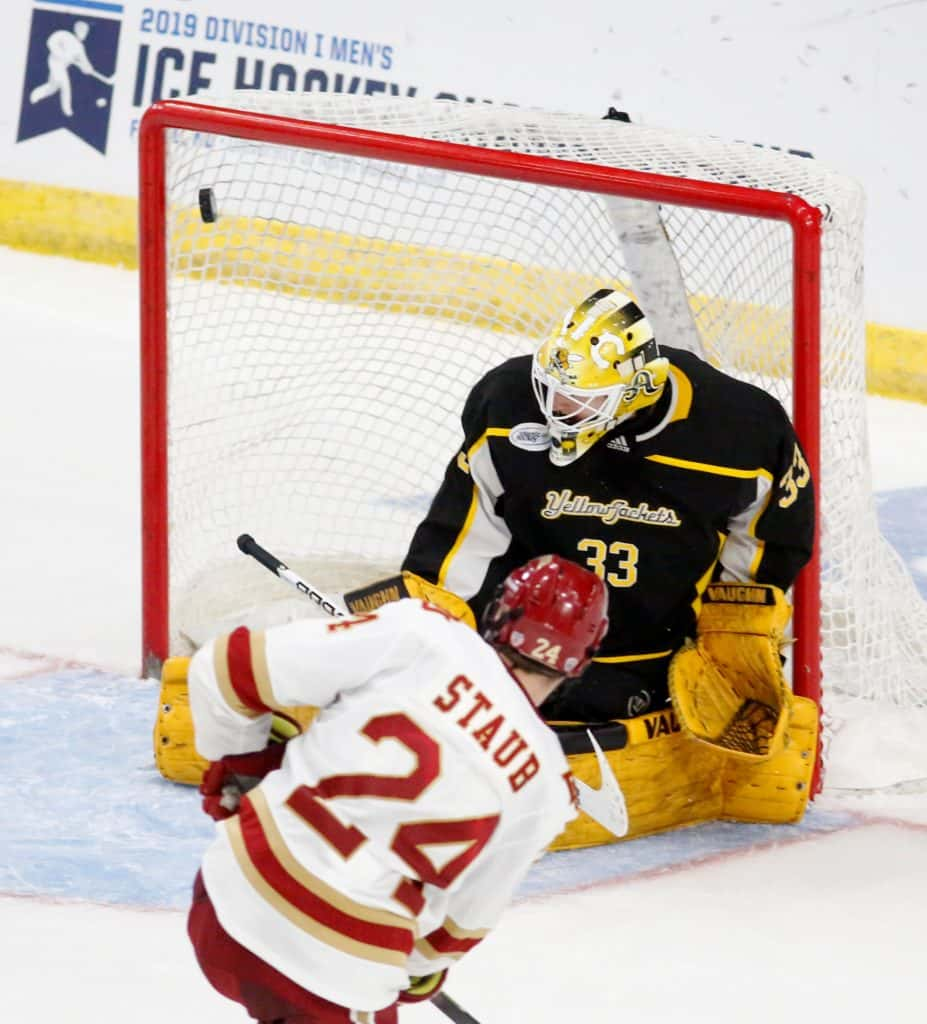 Game Summary
American Int'l 0-0-0—0
Denver 0-1-2—3
First period — No scoring. Penalties — Jarid Lukosevicius, DEN (hooking), 0:54; Shawn McBride, AIC (faceoff violation), 7:15, Martin Mellberg, AIC (cross checking), 16:41.
Second period — 1. DEN, Colin Staub 7 (Ryan Barrow), 15:45. Penalties — Les Lancaster, DEN, (tripping), 4:45; Tyson McLellan, DEN (slashing), 10:21; Blake Christensen, AIC (cross checking), 10:21; Hugo Reinhardt, AIC (tripping), 19:22.
Third period — 2. DEN, Liam Finlay, 16 (unassisted), 16:30. 3. DEN, Lukosevicius 19 (unassisted), 18:37, (en). Penalties — Lancaster, DEN (holding), 4:27; Jaakko Heikkinen, DEN (kneeing), 10:56; Finlay, DEN (tripping), 19:33.
Shots on goal — AIC 4-12-10—26; DEN 10-12-2-24. Goalies — Zackarias Skog, AIC (24 shots-21 saves); Filip Larsson, DEN (26-26). Power plays — AIC 0-of-5; DEN 0-of-3. Referees — Dan Kovarik, Josh Lupinek. Linesmen — Matt Tyree, Kyle Domin. Att. — 4,248.