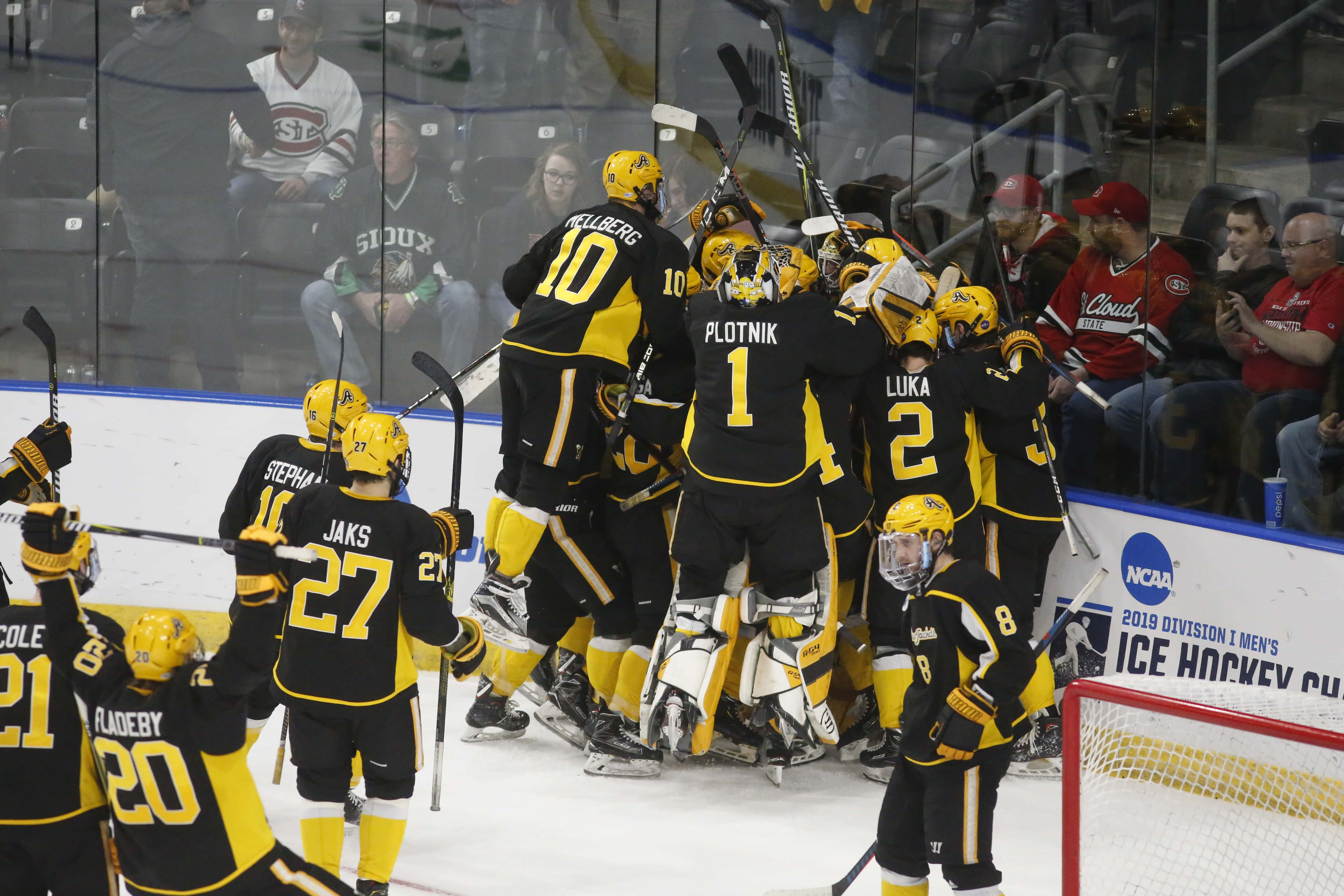 By Mick Hatten
FARGO, N.D. — The average home crowd for the American International College men's hockey team in their home rink of the Mass Mutual Center in Springfield, Mass., this season was 674. The announced crowd Friday, March 29, at Scheels Arena was 4,220.
The Yellow Jackets went into Friday's game 0-6 against ranked opponents this season and were playing the top-ranked team in NCAA Division I in St. Cloud State.
It was American International's first appearance in the national tournament.
So much for being intimidated by the big arena, the big dance and the big dog in the tournament.
American International, which went into the game No. 31 in the PairWise Rankings, beat St. Cloud State 2-1 to advance to the West Regional championship game. The Yellow Jackets (23-16-1) play Denver (23-11-5) at 8 p.m. Saturday (ESPNU) for the right to go to the Frozen Four in Buffalo, N.Y. Denver beat Ohio State 2-0 to advance.
"I think we just had to play our game the same way we have all year," AIC defenseman Brennan Kapcheck said. "We were coming into a big rink with a big crowd that we don't see all the time. But we played our game and it went the right way."
Yellow Jackets coach Eric Lang, whose team won eight games in his first season as head coach in 2016-17, was asked if he ever doubted his team could pull of the upset after the game.
"Honestly, no," Lang said. "We went back in the locker room and we weren't here for a good showing and we were not here to win one game. We are here to win this bracket."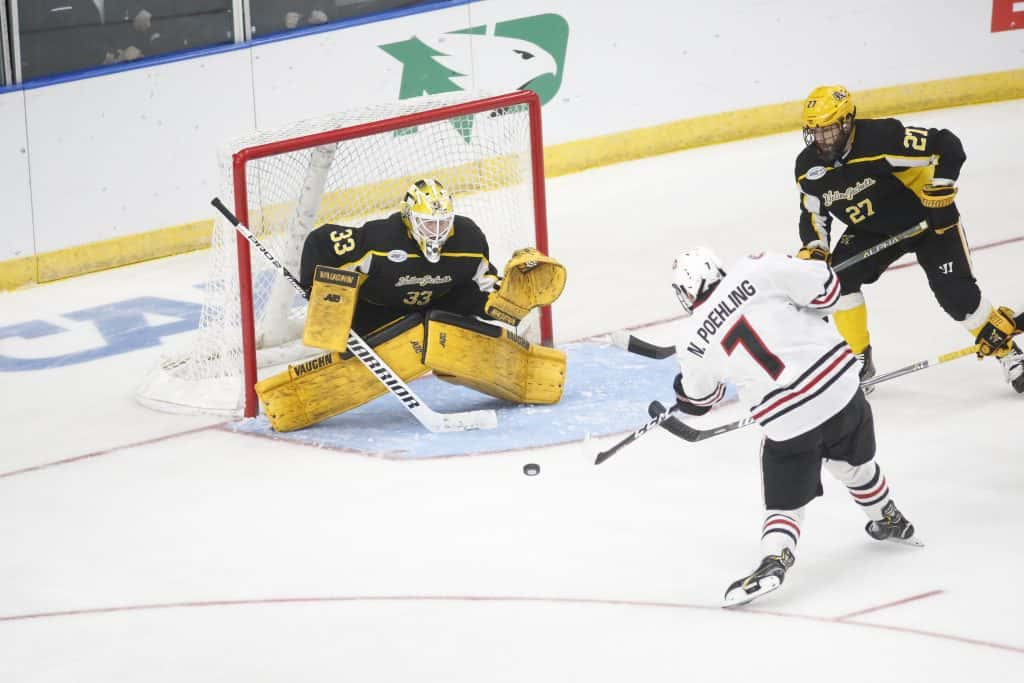 Never trailed
American International got a goal from Joel Kocur at 6:01 of the first period to take a lead it would not relinquish. He stuffed in a shot from near a post past Huskies goalie David Hrenak for a 1-0 lead.
"That was a big first goal and we stressed having a good start," said Kocur, a junior forward from Edson, Alberta. "It was a good shift. We were cycling it well. I turned off the 'D' man and saw a little space and jammed it in. I wasn't sure it went in off the start, but I was super excited."
American International held St. Cloud State to six shots on goal in the first period, the second fewest for the Huskies in a game this season. The fewest was five against Bemidji State on Nov. 16. The Huskies went into the game averaging 33.2 shots-per-game.
"They moved the puck really well, they skate really well, and when we're kind of desperate, we needed to try to change things up," Huskies junior defenseman Jack Ahcan said. "I think we were well prepared, it just wasn't our night."
The Huskies outshot the Yellow Jackets 13-4 in the second period, but trailed 2-0 going into the third period. Kapcheck, a sophomore from Mount Prospect, Ill., scored from near the top of the faceoff circle between the legs of Hrenak at 7:32.
"I came down the wall on the right side and got a pass from Blake (Christensen) and I just kind of held the puck," Kapcheck said. "I pulled it in and snapped and it went in."
St. Cloud State, which was averaging 4.1 goals, had been held to one goal one other game this season. That was in a 3-1 loss at Minnesota Duluth, the defending national champion, on Jan. 11.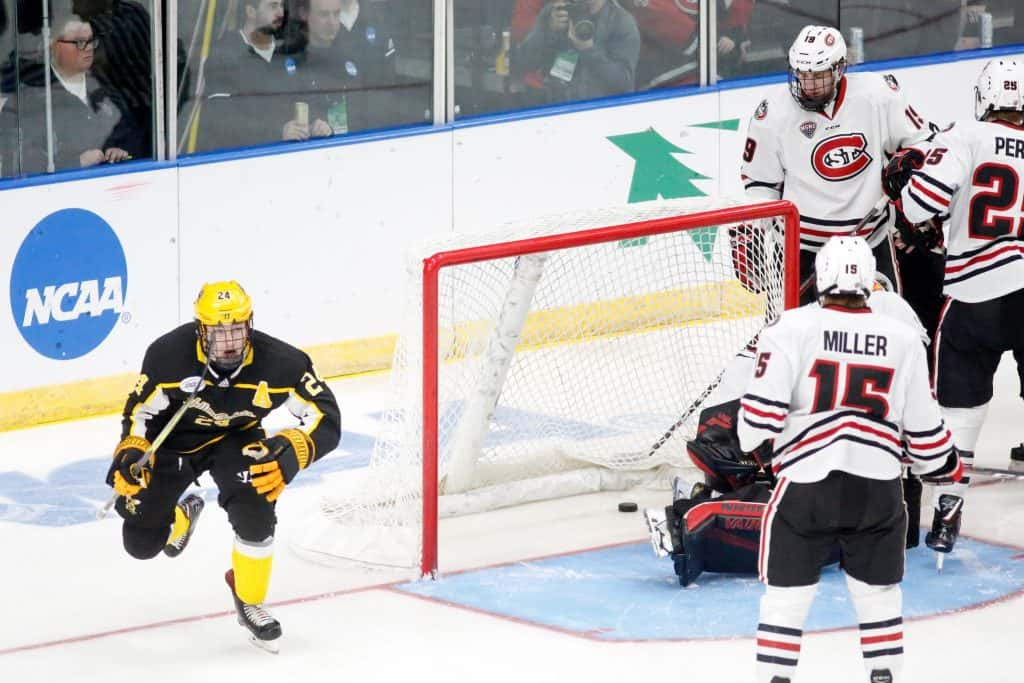 Another disappointment
The Huskies (30-6-3) got a power-play goal from Easton Brodzinski at 9:27 of the third period to cut the deficit to 2-1. Even that was not a real clean play. Zackarias Skog said that Brodzinski was trying to pass the puck out front and it went off his stick and then off the helmet of captain Shawn McBride and past him.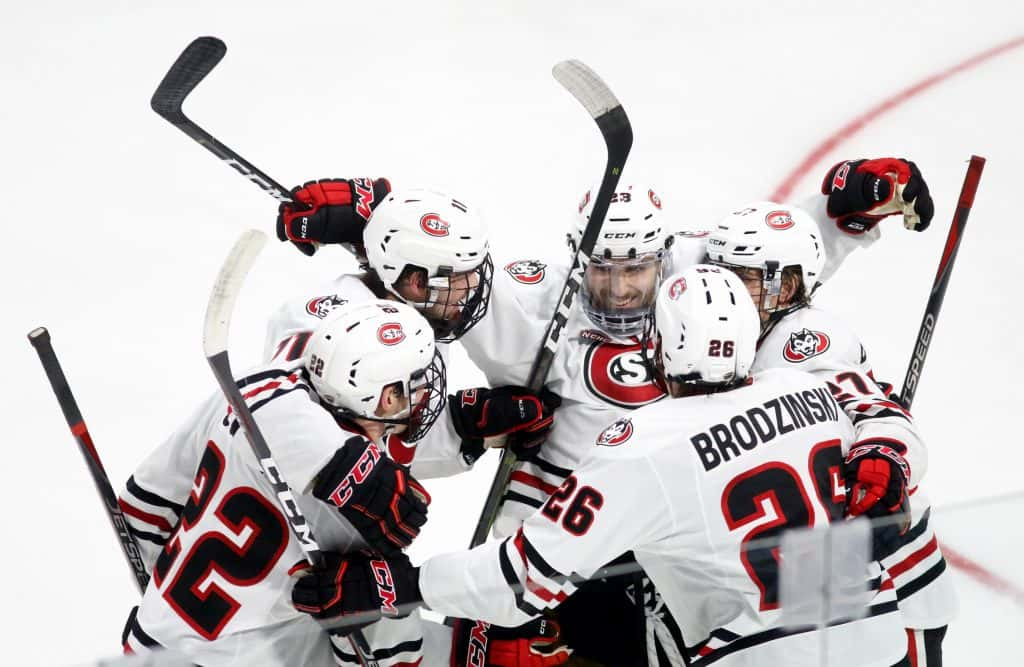 But Skog made 34 saves, including 14 in the third period, to get the win.
"I know their hearts are ripped out right now and I feel for them, but they certainly left it all out there at the end and certainly don't have anything to hang their heads about," said Brett Larson, who had his first season as St. Cloud State's head coach end as abruptly as it did last year for Bob Motzko. "I told the guys I love them. This is one of the best groups I've ever been around, hands down, as far as the character in that room and the type of people they are."
It was the second straight season that St. Cloud State has been the No. 1 overall seed in the tournament and lost. Air Force beat the Huskies 4-1 last season in Sioux Falls, S.D. It was also the third time in four years that St. Cloud State has lost as a No. 1 seed in a region. Ferris State beat St. Cloud State 5-4 in overtime in St. Paul in 2016.
"I don't think you can blame anything," Huskies junior defenseman Jack Ahcan said. "There's no excuses. We put our hearts out. Sure, the ice wasn't perfect. There were a few times that the puck bounced a few times. You can't really blame anything.
"They played a good game, we played a good game, too. You can't really come up with a bunch of excuses because they'll eat you alive."
St. Cloud State had nine seniors on the roster and center Ryan Poehling, a Montreal Canadiens' first round draft pick, is expected to sign a pro contract and not return for his senior season.
Game summary:
AIC 1-1-0—2
SCSU 0-0-1—1
First period — 1. AIC, Joel Kocur 11 (Kyle Stephan 16) 6:01.
Penalties: AIC (too many men) 6:40; SCSU, Sam Hentges (interference) 8:10.
Second period — 2. AIC, Brennan Kapcheck 5 (Blake Christensen 31, Tobias Fladeby 8) 7:32.
Penalties: AIC, Hugo Reinhardt (hooking) 1:58; AIC, Blake Christensen (holding the stick) 9:41.
Third period — 3. SCSU, Easton Brodzinski 16 (Blake Lizotte 28, Jimmy Schuldt 25) 9:27 (pp).
Penalties: SCSU, Jacob Benson (high-sticking) 2:32; AIC, Janis Jaks (tripping) 9:12.
Goalie saves — AIC: Zackarias Skog 6-13-14 — 33 (1 GA); SCSU: David Hrenak 5-3-3 — 11 (2 GA).
Penalties-minutes — AIC 4-8, SCSU 2-4.
Power plays — AIC 0-2 (0 shots), SCSU 1-4 (3 shots).
Faceoffs — SCSU 31-26
Referees — Dan Kovarik and Josh Lupenek. Linesmen — Matt Tyree and Kyle Domin.
Attendance — 4,220.