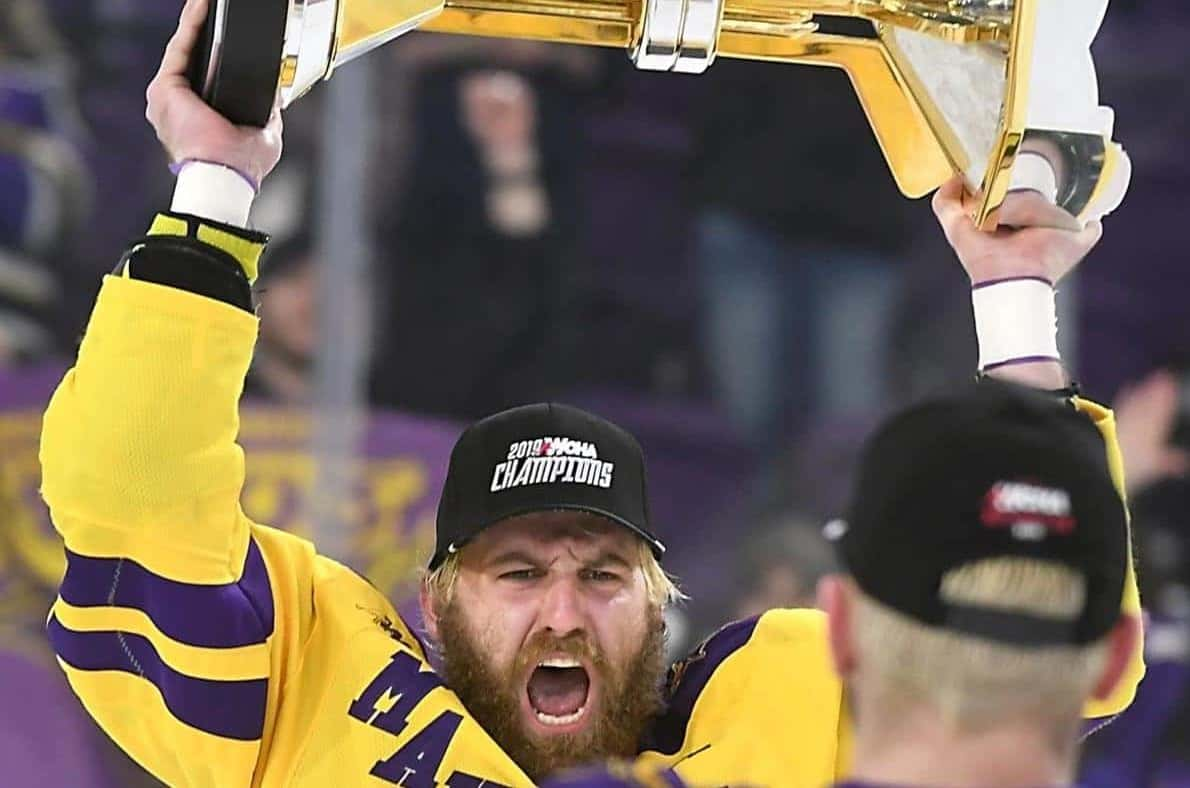 By Shane Frederick of the Mankato Free Press
PROVIDENCE, R.I. — Nick Rivera admitted that the play still haunts him a bit.
Overtime of an NCAA tournament game. A rebound to his stick. An open goal in front of him.
"It's a heartbreaking play," the Minnesota State junior forward said.
Rivera shot, only to see the puck hit off the backside of a teammate, Brad McClure, who had tumbled into the goal. Moments later, at the other end of the rink, it was Minnesota Duluth celebrating while the Mavericks' season came to an end.
"That's the game of hockey; it's a quick game," Rivera said. "It motivates me for sure."
Last Saturday, Rivera scored in sudden-death overtime to lift the Mavericks to a 3-2 victory over Bowling Green in the WCHA playoff championship game at the Verizon Center. It was the cherry on top of an unlikely comeback in which Minnesota State erased a 2-0 deficit in the game's final 1:44 to force the extra period.
It was the biggest goal of his college career, but it didn't necessarily exorcise the demons of last year's regional at Sioux Falls, South Dakota.
Winning at the East Regional this weekend at Providence, Rhode Island, however, just might do that.
"Everybody in the locker room knows how bad we really want this," Rivera said, "and we want to make some history with our school."
Rivera is a California kid from Pacific Palisades, a coastal community near Los Angeles, but with his thick, bushy playoff beard and hard-nosed style of play, he fits right in in Minnesota hockey country.
He showed off his toughness earlier in Saturday's game after blocking a shot with his skate during a penalty kill. In clear pain, he got up, hobbled back to the middle of the ice and helped kill off another 30 seconds of the penalty before blocking another shot — this time with his stick — and getting a much-needed stoppage.
"We ask our players: Are they committed? Do they care?" Mavericks coach Mike Hastings said. "Unquestionably, with Nick, it's yes. There's a want-to."
Rivera is one of Minnesota State's three captains. Max Coatta is the senior, Marc Michaelis is the scorer, and Rivera is the grinder.
"He's an example setter," Hastings said.
Rivera, a 5-foot-10, 190-pound left wing, plays a heavy game, defends and kills penalties, but he's chipped in offensively, too, with 18 points, including nine goals — two short-handed ones and three game-winners.
As thrilling as Saturday's overtime winner was, Rivera said he and his teammates quickly moved on to focus on the national tournament and playing Providence at Providence.
"You gotta enjoy it, but you also gotta move past it," he said. "It's a special moment, and we'll get to celebrate that as a team as much as we can when we get the chance to after the season, after we try to complete one more goal of ours because we're trying to compete at the national level now and trying to put our school on the map as much as we can."
The Mavericks are the top seed in the East Regional and ranked No. 3 in the country. The Friars are No. 14. Minnesota State left Mankato on Thursday and will practice at the Dunkin' Donuts Center today. They will play at noon Saturday. If they win, they will play the Northeastern-Cornell winner at 3 p.m. Sunday for a trip to the Frozen Four at Buffalo, New York.
Rivera hopes the lesson from a year ago doesn't have to be retaught to him and his team.
"You know, it's a game of inches, a game of centimeters, whatever you want to say," he said. "As cliche as it sounds, at the end of the day, it's the truth One shot can make a difference. One play can make a difference."