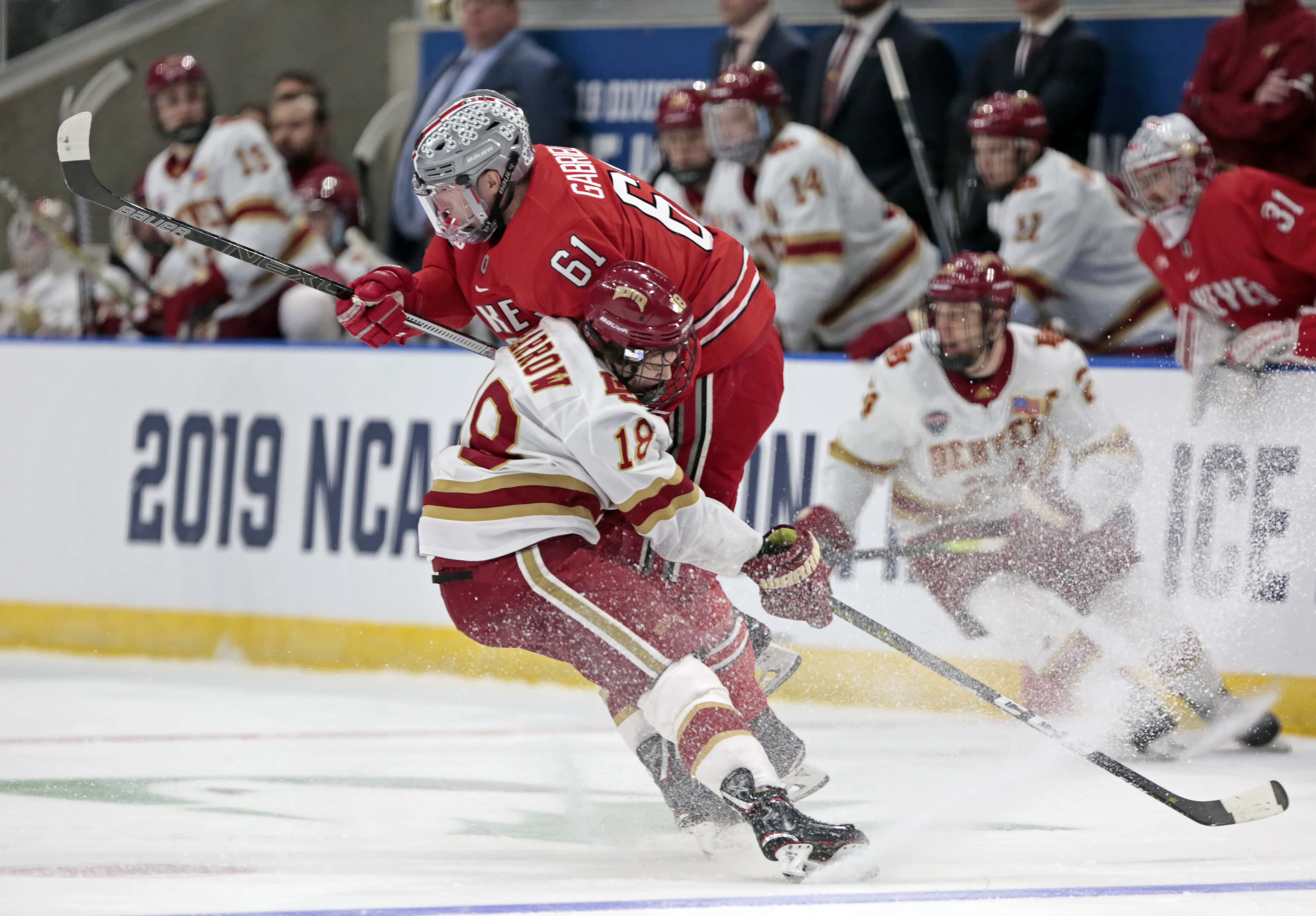 By Jess Myers
FARGO, N.D. — There are plenty of critics of the gritty, clogging, defensive style that the Denver Pioneers are playing in their first season under coach David Carle.
All of those critics can watch the Pioneers in the NCAA West Regional title game, as Denver outlasted Ohio State 2-0 on Friday, March 29, and will play for a third Frozen Four trip in the last four seasons on Saturday.
Freshman goalie Filip Larsson had 24 saves for his third collegiate shutout and the Pioneers (23-11-5) got goals from Les Lancaster and Colin Staub to advance to their fifth straight regional final.
"I'm not sure how many tickets we sold tonight with that game," said Carle, acknowledging the acquired taste of the Pioneers' defense-first style. "I thought it was a really tightly contested game. Not a lot of open ice for either team, which is to be expected. Both teams focus heavily on defense. I liked how we defended as the game went on."
The Buckeyes (20-11-5) won their first Big Ten title last month, but ended the season on a 1-6-1 run, and were playing for just the second time in the past 27 days on Friday. But they looked anything but rusty in the opening period.
Larsson was busy immediately, as Ohio State came out of the gate with a determination to shoot the puck early and often. Denver killed a pair of first period penalties, and Larsson thwarted a breakaway by the Buckeyes' Quinn Preston in the late stages of the period to maintain a 0-0 deadlock.
Dakota Joshua made a solo rush to the net in the opening minute of the second period as well, but was stopped by Larsson.
"Groundhog day," said Buckeyes coach Steve Rohlik, admitting he had seen Denver's defensive style every time he watched video of the Pioneers in preparation for the playoff game. "They found a recipe for success, and that's to hang in games. They've got great speed to play above the puck, so they don't give you a lot. That's why, for us to have two breakaways in the game was uncharacteristic for them."
The Pioneers finally broke through in the final minute of the second period. Top line winger Emilio Pettersen flipped a pass behind the Buckeyes defense to Lancaster who was streaking up the right side of the rink. Cutting to the net in the clear, Lancater's low shot beat Ohio State goalie Tommy Nappier on the glove side. It was the fifth goal of the season for Lancaster, and his first since a Feb. 15 game at UMD.
"That was a heck of a pass by (Pettersen). He has some great vision," said Lancaster, who transferred to Denver for his senior year after three seasons at Mercyhurst. "A big part of my game is speed. I can skate, so I just saw an opening to go up the ice and he found me. Nappier had robbed me earlier in the period so it was good to get that one by him."
Nappier, who was the Big Ten's top goalie in the regular season, finished with 11 saves.
Denver killed a quartet of penalties in the game, and missed a great chance to add to the lead with under seven minutes to play. A botched line change by Ohio State found Pioneers forward Jake Durflinger racing in alone on Nappier. But Durflinger's low shot glanced the outside edge of the far goalpost and deflected to the corner.
Staub's goal slid from center ice to the Buckeyes' empty net with 58 seconds left. It was the Pioneers' only shot of the final period.
Game Summary
Ohio State 0-0-0—0
Denver 0-1-1—2
First period — No scoring. Penalties — Liam Findlay, DEN (high sticking), 12:35; Dakota Joshua, OSU (high sticking), 13:29; Erich Fear, DEN (interference), 17:04.
Second period — 1. DEN, Les Lancaster 5 (Emilio Pettersen, Michael Davies), 19:20. Penalties — Gustaf Westlund, OSU (tripping), 2:10; Griffin Mendel, DEN (interference), 19:45.
Third period — 2. Colin Staub 6 (Davies), 19:02, (en). Penalties — Quinn Preston, OSU (boarding), 7:12; Ian Mitchell, DEN (high sticking), 10:16.
Shots on goal — OSU 12-7-5—24; DEN 5-7-1-13. Goalies — Tommy Nappier, OSU (13 shots-11 saves); Filip Larsson, DEN (24-24). Power plays — OSU 0-of-4; DEN 0-of-3. Referees — Jamie Koharski, Peter Schlittenhart. Linesmen — Tom George, Jeff McCorkle. Att. — NA.