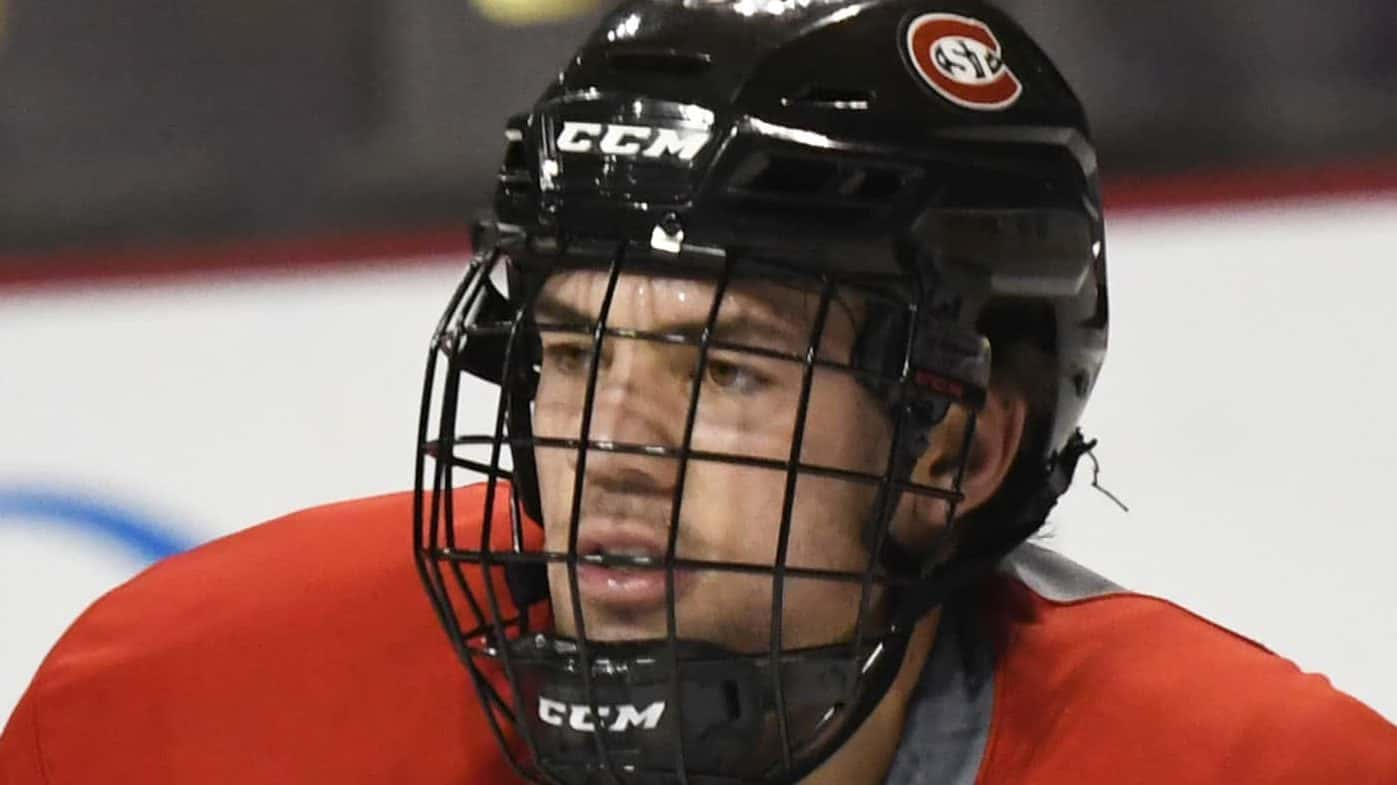 By Mick Hatten
FARGO, N.D. — Ryan Poehling practiced with the St. Cloud State men's hockey team Thursday, March 28, and passed along a good report on how he is feeling and his status for Friday's NCAA Division I West Regional game against American International.
"I feel great and my neck and back feel better," he said. "Once you get going, everything kind of loosens up, which is nice. I feel fine and I'm ready to go (Friday).
"For me to pass the test and get the doctor's OK was the biggest thing. It's nice that I finally did."
On March 22nd, Poehling lost an edge and crashed into the boards and his head could be seen making contact with the boards about halfway through the Huskies' game against Colorado College in the NCHC semifinals. He did not return to the game and did not play in the championship game, but was able to get back on the ice for practice Tuesday.
The top-ranked Huskies (30-5-3) play American International (22-16-1) at 6:30 p.m. Friday (ESPN3) in the regional semifinals at Scheels Arena. The winner will play for the region title at 8 p.m. Saturday with a berth in the Frozen Four on the line.
Because the game that Poehling got injured in was on the CBS Sports Network, he said he has been inundated with people wishing him well.
"The amount of texts and everything has been … special, to see the support you have, especially from people that you don't even really talk to," said Poehling, a first round draft pick of the Montreal Canadiens. "To get that acknowledgement is nice."
Poehling will likely be back on a line with his twin brothers, Jack and Nick, for the game against the Yellow Jackets.
"Obviously, we have good chemistry with Ryan, so it's good to have him back, but more importantly, it's good to have him back in the lineup," Jack Poehling said. "He's a big part of our team and we're excited, hopefully, have him play."
St. Cloud State coach Brett Larson reiterated that Ryan Poehling remains "day-to-day."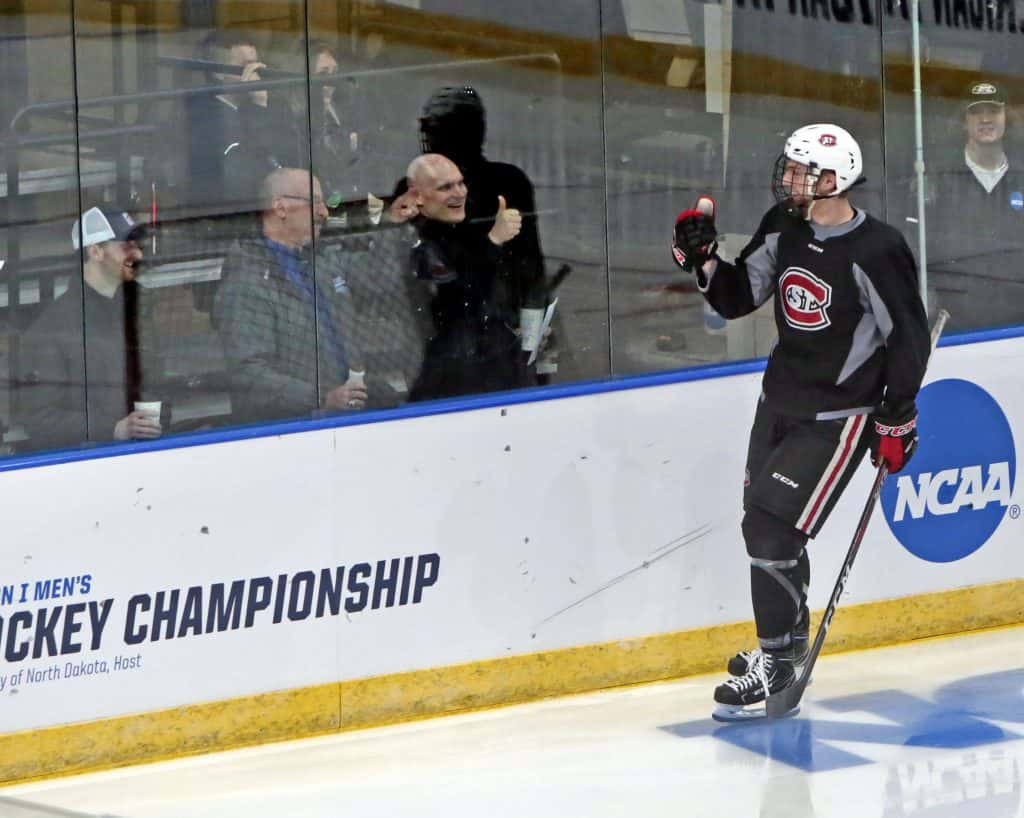 So what's different
Yeah, it's a different state and a different opponent, but there are 21 players on St. Cloud State's roster returning to the West Regional from last year's team. That Huskies team, like this one, also won the NCHC regular season title, lost in the championship game of the conference championship game, played against the Atlantic Hockey playoff champion and was the No. 1 seed overall in the national tournament. Air Force upset St. Cloud State 4-1 in the region semifinals last year in Sioux Falls, S.D.
OK, so what's different going into this regional for the Huskies?
"I think we've got a new look, new coaches and not new systems at all, but we're more detailed in what we do," Ryan Poehling said. "It kind of reminds me of the 31-0 team that I played on (at Lakeville North High School). The locker room has gelled together well, everyone likes everyone and there's no problems. When you have that and only have to worry about hockey, I think it's the biggest thing ever.
"I think the biggest opponent we have to face is ourselves."
St. Cloud State is making its 14th NCAA appearances and is 5-14 in those appearances, but 5-6 since 2010. The Huskies won the Midwest Regional title in 2013 and reached the West Regional title games in 2010, 2014 and 2015.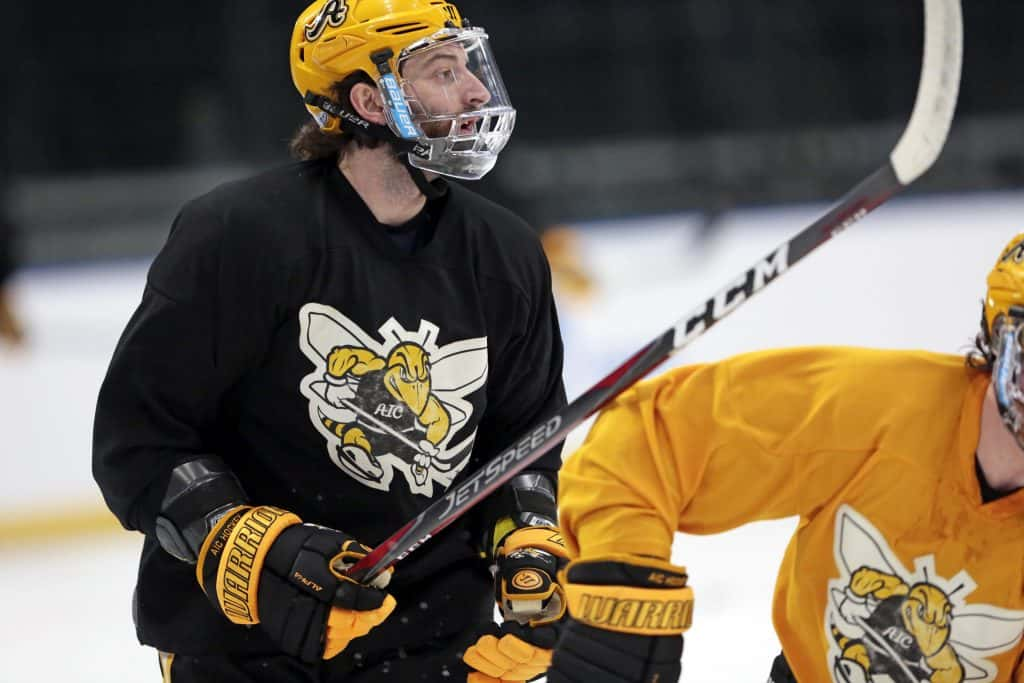 About AIC
While the Huskies may be worried mostly about themselves, they are well aware of the challenges that they will face against the Yellow Jackets.
"We've compare them to a few teams that we've seen in the NCHC," St. Cloud State junior defenseman Jack Ahcan said. "They're kind of like (Colorado College). They're skilled up front, fast moving and have puck-moving guys. It's nothing that we haven't played all year. But we know they're a good team and we're excited to get to Fargo and play against them."
American International, which is in Springfield, Massachusetts, won back-to-back 3-2 overtime games against Robert Morris and Niagara to win the Atlantic playoff title to receive an automatic bid to its first national tournament. Former American International player Eric Lang is in his third season as the team's head coach.
"Three years ago, eight wins; next year, 15 wins and we were able to advance a round in the playoffs and in three pretty short years, we're in the NCAA tournament," Lang said. "It didn't really hit me until we were walking down the ramp and you see all the NCAA stuff and I went, 'Whoa, we're here.'
"But the one thing I said on the ice is that we've earned this. I think there's something to be said for playing your way into this tournament."
The Yellow Jackets are led by junior forward Blake Christensen, Atlantic Hockey's Forward of the Year who has set a school record with 46 points (team-leading 30 assists), sophomore forward Tobias Fladeby (team-leading 18 goals) and sophomore defenseman Brennan Kapcheck (26 points).
"We're stingy defensively, we like to play the body and we're very good in the 'D' zone," Yellow Jackets defenseman Ryan Polin said. "That's what we talk about constantly. That's going to help us win (Friday)."
Lang admits that he had a tough time when he watched his first video of St. Cloud State this week.
"There's things that we'll have to do, but we're not actually changing a thing," Lang said. "I was joking around with someone earlier and we traditionally watch a lot of video on Monday. I could only take (the Huskies' video) in small doses Monday. I was starting to get sick to my stomach."
American International lives up to its name. The Yellow Jackets have players from eight countries (United States, Canada, Czech Republic, Norway, Slovenia, Slovakia, Sweden and Ukraine) on its roster. The Americans are from 10 states (California, Florida, Illinois, Massachusetts, Michigan, Minnesota, New Jersey, Pennsylvania, Texas and Utah). The Canadians are from four provinces (Alberta, British Columbia, Ontario and Quebec).
The two players playing closest to home for AIC are freshman forward Eric Otto (Burnsville, Minn.) and freshman defenseman Parker Revering (Alexandria, Minn).