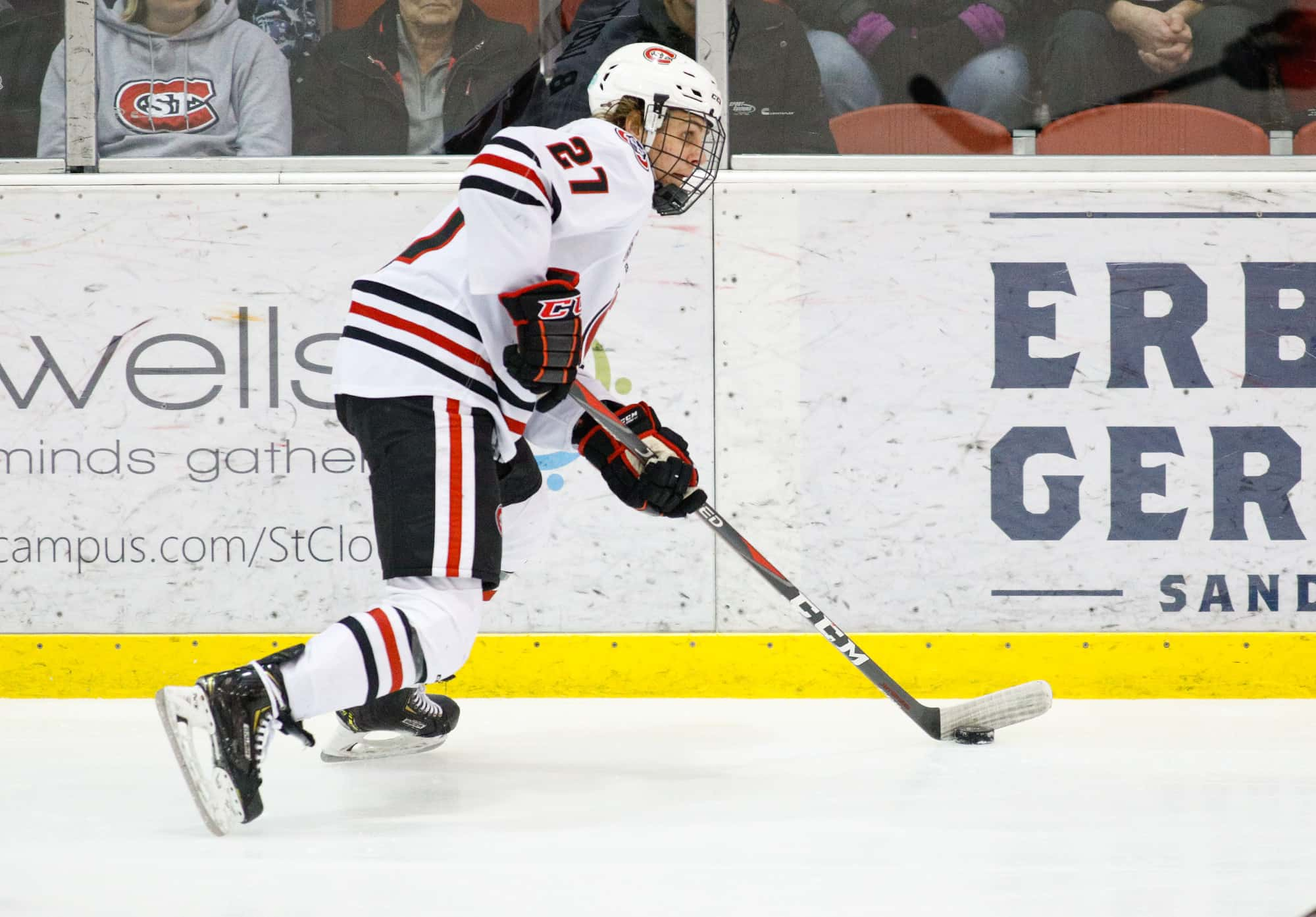 By Mick Hatten
ST. CLOUD, Minn. — For a guy from Lindstrom, Minn., Blake Lizotte has spent a lot of time playing hockey in the state of North Dakota.
No, he is not on the roster at the University of North Dakota. Lizotte, a sophomore at St. Cloud State, played one season playing junior hockey in the North American Hockey League with the Minot Minotauros and two seasons playing for the Fargo Force of the United States Hockey League.
No matter the stop, Lizotte has excelled. An All-NCHC First Team pick this season, he and the top-ranked Huskies (30-5-3) plays American International (Mass.) (22-16-1) at 6:30 p.m. Friday (ESPN3) at Scheels Arena in Fargo. The winner of that game will play the winner of the other semifinals game between Ohio State (20-10-5) and Denver (22-11-5). The regional championship game will be at 8 p.m. Saturday (ESPNU).
In 2014-15, Lizotte was the NAHL Rookie of the Year in Minot when he had 52 points and was a plus-27. The regional will be a return to Fargo, where Lizotte was a captain his second with the Force and named to the USHL Second All-Star Team in 2016-17 when he had 65 points and was a plus-23 in 56 games.
"Fargo is like a second home to me," said Lizotte, whose hometown of Lindstrom has a population of about 4,500 and is in East Central Minnesota, about 12 miles from the Wisconsin border. "To go back to Scheels Arena, it's a great venue, a great area to play. I'm excited to get up there and see my billets and some friends there."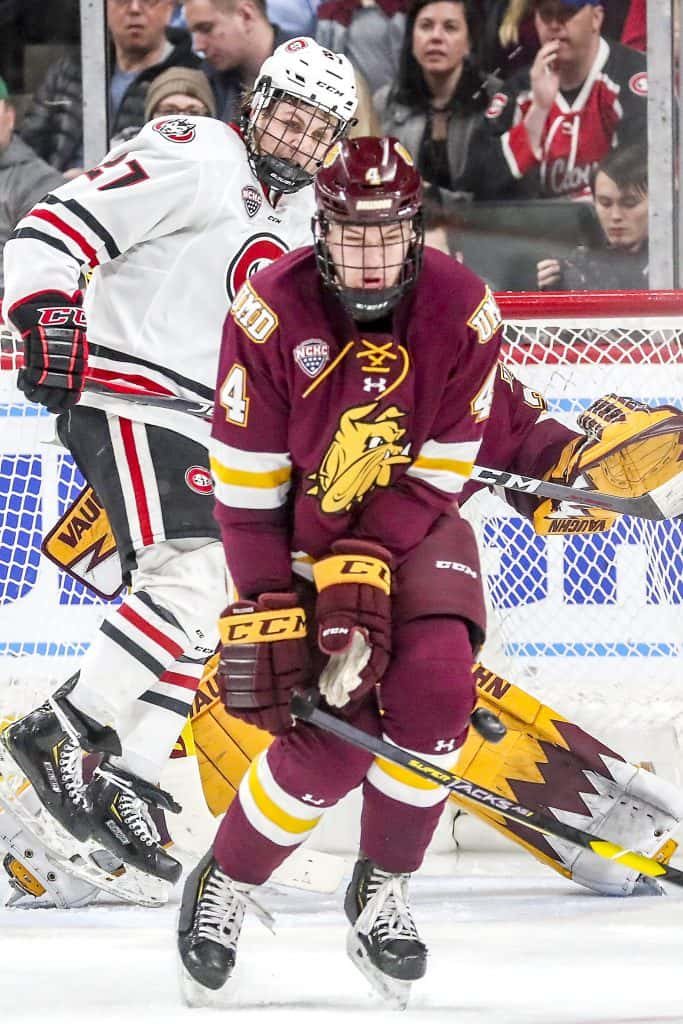 Check the positive boxes
Last weekend, he was named to NCHC Frozen Faceoff All-Tournament team after picking up assists on four of St. Cloud State's seven goals in the two games. Brett Larson is in his first season as St. Cloud State's head coach. What does he like about Lizotte's game as a player?
"There's nothing I don't like … seriously," Larson said with a big smile. "I can usually find a flaw in somebody … He's real hard on himself. He demands the best from himself every day. It's kind of what pushes him.
"He's just a high character, high compete, high skill (player) … that's a good combination."
And perhaps most impressively, the center is continuing to improve. Lizotte was named to the NCHC All-Rookie Team as a freshman when he had 27 points, was a plus-16 and was 10th in the nation in faceoff win percentage (58.7). This season, he has 41 points, is a plus-28 (sixth nationally) and won 62.4 percent (fourth nationally) of his faceoffs.
Lizotte has done all that playing on St. Cloud State's top line, which means he is typically lined up against opposing teams' top lines. Not bad for a 5-foot-7, 175-pound 21-year-old from Lindstrom.
"His puck skills, his hockey sense … just not a lot of holes," Larson said. "He's in attack mode all the time."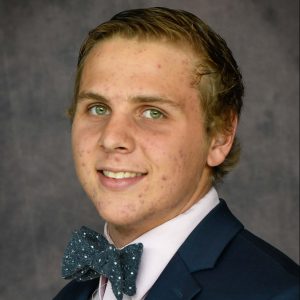 Getting to SCSU
Lizotte is not exactly from one of the hotbeds of hockey in Minnesota. He played his freshman and sophomore high school seasons for Chisago Lakes High School, a Class A team. Lizotte helped the Wildcats to their second state tournament as a sophomore (and first in 19 years) in 2014.
His junior year, Lizotte went to Minot with the plans of playing a few games and returning to his high school team. The problem with that plan was, he had 11 assists and 14 points in the Minotauros' first 15 games. Minot, a Tier II junior team, convinced him to stay and bypass high school hockey that season.
As a senior in high school, he moved up to the Tier I USHL with the Force and had 46 points and was a plus-13 in 46 games for coach Cary Eades. Lizotte gives Eades, a former UND assistant coach, credit for helping refine his game his last two seasons of juniors.
"It was a big time for me, maturity wise," said Lizotte, an education major and two-time NCHC Scholar-Athlete. "My second and third year away from home was almost as important for me away from the rink as it was at the rink. Growing up and becoming more of an adult really helped me on the ice as well.
"Coach Eades really helped me out tremendously with the maturity of my game, becoming more responsible defensively. That was huge for me. Playing two years for him was one of the best things I could ask for."
Returning to Fargo, you'll find Lizotte on a line with senior wings Robby Jackson and Patrick Newell, both of whom were also on the NCHC Frozen Faceoff All-Tournament Team. Jackson is tied for 10th in the country in goals (19) and is a plus-22, while Newell is a top 10 finalist for the Hobey Baker Award, given annually to the nation's best player. Newell is tied for eighth in the nation in goals (21), tied for fourth in points (47) and leads the country in plus/minus (plus-32).
"It's been a great season," said Lizotte, whose team is 12-1-1 in its last 14 games. "With a new head coach, you don't know what it's going to look like in the (locker) room with scheduling and practices, but I couldn't have asked for anything better.
"Coach Larson has been unbelievable for our team and for me, personally. He's made me a better player and better person. I owe him a lot. Individually, I feel like I had a really good summer working out with (teammate) Sam Hentges … and I'm happy I was able to pick up the type of play I was playing at at the end of last year."