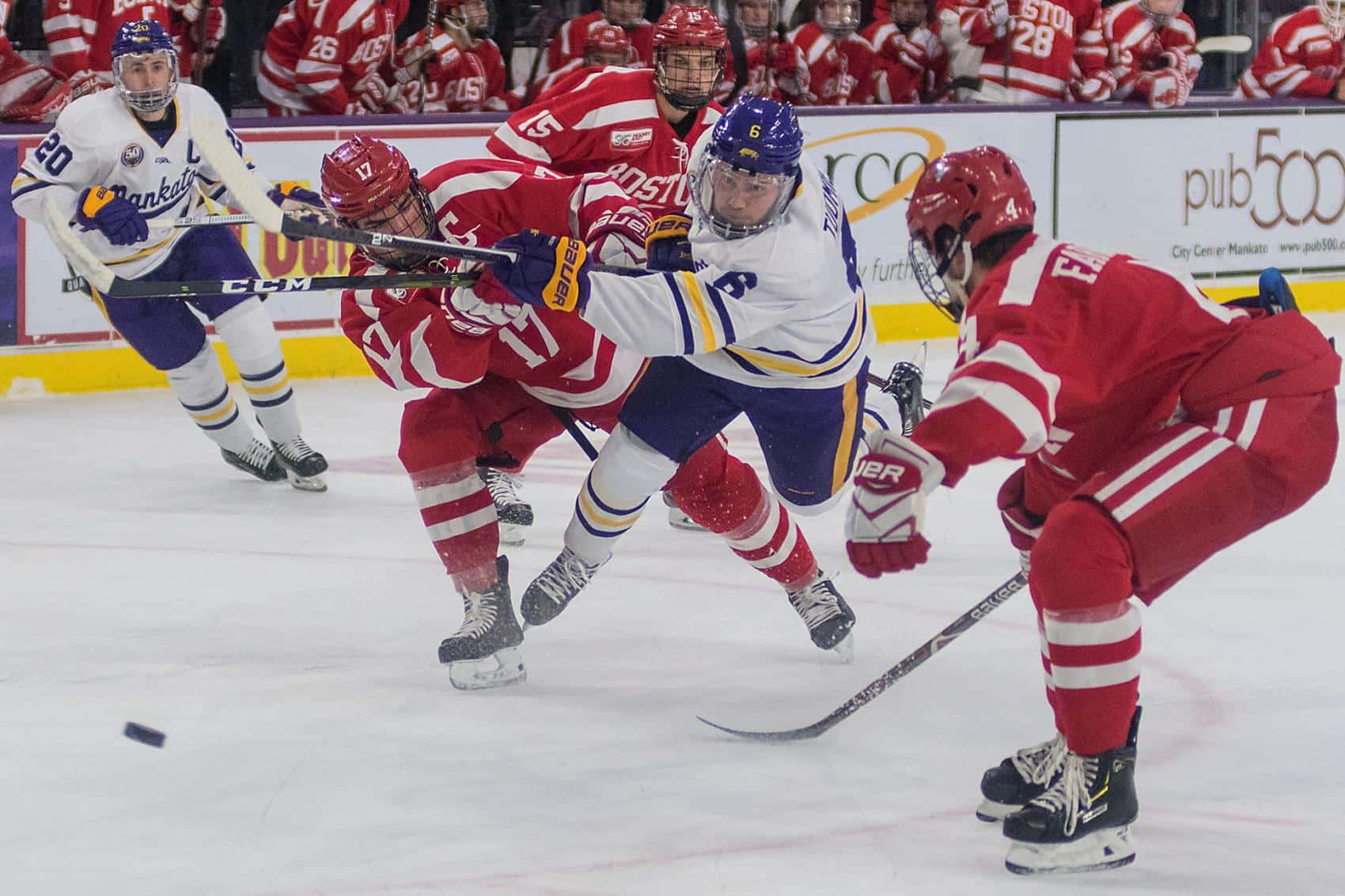 By Shane Frederick of the Mankato Free Press
MANKATO, Minn. — The Minnesota State men's hockey team won its 30th and 31st games of the season during the semifinals of the WCHA playoffs, sweeping Lake Superior State to tie, then pass the program record.
The previous record was set in 1979-80 by the team that won the NCAA Division II national championship, and that team's coach, Don Brose, went to the Mavericks' locker room to congratulate them on breaking the nearly 40-year-old mark.
Minnesota State won its 32nd game in dramatic fashion on Saturday, defeating Bowling Green in overtime of the WCHA playoff championship game, and, of course, it hopes to add to its total this weekend in the NCAA tournament. The No. 3 Mavericks will play No. 14 Providence in the East Regional at noon Saturday at the Dunkin' Donuts Center in Providence, Rhode Island.
When the season began in October, the hopes of getting to the NCAAs again was a goal, but it might have been hard to predict 32 wins, a MacNaughton Cup and a Jeff Sauer Trophy.
The Mavericks lost two 40-point scorers, an All-American defenseman and all three goaltenders from last season's team, leaving lots of questions going into this season, especially with what appeared to be a challenging nonconference schedule right out of the gate.
Those questions were answered rather quickly with a home sweep over Boston University and a victory in its first game at North Dakota in seven seasons.
Here's a look at a few highlights from Minnesota State's record-breaking season:
Great start: Boston University was ranked eighth in the preseason and came to Mankato for the first time, hoping to avenge the previous year's losses to MSU at Boston. But Parker Tuomie had a two-goal, two-assist weekend, Dallas Gerads scored twice and Charlie Gerard scored a second-period buzzer-beater for what would stand as Saturday's game-winner.
Hats off: Senior forward and captain Max Coatta recorded the only hat trick of the season for the Mavericks, leading them to a win at North Dakota and a 3-0 start to the season. It was the first game between Minnesota State and North Dakota since college hockey's conferences realigned in 2013.
Israelsson's run: While Mike Richter Award semifinalist Dryden McKay has carried the load in goal since Christmas and enters the NCAA tournament with fantastic numbers, Mathias Israelsson had a seven-game win streak between Oct. 26 and Nov. 23 that included a 5-1 and 2-1 sweep of Minnesota. The Northern Michigan transfer allowed just eight goals in that stretch.
Back on track: With coach Mike Hastings gone at the World Junior Championships where he coached Team USA to a silver medal, the Mavericks struggled a bit, getting swept at Bowling Green and then losing to Minnesota Duluth and Arizona State at a holiday tournament in Arizona. But before Hastings returned, MSU went home Jan. 4-5 and swept Michigan Tech 4-1 and 4-2, getting three points each from Walker Duehr and Gerads.
Rematch with Tech: The Mavericks showed off their late-game heroics in a pair of overtime games at Houghton, getting an extra-attacker goal from Jake Jaremko in a series-opening 1-1 tie and shootout victory and a late tying goal from leading scorer Marc Michaelis to force overtime before Connor Mackey scored for a 3-2 win and a five-point weekend.
Another MacNaughton: Minnesota State's 10-1-1 record between Jan. 4 and Feb. 9 gave them a commanding lead atop the WCHA standings, and they clinched a share of their second straight MacNaughton Cup on Feb. 16 while resting during their bye week. Thanks, in part, to Ian Scheid's three-point game, the Mavericks won the outright championship on Feb. 22 with a 6-1 victory at Alaska.
Mankato Miracle: On Saturday before a crowd of 5,327 at the Verizon Center, the Mavericks erased a 2-0 deficit with a pair of extra-attacker goals from Jaremko and Mackey in the final two minutes to force overtime and then won the WCHA playoff championship on Nick Rivera's goal. It was Minnesota State's last game at home where it had a 21-1-0 record, including 5-0-0 in the postseason.