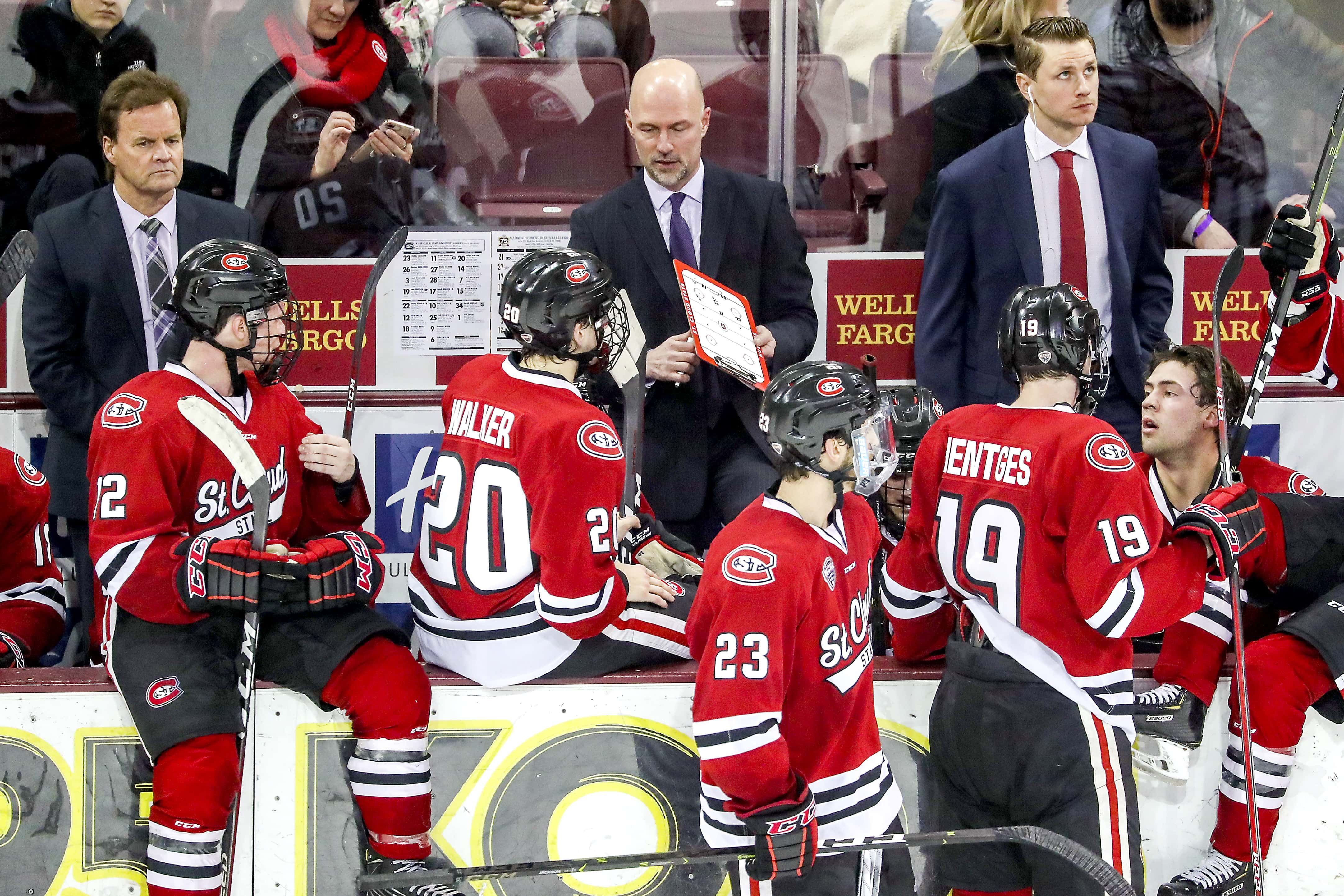 By Mick Hatten
ST. CLOUD, Minn. — Scheels Arena in Fargo, N.D., has a distinction like no other rink for Nick Oliver.
"My last ever junior game was played in that building and my last ever college game was played in that building," he said. "Both were tough, emotional losses, especially my senior year (of college), losing to North Dakota to go to the Frozen Four. That was difficult."
Oliver is hoping for some happier memories this weekend. He is in his first season as an assistant coach for the top-ranked St. Cloud State men's hockey team. The Huskies (30-5-3) play American International College (22-16-1) at 6:30 p.m. Friday, March 29, (ESPN3) at Scheels in the opening round of the NCAA Division I West Regional tournament.
The winner advances to the region championship game, which will be played at 8 p.m. Saturday (ESPNU) with a trip to the Frozen Four on the line. The other West semifinals game has Ohio State (20-10-5) playing Denver (22-11-5) at 3 p.m. Friday (ESPNU).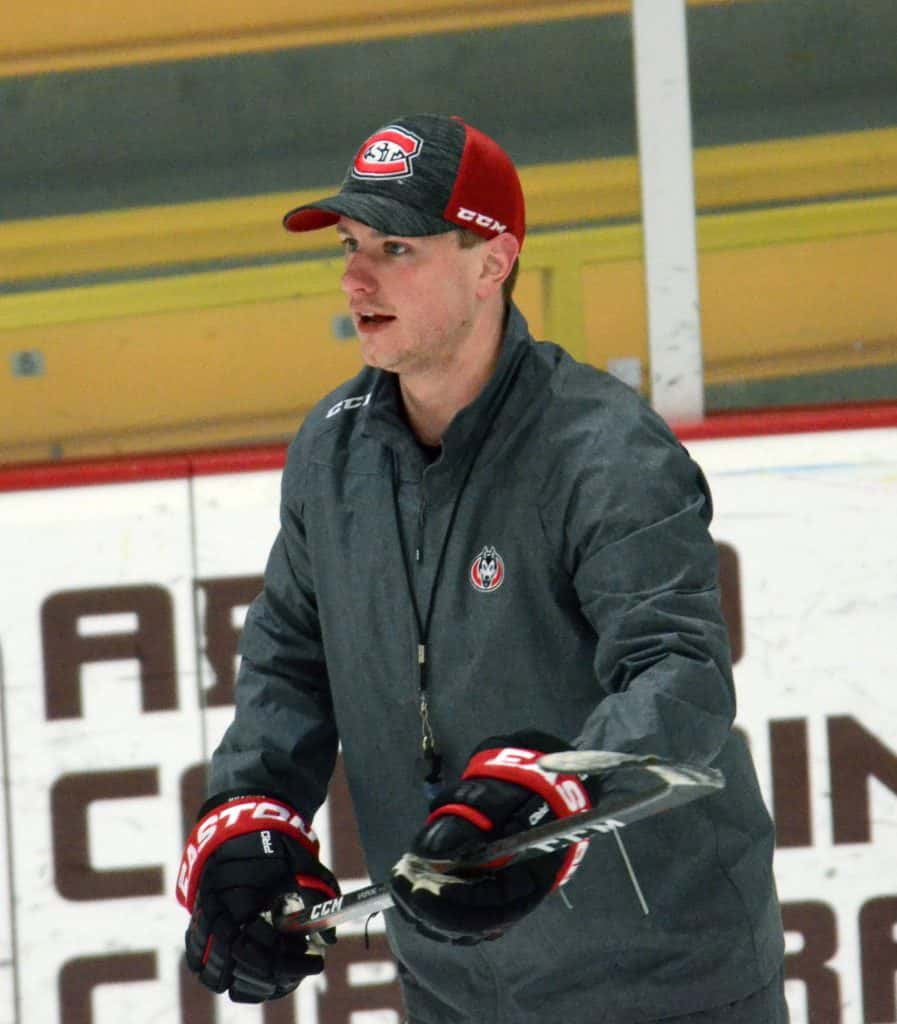 Last trip to Scheels
Oliver, 27, played wing in the last regional championship game to be played at Scheels in 2015, a game that North Dakota won, 4-1. Shortly after that loss, he made the choice to go into coaching instead of trying to play pro hockey.
He had a conversation with his dad, Scott, who is an assistant coach for East Grand Forks High School and is the former head coach at Roseau.
"I remember I said to my dad, 'You know what, for me, I know I'm probably never going to play in the NHL. This is as good as it gets for me. I'm with all of my best friends and I'm going out competing next to those guys,'" said Oliver, who was a fourth round pick of the Nashville Predators in 2009. "The whole thing was special. At that point, I knew I was comfortable with going onto the coaching side of things. But I remember that feeling of it being full circle a bit."
He graduated from St. Cloud State with a finance degree in 2015, but spent the next three seasons as an assistant coach for Scott Owens in junior hockey for the Sioux Falls Stampede in the United States Hockey League. Then when Brett Larson replaced Bob Motzko as St. Cloud State's head coach, he hired Oliver to be one of his assistants.
"His experience in the USHL really helped him to make this step," said Larson, a former Minnesota Duluth assistant coach and head coach of Des Moines in the USHL. "The transition seems flawless. Then you add to that experience that he was a well-respected captain here and cares about this program as much as he does and that rubs off on players."
Coming back to his alma mater for one of the program's best seasons has given some people an opportunity to needle Oliver a bit. The Huskies won the NCHC regular season title with the best record (19-2-3-1-1) in conference games in its six-year history.
"A couple of people have been giving me crap, saying, 'You must think this is pretty easy,'" said Oliver, whose team is 12-1-1 in its last 14 games. "In a lot of ways, it is, when you have the character and leadership that we have in the (locker) room right now.
"For an assistant coach, the environment and the culture is just so fun. You don't fully forget it when you leave as a player. But being back in it, you remember exactly what the guys are feeling like and are going through."
Playing days
With the Huskies, he helped St. Cloud State win its first WCHA championship and reach its first Frozen Four in 2013. His junior season, he helped the Huskies win the first NCHC regular season title and reach the NCAA West Regional title game.
His senior season, St. Cloud State sustained some injuries to key players throughout the season and finished sixth in the NCHC. But the Huskies rallied to reach the Frozen Faceoff championship game to reach the West Regional in Fargo.
"Down the stretch that year, we had to learn to win games ugly, by playing good defense, getting good goaltending and guys buying into what we were doing," Oliver said. "In its own way, even though we didn't get to the Frozen Four, down the stretch we grew a lot and came together as a team. That was pretty special how we were able to gut through some adversity and ended up making a run for it."
Before he got to St. Cloud State, he helped the Fargo Force make a run to the USHL's Clark Cup Finals its first two seasons in existence. His first season, former University of North Dakota and Nebraska Omaha coach Dean Blais was the head coach.
"With coach Blais, it was every single guy in the lineup was going to play their hearts out, play the right way and play for each other," Oliver said. "Ultimately, he finds ways to motivate people to playing harder and better than they're capable of.
"I do think our team overachieved my first year in Fargo, based on how we started and everything we knew. With Dean Blais, more often than not, he finds a way to win. He kind of started the whole thing (in Fargo) and the success that program has had is due to Dean putting the foundation in place."
Now, Oliver is helping the Huskies succeed as an assistant. He has helped the Huskies get commitments from more than 10 players and is in charge of the team's penalty kill, which is sixth in the nation (86.5 percent) after being 31st (81.1 percent) with similar personnel last season.
"It's a long season and each day, he comes to the rink with a smile on his face and ready to go to work," said Huskies sophomore center Blake Lizotte, another former Fargo Force captain. "He puts in 150 percent effort every day at the rink and holds us accountable.
"Special teams has been huge for our team for us all year. Coach Oliver has done a nice job with that this year."