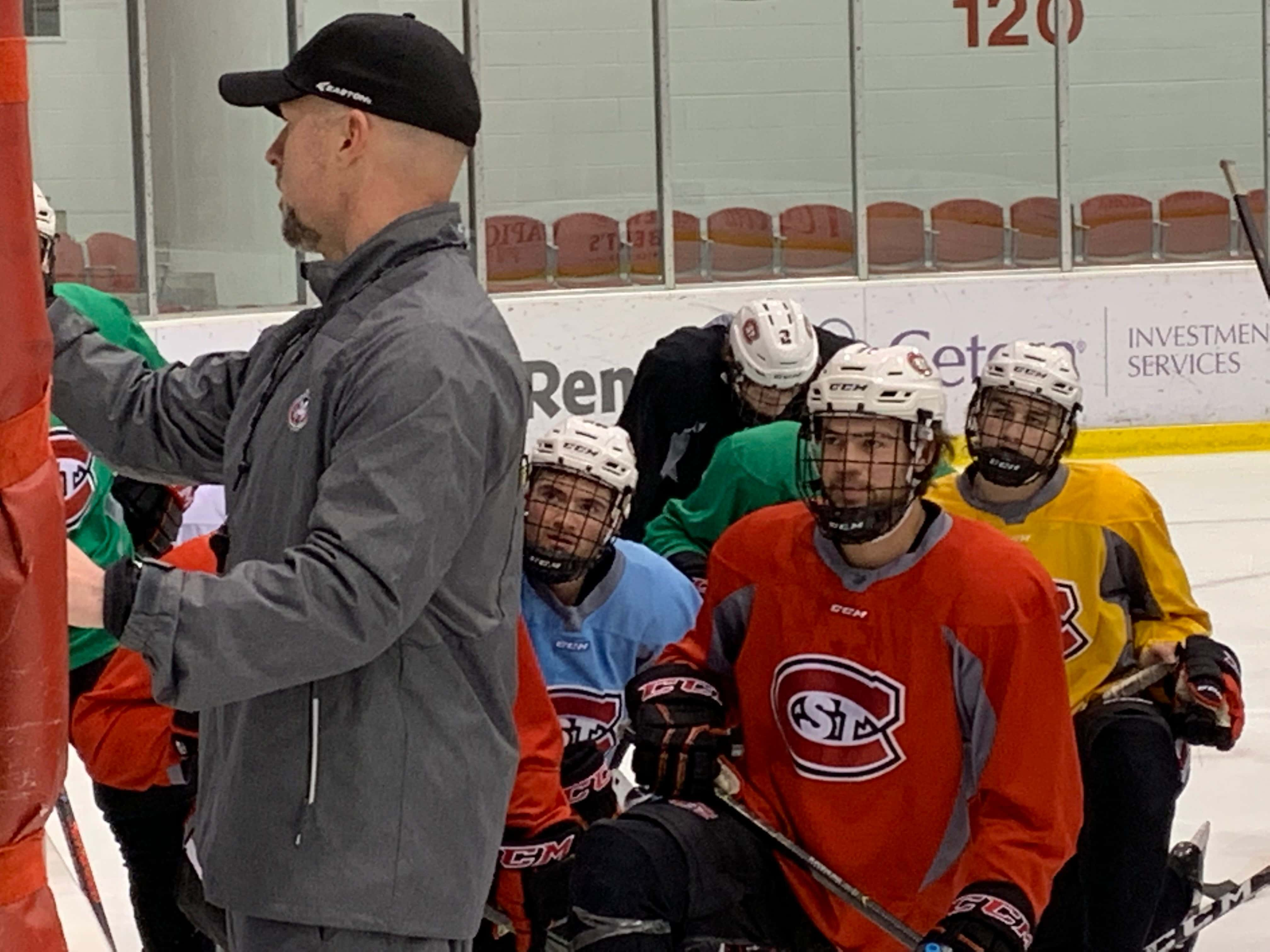 By Mick Hatten
ST. CLOUD, Minn. — Ryan Poehling took another step back to the St. Cloud State men's hockey lineup on Tuesday.
Poehling, a junior from Lakeville, got back on the ice for the first time since suffering an upper body injury in Friday's game against Colorado College. Poehling, a first round draft pick of the Montreal Canadiens, lost his balance and his head hit the boards during an NCHC Frozen Faceoff semifinals game at Xcel Energy Center in St. Paul, Minn.
He took part in the full practice for the top-ranked Huskies at the Herb Brooks National Hockey Center. Top-ranked St. Cloud State (30-5-3) plays American International (22-16-1) at 6:30 p.m. Friday in the opening round of the NCAA Division I West Regional at Scheels Arena in Fargo, N.D.
"It felt good and I think everything loosened up when I got out there," he said. "I've been taking it slowly, trying to get me towards feeling good. I think I'm on the right track."
Poehling was trying to make a play near the Colorado College goal when the injury happened.
"I was just trying to make a hard play to (pass it) to Jack on the back door," he said of his brother, who plays left wing on his line. "I was already in a vulnerable state and (a Colorado College player) just hit my leg a little bit and I caught an edge and flew into the boards. Thank God, I got my head up in time.
"You always think the worst right away. To have the (athletic training) staff and doctor there to evaluate it and tell you what's up, it was reassuring that you're going to be OK. It's hard to think long term when you're in that type of state."
Poehling did not play in the Huskies' double overtime loss to Minnesota Duluth in the championship game. As competitive as he is, that was difficult.
"I get more anxious watching than actually playing," said Poehling, who turned 20 in January. "It was a great game to watch, tough to not be a part of it, but still fun."
So what has he been doing to try to get back on the ice since the injury?
"I've just been working on getting back to full strength here with the chiropractor," he said. "I'm just trying to do all those things I need to to prepare."
St. Cloud State coach Brett Larson said that Poehling status remains "day-to-day" going into the weekend.
"We're hoping for the best," Larson said. "Having him on the ice is a good first step."
St. Cloud State sophomore center Blake Lizotte was happy to see his teammate back on the ice.
"That's an encouraging sign," Lizotte said. "I talked to him today and he said he's starting to feel better. That's super encouraging because he's a huge part of our team. If we're going to do some (playoff) damage this year, he's going to be a big piece of that. We're fortunate that he looks like he's going to be able to go Friday."
While Poehling has not been officially cleared to play yet on Friday, he sounds definitive in what he wants to happen.
"I'm looking forward to playing. It's going to be a fun weekend," he said.
Poehling is an All-NCHC First Team selection this season and has 23 assists, 31 points, is a plus-12 and is on St. Cloud State's top power-play unit. He also played on Team USA for the second straight year in the IIHF World Junior Championships where he was named the Top Forward and MVP after helping the Americans win the silver medal.