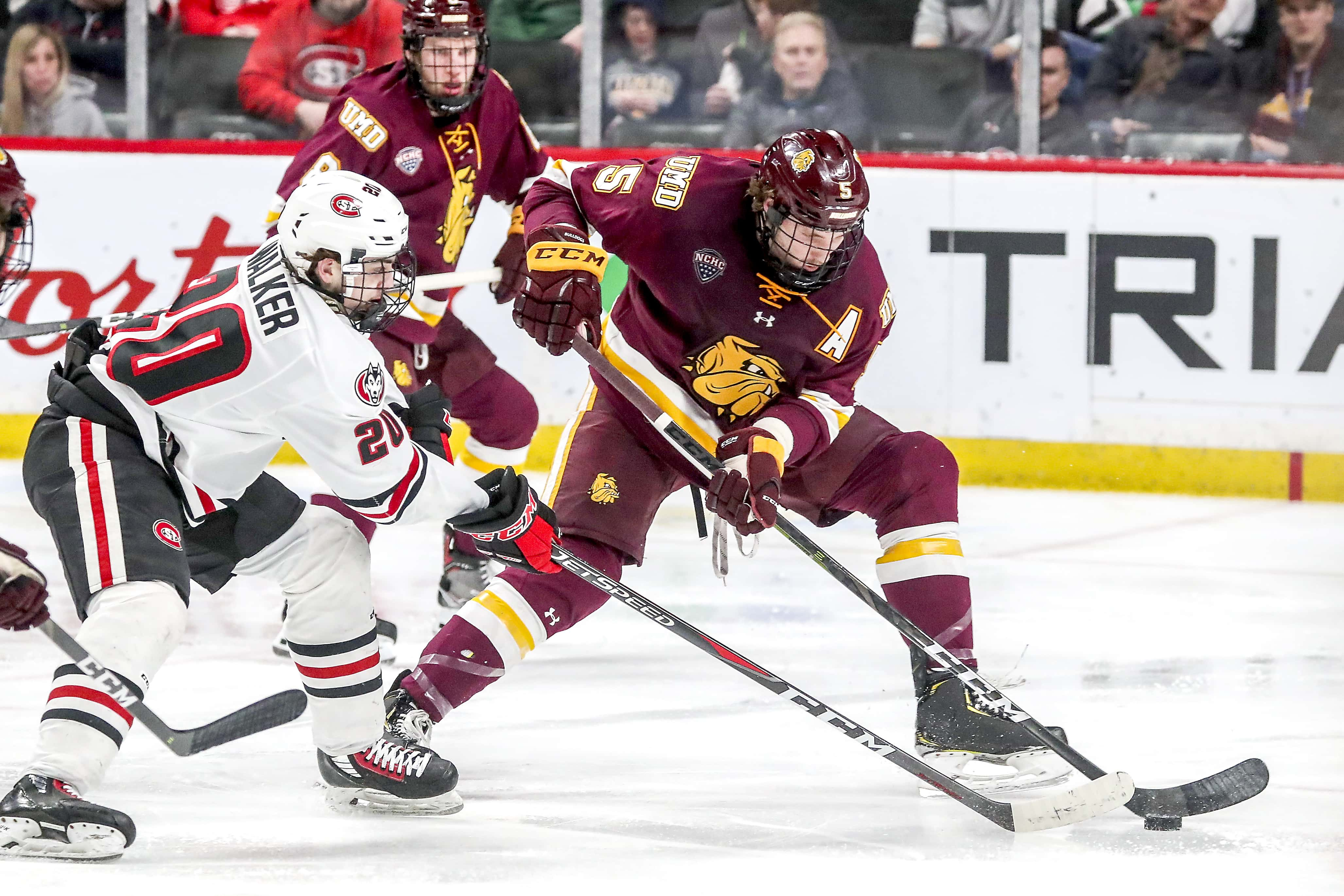 By Mick Hatten
ST. PAUL, Minn. — After winning in the NCHC Frozen Faceoff semifinals on Friday, St. Cloud State captain Jimmy Schuldt was asked about what the motivation was for the championship game.
The Huskies went into the Saturday, March 23, game against defending national champion Minnesota Duluth guaranteed the No. 1 overall seed in next weekend's NCAA Division I tournament.
Schuldt talked about how St. Cloud State had lost its last two games of the 2017-18 season and he didn't want that to happen again. Last year, the Huskies lost to Denver in the Frozen Faceoff championship game and then got upset by Air Force in the opening round of the NCAAs.
Saturday, Schuldt was asked what his team could learn after losing 3-2 in double overtime to the Bulldogs at Xcel Energy Center.
"One thing that we can take away from tonight is that we aren't invincible," said Schuldt, whose team had gone 12-0-1 in previous 13 games since losing on Jan. 26 at North Dakota. "Two of those (wins) were against (UMD, March 8-9). Credit to them tonight for a hell of a battle.
"We need to move on pretty quickly here. This one really stings. Luckily for us, there's more hockey to be played."
St. Cloud State led 2-1 going into the last six minutes of regulation and were on the power play. But Minnesota Duluth's Tanner Laderoute stole the puck from Kevin Fitzgerald and got it to Billy Exell. Exell, a senior from Thunder Bay, Ontario, one-timed the pass past David Hrenak with 4:51 left in the third period.
Then in the second overtime, Schuldt had a shot blocked by Jesse Jacques. The puck caromed out to the neutral zone and the Bulldogs had a 2-on-1 rush. Laderoute passed it over to Nick Swaney for a goal on the back door at 7:29.
"If I just get a puck deep, that probably doesn't happen," Schuldt said of the game-winning goal. "You just learn from that and move on."
St. Cloud State head coach Brett Larson is a former Minnesota Duluth assistant coach.
"This hurt and it was painful, I'm not going to lie to you," Larson said. "We set out to achieve a goal and fell a little bit short.
"But in the past, I've also been a part of some tough losses that led to great moments. Hopefully, that's where we're headed."
One example that Larson experienced along those lines happened a year ago. Last season, the Bulldogs lost both games in the Frozen Faceoff, barely made the NCAA tournament and ended up winning the national title.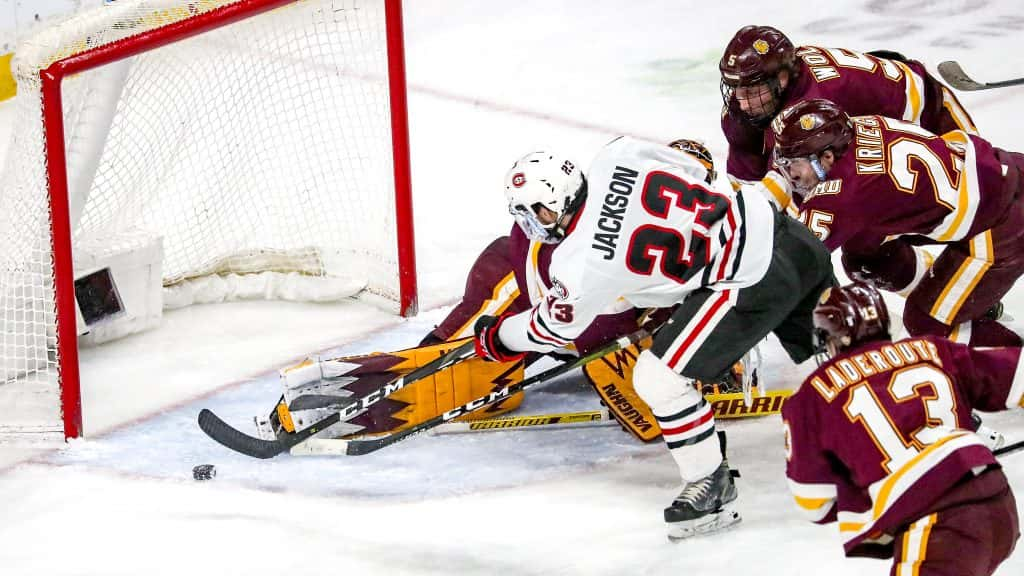 Ryan Poehling update
As expected, St. Cloud State center Ryan Poehling did not play in the championship game. About midway through the first period Friday, Poehling lost an edge and flew into the boards and his head could be seen hitting the boards.
The Montreal Canadiens first round draft pick also did not take part in the team's optional skate earlier in the day Saturday. So what is status of the junior from Lakeville, Minn.?
"He was doing a little better (Saturday)," Huskies head coach Brett Larson said of the All-NCHC First Team selection. "Hopefully, he gets a couple days rest and will be evaluated on Monday."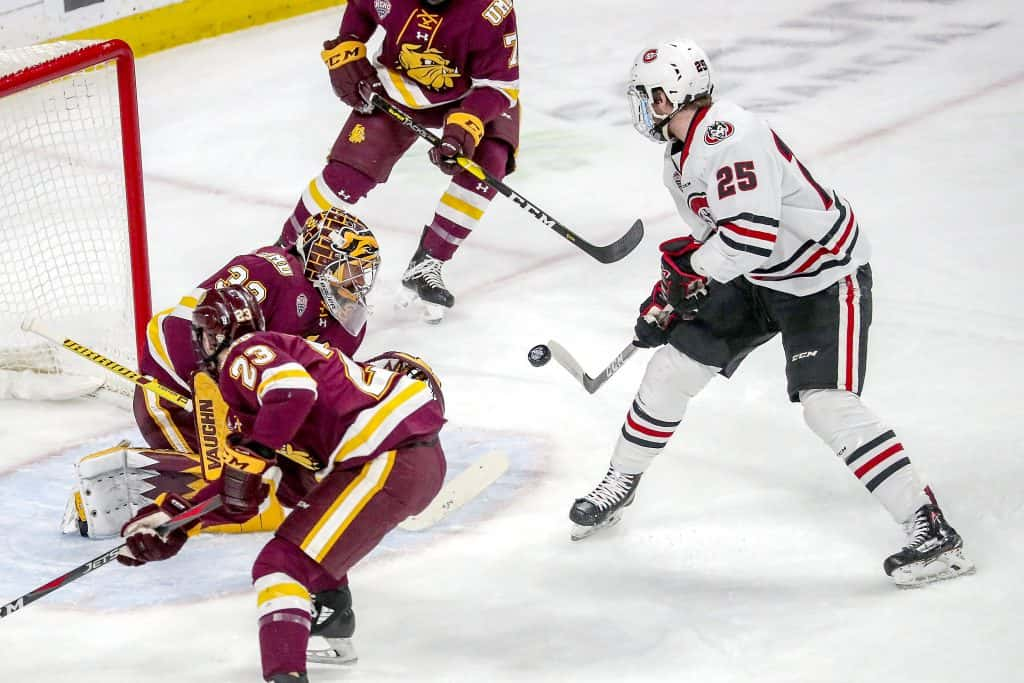 Dealing with 87:29
So how did the Huskies deal with the grind of playing 27 minutes, 29 seconds additional hockey than what they are used to?
Mentally, St. Cloud State tried to keep things light after the third period and first overtime.
"Our team did an incredible job of staying positive and staying focused and sticking to our game plan," Schuldt said. "We were having fun between those overtimes, kind of pushing each other and looking forward to playing."
"With the way our two teams play, that's some of the hardest hockey you'll see teams play all year," Newell said. "We tried to get fluids in and then guys just tried to stay positive and stay confident."
It was not close to the longest game in St. Cloud State's Division I era, by the way. The record is 111 minutes, 33 seconds in three overtimes against … Minnesota Duluth on March 11, 2007. St. Cloud State won that game, 3-2, at the Herb Brooks National Hockey Center.
And hold on, Minnesota Duluth beat St. Cloud State 3-2 in triple overtime on March 12, 2011, in Duluth. Those two triple overtime games were both elimination games in WCHA best-of-three series.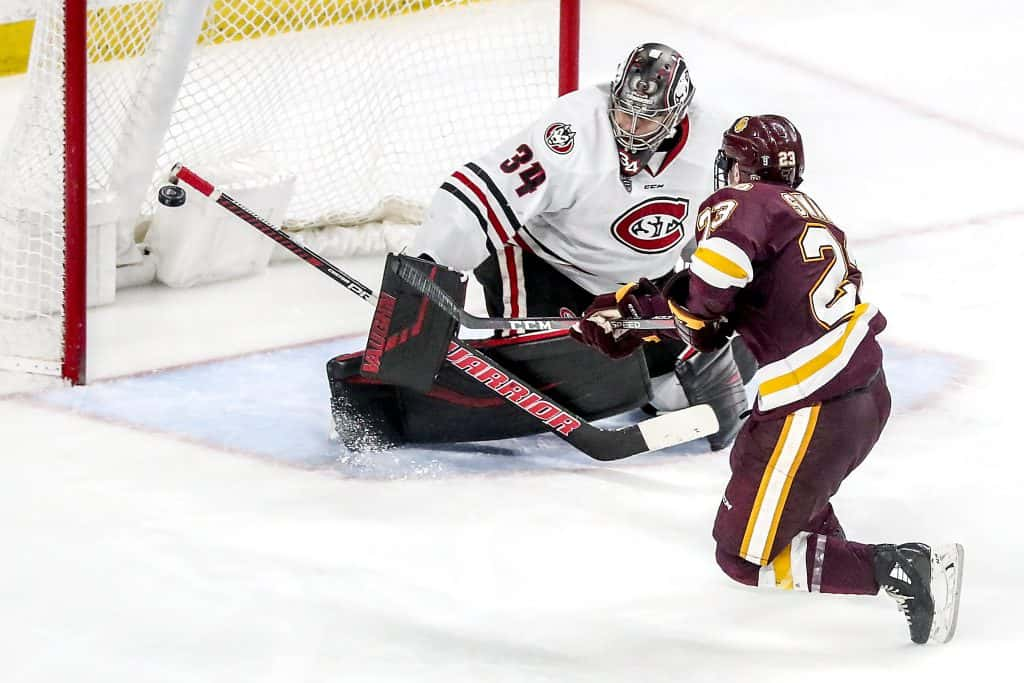 All-tournament team
Schuldt and forwards Robby Jackson, Blake Lizotte and Newell were each named to the Frozen Faceoff All-Tournament Team. The other two members of the team were Minnesota Duluth defenseman Mikey Anderson and goalie Hunter Shepard. Shepard, who had 37 saves Saturday and a shutout Friday, was named the Frozen Faceoff MVP.
Game summary:
UMD 1-0-1-1—3
SCSU 1-0-1-0—2
First period — 1. SCSU, Robby Jackson 19 (Blake Lizotte 26, Patrick Newell 26) 7:45.
2. UMD, Mikey Anderson 5 (Scott Perunovich 25, Parker Mackay 15) 10:49.
Penalties: UMD, Peter Krieger (tripping) 7:45; UMD, Louie Roehl (boarding) 9:41; SCSU, Easton Brodzinski (hooking) 10:06.
Second period — No scoring.
Penalties: UMD, Dylan Samberg (tripping) 3:26; UMD, Louie Roehl (slashing) 5:16; SCSU, Nick Perbix (tripping) 14:46; UMD, Matt Anderson (delay of game) 18:47.
Third period — 3. SCSU, Newell 21 (B. Lizotte 27, Jack Ahcan 28) :28 (pp).
4. UMD, Billy Exell 2 (Tanner Laderoute 3) 15:09 (sh).
Penalties: SCSU, Jimmy Schuldt (interference) 3:52; UMD, Jesse Jacques (tripping) 13:46.
1st Overtime — No scoring, no penalties.
2nd Overtime — 5. UMD, Nick Swaney 15 (Tanner Laderoute 4, Jesse Jacques 1) 7:29.
Penalties: None.
Goalie saves — UMD: Hunter Shepard 14-7-6-7-3 — 37 (2 GA); SCSU: David Hrenak 5-5-7-7-3 — 27 (3 GA).
Penalties-minutes — UMD 6-12, SCSU 3-6.
Power plays — UMD 0-3 (2 shots), SCSU 1-6 (6 shots).
Faceoffs — SCSU 36-34.
Referees — Geno Binda and Ryan Hersey. Linesmen — John Grandt and Sterling Egan.
Attendance — 10,621.