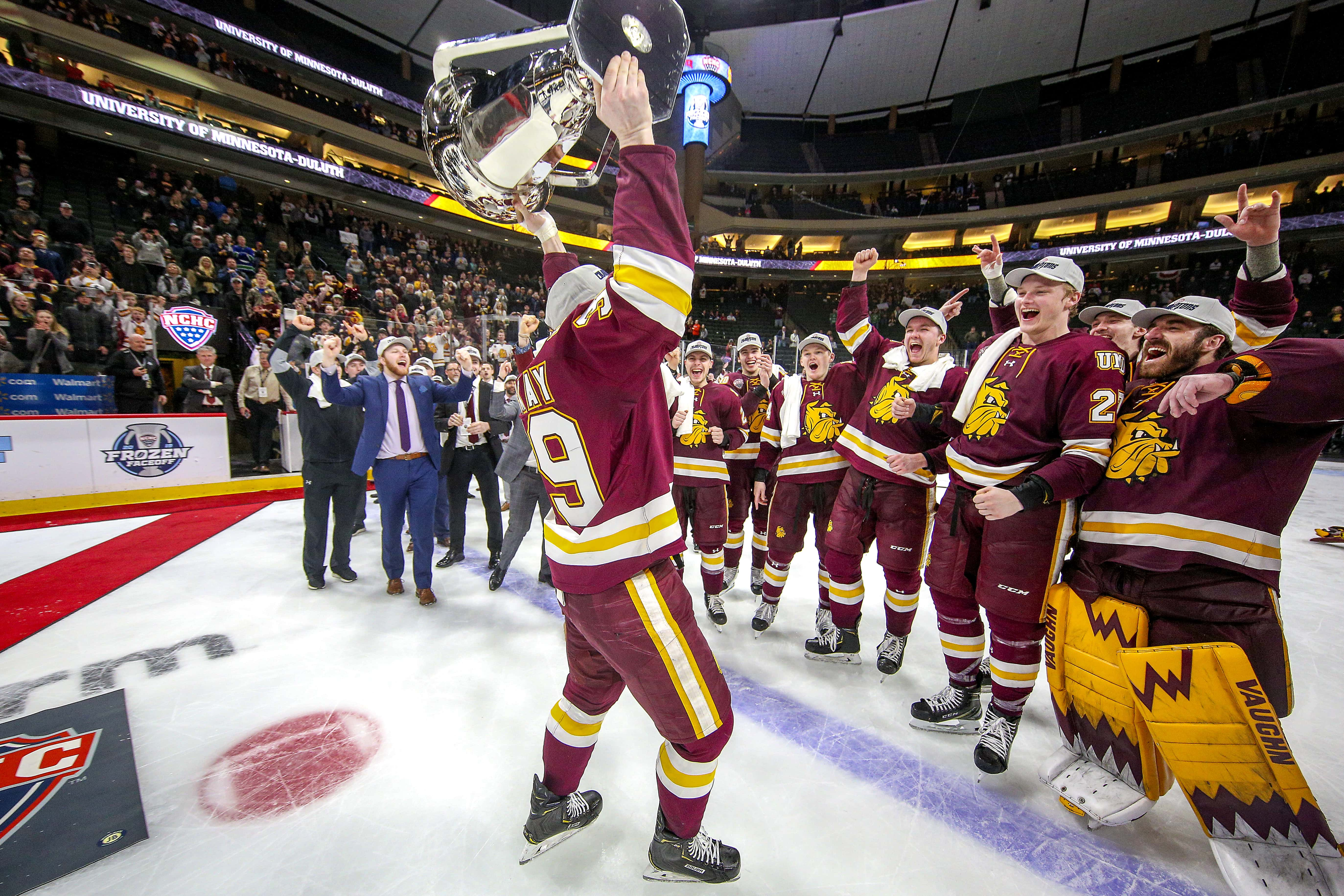 By Matt Wellens
DULUTH, Minn. — Minnesota Duluth is finally getting a shot at NCAA tournament revenge against Bowling Green, 35 years after dropping the 1984 title game to the Falcons in four overtimes.
The defending national champion and newly crowned NCHC postseason champion Bulldogs (25-11-2) are the top seed in this week's NCAA Midwest Regional — announced Sunday night — where they will open against the fourth-seeded Falcons (25-10-5) at 3 p.m. on Saturday, March 30, at the PPL Center in Allentown, Pa.
On the other half of a Midwest Regional that is located less than 100 miles from the Atlantic Ocean, second-seeded Quinnipiac (25-9-2) takes on third-seeded Arizona State (21-12-1) at 6:30 p.m. The winners play for a spot in the NCAA Frozen Four at 5:30 p.m. Sunday in Allentown.
"Bowling Green had a really good year," UMD coach Scott Sandelin said of his first-round opponent. "Chris Bergerson has done a good job there. We'll get a little more info on them. I've got a little. A real tough matchup."
UMD and Bowling Green last met in the NCAA tournament on March 24, 1984, in Lake Placid, N.Y. The Falcons beat a Bulldogs team that included Tom Kurvers, Bill Watson, Norm Maciver and Jim Johnson — just to name a few UMD legends — in four overtimes 5-4 for the national title.
"I'm sure we'll get a few emails and calls," Sandelin said.
Bowling Green, then coached by the legendary Jerry York, followed that title run with four consecutive NCAA tournament appearances from 1987-1990 but haven't been back until now.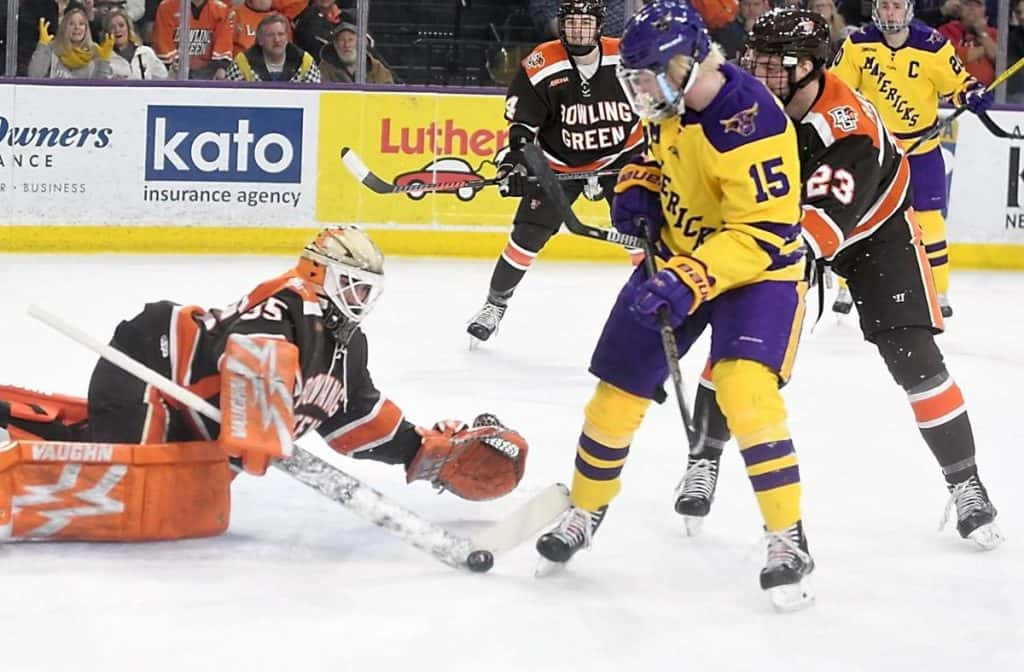 The Falcons, coached by Bergerson the last nine seasons, nabbed the last at-large bid this year at No. 15 in the final Pairwise rankings — the system used to select and seed the NCAA tournament — after falling at Minnesota State-Mankato 3-2 in overtime on Saturday night in the WCHA Championship. Bowling Green led 2-0 until the Mavericks scored two extra-attacker goals in the final two minutes.
UMD is making a program-record fifth-straight NCAA tournament appearance and eighth appearance in the last 11 seasons, all under Sandelin. In addition to defending last year's NCAA title, the Bulldogs are chasing a third consecutive regional crown and berth in the Frozen Four, which is scheduled for April 11-13 in Buffalo, N.Y.
UMD won its second NCAA title a year ago, 2-1 over Notre Dame at Xcel Energy Center in St. Paul. The Bulldogs returned there over the weekend and captured their second NCHC Frozen Faceoff title in three years, beating Denver 3-0 on Friday and regular-season champion St. Cloud State 3-2 in double overtime late Saturday night.
"I like the momentum we have," Sandelin said. "Those are big wins for us beating Denver and St. Cloud going into this tournament. Our guys should feel good about where they are at."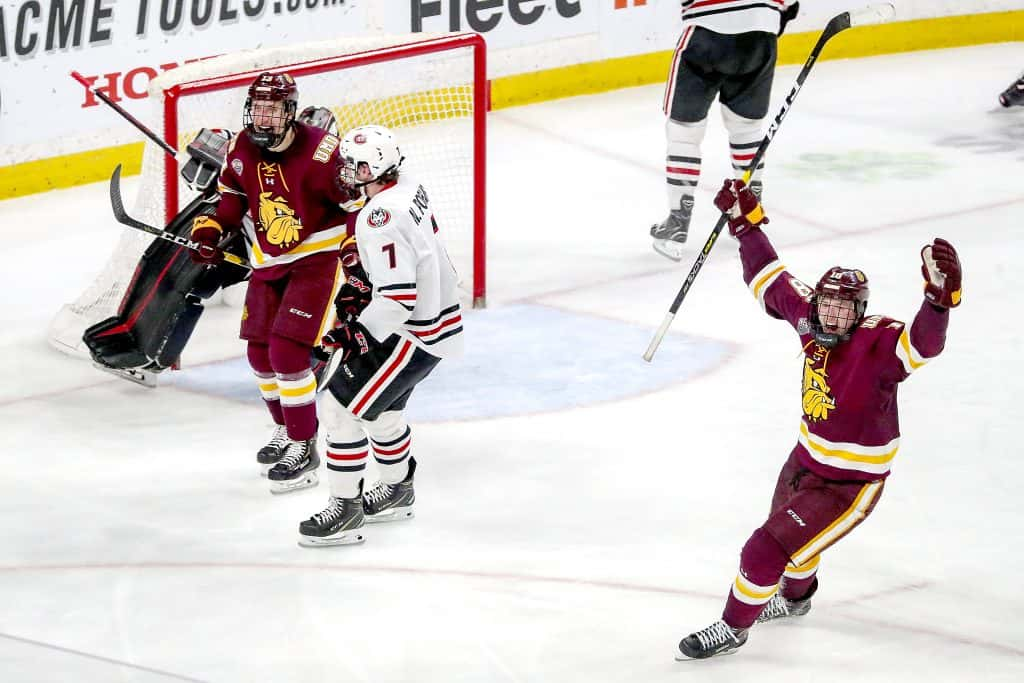 The victories over the Pioneers and Huskies bumped the Bulldogs from fourth overall to second in this year's NCAA tournament. The wins also ensured UMD avoided an unfavorable first-round matchup against the Providence Friars in the East Regional in Providence, R.I. Instead, Minnesota State must face the Friars in their hometown.
Despite the loss to UMD, St. Cloud was able to retain the No. 1 overall spot in the Pairwise and will face the No. 16 overall seed, Atlantic Hockey champion American International College, in the West Regional in Fargo, N.D. St. Cloud was No. 1 overall a year ago in the West when it was upset by No. 16 Air Force.
Penn State is the host of the Midwest Regional and would have been slotted there if not for the Nittany Lions' loss to Notre Dame in the Big 10 championship game on Saturday. Penn State is this year's first team out finishing No. 16 in the Pairwise but getting bumped by AIC.
2019 NCAA men's ice hockey tournament
West Regional
At Fargo, N.D.
Friday's semifinals
1. St. Cloud State vs. 16. AIC, 6:30 p.m. (WatchESPN)
8. Denver vs. 9. Ohio State, 3 p.m. (ESPNU)
Saturday's championship
Semifinal winners, 8 p.m. (ESPNU)
Northeast Regional
At Manchester, N.H.
Friday's semifinals
4. Massachusetts vs. 13. Harvard, 2 p.m. (ESPN2)
5. Clarkson vs. 12. Notre Dame, 5:30 p.m. (ESPNU)
Saturday's championship
Semifinal winners, 5:30 p.m. (ESPNU)
East Regional
At Providence, R.I.
Saturday's semifinals
3. Minnesota State vs. 14. Providence, noon (ESPNews)
6. Northeastern vs. 11. Cornell, 3:30 p.m. (ESPNews)
Sunday's championship
Semifinals winners, 3 p.m. (ESPN2)
Midwest Regional
At Allentown, Pa.
Saturday's semifinals
2. Minnesota Duluth vs. 15. Bowling Green, 3 p.m. (ESPNU)
7. Quinnipiac vs. 10. Arizona State, 6:30 p.m. (WatchESPN)
Sunday's championship
Semifinal winners, 5:30 p.m. (ESPNU)