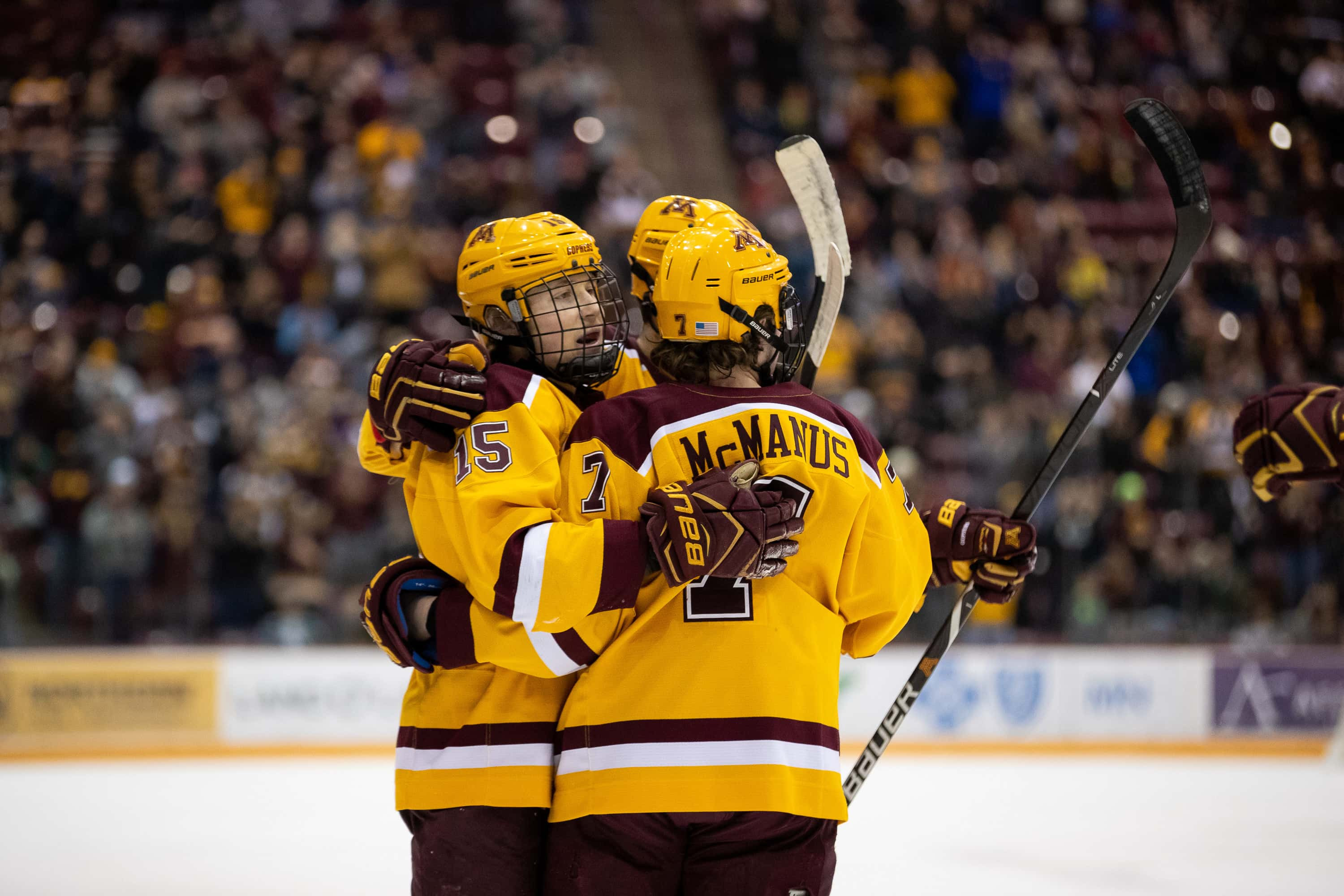 By Jess Myers
ST. PAUL, Minn. — Barely a full week after his college hockey season came to an abrupt end, the newest member of the Nashville Predators spent some extra time on the ice at Xcel Energy Center on Sunday, working on shots and tips with members of his new team.
Rem Pitlick, who last week made the tough choice to leave the Minnesota Gophers a year early to sign a two-year entry-level NHL contract, noted the seven-day whirlwind. He's gone from a sad and angry locker room at Notre Dame after the Gophers' controversial 2-1 overtime loss in the Big Ten playoffs to the Minnesota Wild's home rink, where Pitlick may make his NHL debut Monday night in his home state.
"Hockey is just hockey, but it's been a crazy couple days. I'm really grateful to be here. It's been unbelievable so far," Pitlick said Sunday afternoon. "We only lost last Saturday back at school and now I'm here. I feel like I've been here forever. I've been learning so much and there's been so much going on. It's been crazy and it's been awesome."
The past week, he's gone from Indiana to Minnesota, to Tennessee to Manitoba and now back to Minnesota. He did that as he was making a decision that will definitely change his life.
It will almost certainly spell a dramatic change for the Gophers, who go into next season without their top scorer, their top goalie and nine players who finished their eligibility. Pitlick acknowledged that the bitter end to the season was not befitting of what was otherwise an enjoyable final college campaign.
"Obviously, it sucks that we lost and it's crazy how fast a turnaround it is. No disrespect to my teammates back there, it's just this is what was next," he said. "We had a fun season, it's too bad we couldn't go longer. But with how much that's been going on the last few days, it's felt like more than a week for sure."
Playoff contender
Despite a Saturday night loss in Winnipeg, the Predators are on the brink of clinching another playoff spot. After going to the Stanley Cup Finals in 2017 and to the second round of the playoffs last season, the Predators are hopeful of playoff games well into the summer. With that in mind, they were happy to add the Gophers' leading scorer to the roster now.
"He's only been at practice for a few days and this is really the first practice we've had with him in the group, but he looks fine. He looks good and we're happy to have him," Predators coach Peter Laviolette, who had no qualms about adding a player to the mix with just weeks to go in the regular season. "It happens all over the league. Players are coming in all the time, whether it be trade deadline time or guys leaving college, or whatever it might be, so we're happy to have him.
"If you can stay in it until mid-June, you go through a lot of players, so it's nice to have extra bodies around."
As for the talented bodies surrounding Pilick, he joked about his girlfriend's obsession with one of his new co-workers, former Wild forward Mikael Granlund, who is a Predator after being traded last month. On his first road trip with the team, Pitlick found his new teammates to be welcoming.
"Last night a couple of guys invited me into their hotel room. They knew I was a little bit nervous, but it means a lot for them to invite me in and ask me a couple of dumb questions just to get a laugh. It makes me more comfortable," said Pitlick. "In a way I feel like I'm being thrown into the fire. There's definitely some awkwardness but that's an opportunity for me to learn and grow as an individual."
And when he gets back to the new home base in Nashville, Pitlick admitted he's got some learning to do about the local music-crazy culture as well.
"Country music has grown on me," he joked. "I like a few guys, but it's definitely not my music type of choice."
The Wild host the Predators at 7 p.m. on Monday. Laviolette said a decision about whether Pitlick would be in the lineup will be made closer to game time.