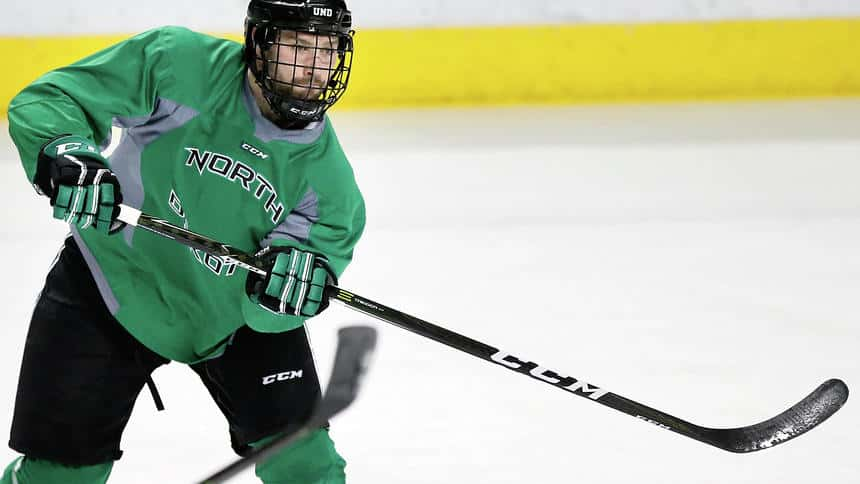 By Brad Schlossman
GRAND FORKS, N.D. — Colton Poolman stood in the hallway in the basement of Denver's Magness Arena a week ago, not ready to focus on his upcoming decision whether to sign an NHL contract or return to UND for his senior season.
"I want to be with my team right now," Poolman said. "That's my main thing. I just want to be with them."
Poolman has now made his decision, and again, he chose to spend more time with his UND teammates.
Poolman has informed UND that he will return to school for his senior season rather than sign a free-agent NHL deal.
"Obviously, this year didn't go the way we wanted it to," Poolman said. "Last year, too. I think there's a lot of work to be done here and I definitely want to be a part of it. I think we have a great, solid, core group of guys coming back. We obviously have the mentality. We showed that all year. I think we can apply that going into next year. That was a big factor, and just the program itself, we have such a great group of guys and I think we have a chance to do something good next year."
Poolman also said he'll be closer to graduating with a degree in biology.
"Getting my degree is another very big factor," Poolman said. "My mom always wanted me to get it. I'm one year closer to that. That's another big factor."
The East Grand Forks Senior High graduate will likely be one of the most sought-after free agents after next season.
Poolman's return is big for the Fighting Hawks on a number of fronts.
First of all, it gives UND one of the best players in the National Collegiate Hockey Conference. Poolman was one of three finalists for the NCHC's player of the year and defensive defenseman of the year awards this season. He tallied five goals and 17 points, playing in all situations for the Fighting Hawks, who were eliminated in the first round of the playoffs by Denver.
It also will bolster UND's defensive corps, which is only expected to lose senior Hayden Shaw.
Poolman will anchor that unit next season, followed by Matt Kiersted, Jacob Bernard-Docker, Jonny Tychonick, Gabe Bast, Andrew Peski and Josh Rieger. The Fighting Hawks will likely bring defenseman and former Moorhead High player Ethan Frisch to campus in the fall to fill Shaw's void.
"I think we've got to start small, because we haven't performed these last two years," Poolman said. "We haven't met a whole lot of goals. It starts with building The Ralph back to what it was. We have to start winning more home games first and foremost, and turning that place into a place that's feared to play in. That's goal No. 1.
"Then, we have to try to get into that top half in the regular season of play — be a better regular-season team. Those are a couple of goals we can wrap our heads around. We need to start there before we can go any farther."
Poolman also gives UND its captain back for a second season. UND's only two-year captains of the last 40 years have been Gage Ausmus, Chay Genoway, Dane Litke, Greg Johnson, Dave Hakstol, Scott Sandelin and Mark Taylor.
With Poolman's decision to return to school, UND is not expected to lose a single player early to an NHL deal for the first time since the summer of 2010.
Since then, UND has lost 18 players early to NHL signings, including 10 in the past three seasons alone.
One of those players was Colton's older brother, Tucker, who passed up on opportunities to sign after his freshman and sophomore seasons to return for his junior year. Tucker earned his degree after his junior season, then signed with the Winnipeg Jets.
"We talked a little bit about it," Colton said. "He didn't want to try to sway me one way or another. He was asking me questions to let me feel my way through it. As I was talking to him, he said by how I was answering that it looked like I had already made up my mind so there's no need for him to keep grilling me. It was very Tuck-like and I like that."