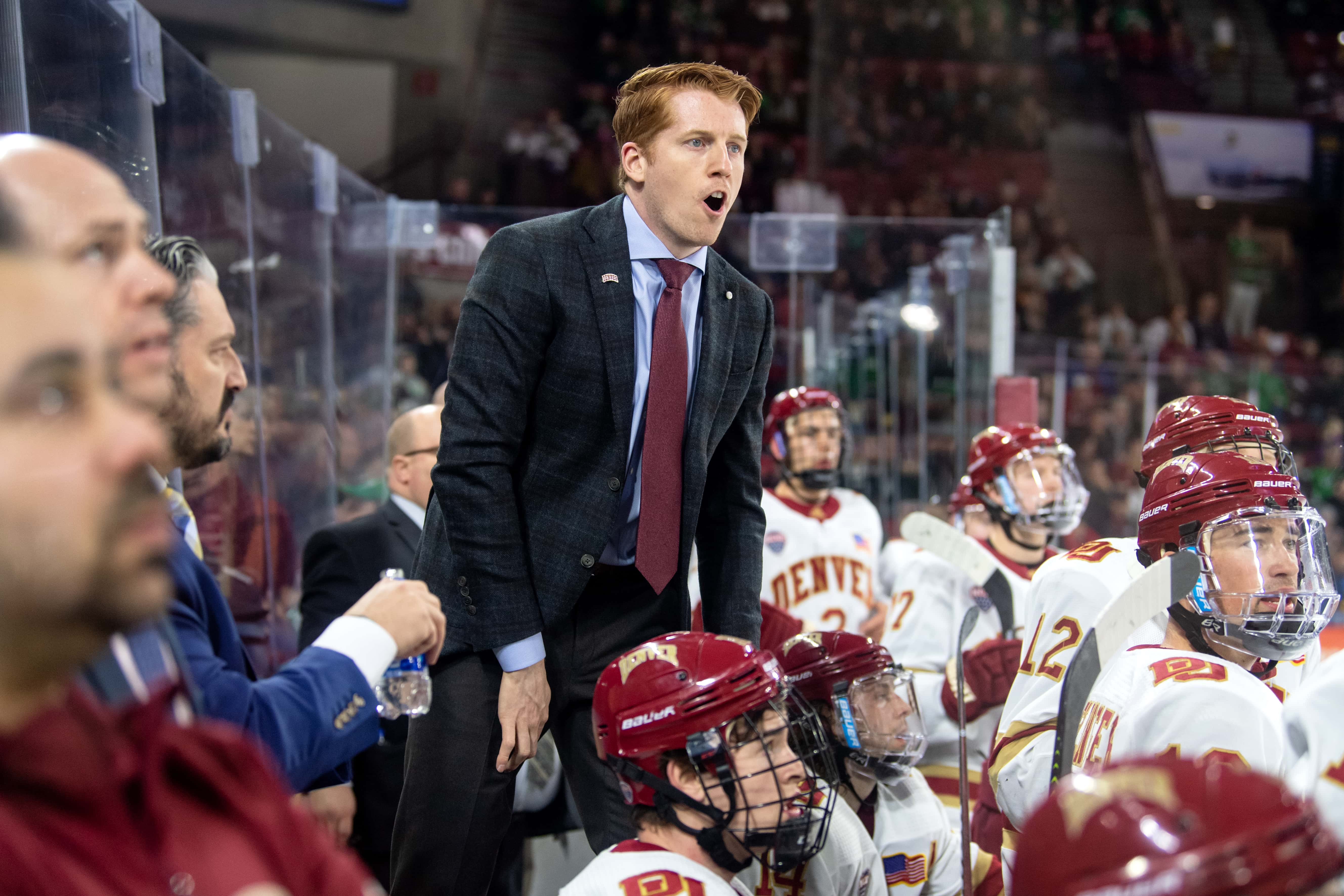 By Jess Myers
ST. PAUL, Minn. — The Denver Pioneers are back in the NCHC Frozen Faceoff, as they have been all six times the tournament has been held. So in some ways, everything is the same.
And then you look at the DU roster and coaching staff, and you realize just how much is different.
Since the Pioneers left the Xcel Energy Center ice with the NCHC tournament's trophy a year ago, they've lost their starting goalie, their top three scorers — all of them underclassmen — and head coach Jim Montgomery to NHL jobs.
In their place, helping the Pioneers to a third place finish in the NCHC this season are a senior group that played supporting roles on the 2017 NCAA title Denver won, and rookie head coach David Carle, who at 29 has a chance to earn a No. 1 seed in the NCAA tournament if they can win twice this weekend.
"I'm fortunate. I have an unbelievable staff surrounding me that I lean on heavily," Carle said. "The major thing that I ask from them is their honesty in their opinions and their thoughts, and then we have great leadership."
The Pioneers got back to St. Paul by bouncing back from losing to arch-rival Colorado College twice on the final weekend of the regular season to sweep North Dakota last weekend in Denver. Carle followed his brother, 2006 Hobey Baker winner Matt, to Denver but never played due to a heart condition. Instead, he became an assistant coach under both George Gwozdecky and Montgomery, before being named the program's ninth head coach last summer.
"You never go through change or adversity on your own," Carle said on Thursday, after the Pioneers' practice in St. Paul. "It's usually a group that does it and I think we've done a great job stabilizing the losses we've had. That's why we're back where we're at."