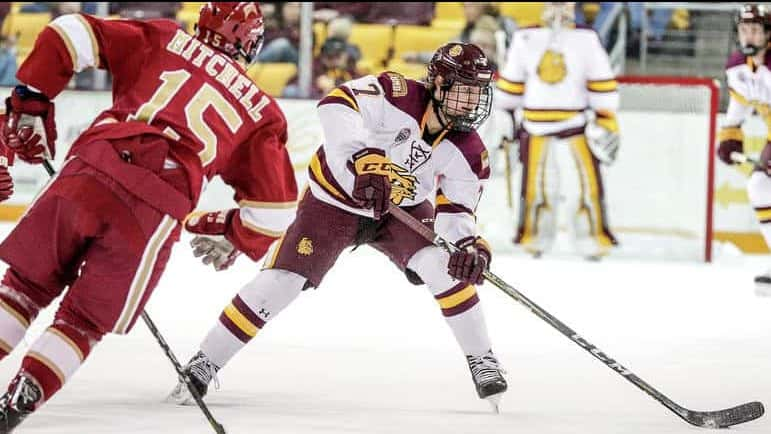 By Matt Wellens
DULUTH, Minn. — Minnesota Duluth's Scott Perunovich is nominated for the NCHC's top offensive defenseman award after the Hibbing native totaled 27 points to rank second in scoring on the Bulldogs and third among NCHC blueliners.
And while Perunovich is the only Bulldog nominated for the award, he's not the only sophomore defenseman at UMD that can create offense.
As Mikey Anderson — a nominee for best defensive defenseman — has shown this month, he's just as much of a threat to put points on the board. The 2017 fourth-round pick of the Los Angeles Kings brings a six-game point streak into this weekend's NCHC Frozen Faceoff at Xcel Energy Center in St. Paul.
The second-seeded Bulldogs take on fourth-seeded Denver at 7:38 p.m. Friday in the second of two league semifinals. NCHC regular-season champion St. Cloud State takes on sixth-seeded Colorado College in the early game at 4:08 p.m.
Anderson is four points back of Perunovich on the Bulldogs' scoring chart with four goals and 19 assists in 34 games this season, slotting him in a tie for sixth among league defenseman in scoring.
Anderson has picked up 10 of his 23 points — all assists — during this current six-game point streak with half of those points coming on power plays. His 10 points are tops among all defenseman in NCAA Division I.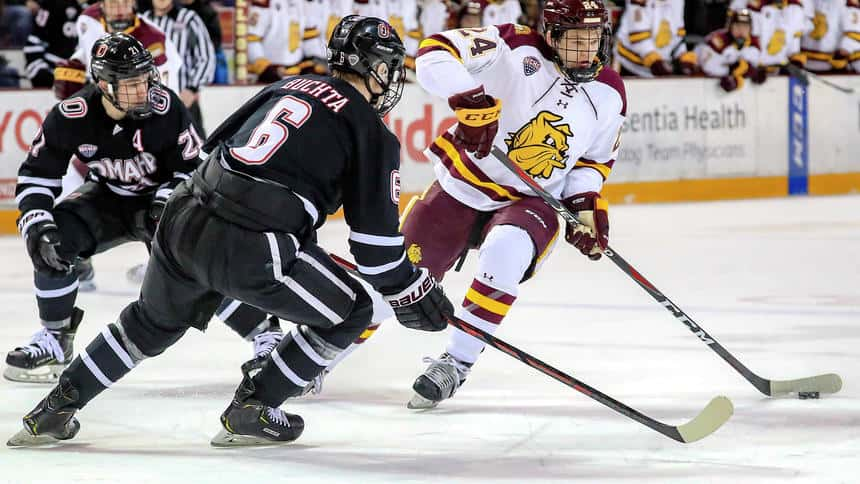 "He's been unbelievable for us all year. He's so consistent, and it's not just in the offensive zone. It's good to see he's getting rewarded there," UMD senior captain Parker Mackay said. "He just does everything so well out there that I think it might just take away from his offense. He's so good defensively that it might take away from it sometimes. At the end of the day, he lays it on the line every night. He deserves to be rewarded with that stuff."
Asked what it is that Anderson does back on the blue line to spark offense, Mackay said, "Everything, to put it pretty bluntly."
For Anderson it starts on the defensive end with his structure in the zone. He battles, blocks shots — 54 overall this season, 12 in the last six games — and his stick is "unbelievable," Mackay said.
For Bulldogs coach Scott Sandelin, Anderson's offensive and defensive success comes from how he moves the puck and the poise the defenseman possesses.
"He sees the plays. He knows when to move it. Offensively he gets involved," Sandelin said. "He's probably not going to be as up ice and in the zone as much Scotty. He does a great job quarterbacking the other power play. It was nice being able to have Scotty out (last weekend) and move Mikey right in there. We didn't really miss a beat. He's a smart player with a lot of poise."
Anderson's offensive surge has come at a good time with Perunovich missing three of the last six games due to injury, including last weekend's NCHC quarterfinal sweep of Nebraska-Omaha. Perunovich practiced with the team Tuesday and was listed as day-to-day by Sandelin during a pre-Frozen Faceoff teleconference.
Anderson had three points against Omaha, assisting on Nick Swaney's overtime game-winner on Friday against the Mavericks and then assisting on UMD's first two goals Saturday to erase a 1-0 deficit.
Earlier this season defensive partner Dylan Samberg cited vision as one of Anderson's top attributes. Anderson has a knack for finding the right shooting and passing lanes to get pucks through, Samberg said.
That vision was on display Saturday when Anderson bounced a puck off the end boards to set up Jackson Cates for a goal off a faceoff. He later fired a puck toward the net that Kobe Roth was able to redirect in to put UMD ahead.
Neither was an accident.
"The first one, Jackson won it back. We were just working on trying to get the middle. I was just fading out. I didn't see a clean lane to the net so I figured I would try and get it off the back wall. It got a good kick off the plate and it came right back to Jackson, who had a good lane to the net," said Anderson, who on Saturday heaped more praise on his teammates for finishing than himself for the setups. "The other one was good puck movement on the power play. Kobe found a good soft spot and a good deflection by him.
"I was looking for Kobe's stick the whole time and he had it in the right spot."
Miami fires Blasi
Miami announced the firing of coach Enrico Blasi on Tuesday. The 2005-06 national coach of the year led the RedHawks to a 398-311-76 record in 20 seasons, appearing in 10 NCAA tournaments, back-to-back Frozen Fours in 2009 and 2010 and a 4-3 overtime loss to Boston University in the 2009 national championship game. Blasi was a five-time Central Collegiate Hockey Association coach of the year, winning three regular-season titles — including the league's last in 2012-13.
Blasi's program has struggled since moving to the NCHC, however, going 45-84-15 in league play in six seasons. Miami has finished in the bottom two the past three seasons after taking second and winning the Frozen Faceoff in 2014-15.
With Blasi's firing, Sandelin is now the longest tenured coach in the NCHC in his 19th season. He and Western Michigan's Andy Murray are the last two head coaches from the league's inaugural season in 2013-14.