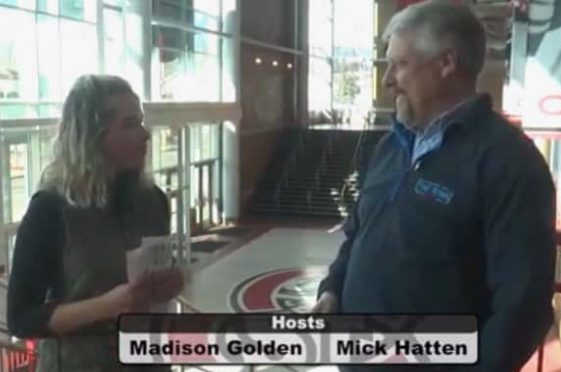 By Mick Hatten
ST. CLOUD, Minn. — Colorado College came the closest of any opponent to beating St. Cloud State this season at the Herb Brooks National Hockey Center. And the Tigers nearly did it on back-to-back nights.
The Tigers (17-18-4) play the top-ranked Huskies (29-4-3) at 4:08 p.m. Friday, March 22, at Xcel Energy Center in St. Paul, Minn., in the semifinals of the NCHC Frozen Faceoff. The winner plays the winner of the other semifinals game between No. 4 Minnesota Duluth (23-11-2) and No. 6 Denver (21-10-5), which will be played at 7:38 p.m. Friday.
On Saturday, March, 23, the third-place game will be played at 3:38 p.m. and the championship game is scheduled to be played at 7:38 p.m. The semifinals and championship games will be on CBS Sports Network.
The Huskies, who have won nine straight and are 11-0-1 in their last 12 games, advanced to the Frozen Faceoff with a series sweep of Miami at the Brooks Center. Colorado College, which is 6-2 in its last eight games, beat Western Michigan 3-2 in Game 3 of its best-of-three series Monday in Kalamazoo, Mich.
4 previous meetings
St. Cloud State and Colorado College met four times during the regular season. The Huskies came from behind to sweep both games of a series on Nov. 2-3 in Colorado Springs (5-3 and 2-1). The Tigers led the Huskies in the third period of both games of the Feb. 8-9 series at the Brooks Center. Colorado College and the St. Cloud State tied 2-2 in the opener, then earned an extra point in the 3-on-3 overtime. St. Cloud State trailed 4-2 on Feb. 9, but scored twice in the last 4:51 of regulation to send the game into overtime. Huskies senior Patrick Newell gave the Huskies a 5-4 win with a goal at 3:53 of overtime.
St. Cloud State was 3-for-15 on the power play in the four games against Colorado College, including going 0-for-8 in the series in St. Cloud. The Tigers were 4-for-17 on the power play in the four games.