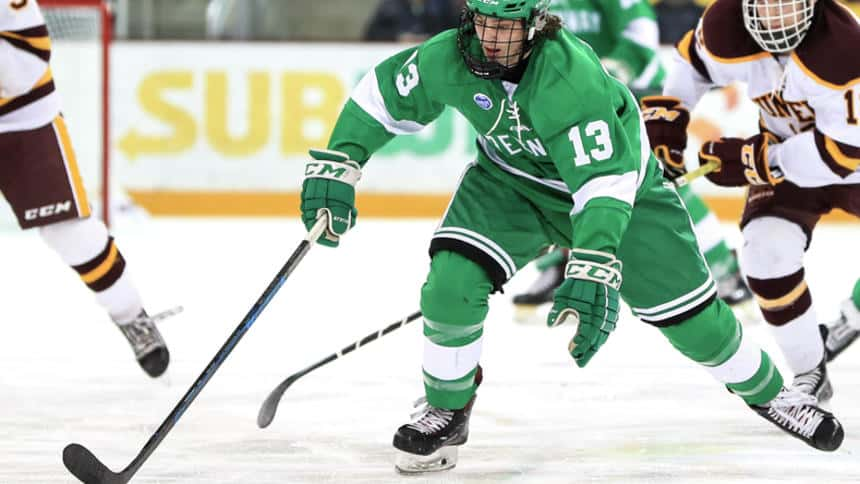 The Rink Live
COLERAINE, Minn. — Life is pretty good right now for Greenway senior Donte Lawson, who announced late Tuesday, March 19, that he committed to play hockey for Bemidji State University.
Lawson scored the game-winner in double overtime of the Section 7A final at Amsoil Arena, hours after his brother Dominik underwent successful kidney transplant surgery. The goal propelled the Raiders, who were just 12-13 to end the regular season, over Hermantown and reach the program's first state tournament since 2001.
At Xcel Energy Center in St. Paul, Lawson totaled four goals and five assists as Greenway stole the spotlight at the state boys' tournament and streaked streaking to the championship game, where the Raiders finally fell, 5-2 to St. Cloud Cathedral. He earned the Herb Brooks Award — given to the most qualified hockey player in the state tournament who strongly represents the iconic coach's values, characteristics, and traits — for the performance among Class A schools.
Lawson debuted with the Minnesota Wilderness of the North American Hockey League last week, producing a highlight-reel goal that lit up social media.

Are you kidding me?!?! Here's Donte Lawson's (@donte1313) goal for the @mnwilderness! You gotta watch this!!!! It tied the game at 1 in the 1st Period vs Bismarck!
(Video from @wdiowirt Photojournalist Mark Erb)@GreenwayAD @GHSRAIDERPUCK @NAHLHockey pic.twitter.com/M3V5GK2Rp6

— Dan Williamson (@Dan_Williamson) March 16, 2019
On Tuesday, he announced his commitment to play Division I hockey at Bemidji State.
Excited to announce my commitment to play D1 hockey at @BSUBeaversMHKY. I would like to thank god, my family and all the coaches and teammates that helped me get to where I am today! #rollbeavers @GHSRAIDERPUCK pic.twitter.com/pGip1QWufN

— Casadonte Lawson (@donte1313) March 20, 2019

Beavers coach Tom Serratore, a Coleraine native and ex-Raider, is getting an offensively gifted player who tallied 37 goals and 34 assists for Greenway this season. Lawson, lauded for his hands and ability to control the puck, ended his three-year prep career with 180 points — 95 goals and 85 assists.