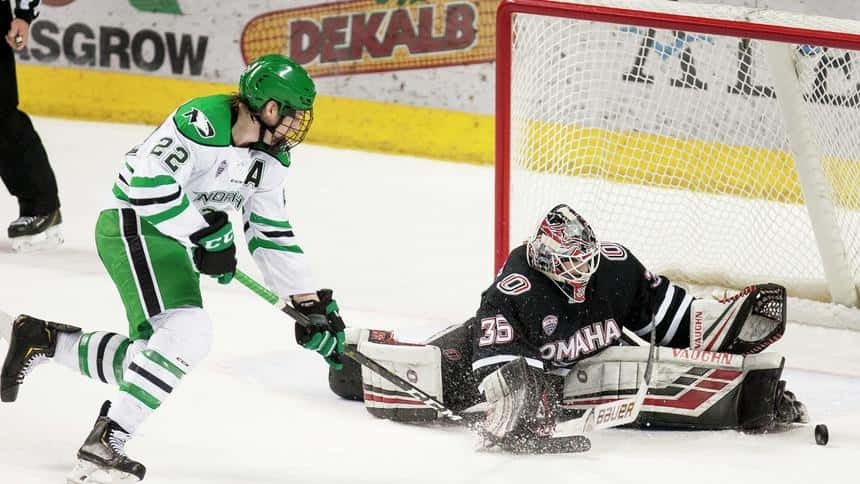 By Brad Schlossman
GRAND FORKS, N.D. — Before the 2016 NCAA Frozen Four semifinals, Denver coach Jim Montgomery used his press conference to try to bait University of North Dakota head coach Brad Berry into matching his top line against DU's top line.
It didn't work.
Berry did exactly what Montgomery hoped to avoid: He stuck the Heavy Line, UND's big, physical shutdown unit, against Denver's top line all night long.
Denver's trio of Danton Heinen, Dylan Gambrell and Trevor Moore went scoreless and UND beat the Pioneers 4-2 en route to winning the NCAA national championship.
Since that game, Montgomery has moved on to become the head coach of the Dallas Stars, and now he will have one member of that Heavy Line on his organization's side.
UND senior center Rhett Gardner signed a two-year deal with the Dallas Stars on Tuesday, just three days after his Fighting Hawks hockey career came to a close with a first-round National Collegiate Hockey Conference playoff loss against Montgomery's old team, Denver.
Gardner will immediately start playing with Dallas's American Hockey League affiliate, the Texas Stars, on an amateur tryout deal. His contract with the Stars will begin next season.
The Moose Jaw, Sask., product would have had the option to become a free agent this summer if he wanted, but Gardner decided to stick with the Stars, who drafted him in the fourth round in 2016. The Stars drafted him just two months after that Frozen Four semifinal game against Denver. In that game, Gardner started as the left wing alongside center Luke Johnson and right wing Austin Poganski. But he moved to center after Johnson left the game with a knee injury.
With UND holding a one-goal lead in the final minute of that game, Berry threw Gardner, a freshman at the time, on the ice to win key faceoffs. He did. Gardner iced the semifinal victory with an empty-net goal.
Gardner, a 6-foot-3, 207-pound power forward, will project as a shutdown centerman at the next level.
Gardner won the NCHC's defensive forward of the year award last season and is one of four finalists for the honor this season. That award will be handed out Thursday in St. Paul.
While his offensive production dwindled as a senior — Gardner ended his career on a 24-game goal drought — he was still an effective puck possession player and set the school's single-season faceoff record by winning 62.3 percent of his draws this year. The previous single-season record of 60.1 was set by Tyson Jost in 2016-17 (the stat has been kept by UND since 2003-04).
Gardner's 538 faceoff wins will lead the nation this season. Nobody still playing is within 100 of him. Gardner finished his career with 74 points in 149 games. He had eight goals and 15 points as a senior.
Gardner is the first player from this year's UND team to sign a pro deal. Senior defenseman Hayden Shaw is expected to sign a deal with the Manitoba Moose and start his career with the Jacksonville IceMen in the ECHL. Manitoba and Jacksonville are minor-league affiliates of the Winnipeg Jets.