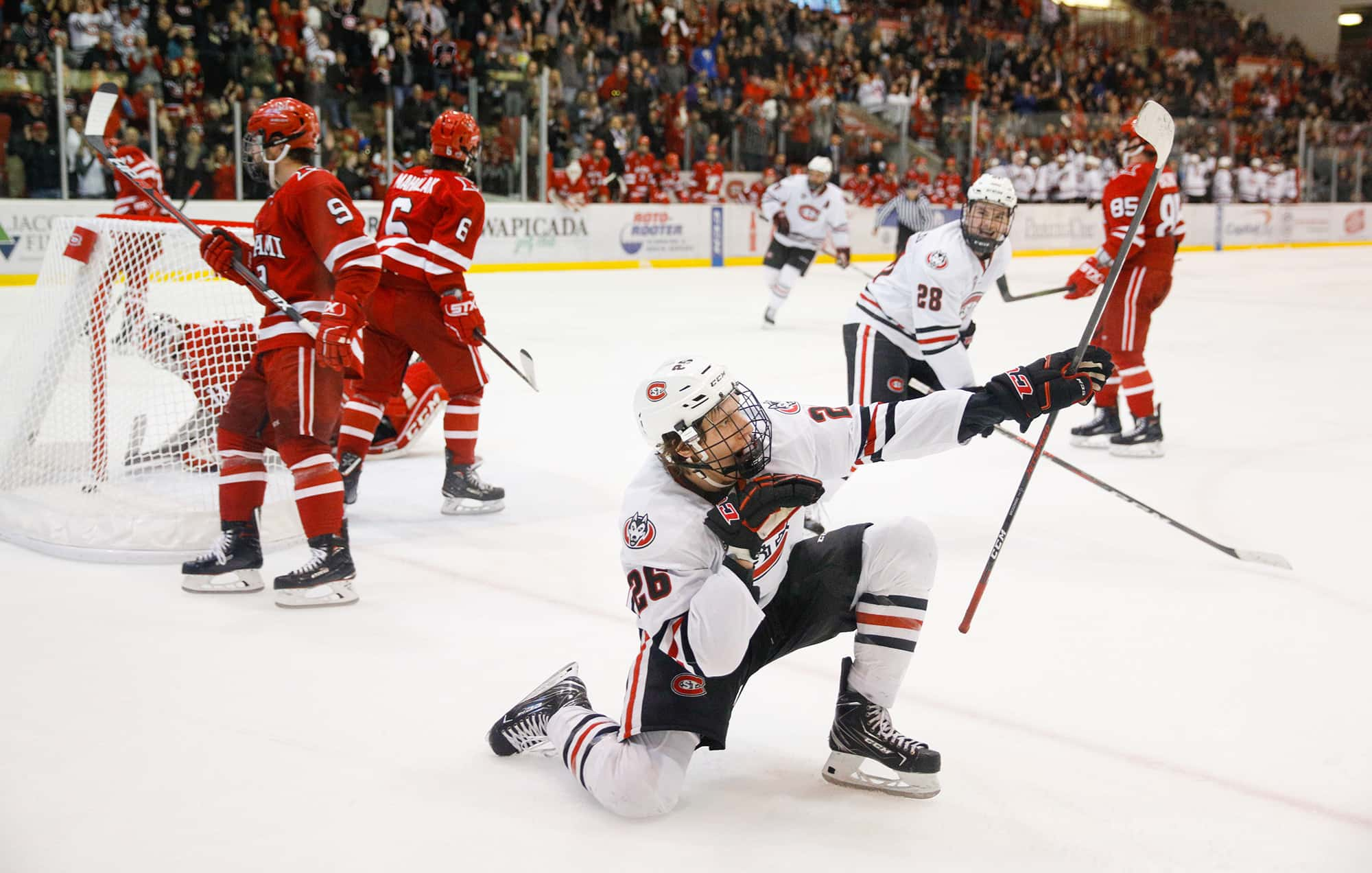 By Mick Hatten
ST. CLOUD, Minn. — The interviews with the players got a little loose for the St. Cloud State men's hockey players after Saturday's game.
Jimmy Schuldt, Kevin Fitzgerald and Robby Jackson each jumped into the postgame press conference to ask their teammates questions.
But when a team finishes off an undefeated season at home, there's reason to be a bit giddy.
The top-ranked Huskies scored four goals in the third period to beat Miami 6-3 in Game 2 of their NCHC quarterfinals series at the Herb Brooks National Hockey Center. St. Cloud State (29-4-3) advances to its fourth NCHC Frozen Faceoff, which begins with semifinals games at 4:08 p.m. and 7:38 p.m. Friday at Xcel Energy Center in St. Paul, Minn.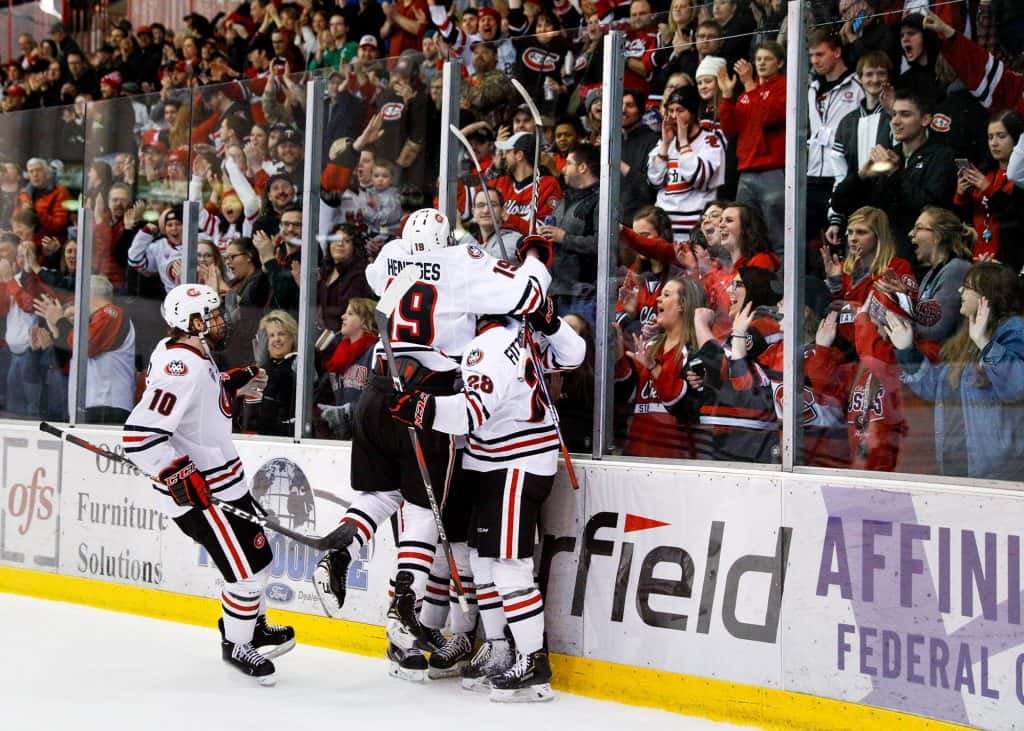 17-0-1 at home
St. Cloud State has won four regular season conference titles and two conference playoff titles as an NCAA Division I program. But the Huskies had not gone undefeated at home … until this season.
"Never even heard of it," Brett Larson said when asked if he's ever been associated with a team to earn the feat. "I know the seniors wanted to go out with a win. What a great way for them to go out.
"I don't know how you put it into words. It's a great group and we keep saying that, but they love playing in front of these fans. Recruiting has been so good here and (assistant coach) Mike Gibbons has been a big part of it over the years, the one constant, recruiting kids that really care about St. Cloud State and this program."
The previous best home record for St. Cloud State in a season was 14-1-3 in 1993-94. The most wins in a season before this season was 16 (16-3-1, 2001-02; 16-3-1, 1996-97; 16-3-2, 2017-18).
"We love playing here and the home ice advantage is definitely real for us," said St. Cloud State senior captain Jimmy Schuldt, who has not missed a home game in four seasons. "It's just so much fun to strap on skates and play. I'm really going to miss this place. It's been so good to me and the best four years and for our senior class."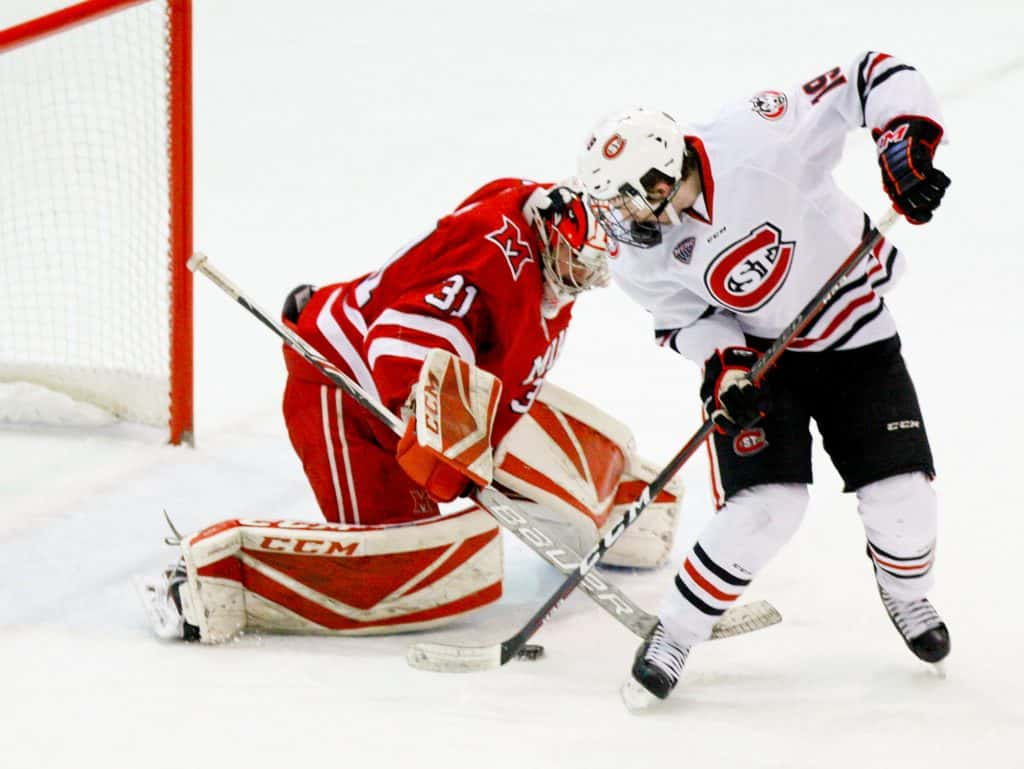 Big penalty kill
It was a back-and-forth game on the scoreboard through the first two periods. Miami's Karch Bachman, a Florida Panthers draft pick, scored his second goal of the game at 11:53 of the second period to tie the game at 2-2.
A turning point in the game came in the last 6:54 of the second period. With the game tied, Huskies defenseman Spencer Meier was called for a five-minute major for checking from behind. Then St. Cloud State's Nick Poehling took a boarding penalty at 16:53 of the third period and the RedHawks (11-23-4) had 1:13 of a 5-on-3 power play.
Miami had five shots, but was not able to score. Have to check the video replay, but Schuldt and senior defensive partner Jon Lizotte may have been on the ice for the entire penalty kill.
"That penalty kill at the end of the second period … I almost hate to single anyone out because there were so many guys, but Jimmy Schuldt and Jon Lizotte had moments where they refused to give up," Larson said. "If we don't kill off that major and that 5-on-3, it could be a totally different game.
"Kudos to everyone on the penalty kill, including (goalie) David (Hrenak), but I thought those two (defensemen) were just warriors out there."
Miami was 0-for-3 on the power play in the game and 0-for-5 in the series. How good was the penalty kill Saturday?
"I was almost upset that (the kill ended) toward the end of the period because we had so much momentum going that it would have been great to keep that going for another 5-10 minutes," Huskies senior wing Robby Jackson said. "That was some grown man hockey by Jimmy Schuldt and Jon Lizotte, 100 percent.
"We fed off that energy. When I saw Jon holding off two guys with one arm, that put so much energy into me and the whole bench."
Disputed goal
Jackson scored a goal that was not declared in until a video review to give the Huskies a 3-2 lead. Patrick Newell went around the Miami net and passed it to Jackson in the low faceoff circle and he one-time a shot that went off goalie Ryan Larkin.
Jackson pointed for several seconds at the net that the shot had gone in, but it was not reviewed until the next whistle.
"I pointed at the goal, I sold it, I was confident, 100 percent," Jackson said with a laugh.
So how did Jackson know it was in?
"I saw it go over the line," Jackson said, deadpan. Then Jackson added some clarity. "(Larkin's leg) pad was over the line and in the net and it went off his pad."
Miami tied the game at 3 on a goal by Brian Hawkinson at 4:38.
But then Sam Hentges and Easton Brodzinski traded setting each other up for goals to put the game out of reach. Hentges, a Minnesota Wild draft pick, scored at 6:52 and Brodzinski scored at 11:12.
Brodzinski stays hot
Brodzinski had two goals and an assist, a team-leading seven shots and was a plus-3 Saturday. In the series, he had three goals, two assists, 11 shots and was a plus-4. In his last six games, he has five goals, four assists and is a plus-5.
In the last four games, Kevin Fitzgerald has come back from injury to center a line with Brodzinski and Hentges on the wings.
"Kevin is a good player and we were missing him," Brodzinski said of Fitzgerald, who missed 13 games with an upper body injury. "We were good without him, but we're even better with him. Great addition to have back in the lineup."
After having 14 goals, 24 points and was a plus-5 in 38 games last season. He has 15 goals, 28 points and is a plus-10 in 36 games this season.
"I've worked with Larson on a lot of little things, stay above the puck and I think the defensive side has really improved," Brodzinski said of his game.
The Brodzinski family is known as shooters, but Schuldt noted another element to Easton's play of late.
"I think he's been awesome away from the puck," Schuldt said. "Everyone knows what he can do when he has the puck, he makes plays and can shoot the puck.
"His forechecking, his neutral zone (play), playing physical and in the defensive zone … One of those goals was set up by a faceoff win by him. He's been a man when we've needed him to be."
Game summary:
Miami 1-1-1—3
SCSU 0-2-4—6
First period — 1. M, Karch Bachman 9 (Derek Daschke 16) 6:23.
Penalties: SCSU, Nick Perbix (cross-checking) 7:55; M, Josh Melnick (holding) 11:52; M, River Rymsha (roughing) 17:15; SCSU, Jack Ahcan (roughing) 17:15.
Second period — 2. SCSU, Easton Brodzinski 14 (Sam Hentges 9) 4:32.
3. SCSU, Jimmy Schuldt 10 (Robby Jackson 20, Blake Lizotte 23) 5:55.
4. M, Bachman 10 (Ben Lown 5, Alec Mahalak 12) 11:53.
Penalties: M, Bachman (holding) 9:47; SCSU, Spencer Meier (checking from behind, major, game misconduct) 13:06; SCSU, Nick Poehling (boarding) 16:53.
Third period — 5. SCSU, Robby Jackson 17 (Patrick Newell 23, Schuldt 23) :49.
6. M, Brian Hawkinson 3 (Scott Corbett 5, Grant Hutton 14) 4:38.
7. SCSU, Sam Hentges 10 (Brodzinski 13) 6:42.
8. SCSU, Brodzinski 15 (Hentges 10) 11:12.
9. SCSU, B. Lizotte 14 (Jackson 21, Newell 23) 17:27 (en).
Penalties: M, Gordie Green (high-sticking) 7:49; M, Graham (interference) 13:57; M, Ryan Siroky (delay of game) 19:14.
Goalie saves — M: Ryan Larkin 10-16-13 — 39 (5 GA); SCSU: David Hrenak 7-8-3 — 18 (3 GA).
Penalties-minutes — M 6-12, SCSU 5-21.
Power plays — M 0-3 (7 shots), SCSU 0-5 (8 shots).
Faceoffs — SCSU 39-25.
Referees — Geno Binda and Nick Krebsbach. Linesmen — Justin Hills and Brandon Schmitt.
Attendance — 2,707.