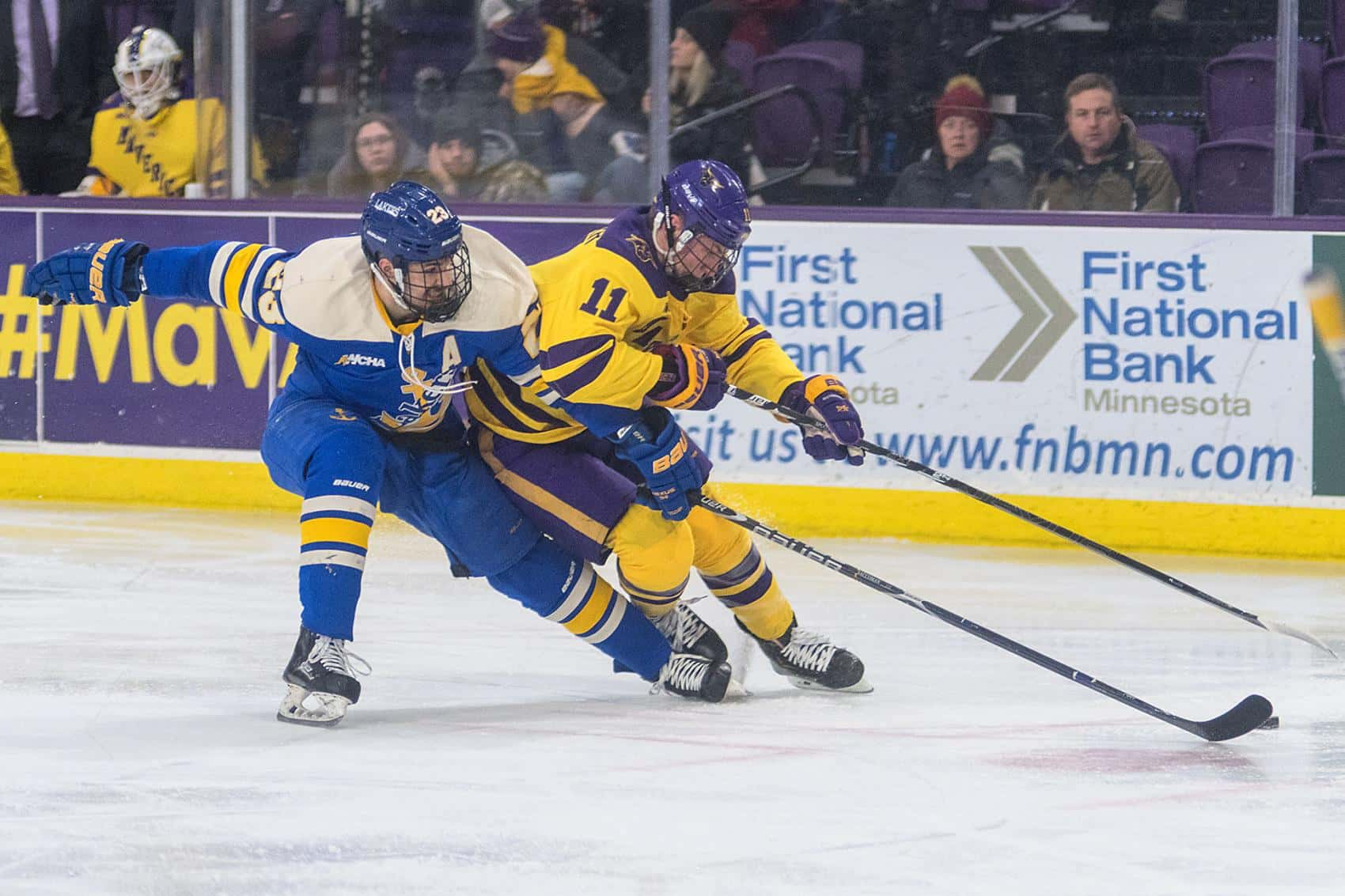 By Shane Frederick
MANKATO, Minn. — Watch Jared Spooner play hockey and you'll see someone who plays hard and fast and rarely, if ever, slows down.
That's a hard habit to break for the youngest of six sports-crazy kids in Bismarck, North Dakota, a kid who was constantly trying to keep up with his big brothers and sisters.
"I have a competitive nature; I don't like to lose," said Spooner, a sophomore center for the Minnesota State men's hockey team. "I chased my older brothers around the hockey rink, around the baseball field, around the tennis court. I think maybe they used to harass me as a kid, and I really didn't like it. That was probably motivation. That's probably where it started, and that carried over into athletics."
Now, he's the one doing the harassing — of opposing hockey players, anyway, not his siblings.
"I think I'm a 200-foot forward that plays the game hard," Spooner said. "I try to be hard to play against, chip in offensively when I can, but my job is to wear other teams down and be really good defensively."
The Mavericks certainly appreciate Spooner's determined spirit.
All-around talents
At 6-foot, 197 pounds, Spooner indeed does a little bit of everything. Going into this weekend's WCHA semifinal series against Lake Superior State, he's tied for third on the team in scoring with 27 points, including seven goals. He's second in penalty minutes with 41, but when he's not in the box, he's a valuable penalty killer. He's also become reliable in the faceoff circle and is tied for fifth on the team in shots on goal.
"I was never the most skilled player, but I could control how hard I worked," he said. "And I took a lot of pride in out-working guys."
On the latter point, his coaches agree.
"Never, with Jared, is there any concern with us about his work ethic," MSU associate head coach Todd Knott said. "He's right at the top of the team there. He doesn't cheat at anything he does."
Knott said that Spooner's style of play is particularly appreciated in the postseason, when games get tight and you need strong, well-rounded skaters who can protect pucks at one end of the rink and defend at the other.
"It's how I was taught how to play the game," Spooner said. "That blue-collar, North Dakota-style of play, if you want to call it that. That's what got me to this level, so why change now?"
Head coach Mike Hastings believes there's even more there, though, including goal scoring.
"He brings maturity, focus, work ethic and discipline on and off the rink and to his life," Hastings said. "I think he's going to continue to get better."
Big-game player
Spooner has had a knack for showing up in big moments.
In 2014, he led Bismarck High School to the North Dakota hockey championship, earning tournament MVP honors. A year and a half later, he was tournament MVP and led the Bismarck Governors to a American Legion baseball state title
After three years of junior hockey, including one as captain for the USHL's Green Bay Gamblers, he arrived at Minnesota State and had a solid freshman season, playing in all 40 games and putting up 19 points.
"I've been pretty fortunate to get used in a lot of different areas, a lot of different roles," he said.
That includes outside the rink, too, where he remains passionate about other sports.
Last summer, Spooner got his baseball fix by helping coach one of Mankato's American Legion teams.
"It's funny — in the winter, hockey was No. 1, and the in the summer, baseball was No. 1," he said. "I love the change of seasons."
Not that he's ready for them to change yet. The second-ranked Mavericks have their sights set on a WCHA playoff championship and a deep run in the NCAA tournament.
If that happens, Spooner will be the one who's game is cranked up to 11 (his jersey number, by the way), playing as hard and fast as he has since he was trying to keep up with his older siblings.
"I wouldn't want it any other way," he said. "I'm very thankful that I come from a big family. That passion for sports, and my faith, too, that's a big part of our family. It really keeps you grounded.
"There are bigger things in life than sports, but thank God we get to play them."