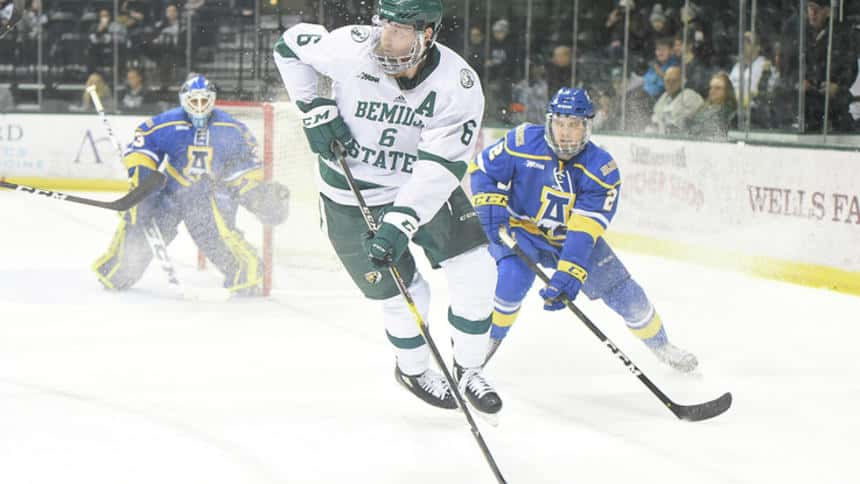 By Austin Monteith
ESTERO, Fla. — Jay Dickman will soon be playing hockey in a much warmer climate.
The former Bemidji State forward has signed an amateur try out contract with the ECHL's Florida Everblades, the club announced Thursday.
"I'm excited for (Dickman)," BSU head coach Tom Serratore said. "I think he can do really well in pro hockey. He's got a great shot, he makes a lot of plays. And I think at the pro level, it's not as chaotic as college hockey. It's more controlled."
Dickman will play out the remainder of the 2018-19 season with the minor-league affiliate of the NHL's Carolina Hurricanes. The Everblades are based in Estero, Fla., just south of Fort Myers.
ECHL teams field smaller rosters than is the norm in college hockey, which Serratore said could benefit Dickman.
"When you only have 10 forwards, it's not going to be the Indy 500 like college hockey is from a forechecking standpoint," Serratore said. "Don't be surprised if he flourishes. I think he can do awfully well right there."
The Shoreview, Minn., native could make his professional debut as soon as Friday night when the Everblades meet the Atlanta Gladiators at Infinite Energy Center in Duluth, Ga.
Dickman isn't the only former Beaver to join Florida this week.
He'll soon suit up alongside Riley Weselowski, who played for BSU from 2004-08. Weselowski played in his first game for the Everblades Wednesday, March 13, after posting 20 points (8g-12a) in 60 games for the Rapid City Rush.
Florida has nine games remaining on its regular-season schedule. The team has already clinched a Kelly Cup Playoff berth. The Everblades are second in the league standings and first in the South Division with a 43-15-5-0 record.
Dickman — the tallest player in school history at 6 feet, 6 inches — capped his BSU career with 16 points (6g-10a) in 38 games as a senior in 2018-19, good for seventh on the team in scoring. The alternate captain ranked second on the team in power-play goals (3) and game-winning goals (2), while finishing sixth in assists (10).
The product of St. Paul Johnson High School ended his collegiate career by collecting 55 points (30g-25a) in 132 games. Dickman led the Beavers in goals (15) and racked up a career-high 23 points (15g-8a) as a junior in 2017-18.
After redshirting during the 2014-15 season, Dickman overcame a torn Achilles suffered in June of 2015 to lead BSU freshmen with three goals scored in 2015-16.
Earlier this week, junior defenseman Justin Baudry also signed an American Hockey League contract with the Ontario (Calif.) Reign.
Bemidji State completed the 2018-19 season with a 15-17-6 overall record and finished fifth in the WCHA with a 13-11-4-2 mark.