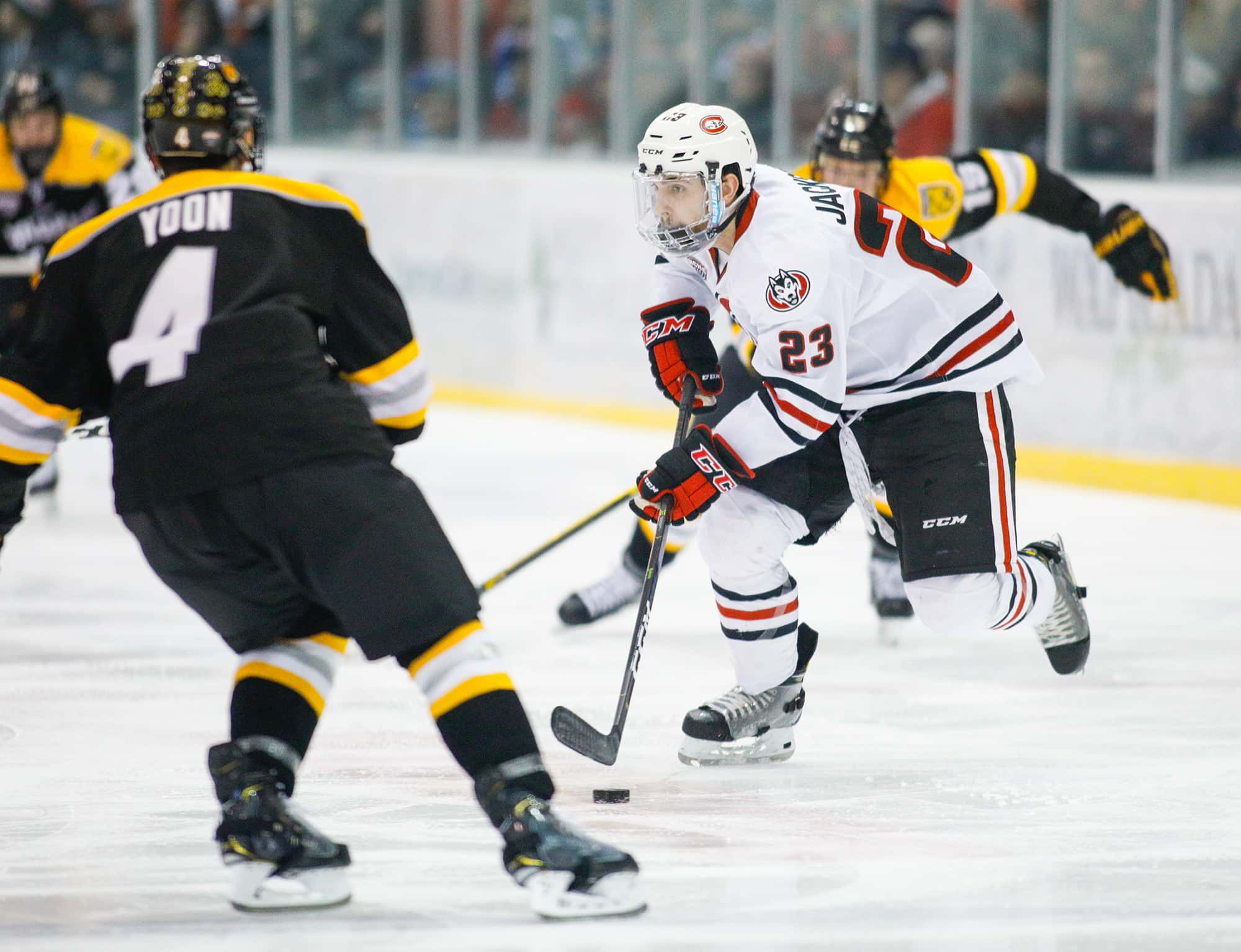 By Mick Hatten
ST. CLOUD, Minn. — In his college career, Robby Jackson has 46 goals and 64 assists for the St. Cloud State men's hockey team.
Goals and assists can be symbolic or have more meaning depending on circumstance.
For Jackson, three of his 13 goals and two of his 16 assists this season have involved Patrick Newell. Jackson and Newell, the two Californians for the top-ranked Huskies, are topping the team in points.
"Anytime one of us gets an assist on the other's goal, it's a special day," Jackson said of his roommate for three years. "It's fun to have your best friend in that (goal) celebration and to know that you couldn't have done it without your best friend and you share the success … it's indescribable."
Since Jan. 12, Jackson and Newell have been on the same line for St. Cloud State. Look for that to continue this weekend when the Huskies (15-2-3-1-1 NCHC, 23-4-3 overall) play against No. 10-ranked Western Michigan (11-8-1-0-1, 18-11-1) for an NCHC series in Kalamazoo, Michigan (NCHC.tv). The games are scheduled to start at 6:05 p.m. Friday and Saturday.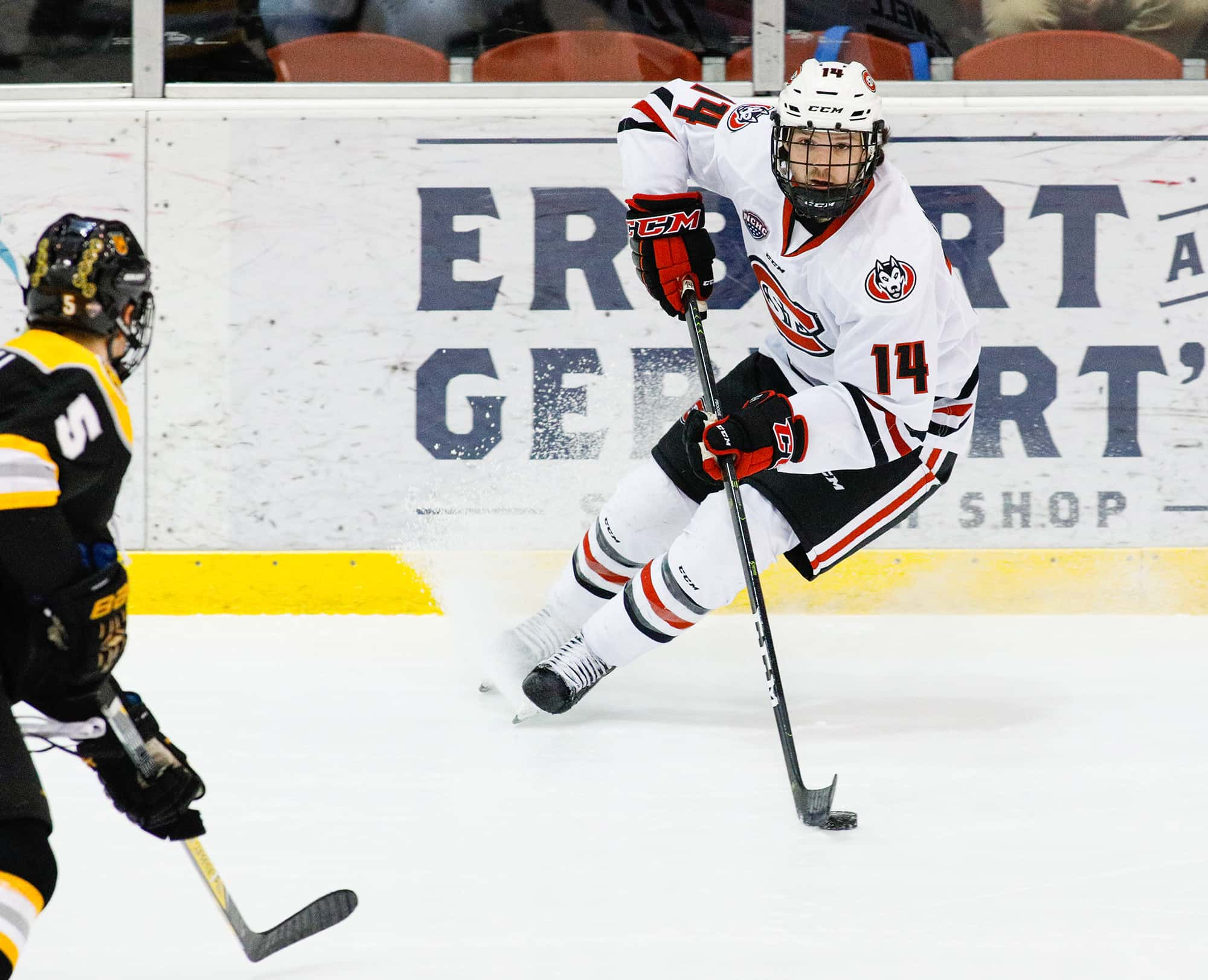 Dudes producing
Jackson is from Alameda, California, which is about 380 miles north and west of Newell's hometown of Thousand Oaks, California.
The two played against one another in junior hockey when Jackson was being named USHL Rookie of the Year for the Chicago Steel and Newell was helping the Indiana Ice win the USHL's Clark Cup as playoff champions in 2013-14.
Newell is having his best college season and leads the Huskies in goals (16), points (35) and plus/minus (plus-25). He is fourth in the nation in plus/minus, but, surprisingly, is tied for 13th in goals. Newell is tied for the national lead in game-winning goals with six.
Newell had 17 goals and 56 assists in 99 college games going into the season.
"I want to score goals," Newell said earlier this season. "For a guy like me who wants to pass first, I'm trying to switch my mindset to, 'You can be a goal scorer, too.' It's definitely something I'm trying to do and me and Robby always talk about it."
Jackson, who led the Huskies in points (42) last season, is trying to continue to round out his game. He set a record for most goals scored in the USHL by a 16-year-old in 2013-14 when he had 28 in 60 regular season games and he is known as a player who puts some flair into his goal celebrations.
After former Minnesota Duluth assistant coach Brett Larson took over as head coach of the Huskies this fall, he found out Jackson was more than a flamboyant shooter.
"Coaching against Robby, I thought he was just a flashy goal scorer," Larson said of Jackson, who is fifth on the team in plus/minus (plus-14). "But being around him, I think he's got a really good 200-foot game.
"He competes on pucks, he plays the right way away from it, he's responsible defensively," Larson said of Jackson, who leads the team in shots on goal (100). "I thought he was just this flashy, can't-wait-for-the-celebration goal scorer."
When Jackson was told of his coach's assessment of his play, the words meant something.
"It definitely means a lot," Jackson said. "He is such a detailed man and detailed coach, when he compliments you on the little details, you know that it's genuine. He pays attention to those and he values those."
Jackson is also enjoying being a part of another successful season for St. Cloud State. Last weekened, the Huskies wrapped up their second straight Penrose Cup championship as NCHC regular season champions.
Not surprisingly, Jackson and Newell played key parts in a series sweep at Nebraska Omaha. In the title-clinching game Saturday, Newell had an assist on Jackson's goal (SCSU's second goal) and Jackson had an assist on Newell's goal (SCSU's last) in a 5-0 win.
"When he scored and I got that assist Saturday, I got happy and I got giddy, even though it was the fifth goal," Jackson said. "I gave him a big hug and I was happy. Being able to share in success with your best friend is indescribable."
Jackson and Newell are two of nine seniors on the roster for St. Cloud State, which won the NCHC Frozen Faceoff when they were freshmen. In the last four seasons, the Huskies are 95-41-11.
Huskies earn NCHC monthly awards
Two St. Cloud State players have earned NCHC monthly honors.
Newell has been named NCHC Player of the Month for February. Newell had 10 points and was an NCAA-leading plus-11 in six games in the month, during which the Huskies went 5-0-1. Winning the NCHC honor, Newell is eligible for the Hockey Commissioners' Association National Player of the Month, which will be announced Wednesday.
St. Cloud State's David Hrenak has been named NCHC Goalie of the Month for February. He went 4-0-1 in six starts with a 1.61 goals-against average and .930 save percentage. Hrenak, a sophomore from Slovakia, is a Los Angeles Kings draft pick. Hrenak is eligible for the HCA National Goaltender of the Month honor, which will also be announced Wednesday.
Colorado College forward Ben Copeland was named NCHC Rookie of the Month.
Mick Hatten can be reached at mhatten@forumcomm.com. Follow @MickHatten on Twitter, Instagram.