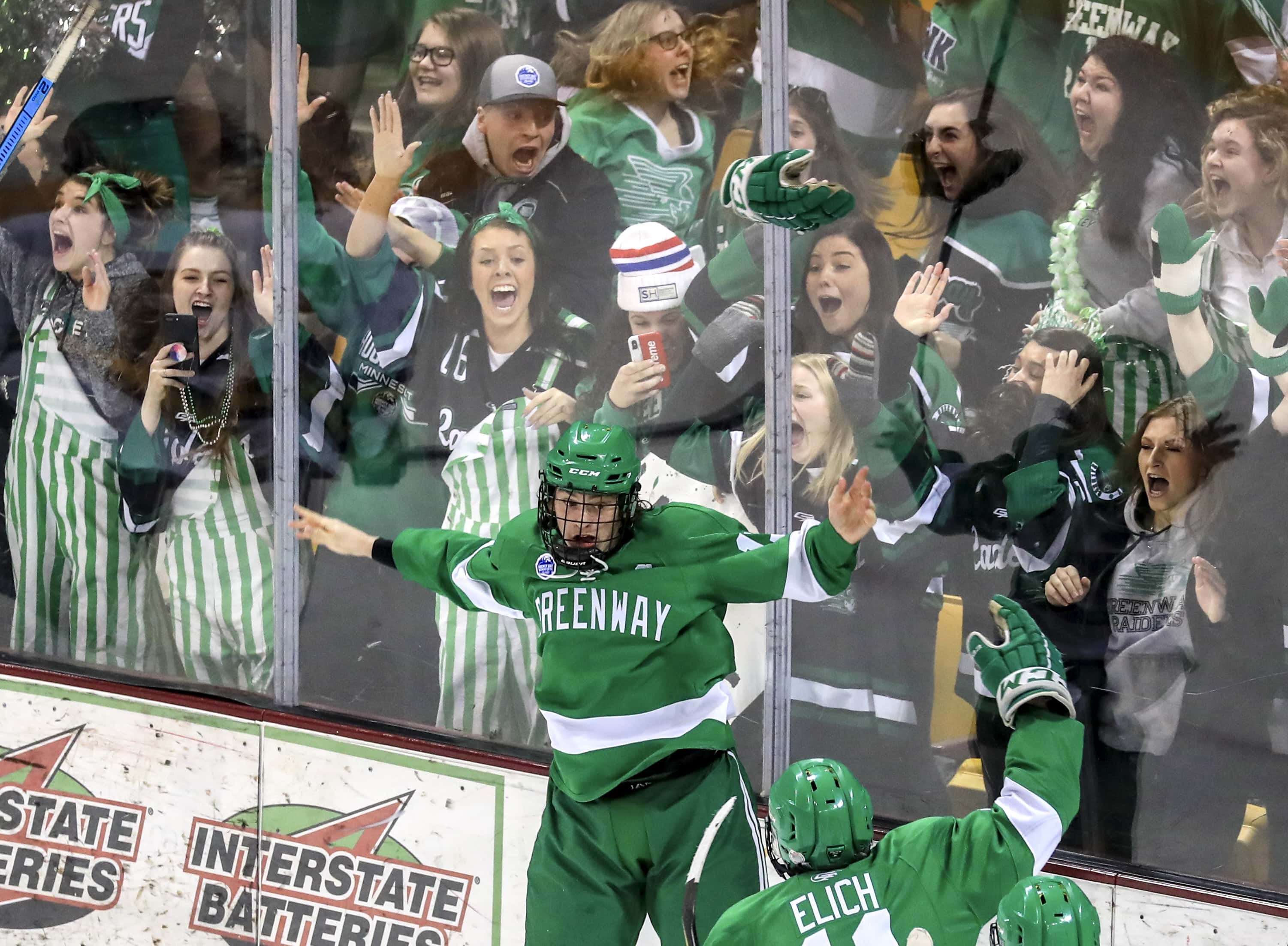 By Louie St. George
DULUTH, Minn. — Greenway coach Grant Clafton wasn't oblivious to Hermantown's reign atop Section 7A.
In the buildup to Wednesday's championship game, Clafton told anyone who would listen that his Raiders were going to slay the giant.
"We were winning this game," he said. "The mindset never changed."
Donte Lawson — who else? — ensured Clafton didn't leave Amsoil Arena a liar.
Lawson pounced on a rebound following Aaron Elich's tough-angle shot and whacked it to the far side of Hawks goalie Cole Manahan 13:49 into the second overtime as Greenway stunned top-ranked Hermantown 3-2.
The Hawks (22-4-2) had won this section five years in a row since moving over from 5A, and they'd reached nine consecutive state tournaments overall. The streak nearly ended in 2018, when the Raiders (15-13) pushed Hermantown to two overtimes in a game that, entering Wednesday, seemed an impossible bar to reach in terms of drama.
The teams came awfully close, though.
Lawson happened to provide the dagger right in front of his student section, which carried a sign that read, "It's our time." The senior forward's momentum carried him into the glass.
Let the celebration begin.
"It happened so fast," said Lawson, who has 13 goals over his past seven games, including a hat trick in the semifinals, and 33 on the season. "It popped out to me, and when you put the puck on net, good things happen."
Lawson arrived at Saturday's semifinal win over Duluth Denfeld from Minneapolis, where his brother, Dominik, was undergoing a third kidney transplant. He promptly carried the Raiders back to a third straight section final via a five-point night. Afterward, he said an upset of the Hawks "would probably be one of the biggest things that's happened for our community since 2001."
That was the last time the Raiders had made it to state.
The drought is done.
"It hasn't even set in yet," Greenway junior and St. Cloud State commit Ben Troumbly said.
Troumbly had a pair of goals. He started the scoring in the first period on a centering pass from Lawson, only to watch the Hawks respond with two of their own — an Aaron Pionk rebound and a beautiful power move to the net from Blake Biondi — to seize control.
Hermantown was dominant in the first, owning a 22-11 advantage in shots on goal.
But Greenway goalie Logan Wright was sensational throughout and finished with 47 saves.
"Unreal — you can't ask for a better performance out of him," Troumbly said of Wright.
Troumbly lifted his second goal just under the crossbar 11:13 into a wildly entertaining second period to forge a 2-2 tie.
"I thought we were the better team in the first period, then in the second we kind of laid an egg," Hawks coach Patrick Andrews said. "That was the turning point."
While Wright was sharp, so, too, was his counterpart, Manahan. Never more so than during the first overtime. Midway through, he made two key saves, one on Troumbly before he sealed off the post with his leg pad to deny Lawson and keep it going.
Later in the first OT, the 6-foot-4 Manahan stymied Lawson on a breakaway and, over about the next 30 seconds, turned away three lasers to earn himself an appreciative ovation from the crowd.
"He was unbelievable," Andrews said. "He saved our butts."
After the first eight minutes of bonus hockey, which were fast paced just like last year's section final, Greenway didn't waste much time producing a finish that rocked its green- and white-clad fans.
Asked how much he would've bet that if a Raider was going to score the game-winner Wednesday night it'd be Lawson, Clafton said: "I would've put a lot of money on that."
And now this program, which limped through the first half of the season, is headed to Xcel Energy Center. Greenway was routed 9-0 by Hermantown in the 2016 section semifinals, then lost 5-1 to the Hawks in the 2017 final. Even after falling just short last year, Clafton said, the Raiders never gave up hope that they could dethrone the champs.
"This group of kids never quit," he said while soaking wet after a celebratory dousing.
For Andrews, Wednesday wasn't so much about the end of Hermantown's state-tournament streak as something much simpler.
"I didn't want the season to end," he said.
The Raiders will find out Saturday morning who and when they play next Wednesday in the Class A state quarterfinals.
Lawson said Wednesday that Dominik is "ahead of schedule" in his recovery, up and walking around already.
Greenway 1-1-0-0-1—3
Hermantown 2-0-0-0-0—2
First period — 1. G, Ben Troumbly (Donte Lawson, Micah Gernander), 6:38; 2. H, Aaron Pionk (Darian Gotz), 9:23; 3. H, Blake Biondi (Joey Pierce, Elliott Peterson), 10:11.
Second period — 4. G, Troumbly, 11:13.
Third period — No scoring.
First overtime — No scoring.
Second overtime — 5. G, Lawson (Aaron Elich), 13:49.
Saves — Logan Wright, G, 47; Cole Manahan, H, 36.