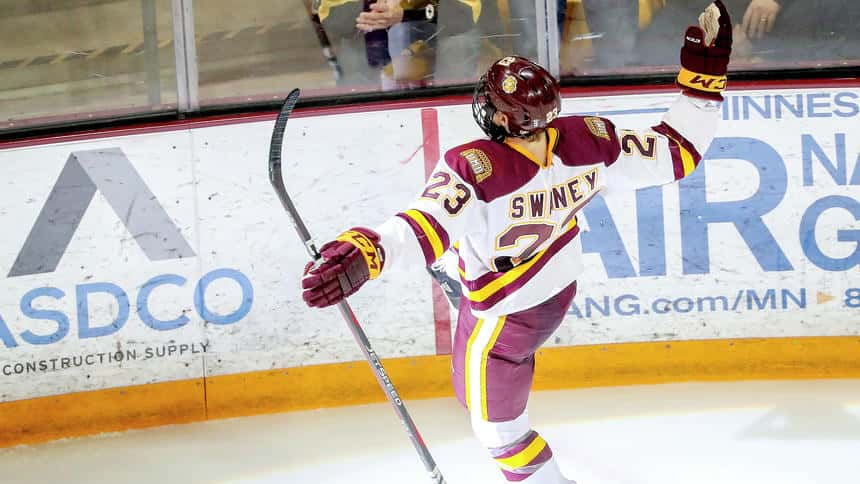 By Matt Wellens
DULUTH, Minn. — Everywhere Nick Swaney has been, the winger has proven himself as a goal scorer.
He combined for 28 goals his freshman and sophomore years at Lakeville South High School and then exploded for 29 goals his junior year with the Cougars. Swaney then left for the United States Hockey League, where he totaled 62 goals in two seasons with the Waterloo Black Hawks.
Last year, Swaney only scored six times at Minnesota Duluth, but he's since proven his freshman season was the exception to the rule. Swaney already has doubled his goal total from a year ago to lead the third-ranked Bulldogs with 12 heading into this weekend's NCHC series against North Dakota at Ralph Engelstad Arena in Grand Forks, N.D. Puck drop is at 7:37 p.m. Friday and 7:07 p.m. Saturday.
UMD coach Scott Sandelin said Swaney is much more confident this year after playing alongside seniors Jared Thomas and Karson Kuhlman. That added confidence has helped him score more.
Swaney also is shooting more and getting more pucks on net, averaging 3.38 shots on goal per game in 2018-19 compared to the 2.63 he averaged last season. It's as simple as that, Sandelin said.
"We recruited him as a goal scorer; he's always been a goal scorer," Sandelin said. "Those guys that have that ability need to shoot pucks. He had 12 one game. It'd be great if he can do that every game. He's got to be shooting the puck to score."
Eight of Swaney's 12 goals this season have come in the Bulldogs' 12 games since Christmas, including the hat trick he recorded on Jan. 25 in a 7-2 victory over Nebraska-Omaha at Amsoil Arena. That was the night he put 12 shots on goal and finished with 20 for the weekend.
Swaney has posted four or more shots on goal nine times this season, during which UMD is 7-2. That happened seven times total last year — including eight in the Ledyard Bank Classic Championship at Dartmouth and nine in the NCAA championship in St. Paul — with UMD going 3-3-1 in those games.
"He puts himself in really good positions to get chances and score goals," said UMD senior center Peter Krieger, who has been Swaney's linemate all season. "He's a threat to score anywhere in the zone. You see that throughout practices and games. When he is shooting the puck and he's buzzing, we're buzzing."
The Bulldogs are 9-0 this season when Swaney scores a goal, 7-1 when he registers an assist and 11-1 overall when he gets a point.
But there is more to Swaney than just shooting pucks and scoring goals, according to UMD sophomore defenseman Mikey Anderson, who has played the past four seasons with Swaney. They were teammates in Waterloo from 2015-17 and now have been Bulldogs teammates the past two years.
Anderson said Swaney is a solid 200-foot player who is just as strong in the defensive zone. Swaney's willingness to block shots rivals his willingness to take shots, and that kind of effort is why he gets rewarded in the offensive zone the way he does.
"He's always been known as a prominent scorer. He's always shooting pucks," Anderson said. "I've seen him round his game out. You see him make more plays now vs. getting rid of the puck and throwing it on net all the time. Seeing him grow in the little areas has been fun to see."
The little areas are what Swaney focused on a year ago when he only had the six goals. While recruited to be a scorer, Swaney said the coaching staff never put any pressure on him to score as a rookie.
"The coaches last year, they did a great job of just reminding us that as freshmen, everyone has big responsibilities, but the way you can create momentum every time, it doesn't have to be by scoring goals," said Swaney, who after getting experience on the penalty kill as a freshman now has two shorthanded goals on the kill as a sophomore. "Other parts of your game have to step up and take the place of that. It takes off that focus of trying to score every night because when you have that, the pressure on your shoulders just kind of weighing you down, you think about that way too much."
NO. 3 UMD (18-8-2) AT NORTH DAKOTA (14-13-2)
What: NCHC series
When: 7:37 p.m. Friday/7:07 p.m. Saturday
Where: Ralph Engelstad Arena, Grand Forks, N.D.
TV: CBS Sports Network Friday/My9 Saturday
Radio: KDAL-AM 610/KDAL-FM 103.9
Internet: nchc.tv (video) (Saturday only)
Twitter: @mattwellens