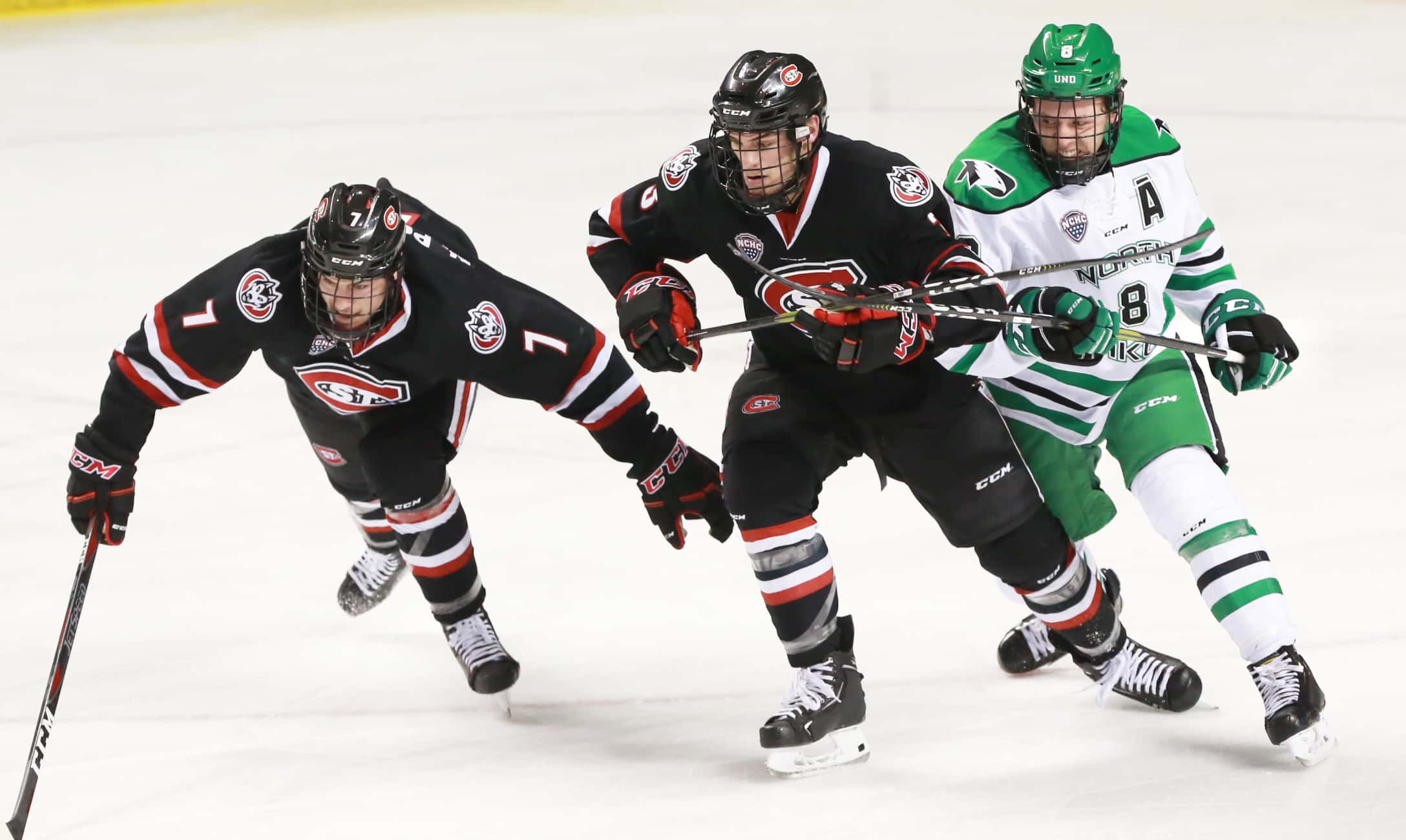 By Mick Hatten
ST. CLOUD, Minn. — Like many younger brothers, Ryan Poehling has always looked up to his older brothers, Nick and Jack.
In the last few years, though, Ryan has received more media attention. That's what happens when you're the first-round draft pick of the Montreal Canadiens and play for Team USA in back-to-back IIHF World Junior Championships.
The attention on Ryan got ramped up a bit more at this year's world championships because he was named the tournament's top forward as he helped the Americans secure a silver medal.
So what was it like for Nick and Jack, twins who turned 22 in August, to watch their 20-year-old brother play and do so well at the tournament?
"It's super special for our family, to have him represent our name like that and our country, is pretty special and couldn't be more happy for him," Jack said of Ryan. "A lot of people think that Nick and I might get jealous for all the spotlight (on him). But it's the complete opposite. Nick and I couldn't be happier for him. That's just how we were raised, to be happy for one another."
Nick and Jack were not able to go to watch the world junior championships either year that Ryan played because the Huskies had games during the tournaments. They watched the gold medal game this year with teammates in Pittsburgh, Pennsylvania, because St. Cloud State was playing in the Three Rivers Classic.
"I couldn't be more proud of him, but at the same time, it was just cool to see a normal guy from here go out and play like that," Nick said.
The three brothers have been reunited on a line since sophomore Kevin Fitzgerald went down with an upper body injury on Jan. 11. They are likely to be on the same line this weekend when the top-ranked Huskies (13-2-3-1-1 NCHC, 21-4-3 overall) play Nebraska Omaha (5-12-1-0-1, 9-17-2) in an NCHC series at Baxter Arena in Omaha.
With wins and help, St. Cloud State could wrap up its third NCHC regular season title since 2014.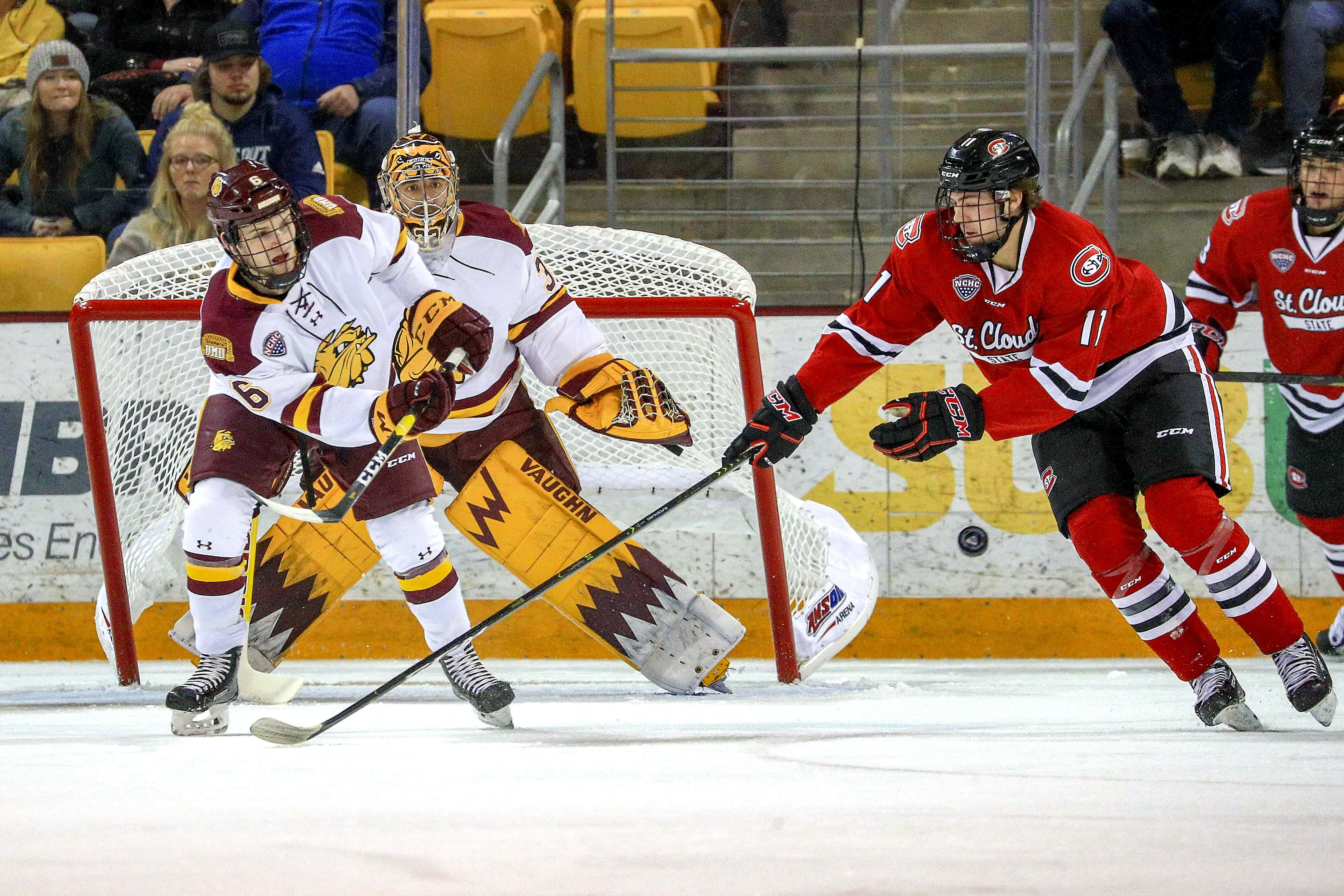 Reuniting
The last time the Poehlings were on the same line for an extended period of time was during the 2014-15 season when Nick and Jack were seniors for Lakeville North High School. The Panthers went undefeated and won the Class 2A state title.
That season, Jack led the Panthers in goals (38) and points (76), Nick led the team in assists (39) and was second in points (72) and Ryan was fourth on the team in points as (16-33-49) as sophomore.
Ryan graduated early from high school to play for the Huskies, but the Poehlings' first two seasons, they were officially on a line together for 14 games, including just once in 2017-18.
Jack and Nick spent 17 of St. Cloud State's first 18 games this season a line with Fitzgerald, who is tied for fourth on the team in goals (10) despite missing nine games.
"I think all three of us loved it because we all play a similar style of hockey," Nick said of playing on a line with Fitzgerald. "We just fed off each other. He's a fun guy and we always have fun joking around in practice."
When Fitzgerald was injured on a clean hit by Minnesota Duluth's Nick Wolff on Jan. 11, the brothers were reunited on a line.
"We were not happy with Fitzy getting hurt, but once Ryan got thrown on our line, we really enjoy playing with each other," Nick said. "You just have that sense of chemistry that you don't have with other guys."
There were some minor adjustments for the brothers to make to playing together again, though.
"Ryan's a very skilled player and when we played with Fitzy, we played more of a dump (the puck) game where Ryan's going to carry it into the zone and try to make moves around guys," Jack said. "We just have to be prepared for that and where to be for his passes. There's just little things that you have to adjust."
The offense has picked up for Nick and Jack since Ryan joined their line as its center. Jack has missed two games, but has four goals and three assists in the seven games since being reunited with Ryan. Nick has two goals and two assists in nine games since reunification. The twins combined for 14 points in their first 19 games this season.
Ryan has eight points in the nine games after having 17 points in the first 17 games.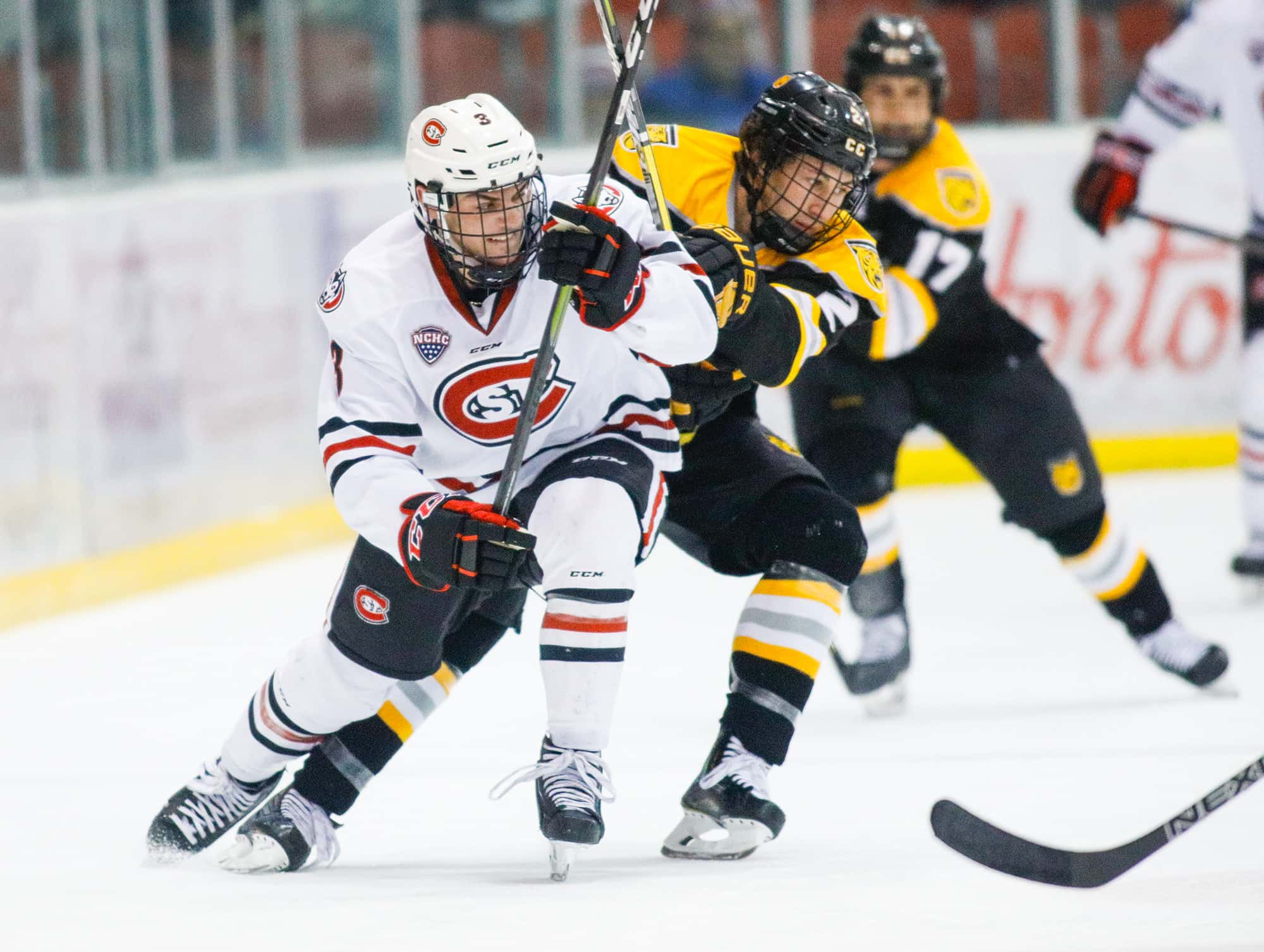 Differences, similarities
While Ryan has played on different lines, Nick and Jack have been linemates the majority of their time with the Huskies. They spent most of last season as wings with Buffalo Sabres draft pick Judd Peterson, who graduated after last season.
Not shockingly, the pair admit to having similar styles of play to the point where new head coach Brett Larson has yet to find nuances.
"I haven't picked them up yet," Larson said with a smile. "I'm embarrassed to say that I don't know who is who on the ice unless I can see their number. They told me that by next year, I should be able to figure it out or they're going to give me a hard time."
But the similarities are things that Larson likes.
"They're the same in that they're relentless on pucks, their compete level is so high and they're good enough to be able to make a play when they get it," Larson said. "They play with a ton of edge. That's their game.
"Their engine never stops. They're constantly hounding pucks and putting defensemen under pressure," Larson said of the brothers, who also kill penalties. "They're huge momentum guys for us because even if they don't score on their shifts, they pin other teams in their end and create a ton of momentum."
Jack was able to pinpoint some slight differences, though you have to have a good eye to see them.
"We skate a little differently," Jack said. "I've kind of got a longer stride. He's a little quicker."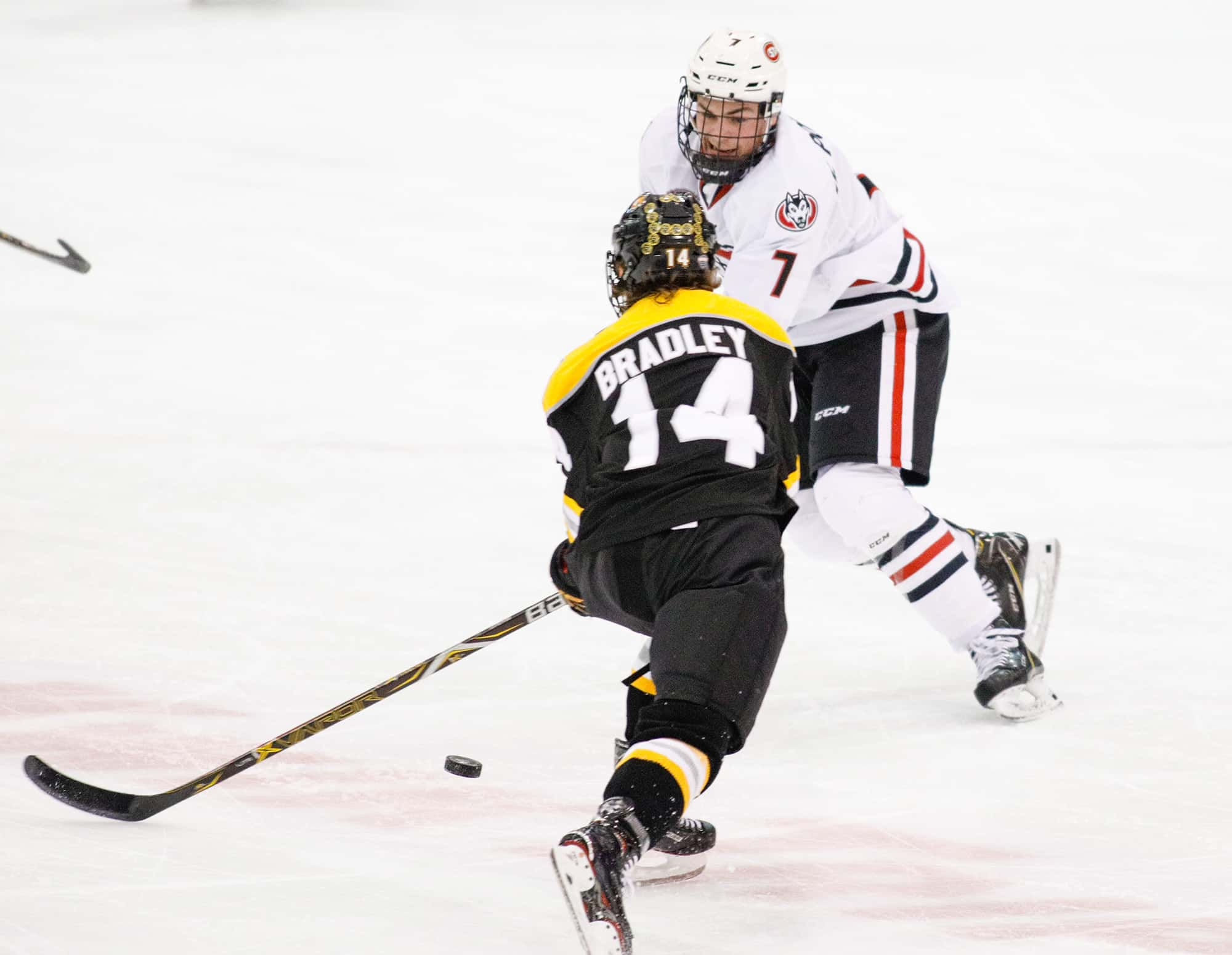 Youngest brother
Nick and Jack are both finance majors who are on track to graduate at the end of next year with degrees in finance.
Ryan is likely to have a decision to make about whether to return for his senior season or sign with the Canadiens after this season finishes.
Oh and there's been another Poehling who has been a regular guest in the St. Cloud State locker room after games. Luke Poehling, who is a freshman at Lakeville North, is a defenseman on North's bantam "AA" team.
"He's up here all the time, always in here after the games, hanging around in the locker room and all the guys know him," Jack said. "He kind of feels like this locker room is his home. He just kind of walks in, grabs some snacks … he's at home here."
Last week during a bye week, Jack said that the older brothers and St. Cloud State teammates Jacob Benson, Nick Perbix and Brendan Bushy went to watch Luke play.
"It was fun and he enjoyed us coming to one of his games for once," Jack said.
So like his older brothers, Luke is another forward, correct? No, he's a defenseman.
"He's a big boy, like 6-foot-3, and he's getting a lot better," Jack said. "We're going to try to keep him on 'D' because of how big he is. He's a stay-at-home 'D.'"
Injury updates
> With the bye week, St. Cloud State has gotten closer to a completely healthy lineup.
Fitzgerald, who had to have surgery after being injured, is back practicing with the team, though he has not been cleared to play in a game yet. When Fitzgerald got injured, the Huskies feared that his season may be over.
Larson, though, said that if Fitzgerald does not have any setbacks, he might be back as soon as March 8 to play against Minnesota Duluth.
> Forward Nolan Walker is expected to play this weekend in Omaha. Walker, the team's top scoring freshman (21 points), has missed the last three games because of an upper body injury.
> Defenseman Tyler Anderson will not return to the lineup this season. Anderson, a sophomore from Winnipeg, Manitoba, suffered a broken arm in an exhibition game on Dec. 27. He recovered from that injury, but then suffered a lower body injury that will keep him from returning. Anderson, who did not play in a regular season game, will be eligible to apply for a medical redshirt.