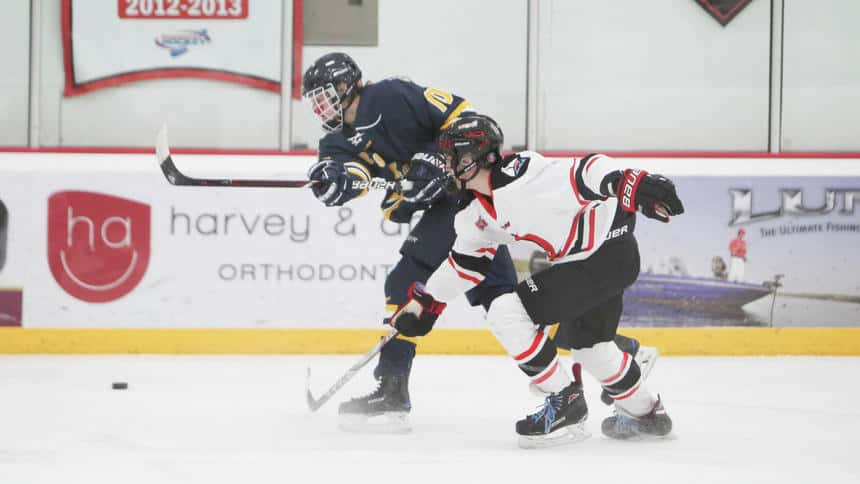 By Robert Williams
DETROIT LAKES, Minn. — Detroit Lakes and Crookston will meet in the first round of the Section 8A boys hockey playoffs for the fourth consecutive season after seeds were announced from the coaches meeting Wednesday, Feb. 13.
East Grand Forks earned the top seed.
The Lakers are seeded fifth and the Pirates fourth and will square off at the Crookston Ice Arena Thursday, Feb. 21 at 7 p.m.
The two teams split games winning on road ice this year. The Lakers were 4-2 victors in Crookston. Alex Bren scored twice and Trey Seebold added the game-winner on a penalty shot in a come-from-behind three-goal third period on Jan. 5.
Eleven days later, Crookston returned the favor at Kent Freeman Arena by scoring twice in all three periods of a 6-2 win.
First round matchups between the schools have been hard on the hearts of hockey moms coming down to overtime each of the last three seasons.
Crookston is aiming for three straight wins in the playoff series after eliminating DL 4-3 in Crookston last year and 2-1 in DL in 2017. The Lakers' last win was a 5-4 double OT victory at home in 2016.
Since that season, the teams have met seven times with the Pirates holding a four games to three edge.
East Grand Forks defeated Thief River Falls 1-0 Tuesday, Feb. 12 at home to lock up the top seed. The Green Wave will face the winner of No. 8 Park Rapids Area and No. 9 Red Lake Falls in the other half of the DL/Crookston bracket.
No. 2 Thief River Falls takes on the winner of No. 7 Kittson Central and No. 10 Bagley/Fosston.
No. 3 Warroad awaits in the other half with a matchup against No. 6 Lake of the Woods.
Section 8A seeds
1. East Grand Forks
2. Thief River Falls
3. Warroad
4. Crookston
5. Detroit Lakes
6. Lake of the Woods
7. Kittson Central
8. Park Rapids Area
9. Red Lake Falls
10. Bagley/Fosston