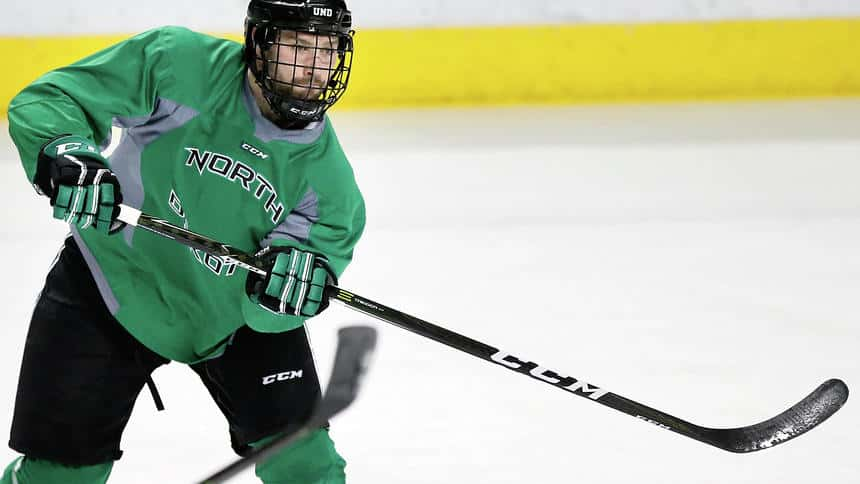 By Brad Schlossman
GRAND FORKS, N.D. — Brad Berry liked the way his defensemen played in the absence of junior Colton Poolman two weeks ago in Denver.
But the UND coach is still plenty happy to see his captain back on the ice this week.
Poolman, who missed the first two games of his career against the Pioneers, has been a full go at practice this week and is expected to be in the lineup Friday night when UND takes on Western Michigan in Kalamazoo (5:30 p.m., CBS Sports Network).
"A hundred percent," Berry said Wednesday afternoon.
The Fighting Hawks had last weekend off, allowing the junior captain more time to recover from his undisclosed injury.
Poolman's return will give UND a much deeper back end, which could be critical against a Broncos team that ranks No. 6 nationally in offense with 3.54 goals per game. Western Michigan has been even more dangerous in its home of Lawson Ice Arena, where it averages 3.85 goals per game.
In Poolman's absence, the Fighting Hawks asked the other six defensemen — Matt Kiersted, Jacob Bernard-Docker, Jonny Tychonick, Gabe Bast, Hayden Shaw and Andrew Peski — to pick up more minutes.
They responded, allowing just three goals in two games against the No. 7 Pioneers.
"When you see the minutes he logs — 25 to 28 minutes per game — that's a big part of our lineup that's out," Berry said. "But other guys are taking steps. You see guys like Matt Kiersted, Jonny Tychonick, JBD, Andrew Peski getting the bulk of the minutes and I thought they did a pretty nice job."
Prior to the Denver weekend, Poolman had played in 105 consecutive games for UND dating back to the first game of his freshman season.
But the East Grand Forks Senior High graduate was banged up heading into a weekend series against St. Cloud State on Jan. 25-26, and his injuries worsened after those two games. He was unable to suit up on Feb. 1-2 in Denver.
Other injury updates:
Although Poolman is expected to return, UND still won't be at full health against the Broncos.
Sophomore forward Grant Mismash, who suffered a knee injury against St. Cloud State, will remain out of the lineup. Berry said after Mismash's injury that it could be season-ending.
Senior forward Joel Janatuinen (undisclosed) will remain out as well. Janatuinen hasn't played since Jan. 4 at Canisius.
UND sophomore goalie Peter Thome, who has been out since early January with a hand injury, has resumed skating and is moving closer to being available again. In Thome's absence, senior Ryan Anderson and newly added rookie Harrison Feeney have served as backup to freshman starter Adam Scheel.