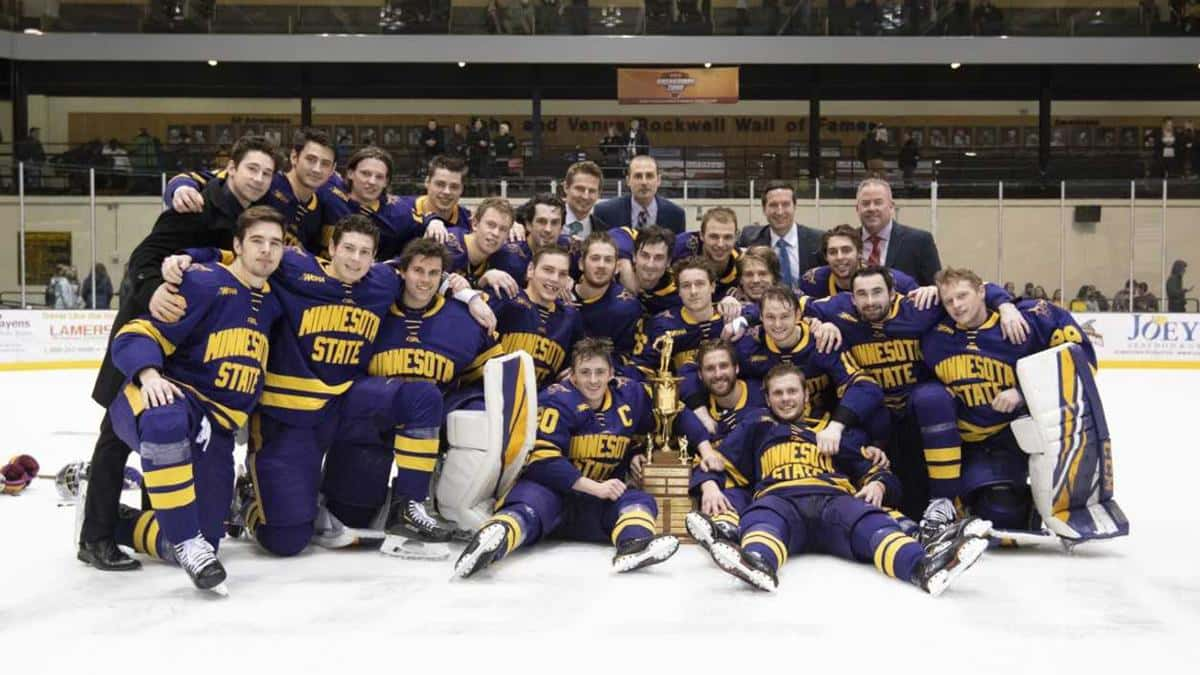 By Shane Frederick
Mankato Free Press
HOUGHTON, Mich. — For the second night in a row, the Minnesota State men's hockey team needed a late goal to tie Michigan Tech and force overtime. On Saturday, though, the sixth-ranked Mavericks didn't have to settle for a tie.
Defenseman Connor Mackey's goal at 1:45 of overtime gave Minnesota State a 3-2 WCHA victory as well as the championship of the Huskies' Winter Carnival series.
Minnesota State scored three unanswered goals to get the win. Marc Michaelis, who assisted on Mackey's goal and scored the other two, was named Winter Carnival MVP.
"The thing I liked was: It was Winter Carnival, we were down 2-rip and we stayed with it," coach Mike Hastings said in a phone interview afterward.
The Huskies, who had six power plays, outshot the Mavericks 35-27, but MSU goalie Dryden McKay outdueled Matt Jurusik, stopping 33 shots and allowing only a pair of man-advantage tip-ins.
The first period was almost a carbon copy of Friday, as the teams went scoreless with the Huskies outshooting the Mavericks 10-7. Jurusik was on his game again, too, stopping Charlie Gerard on a clean breakaway in the opening frame.
Power plays turned things in the second period, as the Huskies went up 2-0.
Dylan Steman tipped in Keegan Ford's point shot at 8:32, and, with 2:02 remaining in the period, Justin Misiak redirected Seamus Donohue's blue-line shot behind McKay for the two-goal lead.
The Mavericks finally got on the board with 51 seconds left in the period, cashing in on their first power play of the game. It was scored in similar fashion to Tech's goals as Michaels tipped in Parker Tuomie's point shot with Ian Scheid also assisting.
"That was a really important goal to get back within one," Hastings said, "just a big-time power-play goal."
With 5:44 remaining in the third period, the Mavericks got their second power play on a five-minute major on Donohue for a hit to Michaelis' head. Sixty-one seconds into the penalty, the game was knotted up as Michaelis reached over Jurusik to tap in a loose puck that got through the goalie after a Scheid shot. Tuomie also assisted.
Minnesota State controlled the overtime session from the drop of the puck, and on the game-winner, Michaelis started the rush off a neutral-zone turnover and passed to Gerard in the right circle, before Gerard centered it to Mackey trailing the play down the middle of the rink.
"I liked that in overtime we were aggressive," Hastings said. "I liked the mentality of a defenseman at the net. That's being aggressive, and I thought he was rewarded trying to win a hockey game."
Minnesota State played without sophomore center Jared Spooner, who was knocked out of Friday's game with an upper-body injury off a hit from behind.
"He was better today," Hastings said, "but still not good enough (to play)."
Unbeaten in their last six games, the Mavericks (24-6-2, 19-4-1 in WCHA) are off next weekend and will play again Feb. 22-23 at Alaska.
For more college hockey coverage, read Shane Frederick's Puckato blog and follow him on Twitter @puckato