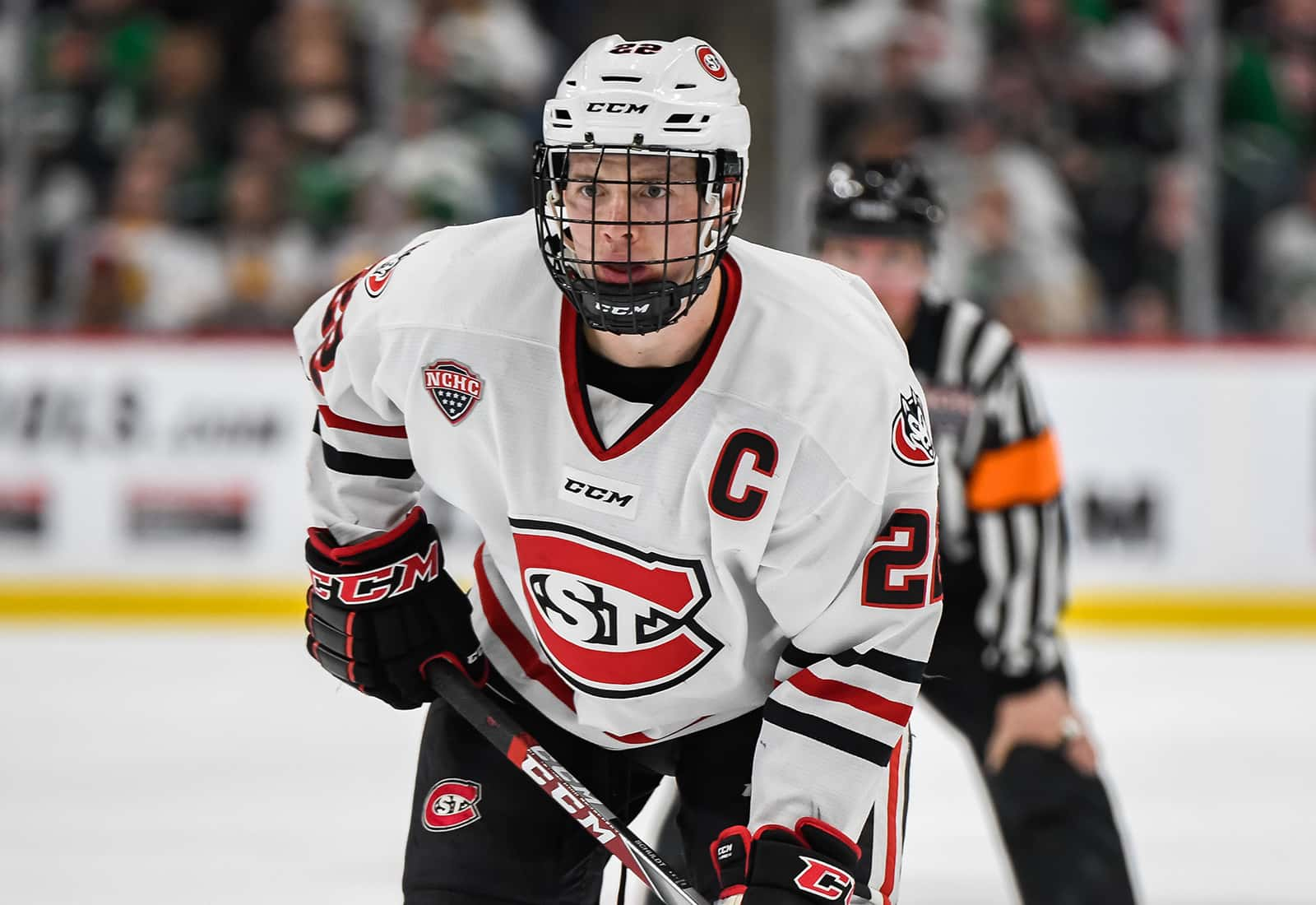 By Mick Hatten
ST. CLOUD, Minn. — There's a theme that has run through the hockey career of Jimmy Schuldt.
At Minnetonka High School, he could have left early to play junior hockey. He stayed through his senior year and was a captain with the Skippers. After his first season of junior hockey with the Omaha Lancers, Schuldt could have pushed the issue to play for St. Cloud State University. He stayed for a second season and was a captain for the Lancers in the United States Hockey League.
This past offseason was probably the toughest, though, but he kept his string alive. Schuldt turned down a multitude of pro offers to return for for his senior season, his third as a captain for the Huskies.
"When Jimmy is telling these guys, 'Don't hurry. Guys, don't rush the process. Trust that you're going to improve and the take the next step when it's there' … we preach living in the moment to our guys," Minnetonka boys head hockey coach Sean Goldsworthy said. "Jimmy easily could have packed up and left St. Cloud and started in pro hockey after last season.
"But he feels there's unfinished business at St. Cloud. Jimmy is a live-in-the-moment and stay-in-the-moment guy. What better example for our guys than to listen to Jimmy."
Schuldt, an All-American and top 10 finalist for the Hobey Baker Award last season, is on the brink of another record for the top-ranked Huskies this weekend. Last weekend, he became the program's all-time leader in power-play goals for a defenseman (19) and tied the St. Cloud State record for career points by a defenseman (107).
The NCHC-leading Huskies (12-2-2-1 NCHC, 20-4-2 overall) play host to Colorado College (5-8-2-0, 11-13-3) this weekend at the Herb Brooks National Hockey Center. The teams play at 8:07 p.m. Friday (CBS Sports Network) and 6:07 p.m. Saturday (FOX Sports North).
Big names
Schuldt, almost begrudgingly, admits that getting atop the school's record books is a nice accomplishment.
"The thing is, a lot of (SCSU's best defensemen) didn't stay for four years, but it's cool," said Schuldt, a three-time NCHC Distinguished Scholar-Athlete. "The coolest thing is to be in a discussion with some of those guys like coach (Garrett) Raboin. If you look at Nick Jensen, he would have had way more (points) than I have right now if he had stayed."
Jensen, who is in his third NHL season with the Detroit Red Wings, was the WCHA Defenseman of the Year in 2013 and finished with 86 points in three seasons with the Huskies before turning pro. Schuldt's first defensive partner at SCSU, Ethan Prow, had 99 career points and was an All-American and a top 10 Hobey Baker finalist as a senior. Prow played in the American Hockey League All-Star Game on Jan. 28, representing the Wilkes-Barre/Scranton Penguins.
Bret Hedican, who played in 1,039 NHL games and in two Olympics, had 78 points for St. Cloud State in three seasons.
OK, so if the records matter little to Schuldt, why come back for his senior season?
"Professional hockey is such a different thing," Schuldt said. "We met (former SCSU and Moorhead star) Matt Cullen when we were out in Pittsburgh this year and he just kind of talked briefly about enjoying college as long as you can. These guys are your best friends, the people you'll be best friends with the rest of your life.
"When you get to that next level, you have friends and your teammates are your teammates … but you don't have the same connection with them. It's a business. What St. Cloud State is, and the work that everyone has done to build the culture her is, unbelievable," said Schuldt, whose team won NCHC regular season titles in his freshman and junior seasons. "These past two years, we've been winning a lot, which makes it more fun. But even when things aren't going right, it's fun to be here and try to get back where you want to be. It's just fun to show up to the rink every day and everyone likes being here."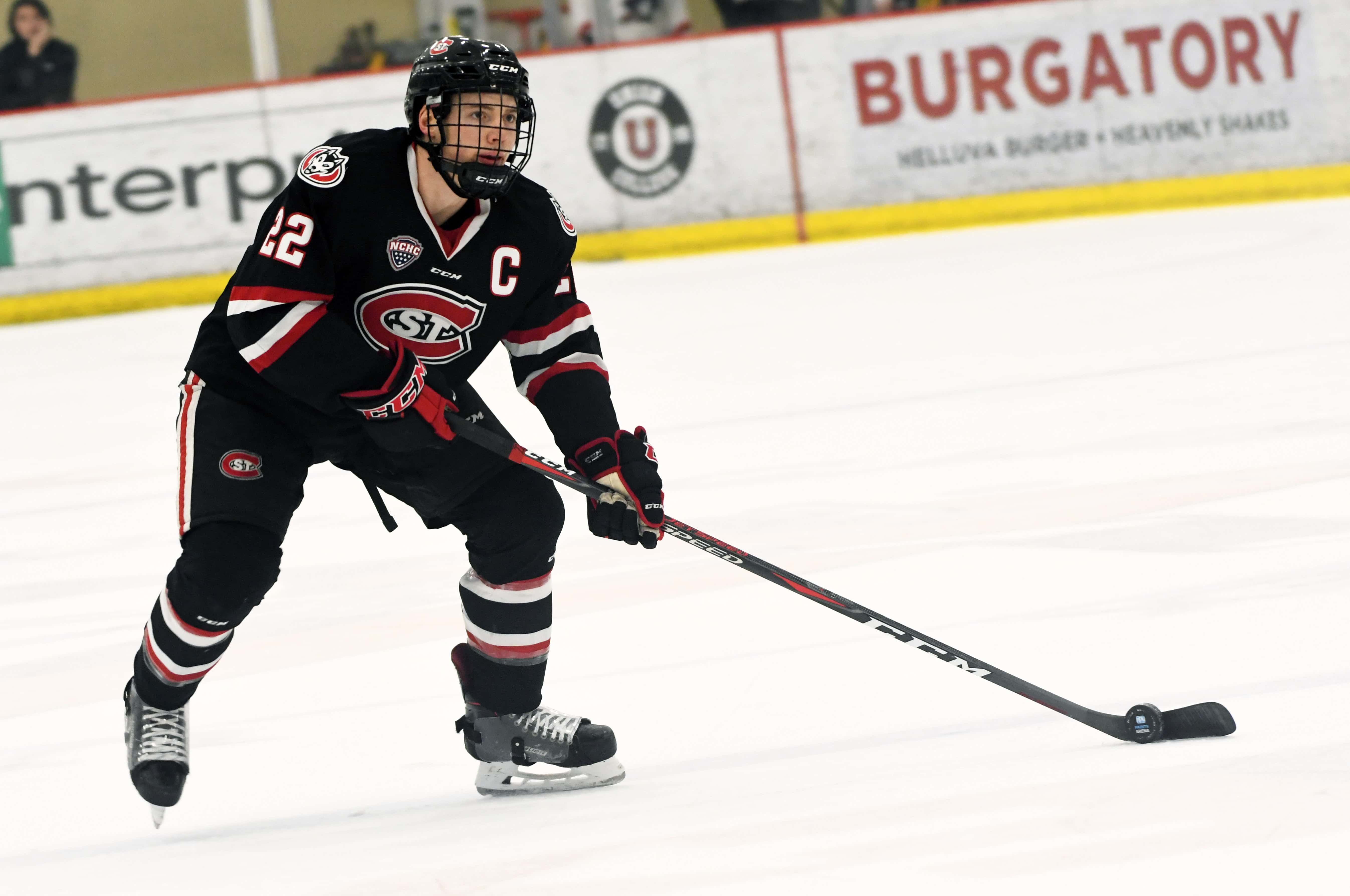 Big decision
Schuldt's decision went against the grain for a lot of the top college players, most of whom sign pro deals after their junior seasons. And he had some frank talks with his father, Steve, about turning pro.
"He wanted to make sure that I made my decision with my head and not with my emotions," Schuldt said of Steve, a former St. Cloud State football player. "At the end of the day, he was a big part of my decision to stay. By no means was he disappointed that I didn't sign."
There was another factor that came into play. Bob Motzko had been the Huskies' head coach Schuldt's first three seasons. He left in March to become the head coach at Minnesota and took Raboin with him to be his assistant. Schuldt, though, said that his first conversation with new head coach Brett Larson was the last deciding factor.
So what the heck did Larson, a former Minnesota Duluth and Ohio State assistant coach, say to Schuldt?
"I didn't try to pressure him or push him and I told him I never would," Larson said. "I told him about different experiences I've had with other players who have gone through what he's going through …
"The last thing I told him was, 'You're going to make the NHL either way, whether you go now or go in a year. I think you're going to be an NHL hockey player. It's up to you when that timing is and how ready you feel and what you still want to accomplish here.'"
Schuldt, of course, would like to add a national title to his resume before leaves. The Huskies were the No. 1 overall seed in last season's NCAA tournament and lost in the first round to Air Force.
He said that the biggest hole in his career, though, was not making the state tournament with Minnetonka. Perhaps that's part of why he goes back and skates with Minnetonka every December. What does he tell the Skippers?
"There have been some guys who have left Minnetonka (early) for the next level, which is not necessarily the wrong thing to do for certain guys," said Schuldt, who will graduate with a finance degree after this semester. "So I talked about my regrets of never having made a state tournament and never really winning anything at Minnetonka and we should have with the teams we had.
"It was more of a motivational talk. Six or seven years later, it still hurts me that I didn't make it (to state). If they do win something, they will remember it forever. I wanted to make sure they knew how special and good a time high school hockey is in Minnesota and they'll remember that."
Minnetonka is ranked No. 2 in Class 2A this season after winning its first state title in 2018.
SCSU's top career scoring defensemen
1. (tie) Jimmy Schuldt (2015-19) 36 goals-71 assists-107 points
Kelly Hultgren (1991-95) 28-79-107
3. Ethan Prow (2012-16) 19-80-99
4. Andrew Prochno (2011-15) 16-75-91
5. Taj Melson (1992-96) 24-63-87
6. Nick Jensen (2010-13) 24-63-87
7. Justin Fletcher (2003-07) 26-60-86
8. Garrett Raboin (2006-10) 21-62-83
Mick Hatten can be reached at mhatten@forumcomm.com. Follow @MickHatten on Twitter, Instagram.