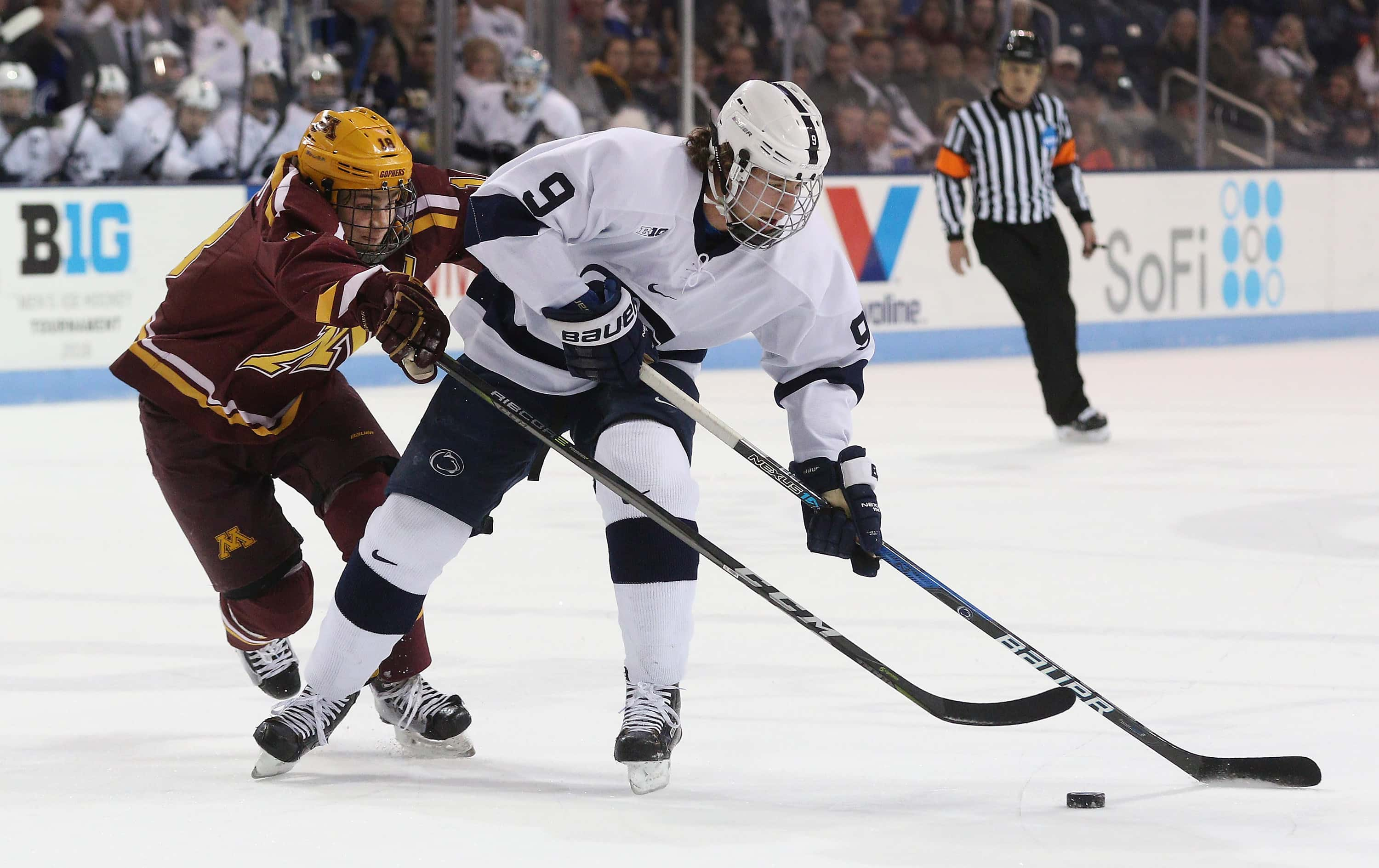 By Jess Myers
From the Twin Cities, it's a long trip to State College, Pa., and when you get there, you're not always made to feel welcome.
That's a lesson the Minnesota Gophers learned the hard way a year ago. They closed the 2017-18 regular season at Penn State and lost twice, falling one point shot of the final home playoff spot. That meant another trip to Penn State a week later, where they again lost twice, and just like that, the season was over.
While some teams might try to use that history as an inspiration, with the Gophers returning there this weekend for two games, the last four games of last season are being treated more like one of those traumatic memories that you block out of your mind.
"We're trying hard not to think about last year. Obviously it's hard not to think about that," said junior forward Rem Pitlick. "We played well against them earlier (this season). That doesn't mean we're going to play well against them this weekend, but we're ready to go. We're not thinking about that. Clear minds, full speed ahead."
With Ohio State pulling away in the race for the conference title, the Nittany Lions and Gophers, who split a series in Minneapolis last month, are among the six-pack of Big Ten teams scrambling for those coveted second-, third- and fourth-place spots in the standings, which mean home playoff games next month.
Penn State had last weekend off, and comes into the weekend rested, but not fully healthy. They lost high-scoring Aarne Talvitie over the holidays when the Finnish freshman suffered a season-ending injury while winning a gold medal for his home country at the World Junior Championship.
That's the Lions' bad news. The Gophers' bad news is that Penn State's top scorer — sophomore Evan Barratt — is back after having missed the series in Minneapolis because he was skating for Team USA at the time. He tried out for the American team that was coached by Bob Motzko 14 months ago and was one of the last cuts, but the Gophers coach isn't surprised at the season Barratt is having.
"We saw the talent he had then, and he's exploded this year," Motzko said.
Having seen the Gophers relatively recently, the Lions are wary of Minnesota's play both on the power play and the penalty kill, where they lead the Big Ten in both categories.
"We still have some aspects of our game that we really have to become more consistent at," Penn State coach Guy Gadowsky told LionVision this week. "We have seen them before and we know their special teams are excellent. But going into (a game with) anybody in the Big Ten, you know you're playing a great team and it's really a matter of how well we can execute."
Pegula Ice Arena, which opened in 2013, was designed so Penn State students fill a steep section of the rink right behind the visitors' goalie. And the Lions have a reputation for shooting first, last and always. Having played in three of those season-ending games last season, Gophers goalie Mat Robson is aware of, and prepared for, the "welcome" he will get on both sides of the glass.
"I think they put 60-some shots in the first game I faced them, so a lot of experience playing in that building," Robson said. "I think they'll get a good student section for us so I'm looking forward to getting back there."
NOTES:
With snow pounding the Twin Cities on Thursday, the Gophers' team plane was delayed two hours due to de-icing and air traffic, but arrived in State College in the afternoon.
College Hockey Inc. notes that in the 22 years the Pairwise system has been used to determine the NCAA playoff field of 16, this is the first week that none of the top four programs (St. Cloud State, Massachusetts, Ohio State and Quinnipiac) have a NCAA title to their credit.
Both games at Penn State will begin at 5 p.m. CT, and will be televised by Big Ten Network.