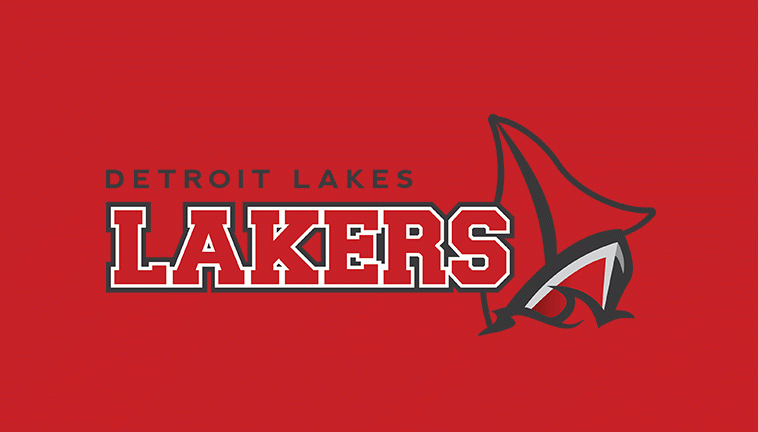 By Robert Williams
EAST GRAND FORKS, Minn. — The Detroit Lakes girls hockey team made a bid to upset East Grand Forks but were stymied by a pair of third period goals in a 7-4 Section 8A loss to the Green Wave Thursday, Jan. 31 at the East Grand Forks Civic Center.
Trailing 5-2, DL's Abagail King scored an unassisted, shorthanded goal at the five-minute mark of the third period and Emma Coley cut the EGF lead to 5-4 on an even strength tally with assists to King and Madyson Melgard at the midway point.
The Green Wave's Kate Johnson and Madison McDonald scored back-to-back goals 12-seconds apart two minutes later to negate the DL comeback.
The Lakers held two leads early in the game on Karrigan Hallisey goals.
Hallisey opened the scoring at nine minutes, 31-seconds of the first period on an unassisted goal for a 1-0 lead. Maddie Lubinski tied the game five minutes later sending the teams to the first intermission knotted at a goal each.
Hallisey scored 18-seconds into the second period for a 2-1 DL lead, but the Green Wave responded with three straight goals by Kara Ellis, McDonald and CJ Mack to lead 4-2 after two periods of play.
McDonald added an early third period goal before the King and Coley tallies. McDonald led all skaters with four points adding an assist to her hat trick.
Hallisey (2G) and King (1G, 1A) led the Lakers with two-point nights.
Megan Birkholz stopped 22 Laker shots to earn the victory. Leah Honer made 31 saves for DL.
East Grand Forks (14-8-2) is 7-3 and third in the standings by QRF rankings. Warroad (22-0) is atop the standings undefeated in six section games and Thief River Falls (15-7) is second at 6-3. TRF and EGF are separated by four places in the QRF rankings and split two games this year each team winning on the road.
The Lakers (5-17, 3-5) are fourth ahead of Crookston (4-16-1, 2-5) and Park Rapids Area (0-19, 0-8).
Detroit Lakes wraps up regular season play Friday, Feb. 1 at Crookston going for the season sweep of the Pirates in a likely preview of the first round of the playoffs. Faceoff is scheduled for 6 p.m. DL defeated Crookston 6-2 at home in mid-December.
Game summary
DL    1 1 2 – 4
EGF 1 3 3 – 7
D – Karrigan Hallisey (even strength)
E – Maddie Lubinski (even strength) (Kara Ellis, Kylie Stauss)
D – Karrigan Hallisey (even strength)
E – Kara Ellis (even strength) (Kylie Stauss, Madison McDonald)
E – Madison McDonald (even strength)
E – CJ Mack (even strength) (Kate Johnson)
E – Madison McDonald (even strength) (CJ Mack)
D – Abagail King (shorthanded)
D – Emma Coley (even strength) (Abagail King, Madyson Melgard)
E – Kate Johnson (even strength) (Maddie Lubinski)
Robert Williams @DLakesSports) can be reached at RWilliams@dlnewspapers.com or (218) 844-1442.