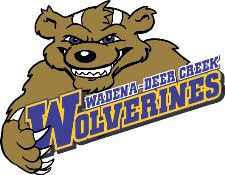 The Rink Live
WADENA, Minn. — Lleyton Pettit netted two goals with one assist as the Wadena-Deer Creek Wolverines won 5-2 over the Breckenridge-Wahpeton Blades in a section 6-1A matchup Monday, Jan. 28.
Max Phillips slapped in one goal and recorded three assists for the Wolverines, who are 4-4 against section opponents and improved to 8-10-1 overall.
Breckenridge/W 1 0 1—2
Wadena-DC 3 1 1—5
First period: BW-Carson Hought (Bjorn Birkelo, Thomas Withuski) 9:17, WDC-Lleyton Pettit (Colby Schertler, Max Phillips) 9:00, WDC-Max Phillips (Colby Schertler, Lleyton Pettit) 8:23, WDC-Lleyton Pettit (Wyatt Murray, Max Phillips) 1:53 ppg
Second period: WDC-Kade Woods (Wyatt Murray, Justin Dykhoff) 6:05
Third period: WDC-Colby Schertler (Max Phillips, Kade Woods) 14:26, BW-Thomas Withuski (Carson Hought, John Etten) 10:27
Shots on goal: WDC 38, BW 37
Goalies: WDC-Josh Dykhoff (35 saves); BW-Hunter Wamre (33 saves)
Overall: WDC 8-10-1. Next: Wadena-Deer Creek hosts Detroit Lakes 7 p.m. Thursday, Jan. 31.