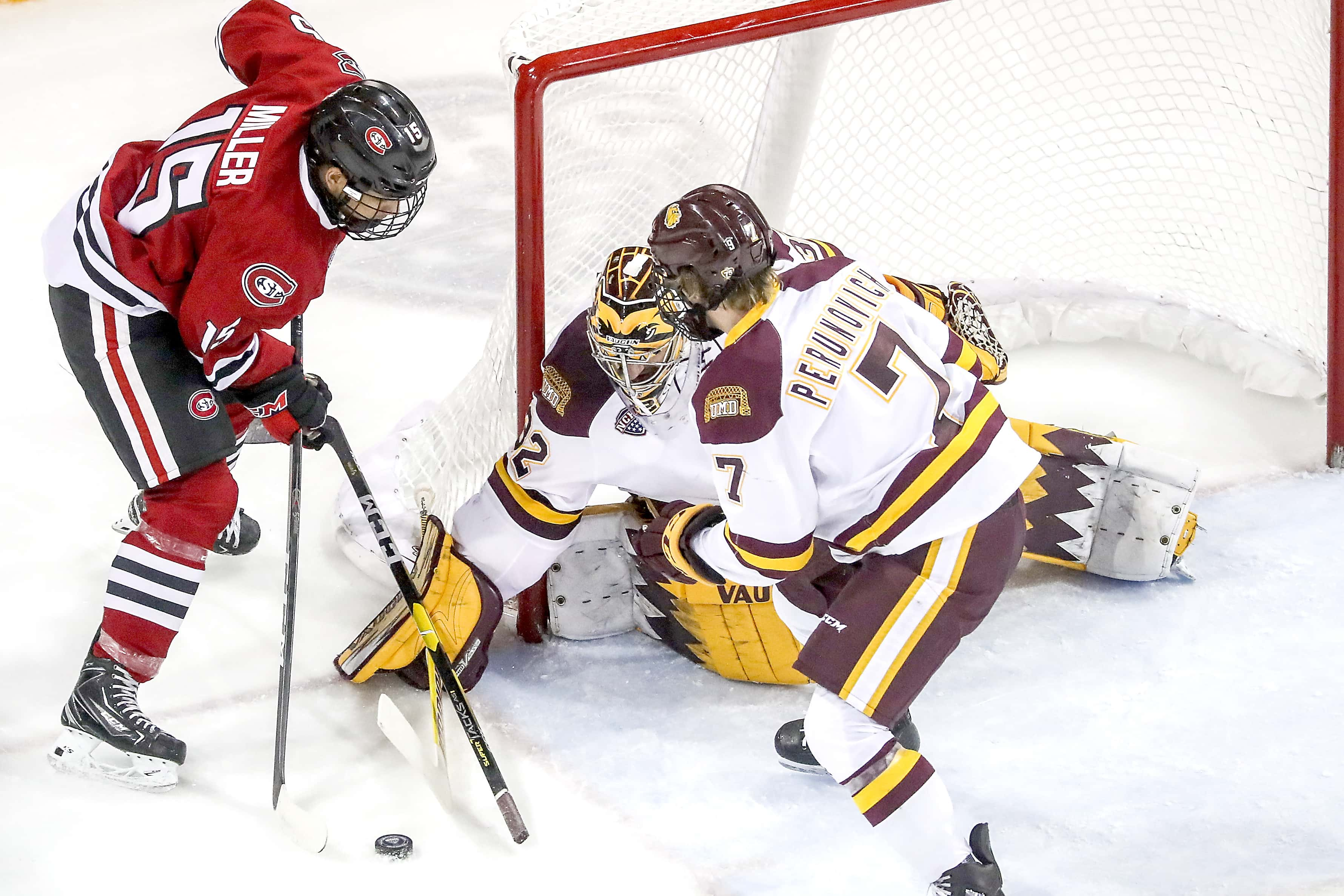 By Mick Hatten
ST. CLOUD, Minn. — Micah Miller has been through some scoring droughts before.
But when he banged a rebound in for the St. Cloud State men's hockey team on Jan. 25, it was his first college goal. Miller, who is pretty soft-spoken off the ice, was excited … but seemingly not as excited as his teammates.
Among those who celebrated on the ice with Miller was Huskies captain Jimmy Schuldt, who literally jumped into the celebration.
"They were really fired up for me," Miller said with a smile. "It speaks to what good teammates we have here.
"It made me feel even better that they were more pumped up than I was."
Miller also had a goal on Jan. 26, helping the top-ranked Huskies sweep Western Michigan in an NCHC series in St. Cloud. Miller, who has one point in three straight games, is looking to add more scoring tinder when conference-leading St. Cloud State (9-1-2-1 NCHC, 17-3-2 overall) plays a series against North Dakota (6-6-0-0, 12-10-1).
The teams play at 7:37 p.m. Friday (CBS Sports Network) and 7:07 p.m. Saturday (NCHC.tv) at Ralph Engelstad Arena.
Top 10 in USHL
While Miller scored his first two goals for St. Cloud State last weekend, it became a pretty common occurrence last season. The freshman from Grand Rapids, Minn., tied for 10th in the United States Hockey League in 2017-18 playing junior hockey for the Sioux City Musketeers.
His first goal last season came in his 13th game. Coincidentally, his goal against Western Michigan was, you guessed it, in his 13th game.
After that drought, he scored 24 goals in Sioux City's last 48 games of the regular season.
"I'd say most of them are in the gritty areas in front of the net or rebounds," he said. "Good things happen when you go to those areas."
So what's with the slow starts?
"I haven't been able to pinpoint it," Miller said. "I think it's just mental. I don't know.
"After I got one (goal), I felt a lot better. I'm shaking off the rust at the beginning of the season. As I get into the season, I get better and better."
That would be a good sign for St. Cloud State, which is battling some injuries. Centers Kevin Fitzgerald (10 goals in 19 games, upper body) and Jacob Benson (25 goals in 121 career games, lower body) both suffered injuries in a loss Jan. 11 at Minnesota Duluth. That got Miller, a wing, more ice time.
Against Western Michigan, Miller was on a line with Minnesota Wild draft pick Sam Hentges (freshman, 12 points) at center and sophomore Easton Brodzinski (10 goals) on the other wing.
"He's playing well and he's playing on a line that, since we put them together Saturday night in Duluth, has been pretty good," Huskies head coach Brett Larson said. "We like the chemistry right now with Hentges, Brodzinski and Micah."
State title
And Miller is starting to show signs of being the offensive force he was at Grand Rapids High School, where he was named to back-to-back all-state tournament teams. His senior season, he led the Thunderhawks in assists (46) and points (70) and to the Class 2A state title.
"When he gets the puck down low and gets his body over it, it's hard to take it off him," Larson said of the 5-foot-9, 200-pound 20-year-old. "He has such a strong, low base. When he's at his best, he's going north-south (skating straight lanes) in the neutral zone and down low, he's protecting pucks and makes it really hard for the defense to take it off him."
That strong lower half provides Miller with the quickness that is one of his strengths.
"Using my speed all over the rink, playing a 200-foot game,," Miller said. "I like to get in front of the net. That's, obviously, where you're going to score most of your goals.
"I try to pick up scraps."
SCSU injury updates
Benson, a senior from Grand Forks, could play this weekend. This will be the last regular season road trip for Benson, who won a state high school title playing for Red River High School with St. Cloud State teammate Jon Lizotte.
Fitzgerald, a sophomore from Oak Brook, Illinois, is going to be out 6-8 weeks because of his injury.
Sophomore defenseman Tyler Anderson suffered an upper body injury playing in an exhibition game for the Huskies on Dec. 27. He was practicing with the team and is now out with a lower body injury.
Mick Hatten can be reached at mhatten@forumcomm.com. Follow @MickHatten on Twitter, Instagram.