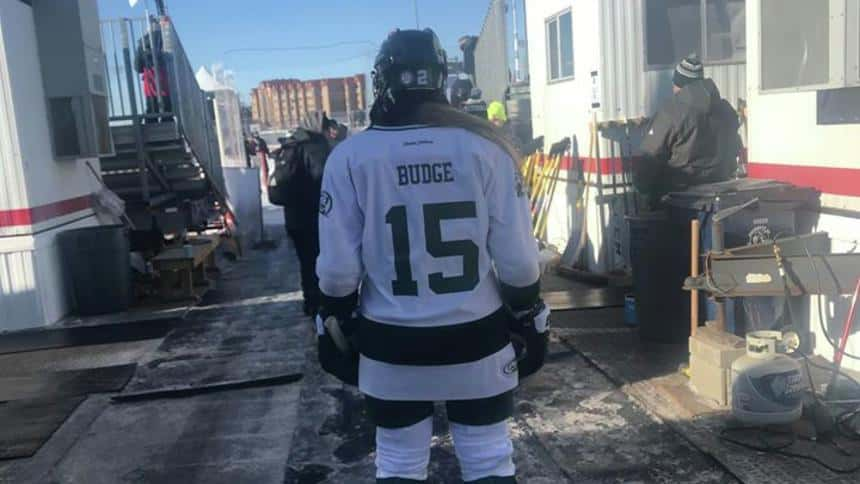 By Brad Schlossman
BEMIDJI, Minn. — Mak Langei spoke with her grandfather, Rick Budge, leading up to Saturday's outdoor game between Bemidji State and MSU-Mankato.
"Talking to him about it, I think he was even more excited for the game than I had been," said Langei, a sophomore defenseman at Bemidji State. "He said, 'Now you can see how I used to play.'"
Budge played forward for the Beavers from 1962-66 — back when they used to play their home games outdoors.
As a nod to her grandfather, Langei took the ice Saturday afternoon in his No. 15 jersey with his name on the back. She wore the jersey for warmups, then put on her regular No. 2 jersey for the game. The jersey wasn't Budge's original jersey from the 1960s, but one that the school gave him for a reunion when the Sanford Center opened in 2011.
"I thought it would be cool to wear his jersey for warmups," Langei said. "It was kind of a game for fun. He wasn't able to come, so I was playing for him."
Langei's mother, Chris, brought the jersey from Grand Forks, where Budge currently resides. Bemidji State head coach Jim Scanlan cleared it with the game's officials.
"The refs loved it, too," Langei said. "They told me that my grandpa would be proud of me wearing his jersey."
The jersey seemed to be a good-luck charm, too.
Langei scored her first goal of the season in the first period.
"My grandpa said the only reason I scored that goal was because I had some of his genes wearing that jersey," Langei said. "And I think he's probably right. He was a goal-scorer."
Bemidji State lost to MSU-Mankato 2-1 in a game that was regionally televised by Fox Sports North as part of Hockey Day in Minnesota.
"I thought the whole thing was outstanding," said Scanlan, who made sure to get all 19 skaters and all three goalies in the game. "The organizers, the committee here in Bemidji, the volunteers — the had close to 500 people who helped out — all did an unbelievable job."
Langei said she called her grandfather immediately after the game and he was teary-eyed.
"It was very fun, a once-in-a-lifetime experience," Langei said. "Not a whole lot of people get to do this type of thing."
Brad Schlossman (@SchlossmanGF) can be reached at BSchlossman@gfherald.com or (701) 780-1129.