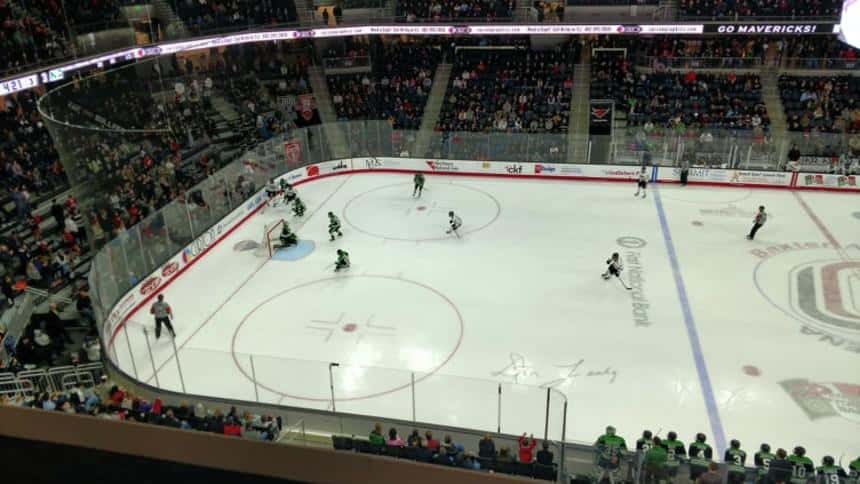 By Brad Schlossman
OMAHA, Neb. — For the fourth-straight game, UND blew a two-goal lead. This time, it cost the Fighting Hawks. Lukas Buchta and Taylor Ward scored two goals in 80 seconds in the third period to rally from a deficit and beat UND in the series finale. It ended UND's three-game winning streak. Gabe Bast scored twice for UND, while Jordan Kawaguchi added the third goal.
Three stars: 1. Taylor Ward, Omaha, game-winning goal; 2. Gabe Bast, UND, 2 goals; 3. Dean Stewart, Omaha, assist.
Lineup notes: For the first time this season, UND used the exact same lineup on Friday and Saturday in a series. UND remained without defenseman Jonny Tychonick, who has resumed skating and practicing. Tychonick missed his eighth-straight game with a lower-body injury. He did not make the trip. Neither did goalie Peter Thome (upper body) or Joel Janatuinen (undisclosed). Forward Zach Yon and defenseman Josh Rieger were scratched. Omaha played without forward Tyler Weiss, a Colorado Avalanche draft pick, who was suspended for an illegal check from behind late in Friday's game. Weiss scored his first-career goal on Friday. He was replaced by Washington Capitals draft pick Steven Spinner, who missed the previous seven games. The only other change for the Mavs was Jalen Schulz for Cole Pickup on the left wing of the fourth line.
Updated records: UND 12-10-1 (6-6 NCHC), Omaha 7-13-2 (3-8-1 NCHC).
Up next: UND hosts NCHC-leading St. Cloud State at 7:37 p.m. Friday in Ralph Engelstad Arena.
OMAHA 4, UND 3
First period — 1. OMA, Riley Alferd 4 (John Schuldt 2, Nate Knoepke 4) 14:51; 2. UND, Gabe Bast 3 (Jasper Weatherby 2, Jackson Keane 3) 18:31; 3. UND, Jordan Kawaguchi 6 (Ludvig Hoff 4, Matt Kiersted 7) 19:58
Second period — 4. UND, Bast 4 (Collin Adams 5, Colton Poolman 6) 1:42 (pp); 5. OMA, Jason Smallidge 1 (Mason Morelli 11, Knoepke 5) 6:41
Third period — 6. OMA, Lukas Buchta 1 (Tristan Keck 5, Zach Jordan 14) 12:02; 7. OMA, Taylor Ward 6 (Dean Stewart 13, Fredrik Olofsson 17) 13:22
Goalie saves — UND: Adam Scheel 11-6-3 — 20 (4 GA); OMA: Evan Weninger 14-9-8 — 31 (3 GA)
Penalties — Cole Smith, UND, slashing, 3:40 first; Zach Jordan, OMA, tripping, 4:10 first; Jason Smallidge, OMA, high sticking, 4:49 first; Rhett Gardner, UND, charging, 9:19 first; Ryan Jones, OMA, interference, :38 second; Weatherby, UND, holding, 12:15 second; Taylor Ward, OMA, cross-checking, 14:00 second; Smallidge, OMA, contact to the head major, 19:18 second; Smallidge, OMA, game misconduct, 19:18 second; Nick Jones, UND, hooking, 6:33 third
Penalties-minutes — UND 4-8, OMA 6-20
Power plays — UND 1-5, OMA 0-4
Referees — Scott Bokal and Gino Binda