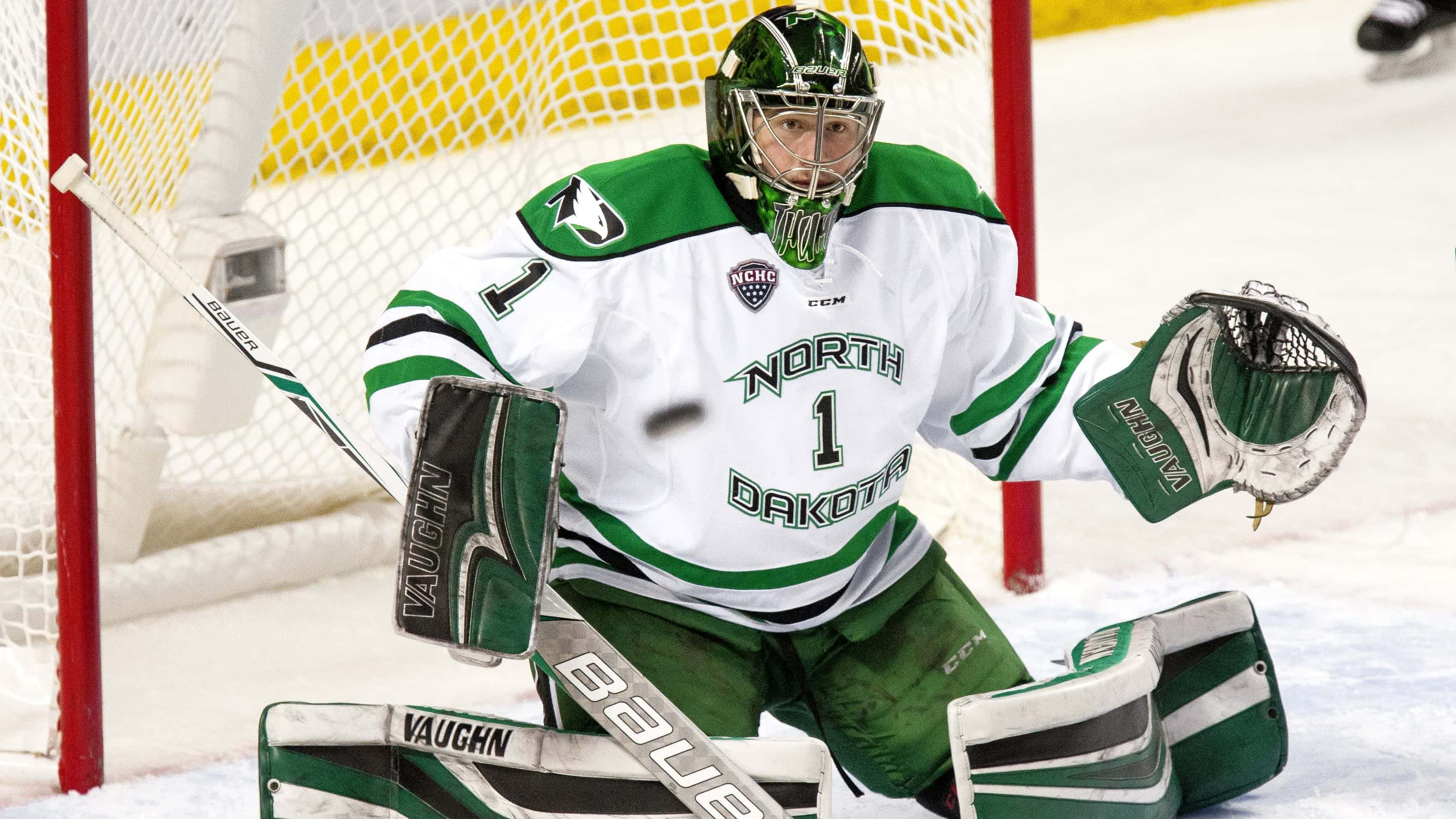 By Brad Schlossman
GRAND FORKS — University of North Dakota sophomore goaltender Peter Thome is out longterm with an undisclosed injury and UND will bring in a new goaltender immediately to help give depth to the position, according to the Grand Forks Herald.
Thome was injured Jan. 10 in practice and missed last weekend's series against Colorado College. He isn't expected back soon.
Instead of sticking with the remaining two goaltenders — freshman starter Adam Scheel and senior walk-on Ryan Anderson, who has yet to play in a regular-season game — UND will bring in another goalie to help balance workload in practices and to provide insurance in case another goalie goes down with an injury.
Harrison Feeney of the Lone Star Brahmas of the North American Hockey League is expected to drive from Fort Worth, Texas, to Grand Forks today to join the team. He has been accepted into the school.
UND plays a two-game series at Omaha on Friday and Saturday. It seems unlikely — though not impossible — that Feeney will make the trip. The Fighting Hawks are scheduled to leave for Omaha on Thursday.
Feeney, a 6-foot-2, 213-pound goalie from Lafayette Hill, Pa., is having an outstanding season for Lone Star. His .931 save percentage ranks third in the NAHL and his 2.05 goals-against average ranks fifth. He was named the NAHL's player of the week for his division Monday.
"Harrison has stuck with the process of development and has been getting better every week," Lone Star coach Dan Wildfong said in the NAHL's release. "He has been one of our best players all season long and this weekend was a great example of that. He has been a great leader on and off the ice."
Feeney, 20, is in his second season with Lone Star. He briefly spent time in the United States Hockey League during the 2016-17 season.
UND was already recruiting Feeney prior to Thome's injury as a possible replacement for Anderson, who will graduate this spring. Feeney previously made a visit to UND's campus.
Not unprecedented
This isn't the first time UND has added a goalie during the middle of the season in recent years.
In 2001-02, then-coach Dean Blais brought in Josh Siembida at semester time to compete with UND's struggling goalies. Siembida started 11 games in the second half of that season and spent one more season at UND before transferring to Quinnipiac.
During the 2007-08 season, UND picked up Brainerd, Minn., goalie Landon Snider out of the student population to fill the third goalie role after backup Anthony Grieco left the program midseason. Snider did not return the following year.
During UND's 2015-16 national championship season, UND coach Brad Berry added Anderson to the goalie mix in late September after goalie Matej Tomek's recovery from offseason surgery was set to keep him out during the first semester.
That ended up being an adept move as starter Cam Johnson was injured during the second week of the season. Anderson was quickly thrust into the backup role behind one-time third-string goalie Matt Hrynkiw.
Anderson, of Roseau, Minn., has stuck as the team's popular third goalie since then. He's in his fourth year with the program.
Scheel has emerged as UND's No. 1 goalie, starting 16 of 21 games for UND this season. He has posted a 10-6-1 record with a 1.97 goals-against average and a .907 save percentage.
Thome's season
Thome was an experienced sophomore, having started 11 games last season and five this season. The Minneapolis product struggled in the first half (1-3, 3.75 goals-against average, .838 save percentage), but put together a terrific performance in the team's first action after Christmas, an exhibition against the U.S. Under-18 Team.
Thome stopped stopped 17 of 18 shots in 16:16 against the U18s.
"The first half, personally, probably didn't go the way I had wanted it to and it left me with a bad taste in my mouth," Thome said after the exhibition. "So, having a good first outing is definitely a step forward and hopefully there's more to come."
Thome's rebound control was excellent in the exhibition.
"That just goes back to a confidence thing," Thome said. "Instead of just worrying about making the save, you're confident you're going to make the save. So that becomes: 'Where do I put this puck?' It's such a mental position that when you don't really have confidence, it seems like everything's going wrong. And when you do have confidence it seems like you can do no wrong. I'm just trying to get back to that state."
UND is trying to make a second-half push to get into the NCAA tournament. The Fighting Hawks currently sit at No. 23 in the Pairwise Rankings and are 11-9-1 overall. They're coming off of a sweep of Colorado College in Ralph Engelstad Arena.
UND's next five series are at unranked Omaha, home against No. 2 St. Cloud State, at No. 3 Denver, at No. 10 Western Michigan and home against No. 5 Minnesota Duluth.